This is a preview of subscription content, log in to check access.
Access options
Buy single article
Instant access to the full article PDF.
US$ 39.95
Price includes VAT for USA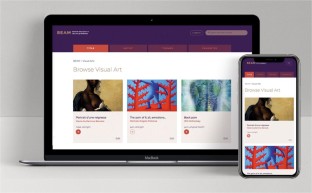 References
1.

Liao L. Opening our eyes to a critical approach to medicine: the humanities in medical education. Med Teach. 2017;39:220–1.

2.

Bleakley A. Medical humanities and medical education: how the medical humanities can shape better doctors. London and New York: Routledge; 2015.

3.

Orr AR, Moghbeli N, Swain A, et al. The Fostering Resilience through Art in Medical Education (FRAME) workshop: a partnership with the Philadelphia Museum of Art. Adv Med Educ Pract. 2019;10:361–9.

4.

Haidet P, Jarecke J, Adams NE, et al. A guiding framework to maximise the power of the arts in medical education: a systematic review and metasynthesis. Med Educ. 2016;50:320–31.

5.

Shanafelt TD, Bradley KA, Wipf JE, Back AL. Burnout and self-reported patient care in an internal medicine residency program. Ann Intern Med. 2002;136:358–67.

6.

Mukunda N, Moghbeli N, Rizzo A, Niepold S, Bassett B, DeLisser HM. Visual art instruction in medical education: a narrative review. Med Educ Online. 2019;24:1558657.

7.

Rodenhauser P, Strickland MA, Gambala CT. Arts-related activities across U.S. medical schools: a follow-up study. Teach Learn Med. 2004;16:233–9.

8.

Association of American Medical Colleges. The role of arts and humanities in physician development: from fun to fundamental. https://www.aamc.org/what-we-do/mission-areas/medical-education/humanities. Accessed 7 Oct 2019.

9.

Palmer PJ. A hidden wholeness: the journey toward an undivided life. San Francisco: Jossey Bass; 2004.

10.

NYU Langone Health. Literature arts medicine database. http://medhum.med.nyu.edu/. Accessed 7 Oct 2019.

11.

Housen A. Yenawine P. Visual Thinking Strategies. https://vtshome.org/.

12.

Engel GL. The biopsychosocial model and the education of health professionals. Ann N Y Acad Sci. 1978;310:169–87.

13.

McHugh P, Slavney P. Perspectives of psychiatry. 2nd ed. Baltimore: Johns Hopkins University Press; 1998.

14.

Rienzi G. Helping doctors connect with patients through art. Johns Hopkins Magazine. 2019; Retrieved from https://hub.jhu.edu/magazine/2019/summer/bedside-education-art-medicine-patient-empathy/.
Acknowledgments
The authors wish to thank Kaylynn Kim, Emily Kravet, Erica Lee, Rebecca Rosenthal, Julia See, Harsh Wadwa, and Norah Wilson for their contributions to the development of BEAM prototype apps and content; David Kern for his education research mentorship; and Scott Wright for reviewing an earlier version of this manuscript.
Funding
App development was supported by the Institute for Excellence in Education and the Paul McHugh Program for Human Flourishing of the Johns Hopkins University School of Medicine. Dr. Chisolm is Director of the Paul McHugh Program for Human Flourishing through which she also receives support for her work.
Ethics declarations
Disclosure
On behalf of all authors, the corresponding author states that there is no conflict of interest.
Additional information
Publisher's Note
Springer Nature remains neutral with regard to jurisdictional claims in published maps and institutional affiliations.
About this article
Cite this article
Zhang, C.M., Kelly-Hedrick, M., Lehmann, S.W. et al. Bedside Education in the Art of Medicine (BEAM): an Arts and Humanities Web-Based Clinical Teaching Resource. Acad Psychiatry (2020). https://doi.org/10.1007/s40596-020-01270-5
Received:

Accepted:

Published: