Professionalism and Technology: Competencies Across the Tele-Behavioral Health and E-Behavioral Health Spectrum
Ethics, professionalism, and the law are inextricably linked. Ethical behavior is intrinsic to professionalism and "professionalism is expressed through ethical action" [
1
, p. 17]. Acting in accordance with the law is a principle of medical ethics. One may think of ethics, professionalism, and the law as intersecting Venn diagrams with a significant area of overlap (Fig. 
1
).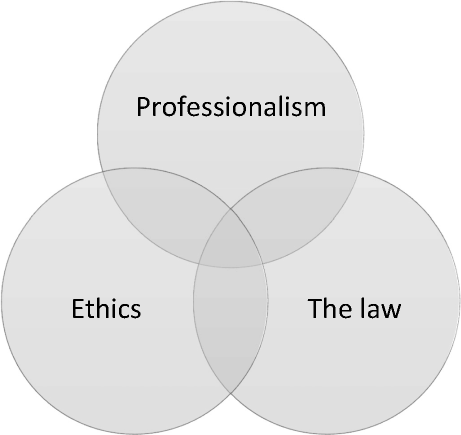 Psychiatrists are typically held to a higher ethical standard than other physicians because of the nature of their work. Psychiatric patients may be particularly vulnerable because of the impact of psychiatric symptoms on their thoughts, feelings, and behaviors. The power differential between care provider and patient may be heightened as a result. In addition, the psychiatrist as a person with feelings is an essential instrument in the therapeutic process; therefore, self-reflection is especially important. Psychiatrists also have an impact beyond the consulting room, as they may play a role in advising to outside entities such as schools and community agencies [1].
A number of organizations and institutions define professionalism standards in psychiatry. In the 1990s, the American Board of Internal Medicine (ABIM) began its Project Professionalism. In 2002, it issued a "Physician's Charter," intended for all physicians, entitled "Medical Professionalism in the New Millennium." The charter espouses three fundamental principles of professionalism: the primacy of patient welfare, patient autonomy, and social justice.
The American Accreditation Council on Graduate Medical Education (ACGME) in psychiatry defines professionalism in its 22 sub-competencies and component milestones [2]. The sub-competency PROF 1 refers to "Compassion, integrity, respect for others, sensitivity to diverse patient patients, adherence to ethical principles." It includes (under Level 3) the Milestone 3.3/B, "Recognizes ethical issues in practice and is able to discuss, analyze, and manage these in common clinical situations."
In clinical practice, professionalism standards are laid out by professional organizations in documents like the American Psychiatric Association's (APA) Principles of Medical Ethics with Annotations Especially Applicable to Psychiatry [3] or the AACAP Code of Ethics [4]. Professionalism standards are also laid out by state and federal laws (for example, HIPAA for issues of confidentiality), by the Federation of State Medical Boards and the state boards, and by institutional and malpractice carrier policies.
Enforcement of these professional standards is a more complex process. Medical professionals are held to a standard of self- and peer-monitoring and are expected to report professionalism breaches. Patients and their family members may report perceived violations to APA District Branches or the central Office of Ethics in a procedure outlined in the Principles of Medical Ethics [3, pp. 11–27]. Most institutions have systems for anonymous reporting to a compliance officer. State medical boards may impose sanctions or suspend or remove licenses. If the media reports a professionalism breach, the public reaction may lead to even further consequences.
Publicized breaches of professionalism online spurred the development of a field called "digital ethics" or "e-professionalism." A now landmark study by Chretien et al. surveyed medical school deans about their experiences with medical student breaches of professionalism online. A significant 90% of deans who responded reported online professionalism breaches [5]. A similar study of state medical boards in 2012 found that 90% of them had received at least one report of online professionalism violations [6]. Current use and misuse of technology by residents is difficult to assess. The Pew Research Center reports that 77% of Americans own a smart phone [7]. According to one small survey (N = 34), 94% of resident responders reported googling their patients [8].
Notes
Compliance with Ethical Standards
Ethical Considerations
IRB approval was not necessary due to this being a review of the literature.
Disclosure
The author would like to disclose royalties from Elsevier for a book on professionalism and digital technology, a book advance from American Psychiatric Association Publishing, and payment in kind from the AACAP Ethics Committee and AADPRT.
Copyright information
© Academic Psychiatry 2018