Abstract
The aim of this study was to assess the role of ultrasound in first the trimester of pregnancy for confirmation of pregnancy, number of fetuses, chorionicity, amnionicity if multiples, viability, assessment of gestational age, identification of structural anomalies and assessment of risk for chromosomal abnormalities. This was a prospective observational study. All pregnant women registered within 13+6 weeks were offered a routine scan between 11+0 and 13+6 weeks. All scans were done by obstetricians, fetal medicine specialists or radiologists are accredited by the Fetal Medicine Foundation. All pregnant women undergoing 11+0 and 13+6 weeks scan were included. Women beyond 14 weeks of pregnancy and referrals from the other centres not delivered at our institute were excluded from the study. A total of 5923 scans were done between January 2016 and June 2017. Complete follow up was available for 2927 women (49.4%), 1925 (32.5%) are ongoing pregnancies and 1071 (18.08%) pregnant women were lost to follow up. The median maternal age in our study was 28 years and 349 (5.89%) mothers had advanced (> 35 years) maternal age. Increased nuchal translucency (NT) (> 95th percentile) was found in 272 cases (4.59%). Intra-uterine fetal death, miscarriages, termination of pregnancy and cardiac abnormalities were higher among women with an NT > 95th percentile. Statistical analysis included calculation of p values and odd's ratio. Skull and brain abnormalities were found in 28 cases, cystic hygroma in 20 cases, abdominal wall and spine abnormalities in 16 cases each, bladder abnormalities in 12 cases and cardiac abnormalities in 9 cases. Among 2927 women, 85 (1.43%) were screen positive. After counselling, only 20 women underwent invasive testing. The 11+0 and 13+6 weeks scan helps in determination of fetal viability, gestational age, number of fetuses and chorionicity and screening fetuses at risk for trisomy by including screening for structural abnormalities and plan pregnancy/terminate accordingly.
This is a preview of subscription content, log in to check access.
Access options
Buy single article
Instant access to the full article PDF.
US$ 39.95
Price includes VAT for USA
Subscribe to journal
Immediate online access to all issues from 2019. Subscription will auto renew annually.
US$ 99
This is the net price. Taxes to be calculated in checkout.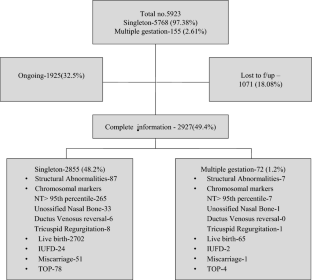 References
1.

Nicolaides KH. Some thoughts on the true value of ultrasound. Ultrasound Obstet Gynecol. 2007;30(5):671–4.

2.

Garne E, Dolk H, Loane M, Boyd PA. EUROCAT website data on prenatal detection rates of congenital anomalies. J Med Screen. 2010;17(2):97–8.

3.

Karadeniz S, Erol AO. Results of fetal anomaly screening performed at 11–14 weeks of gestation at a tertiary center. Perinatal. 2016;24(2):100–5.

4.

Souka AP, Pilalis A, Kavalakis Y, Kosmas Y, Antsaklis P, Antsaklis A. Assessment of fetal anatomy at the 11–14 week ultrasound examination. Ultrasound Obstet Gynecol. 2004;24(7):730–4.

5.

Karim JN, Roberts NW, Salomon LJ, Papageorghiou AT. Systematic review of first-trimester ultrasound screening for detection of fetal structural anomalies and factors that affect screening performance. Ultrasound Obstet Gynecol. 2017;50(4):429–41.

6.

Syngelaki A, Chelemen T, Dagklis T, Allan L, Nicolaides KH. Challenges in the diagnosis of fetal non-chromosomal abnormalities at 11–13 weeks. Prenat Diagn. 2011;31:90–102.

7.

Iliescu D, Tudorache S, Comanescu A, Antsaklis P, Cotarcea S, Novac L, Cernea N, Antsaklis A. Improved detection rate of structural abnormalities in the first trimester using an extended examination protocol. Ultrasound Obstet Gynecol. 2013;42(3):300–9.
Acknowledgements
I would like to express my gratitude to my guide Dr. Suseela Vavilala for her constant encouragement and guidance. I would like to thank the Hospital, Head of the institute Dr. Evita Fernandez, Head of the departments and Fetal medicine consultants for their valuable support throughout the study. I am very thankful to Ms. Shamama for her untiring efforts in helping collate the patient data. I humbly acknowledge the contribution of the patients, who participated in the study thus helping me to complete it.
Funding
This study didn't require any kind of funding.
Ethics declarations
Conflict of interest
The authors declare that they have no conflict of interest.
Ethical Approval
"All procedures performed in studies involving human participants were in accordance with the ethical standards of the institutional research committee and with the 1964 Helsinki declaration and its later amendments or comparable ethical standards." The Fernandez Hospital ethical committee reviewed and approved the protocol (Protocol Ref. No. 08_2016, at Fernandez Hospital, Hyderabad, India).
Informed Consent
Informed consent was obtained from all individual participants included in the study.
Additional information
Publisher's Note
Springer Nature remains neutral with regard to jurisdictional claims in published maps and institutional affiliations.
About this article
Cite this article
Kunapareddy, M., Vavilala, S. The Role of First Trimester Ultrasonography in Antenatal Care: A Study from a Single Perinatal Institute in India. J. Fetal Med. 7, 125–131 (2020). https://doi.org/10.1007/s40556-020-00243-w
Received:

Accepted:

Published:

Issue Date:
Keywords
Nuchal translucency

Structural abnormalities

Trisomy

Karyotype