Abstract
Congenital heart disease (CHD) is one of the most common congenital anomalies reported. Incidence of CHD is 8 to 9 per 1000 live births in published data worldwide (Chaudhary and Patil in J Fetal Med 5:221, 2018; Hoffman and Kaplan in J Am Coll Cardiol 39(12):1890–1900, 2002; Khalil et al. in Indian Pediatr 31(5):519–527, 1994; Wanni et al. in Heart India 2(3):76–95, 2014). Association of venous anomalies is known and has a significant impact on the perinatal and postnatal outcome. There is no published data about the incidence and spectrum of foetal venous anomalies in India. We tried to find out the incidence and spectrum of foetal venous anomalies in second and third trimester low risk population during routine ultrasound examination in our primary referral unit. 61 foetuses out of 19,929 were found to have venous anomalies with an incidence of 3 per 1000 s and third trimester pregnancies. Persistent left superior vena cava was the most common anomaly seen followed by umbilical vein varyx and absent ductus venosus. 46% of cases showed associated cardiac and extracardiac anomalies.
Access options
Buy single article
Instant access to the full article PDF.
US$ 39.95
Tax calculation will be finalised during checkout.
Subscribe to journal
Immediate online access to all issues from 2019. Subscription will auto renew annually.
US$ 79
Tax calculation will be finalised during checkout.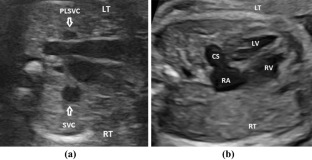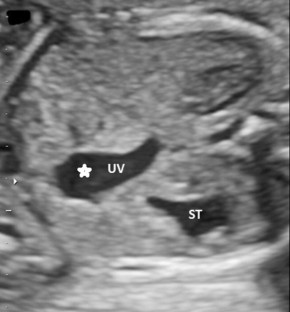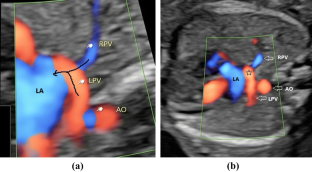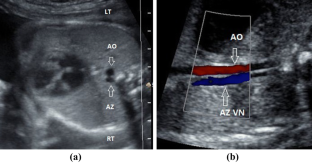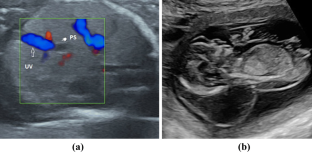 References
1.

Hofstaetter C, Plath H, Hansmann M. Prenatal diagnosis of abnormalities of the fetal venous system. Ultrasound Obstet Gynecol. 2000;15(3):231–41.

2.

Gustapane S, Leombroni M, Khalil A, Giacci F, Marrone L, et al. Systematic review and meta-analysis of persistent left superior vena cava on prenatal ultrasound: associated anomalies, diagnostic accuracy and postnatal outcome. Ultrasound Obstet Gynecol. 2016;48(6):701–8.

3.

Moon SK, Cho JY, Kim SH, Lee YH, Song MJ, Moon MH. Imaging findings of various venous anomalies in the fetal liver in antenatal and postnatal assessment: a pictorial review. ECR 2010/C-2896.

4.

Shah D, Shah N. Sonographic evaluation of umbilical vein. J Fetal Med. 2018;5:185.

5.

International Society of Ultrasound in Obstetrics and Gynecology, Carvalho JS, Allan LD, Chaoui R, Copel JA, DeVore GR, et al. ISUOG practice guidelines (updated): sonographic screening examination of the fetal heart. Ultrasound Obstet Gynecol. 2013;41(3):348–59.

6.

American Institute of Ultrasound in Medicine. AIUM practice guideline for performance of fetal echocardiography. J Ultrasound Med. 2013;32(6):1067–82.

7.

Rychik J, Ayres N, Cuneo B, Gotteiner N, Hornberger L, et al. American Society of Echocardiography guidelines and standards for performance of the fetal echocardiogram. J Am Soc Echocardiogr. 2004;17(7):803–10.

8.

Chaudhary YS, Patil SS. Foetal cardiac anomalies: experience in a primary referral centre. J Fetal Med. 2018;5:221.

9.

Hoffman JI, Kaplan S. The incidence of congenital heart disease. J Am Coll Cardiol. 2002;39(12):1890–900.

10.

Khalil A, Aggarwal R, Thirupuram S, Arora R. Incidence of congenital heart disease among hospital live births in India. Indian Pediatr. 1994;31(5):519–27.

11.

Wanni KA, Shahzad N, Ashraf M, Ahmed K, Jan M, Rasool S. Prevalence and spectrum of congenital heart diseases in children. Heart India. 2014;2(3):76–95.
Acknowledgements
We thank, Dr. Shrikant T. Ambardekar. M.D., Ultrasound Clinic, Pimpri, Pune 18. (MH) India, for comments that greatly improved the manuscript.
Additional information
Publisher's Note
Springer Nature remains neutral with regard to jurisdictional claims in published maps and institutional affiliations.
About this article
Cite this article
Chaudhary, Y.S., Patil, S.S. Foetal Venous Anomalies: Experience in a Primary Referral Unit. J. Fetal Med. 7, 139–144 (2020). https://doi.org/10.1007/s40556-019-00231-9
Received:

Accepted:

Published:

Issue Date:
Keywords
Ultrasound (US) examination

Foetal venous anomalies

Incidence and spectrum

India