Abstract
Background
The aging trajectory from a state of robustness and good health proceeds from sarcopenia to frailty followed by disability and death due to decline in skeletal muscle mass and function. Sarcopenia is now formally recognized as a muscle disease with an ICD-10-MC diagnosis code. The autophagic response seems to be affected in the skeletal muscle during aging contributing to sarcopenia. Sestrins (Sesns) proteins play a critical role in autophagy induction under cellular stress conditions.
Aims
The study aims to identify sarcopenia in older adults using Asian Working group guidelines (AWGS) to determine clinically relevant cut-off levels for diagnosis and their association with antioxidant protein Sesns.
Methods
The study recruited 102 older adults attending Geriatric medicine OPD AIIMS, New Delhi, India. The level of serum Sesns were evaluated by Surface Plasmon Resonance (SPR) and validated by immunoblotting. Fifty older adults were diagnosed as sarcopenics according to AWGS.
Results
Sesn 1 (p = 0.0448) and Sesn 2 (p < 0.0001) levels were significantly reduced in sarcopenic compared to non-sarcopenic. ROC analysis showed a better cut-off of Sesn 2; 10.104 ng/µL with 92% sensitivity and 84% specificity. Even after adjusting the values with respect to confounding factors, Sesn levels remained significantly reduced in sarcopenics (p < 0.030).
Discussion
The level of Sesn 2 showed positive co-relation with the characteristics of sarcopenia. This study first time reported the concentration of serum sestrin in sarcopenic older adults.
Conclusion
It can be concluded that sarcopenia can be diagnosed at the early stage by using the serum sestrin scale as one of the potential biomarker.
This is a preview of subscription content, log in to check access.
Access options
Buy single article
Instant access to the full article PDF.
US$ 39.95
Price includes VAT for USA
Subscribe to journal
Immediate online access to all issues from 2019. Subscription will auto renew annually.
US$ 99
This is the net price. Taxes to be calculated in checkout.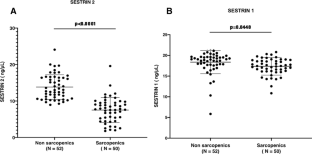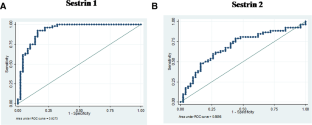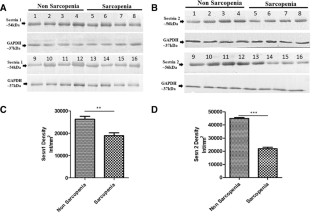 References
1.

Woo J, Arai H, Ng TP et al (2014) Ethnic and geographic variations in muscle mass, muscle strength and physical performance measures. European Geriatric Med 5:155–164

2.

Cruz-Jentoft AJ, Baeyens JP, Bauer JM et al (2010) Sarcopenia: european consensus on definition and diagnosis: Report of the European Working Group on Sarcopenia in Older People. Age Ageing 39:412–423

3.

Chen L-K, Liu L-K, Woo J et al (2014) Sarcopenia in Asia: consensus report of the Asian Working Group for Sarcopenia. J Am Med Dir Assoc 15:95–101

4.

ICD-10-CM Diagnosis Code M62.84: Sarcopenia [Internet]. [cited 2019 Nov 11]. https://www.icd10data.com/ICD10CM/Codes/M00-M99/M60-M63/M62-/M62.84

5.

Singhal S, Singh S, Upadhyay AD et al (2019) Serum creatinine and cystatin C-based index can be a screening biomarker for sarcopenia in older population. Eur Geriatric Med 10:625–630

6.

Kalinkovich A, Livshits G (2015) Sarcopenia-The search for emerging biomarkers. Ageing Res Rev 22:58–71

7.

Lee JH, Budanov AV, Park EJ et al (2010) Sestrin as a feedback inhibitor of TOR that prevents age-related pathologies. Science 327:1223–1228

8.

Lee JH, Budanov AV, Karin M (2013) Sestrins orchestrate cellular metabolism to attenuate aging. Cell Metab 18:792–801

9.

Tyrovolas S, Koyanagi A, Olaya B et al (2016) Factors associated with skeletal muscle mass, sarcopenia, and sarcopenic obesity in older adults: a multi-continent study. J Cachexia Sarcopenia Muscle 7:312–321

10.

Rai N, Venugopalan G, Pradhan R et al (2018) Exploration of novel anti-oxidant protein sestrin in frailty syndrome in elderly. Aging Dis 9:220–227

11.

Kumar R, Mohan N, Upadhyay AD et al (2014) Identification of serum sirtuins as novel noninvasive protein markers for frailty. Aging Cell 13:975–980

12.

Masiero E, Agatea L, Mammucari C et al (2009) Autophagy is required to maintain muscle mass. Cell Metab 10:507–515

13.

Neel BA, Lin Y, Pessin JE (2013) Skeletal muscle autophagy: a new metabolic regulator. Trends Endocrinol Metab 24:635–645

14.

Iannuzzi-Sucich M, Prestwood KM, Kenny AM (2002) Prevalence of sarcopenia and predictors of skeletal muscle mass in healthy, older men and women. J Gerontol A Biol Sci Med Sci 57:M772–M777

15.

Yanai H (2015) Nutrition for Sarcopenia. J Clin Med Res 7:926–931

16.

Landi F, Liperoti R, Russo A et al (2012) Sarcopenia as a risk factor for falls in elderly individuals: results from the ilSIRENTE study. Clin Nutr Edinb Scotl 31:652–658

17.

Ida S, Kaneko R, Murata K (2018) SARC-F for screening of sarcopenia among older adults: a meta-analysis of screening test accuracy. J Am Med Dir Assoc 19:685–689

18.

Yang YL, Loh KS, Liou BY et al (2013) Sesn1 is a positive regulator of lifespan in Caenorhabditis elegans. Exp Gerontol 48:371–379
Acknowledgement
Author acknowledges All India Institute of Medical Sciences, New Delhi, Government of India, for the procurement of consumable items for the experiment and Indian Council of Medical Research for fellowship of Masroor Anwar.
Ethics declarations
Conflict of interest
The authors declare that they have no conflict of interest.
Statement of human and animal rights
The present study was approved by the Institute Ethics Committee of All India Institute of Medical Sciences, New Delhi.
Informed consent
Written informed consent was obtained from all individual participants included in the study.
Additional information
Publisher's Note
Springer Nature remains neutral with regard to jurisdictional claims in published maps and institutional affiliations.
Electronic supplementary material
Below is the link to the electronic supplementary material.
About this article
Cite this article
Rajan, S.P., Anwar, M., Jain, B. et al. Serum sestrins: potential predictive molecule in human sarcopenia. Aging Clin Exp Res (2020). https://doi.org/10.1007/s40520-020-01642-9
Received:

Accepted:

Published:
Keywords
Sarcopenia

Asian Working group guidelines

Sestrin

Serum marker

Surface plasma resonance