Abstract
Background
Using the Faroese Septuagenarian cohort, we aimed to describe the incidence of dementia and assess the validity of neurocognitive tests to predict subsequent dementia diagnosis.
Methods
In this population-based cohort, 713 Faroese septuagenarians aged 70–74 years without dementia, underwent clinical and neuropsychological examinations. After 10-years of follow-up, information was collected on all participants referred for cognitive evaluations and diagnosed with dementia. Incidence rates were calculated and presented with 95% confidence intervals (CIs), assuming a Poisson distribution. We then performed discriminant analysis to determine the best set of neuropsychological tests to identify those who would develop dementia.
Results
Over the 10-years, 65 participants (9.1%) were diagnosed with dementia, with a 10-year incidence rate of 1063 cases per 100,000 person years (95% CI 825, 1343). Women had a greater incidence than men (incidence rate ratio (IRR) = 1.58; 95% CI 0.93, 2.71). After stepwise selection, gender and six neuropsychological measures were selected to discriminate between those who would and would not develop dementia. Overall, the model was able to correctly identify 82% of those who would not develop dementia (specificity) and 71% of those who would (sensitivity).
Conclusions
These results indicate that among a greater number of tests covering a broad range of cognitive abilities, tests reflecting verbal and visual learning and recall, visuospatial function, attention, and encoding into and retrieval from long-term memory may be helpful in identifying patients in the pre-symptomatic phase of dementia. Thus, helping care-givers identify patients at a higher risk of developing dementia and adjusting management of care accordingly.
Access options
Buy single article
Instant access to the full article PDF.
US$ 39.95
Tax calculation will be finalised during checkout.
Subscribe to journal
Immediate online access to all issues from 2019. Subscription will auto renew annually.
US$ 79
Tax calculation will be finalised during checkout.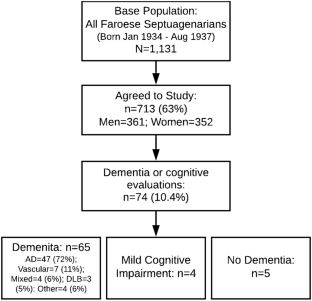 References
1.

Wu Y-T, Fratiglioni L, Matthews FE et al (2016) Dementia in western Europe: epidemiological evidence and implications for policy making. Lancet Neurol 15:116–124

2.

Shah H, Albanese E, Duggan C et al (2016) Research priorities to reduce the global burden of dementia by 2025. Lancet Neurol 15:1285–1294

3.

Prince M, Bryce R, Albanese E (2013) The global prevalence of dementia: a systematic review and metaanalysis. Alzheimer's Dement 9:63–75

4.

Guerchet M, Prina M, Prince M (2013) Policy brief for heads of government: the global impact of dementia 2013–2050. Policy Br Heads Gov Glob Impact Dement 2013–2050 Publ by Alzheimer's Dis Int (ADI), London December 2013. 1–8.

5.

Sposato LA, Kapral MK, Fang J et al (2015) Declining incidence of stroke and dementia: coincidence or prevention opportunity? JAMA Neurol 72:1529

6.

Ahmadi-Abhari S, Guzman-Castillo M, Bandosz P et al (2017) Temporal trend in dementia incidence since 2002 and projections for prevalence in England and Wales to 2040: modelling study. BMJ. https://doi.org/10.1136/bmj.j2856

7.

Grasset L, Brayne C, Joly P et al (2016) Trends in dementia incidence: evolution over a 10-year period in France. Alzheimer's Dement 12:272–280

8.

Prince M, Ali GC, Guerchet M (2016) Recent global trends in the prevalence and incidence of dementia, and survival with dementia. Alzheimer's Res Ther. https://doi.org/10.1186/s13195-016-0188-8

9.

Kivipelto M, Mangialasche F, Ngandu T (2018) Lifestyle interventions to prevent cognitive impairment, dementia and Alzheimer disease. Nat Rev Neurol 14:653–666

10.

Norton S, Matthews FE, Barnes DE (2014) Potential for primary prevention of Alzheimer's disease: an analysis of population-based data. Lancet Neurol 13:788–794

11.

Santos CY, Snyder PJ, Wu WC (2017) Pathophysiologic relationship between Alzheimer's disease, cerebrovascular disease, and cardiovascular risk: a review and synthesis. Alzheimer's Dement. https://doi.org/10.1016/j.dadm.2017.01.005

12.

Bratzke-Bauer LC, Pozehl BJ, Paul SM et al (2013) Neuropsychological patterns differ by type of left ventricle dysfunction in heart failure. Arch Clin Neuropsychol. https://doi.org/10.1093/arclin/acs101

13.

Ylikoski R, Ylikoski A, Raininko R et al (2000) Cardiovascular diseases, health status, brain imaging findings and neuropsychological functioning in neurologically healthy elderly individuals. Arch Gerontol Geriatr. https://doi.org/10.1016/S0167-4943(00)00045-5

14.

Verma M, Howard RJ (2012) Semantic memory and language dysfunction in early Alzheimer's disease: a review. Int J Geriatr Psychiatry 27:1209–1217

15.

Petersen MS, Debes F, Grandjean P, Weihe P (2019) Gender differences in cognitive performance and health status in the Faroese Septuagenarians cohort. Eur J Public Health. 29(1):79–81

16.

Choi AL, Weihe P, Budtz-Jørgensen E et al (2009) Methylmercury exposure and adverse cardiovascular effects in Faroese Whaling men. Environ Health Perspect. https://doi.org/10.1289/ehp.11608

17.

Salonen JT, Seppänen K, Lakka TA et al (2000) Mercury accumulation and accelerated progression of carotid atherosclerosis: a population-based prospective 4-year follow-up study in men in eastern Finland. Atherosclerosis. https://doi.org/10.1016/S0021-9150(99)00272-5

18.

Petersen MS, Restorff M, Stórá T et al (2019) Trend in the incidence and prevalence of dementia in the Faroe Islands. J Alzheimer's Dis. https://doi.org/10.3233/JAD-190341

19.

Fernandez G (2002) Discriminant analysis, a powerful classification technique in data mining. Proceedings of the SAS Users International Conference, pp 247–56

20.

SAS (2011) SAS/STAT 9.3. SAS Inst Inc, Cary, NC, 8640

21.

Niu H, Álvarez-Álvarez I, Guillén-Grima F et al (2017) Prevalence and incidence of Alzheimer's disease in Europe: a meta-analysis. Neurologia (English Ed). https://doi.org/10.1016/j.nrleng.2016.02.009

22.

Van Cauwenberghe C, Van Broeckhoven C, Sleegers K (2016) The genetic landscape of Alzheimer disease: clinical implications and perspectives. Genet Med 18:421–430

23.

Bondi MW, Jak AJ, Delano-Wood L et al (2008) Neuropsychological contributions to the early identification of Alzheimer's disease. Neuropsychol Rev 18:73–90

24.

Weintraub S, Wicklund AH, Salmon DP (2012) The neuropsychological profile of Alzheimer disease. Cold Spring Harb Perspect Med. https://doi.org/10.1101/cshperspect.a006171

25.

Bastin C, Salmon E (2014) Early neuropsychological detection of Alzheimer's disease. Eur J Clin Nutr 68:1192–1199

26.

Belleville S, Fouquet C, Hudon C et al (2017) Neuropsychological measures that predict progression from mild cognitive impairment to Alzheimer's type dementia in older adults: a systematic review and meta-analysis. Neuropsychol Rev 27:328–353

27.

Buschke H (1973) Selective reminding for analysis of memory and learning. J Verbal Learn Verbal Behav 12:543–550

28.

Buschke H, Fuld PA (1974) Evaluating storage, retention, and retrieval in disordered memory and learning. Neurology 24:1019–1019

29.

Spreen O, Strauss EA (1998) A Compendium of neuropsychological Tests, 2nd edn. Oxford University Press, New York

30.

Kaplan E, Goodglass H, Weintraub S (1983) The Boston naming test. Lea Febiger, Philadelphia

31.

Williams BW, Mack W, Henderson VW (1989) Boston naming test in Alzheimer's disease. Neuropsychologia 27:1073–1079

32.

Katsumata Y, Mathews M, Abner EL et al (2015) Assessing the discriminant ability, reliability, and comparability of multiple short forms of the boston naming test in an Alzheimer's disease center cohort. Dement Geriatr Cogn Disord 39:215–227

33.

Raven J, Raven JC, Court J (1998) Manual for Raven's progressive matrices and vocabulary scales. Cogn Psychol. https://doi.org/10.1006/cogp.1999.0735

34.

Ambra FI, Iavarone A, Ronga B et al (2016) Qualitative patterns at Raven's colored progressive matrices in mild cognitive impairment and Alzheimer's disease. Aging Clin Exp Res 28:561–565

35.

Chen P, Ratcliff G, Belle SH et al (2000) Cognitive tests that best discriminate between presymptomatic AD and those who remain nondemented. Neurology. https://doi.org/10.1212/WNL.55.12.1847

36.

Roebuck-Spencer TM, Glen T, Puente AE et al (2017) Cognitive screening tests versus comprehensive neuropsychological test batteries: a national academy of neuropsychology education paper. Arch Clin Neuropsychol. https://doi.org/10.1093/arclin/acx021

37.

Reul S, Lohmann H, Wiendl H et al (2017) Can cognitive assessment really discriminate early stages of Alzheimer's and behavioural variant frontotemporal dementia at initial clinical presentation? Alzheimer's Res Ther. https://doi.org/10.1186/s13195-017-0287-1
Acknowledgements
We would like to thank Arni Ludvig psychologist and Hildigunn Steinhólm, research coordinator for their contribution at the baseline examinations.
Funding
The study was supported by the Faroese Research Council, National Institute of Health (Grant Numbers ES013692 & F32ES028087) and the European Commission Sixth Framework Programme for RTD (Grant Number FOOD-CT-2006-016253, PHIME).
Ethics declarations
Conflict of interest
The authors declare that they do not have any conflict of interest.
Research involving human participants and/or animals
Yes, human subjects. All procedures have been approved by the Faroese Ethical Committee.
Informed consent
Informed consent was obtained from all study participants.
Additional information
Publisher's Note
Springer Nature remains neutral with regard to jurisdictional claims in published maps and institutional affiliations.
Electronic supplementary material
Below is the link to the electronic supplementary material.
About this article
Cite this article
Paul, K.C., Debes, F., Eliasen, E. et al. Incidence, gender influence, and neuropsychological predictors of all cause dementia in the Faroe Islands—the Faroese Septuagenarian cohort. Aging Clin Exp Res 33, 105–114 (2021). https://doi.org/10.1007/s40520-020-01520-4
Received:

Accepted:

Published:

Issue Date:
Keywords
Alzheimer's disease

Dementia

Incidence

Neuropsychological tests

Faroe Islands