Abstract
Background
Malnutrition, sarcopenia, and frailty are prevalent conditions amongst hospitalized elderly. They are associated with numerous adverse health outcomes. The co-existence of these problems is common, with malnutrition playing a major role in the pathogenesis of the other two. Whether nutritional screening tools are useful for frailty and sarcopenia screening needs further evaluation.
Aim
To evaluate the accuracy of the Geriatric Nutritional Risk Index (GNRI) in identifying frailty and sarcopenia in hospitalized older adults.
Methods
One hundred and fifty hospitalized patients (≥ 60 years) were recruited. Skeletal Muscle Index was obtained using bioelectrical impedance analysis. Muscle strength and physical performance were measured by handgrip strength and timed up and go test, respectively. GNRI and the Mini Nutritional Assessment (MNA) tool were used for nutritional assessment.
Results
GNRI had lower sensitivity but higher specificity compared to MNA in predicting frailty and dynapenia. GNRI discriminated the presence of sarcopenia but not pre-sarcopenia (AUC = 0.683, p = 0.02, and AUC = 0.586, p = 0.12), while MNA did not discriminate the presence of pre-sarcopenia nor sarcopenia in the studied sample (AUC = 0.56, p = 0.25 and AUC = 0.6, p = 0.09).
Conclusions
Sarcopenia, frailty, and malnutrition coexisted in 26% of our sample. GNRI Score at ≤ 86.73 was 71.9% sensitive and 65.6% specific for detecting frailty and its score at ≤ 89.04 was 64.42% sensitive and 63.53% specific for detecting sarcopenia. GNRI is a simple method, which could be used for sarcopenia, and frailty screening in all elders attending primary care settings where other tools for assessing muscle mass are unavailable.
Access options
Buy single article
Instant access to the full article PDF.
US$ 39.95
Tax calculation will be finalised during checkout.
Subscribe to journal
Immediate online access to all issues from 2019. Subscription will auto renew annually.
US$ 79
Tax calculation will be finalised during checkout.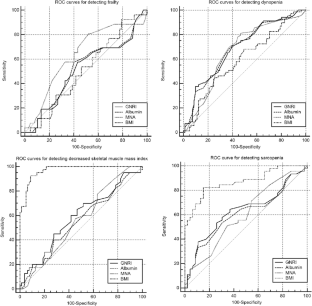 References
1.

Jeejeebhoy KN (2012) Malnutrition, fatigue, frailty, vulnerability, sarcopenia and cachexia: overlap of clinical features. Curr Opin Clin Nutr Metab Care 15:213–219

2.

Gingrich A, Volkert D, Kiesswetter E et al (2019) Prevalence and overlap of sarcopenia, frailty, cachexia and malnutrition in older medical inpatients. BMC Geriatr 19:120

3.

Cruz-Jentoft AJ, Baeyens JP, Bauer JM et al (2010) Sarcopenia: European consensus on definition and diagnosis: report of the European Working Group onsarcopenia in older people. Age Ageing 39:412–423. https://doi.org/10.1093/ageing/afq034

4.

Fried LP, Tangen CM, Walston J et al (2001) Frailty in older adults: evidence for a phenotype. J Gerontol A Biol Sci Med Sci 56:M146–M156

5.

Haritha S, Shaharb S, Yusoffb NAM et al (2010) The magnitude of malnutrition among hospitalized elderly patients in university Malaya medical centre. Health Environ J 1:64–72

6.

Bartali B, Frongillo EA, Bandinelli S et al (2006) Low nutrient intake is an essential component of frailty in older persons. J Gerontol Med Sci 61A:589–593

7.

Cruz-Jentoft AJ, Baeyens JP, Bauer JM et al (2010Sarcopenia) Sarcopenia: European consensus on definition and diagnosis: report of the European Working Group on sarcopenia in older people. Age Ageing 39:412–423. https://doi.org/10.1093/ageing/afq034 (Epub 2010 Apr 13. PMID: 20392703; PMCID: PMC2886201)

8.

Vandewoude MFJ, Alish CJ, Sauer AC et al (2012) Malnutrition-sarcopenia syndrome: is this the future of nutrition screening and assessment for older adults? J Aging Res. https://doi.org/10.1155/2012/651570

9.

Vellas B, Guigoz Y, Garry PJ et al (1999) The mini nutritional assessment (MNA) and its use in grading the nutritional state of elderly patients. Nutrition 15:116–122

10.

Bouillanne O, Morineau G, Dupont C et al (2005) Geriatric Nutritional Risk index: a new index for evaluating at-risk elderly medical patients. Am J Clin Nutr 82:777–783

11.

Cereda E, Vanotti A (2007) The new Geriatric Nutritional Risk index is a good predictor of muscle dysfunction in institutionalized older patients. Clin Nutr 26:78–83

13.

Cereda E, Pusani C, Limonta D et al (2009) The ability of the Geriatric Nutritional Risk index to assess the nutritional status and predict the outcome of home-care resident elderly: a comparison with the mini nutritional assessment. Br J Nutr 102:563–570

14.

Alvares-da-Silva MR, Reverbel da Silveira T (2005) Comparison between handgrip strength, subjective global assessment, and prognostic nutritional index in assessing malnutrition and predicting clinical outcome in cirrhotic outpatients. Nutrition 21:113–117

15.

Gaikwad NR, Gupta SJ, Samarth AR et al (2016) Handgrip dynamometry: a surrogate marker of malnutrition to predict the prognosis in alcoholic liver disease. Ann Gastroenterol 29:509–514

16.

Podsiadlo D, Richardson S (1991) The Timed "Up & Go": a test of basic functional mobility for frail elderly persons. J Am Geriatr Soc 39:142–148

17.

Janssen I, Heymsfield SB, Baumgartner RN et al (2000) Estimation of skeletal muscle mass by bioelectrical impedance analysis. J Appl Physiol 89:465–471

18.

Avila-Funes J, Helmer C, Amieva H et al (2008) Frailty among community dwelling elderly people in France: the three city study. J Gerontol Ser A Biol Sci Med Sci 63:1089–1096

19.

Cruz-Jentoft AJ, Bahat G, Bauer J et al (2019) Sarcopenia: revised European consensus on definition and diagnosis. Age Ageing 48:16–31

20.

Abd Aziz NAS, Mohd Fahmi Teng NI, Kamarul Zaman M (2019) Geriatric Nutrition Risk index is comparable to the mini nutritional assessment for assessing nutritional status in elderly hospitalized patients. Clin Nutr ESPEN 1:77–85

21.

Abd-El-Gawad WM, Abou-Hashem RM, El Maraghy MO et al (2014) The validity of Geriatric Nutrition Risk Index: Simple tool for prediction of nutritional-related complication of hospitalized elderly patients: comparison with mini nutritional assessment. Clin Nutr 33:1108–1116

22.

Orlandoni P, Venturini C, Jukic Peladic N et al (2017) Malnutrition upon hospital admission in geriatric patients: why assess it? Front Nutr 4:50–50

23.

Cereda E, Zagami A, Vanotti A et al (2008) Geriatric Nutritional Risk Index and overall-cause mortality prediction in institutionalised elderly: a 3-year survival analysis. Clin Nutr 27:717–723

24.

Cereda E, Vanotti A (2008) Short dietary assessment improves muscle dysfunction identification by Geriatric Nutritional Risk Index in uncomplicated institutionalised patients over 70 years old. Clin Nutr 27:126–132

25.

Zhang XS, Liu YH, Zhang Y et al (2017) Handgrip strength as a predictor of nutritional status in Chinese elderly inpatients at hospital admission. Biomed Environ Sci 30:802–810. https://doi.org/10.3967/bes2017.108

26.

Soysal P, Isik AT, Arik F et al (2019) Validity of the Mini-Nutritional Assessment Scale for evaluating frailty status in older adults. J Am Med Dir Assoc 20:183–187

27.

Nakamura H, Kita N, Tanimoto K et al (2018) Usefulness of nutrition screening tools for sarcopenia screening with chronic obstructive pulmonary disease in JAPAN. Eur Respir J 52:PA707

28.

Nasimi N, Dabbaghmanesh MH, Sohrabi Z (2019) Nutritional status and body fat mass: determinants of sarcopenia in community-dwelling older adults. Exp Gerontol 15:67–73
Acknowledgements
The authors acknowledge all the participants in the study.
Funding
The authors received no financial support for the research, authorship, or publication of this article. The manuscript has not been published and is not under consideration of publication in whole or part".
Ethics declarations
Conflict of interest
No potential conflicts of interest were disclosed.
Ethical approval
The study was performed in adherence to the principles established by the Declaration of Helsinki and the study methodology was reviewed and approved by the Research Review Board of the Geriatrics and Gerontology Department, Faculty of Medicine, Ain Shams University.
Human and animal rights statement
The present study were carried out with full respect to human rights.
Informed consent
Informed verbal consent was obtained from all the participants because some of the participants were illiterate and could not provide signed consent. The verbal consent was documented in the presence of a next of kin and a nurse. The ethics committee approved using of verbal consent.
Sponsor's role
None.
Additional information
Publisher's Note
Springer Nature remains neutral with regard to jurisdictional claims in published maps and institutional affiliations.
About this article
Cite this article
Rasheedy, D., El-Kawaly, W.H. The accuracy of the Geriatric Nutritional Risk Index in detecting frailty and sarcopenia in hospitalized older adults. Aging Clin Exp Res 32, 2469–2477 (2020). https://doi.org/10.1007/s40520-020-01492-5
Received:

Accepted:

Published:

Issue Date:
Keywords
GNRI and MNA

GNRI in frailty and sarcopenia

Sarcopenia and frailty