Abstract
Background
Frailty is a public health concern in the ageing population. Little is known about the role of gender in the relationship between frailty and health care utilization in older adults.
Aims
The study aims to examine gender differences in the association between different frailty status and health care utilization among Chinese older people.
Methods
A total of 7070 older adults (60+) from Shandong Province, China, were enrolled in this study. Frailty was assessed by frailty index constructed using 45 health deficits. Multivariate logistic regression models were employed separately for men and women to examine the impact of frailty on self-care, outpatient, and inpatient utilization.
Results
Overall, the prevalence of frailty was 7.9% in older adults, with 7.1% and 8.3% in men and women, respectively. 49.4% respondents reported they had self-care in the previous 2 weeks, and women were more likely to have self-care than men. Being pre-frail and frail was significantly associated with utilization of all types of health care among older men and women, and the relationship was stronger in the frail groups than that in the pre-frail groups except for self-care. Respective odds ratios for outpatient utilization were higher in men than that in women.
Conclusions
Frailty is a frequent condition in Chinese older adults. The association between frailty and health care utilization (except outpatient) tended to be stronger in women than men. The gender differences should be considered when designing the preventing or delaying the installation of frailty and geriatric care plans.
This is a preview of subscription content, log in to check access.
Access options
Buy single article
Instant access to the full article PDF.
US$ 39.95
Tax calculation will be finalised during checkout.
Subscribe to journal
Immediate online access to all issues from 2019. Subscription will auto renew annually.
US$ 99
Tax calculation will be finalised during checkout.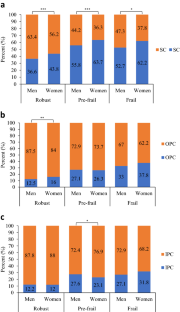 References
1.

WHO (2015) WHO: number of people over 60 years set to double by 2050; major societal changes required. Saudi Med J 36:1375–1376

2.

Ministry of Civil Affairs of China (2017) 2017 Social Services Development Statistics Bulletin. http://www.mca.gov.cn/article/sj/tjgb/2017/201708021607.pdf. Accessed 25 May 2019

3.

United Nations (2013) World population prospects, the 2012 revision. United Nations, New York

4.

Beard JR, Officer A, de Carvalho IA et al (2016) The world report on ageing and health: a policy framework for healthy ageing. Lancet 387:2145–2154

5.

Collard RM, Boter H, Schoevers RA et al (2012) Prevalence of frailty in community-dwelling older persons: a systematic review. J Am Geriatr Soc 60:1487–1492

6.

Wu C, Smit E, Xue Q et al (2018) Prevalence and correlates of frailty among community-dwelling chinese older adults: the china health and retirement longitudinal study. J Gerontol Ser A 73:102–108

7.

Saum KU, Dieffenbach AK, Müller H et al (2014) Frailty prevalence and 10-year survival in community-dwelling older adults: results from the ESTHER cohort study. Eur J Epidemiol 29:171–179

8.

Cawthon PM, Marshall LM, Michael Y et al (2010) Frailty in older men: prevalence, progression, and relationship with mortality. J Am Geriatr Soc 55:1216–1223

9.

Drubbel I, de Wit NJ, Bleijenberg N et al (2013) Prediction of adverse health outcomes in older people using a frailty index based on routine primary care data. J Gerontol 68:301–308

10.

Robinson TN, Wu DS, Stiegmann GV et al (2011) Frailty predicts increased hospital and six-month healthcare cost following colorectal surgery in older adults. Am J Surg 202:511–514

11.

Gobbens RJ, van Assen MA (2012) Frailty and its prediction of disability and health care utilization: the added value of interviews and physical measures following a self-report questionnaire. Arch Gerontol Geriatr 55:369–379

12.

Peters LL, Burgerhof JG, Boter H et al (2015) Predictive validity of a frailty measure (GFI) and a case complexity measure (IM-E-SA) on healthcare costs in an elderly population. J Psychosom Res 79:404–411

13.

Bock J, König H, Brenner H et al (2016) Associations of frailty with health care costs—results of the ESTHER cohort study. BMC Health Serv Res 16:128

14.

Ilinca S, Calciolari S (2015) The patterns of health care utilization by elderly europeans: frailty and its implications for health systems. Health Serv Res 50:305–320

15.

Gordon EH, Peel NM, Samanta M et al (2017) Sex differences in frailty: a systematic review and meta-analysis. Exp Gerontol 89:30–40

16.

RedondoSendino Á, Guallarcastillón P, Banegas JR et al (2006) Gender differences in the utilization of health-care services among the older adult population of Spain. BMC Public Health 6:1–9

17.

Bartley MM, Geda YE, Christianson TJH et al (2016) Frailty and mortality outcomes in cognitively normal older people: sex differences in a population-based study. J Am Geriatr Soc 64:132–137

18.

Gwyther H, Shaw R, Jaime Dauden E et al (2018) Understanding frailty: a qualitative study of European healthcare policy-makers' approaches to frailty screening and management. BMJ Open 8:e18653

19.

Yu Z, Xu L, Sun L et al (2019) Association between interpersonal trust and suicidal ideation in older adults: a cross-sectional analysis of 7070 subjects in Shandong, China. BMC Psychiatry 19:206. https://doi.org/10.1186/s12888-019-2186-4

20.

Rockwood K, Mitnitski A (2007) Frailty in relation to the accumulation of deficits. J Gerontol A Biol Sci Med Sci 62:722–727

21.

Mitnitski AB, Mogilner AJ, Rockwood K (2001) Accumulation of deficits as a proxy measure of aging. Sci World J 1:323–336

22.

Searle SD, Mitnitski A, Gahbauer EA et al (2008) A standard procedure for creating a frailty index. BMC Geriatr 8:24

23.

Rockwood K, Andrew M, Mitnitski A (2007) A comparison of two approaches to measuring frailty in elderly people. J Gerontol Ser A Biol Sci Med Sci 62:738–743

24.

Zheng Z, Guan S, Ding H et al (2016) Prevalence and incidence of frailty in community-dwelling older people: Beijing longitudinal study of aging II. J Am Geriatr Soc 64:1281–1286

25.

Song X, Mitnitski A, Rockwood K (2010) Prevalence and 10-year outcomes of frailty in older adults in relation to deficit accumulation. J Am Geriatr Soc 58:681–687

26.

Woo J, Zheng Z, Leung J et al (2015) Prevalence of frailty and contributory factors in three Chinese populations with different socioeconomic and healthcare characteristics. BMC Geriatr 15:163

27.

Hubbard RE, Rockwood K (2011) Frailty in older women. Maturitas 69:203–207

28.

Shi J, Yang Z, Song X et al (2014) Sex differences in the limit to deficit accumulation in late middle-aged and older chinese people: results from the beijing longitudinal study of aging. J Gerontol Ser A Biol Sci Med Sci 69:702–709

29.

Puts MT, Lips P, Deeg DJ (2010) Sex differences in the risk of frailty for mortality independent of disability and chronic diseases. J Am Geriatr Soc 53:40–47

30.

Arvandi M, Strasser B, Meisinger C et al (2016) Gender differences in the association between grip strength and mortality in older adults: results from the KORA-age study. BMC Geriatr 16:201

31.

Alexandre TDS, Corona LP, Brito TRP et al (2018) Gender differences in the incidence and determinants of components of the frailty phenotype among older adults: findings from the SABE Study. J Aging Health 30:190–212

32.

Hazra NC, Dregan A, Jackson S et al (2015) Differences in health at age 100 according to sex: population-based cohort study of centenarians using electronic health records. J Am Geriatr Soc 63:1331–1337

33.

Li J, Shi L, Liang H et al (2018) Urban-rural disparities in health care utilization among Chinese adults from 1993 to 2011. BMC Health Serv Res 18:102

34.

Li Y, Rao K, Ren X (2012) Use of and factors associated with self-treatment in China. BMC Public Health 12:995

35.

Amoako EP, Lenora RC, Laurie KM (2003) Self-medication with over-the-counter drugs among elderly adults. J Gerontol Nurs 29:10–15

36.

You JH, Wong FY, Chan FW et al (2011) Public perception on the role of community pharmacists in self-medication and self-care in Hong Kong. BMC Clin Pharmacol 11:19

37.

China Food and Drug Administration (2016) Food and drug administration statistical annual report. http://www.sda.gov.cn/WS01/CL0108/143640.html. Accessed 12 June 2019

38.

Grzywacz JG, Stoller EP, Brewer-Lowry AN et al (2012) Gender and health lifestyle. Health Educ Behav 39:332–340

39.

Ganther J, Wiederholt J, Kreling D (2001) Measuring patients' medical care preferences: care seeking versus self-treating. Med Decis Mak 21:133–140

40.

Wen Y, Lieber E, Wan D et al (2011) A qualitative study about self-medication in the community among market vendors in Fuzhou, China. Health Soc Care Commun 19:504–513

41.

Dent E, Hoon E, Karnon J et al (2016) Frailty and health service use in rural South Australia. A Gerontol Geriatr 62:53–58

42.

Hoeck S, Francois G, Geerts J et al (2012) Health-care and home-care utilization among frail elderly persons in Belgium. Eur J Public Health 22:671–677

43.

Roe L, Normand C, Wren M et al (2017) The impact of frailty on healthcare utilisation in Ireland: evidence from the Irish longitudinal study on ageing. BMC Geriatr 17:203

44.

Rockwood K, Mitnitski A (2011) Frailty defined by deficit accumulation and geriatric medicine defined by frailty. Clin Geriatr Med 27:17–26

45.

Noh J, Kim K, Park H et al (2017) Gender differences in outpatient utilization: a pooled analysis of data from the Korea Health Panel. J Womens Health 26:178–185
Funding
Our work was supported by two grants of National Natural Science Foundation of China (Grant numbers: 71673169 and 71673170).
Ethics declarations
Conflict of interest
The authors declare that they have no competing interests.
Ethical approval
This study was approved by the Academic Research Ethics Committee of Shandong University. In addition, this study was performed in accordance with the ethical principles of the Declaration of Helsinki.
Informed consent
Informed consent was obtained from all individual participants included in the study.
Additional information
Publisher's Note
Springer Nature remains neutral with regard to jurisdictional claims in published maps and institutional affiliations.
Electronic supplementary material
Below is the link to the electronic supplementary material.
About this article
Cite this article
Zhang, J., Xu, L., Sun, L. et al. Gender difference in the association of frailty and health care utilization among Chinese older adults: results from a population-based study. Aging Clin Exp Res 32, 1985–1991 (2020). https://doi.org/10.1007/s40520-019-01410-4
Received:

Accepted:

Published:

Issue Date:
Keywords
Older adults

Frailty

Health care utilization

Gender

China