Abstract
Background
Elderly breast cancer patients are frequently affected by significant comorbidities that make sophisticated radiotherapy treatments particularly challenging.
Aims
We dosimetrically analyzed two different simple free-breathing external beam radiotherapy (EBRT) techniques for the hypofractionated treatment of the left breast in elderly patients with a low compliance, to compare target coverage, and heart and left anterior descending coronary artery (LADCA) sparing.
Methods
We developed radiation plans for 24 elderly patients using 3D conformal (3DCRT) field-in-field tangential technique and intensity-modulated (IMRT) tangential beam technique. Dose-Volume-Histograms (DVHs) were used to provide a quantitative comparison between plans.
Results
The median breast volume was 645 cm3. IMRT and 3DCRT plans comparison demonstrated no significant differences in terms of organ sparing for the heart. Regarding LADCA, mean dose (10.3 ± 9.5 Gy vs 11.9 ± 9.6 Gy, p = 0.0003), maximum dose (26.1 ± 16.1 Gy vs 29.1 ± 16.1 Gy, p = 0.004) and V17 Gy (21.5% ± 26.9% vs 25.0% ± 27.2%, p = 0.002) significantly decreased using IMRT compared with 3DCRT. IMRT plans showed a better target coverage compared with 3DCRT (0.91 ± 0.05 vs 0.93 ± 0.04, p = 0.05).
Discussion
Comparing the two different EBRT techniques, we demonstrated few, although substantial, dosimetric differences in terms of doses to the organs at risk characterized by a statistically significant dose reduction of LADCA in the IMRT plans.
Conclusions
Elderly patients with a low compliance to treatment might benefit from 3DCRT with field-in-field tangential arrangement or from a simple IMRT approach. IMRT should be preferred.
This is a preview of subscription content, log in to check access.
Access options
Buy single article
Instant access to the full article PDF.
US$ 39.95
Price includes VAT for USA
Subscribe to journal
Immediate online access to all issues from 2019. Subscription will auto renew annually.
US$ 99
This is the net price. Taxes to be calculated in checkout.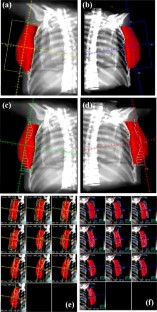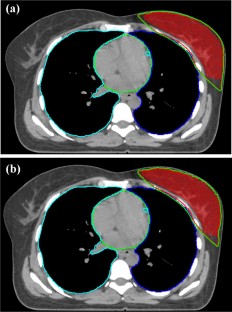 References
1.

Vallis KA, Tannock IF (2004) Postoperative radiotherapy for breast cancer: growing evidence for an impact on survival. J Natl Cancer Inst 96:88–89

2.

Gagliardi G, Lax I, Rutqvist LE (1992) Radiation therapy of stage I breast cancer: analysis of treatment technique accuracy using three-dimensional treatment planning tools. Radiother Oncol 24:94–101

3.

Haviland JS, Owen JR, Dewar JA et al (2013) The UK Standardisation of Breast Radiotherapy (START) trials of radiotherapy hypofractionation for treatment of early breast cancer: 10-year follow-up results of two randomised controlled trials. Lancet Oncol 14:1086–1094

4.

DeSantis C, Ma J, Bryan L, Jemal A (2014) Breast cancer statistics, 2013. CA Cancer J Clin 64:52–62

5.

Darby SC, Ewertz M, McGale P (2013) Risk of ischemic heart disease in women after radiotherapy for breast cancer. N Engl J Med 368:987–998

6.

Nilsson G, Holmberg L, Garmo H et al (2012) Distribution of coronary artery stenosis after radiation for breast cancer. J Clin Oncol 30:380–386

7.

Lohr F, El-Haddad M, Dobler B et al (2009) Potential effect of robust and simple IMRT approach for left-sided breast cancer on cardiac mortality. Int J Radiat Oncol Biol Phys 74:73–80

8.

Cozzi L, Lohr F, Fogliata A et al (2017) Critical appraisal of the role of volumetric modulated arc therapy in the radiation therapy management of breast cancer. Radiat Oncol. 12:200

9.

Bartlett FR, Colgan RM, Donovan EM et al (2014) Voluntary breath-hold technique for reducing heart dose in left breast radiotherapy. J Vis Exp. 89:e51578

10.

Bartlett FR, Colgan RM, Donovan EM et al (2015) The UK HeartSpare Study (Stage IB): randomised comparison of a voluntary breath-hold technique and prone radiotherapy after breast conserving surgery. Radiother Oncol 114:66–72

11.

Rahimy E, Hong JC, Gross CP et al (2017) Increased number of beam angles is associated with higher cardiac dose in adjuvant fixed gantry intensity modulated radiation therapy of left-sided breast cancer. Int J Radiat Oncol Biol Phys 99:1137–1145

12.

RTOG Breast Cancer Contouring Atlas (2018). https://www.rtog.org/LinkClick.aspx?fileticket=vzJFhPaBipE%3d&tabid=236

13.

Feng M, Moran JM, Koelling T et al (2011) Development and validation of a heart atlas to study cardiac exposure to radiation following treatment for breast cancer. Int J Radiat Oncol Biol Phys 79:10–18

14.

Mayo CS, Urie MM, Fitzgerald TJ (2005) Hybrid Imrt plans-concurrently treating conventional and imrt beams for improved breast irradiation and reduced planning time. Int J Radiat Oncol Biol Phys 61:922–932

15.

Berg M, Lorenzen EL, Jensen I et al (2018) The potential benefits from respiratory gating for breast cancer patients regarding target coverage and dose to organs at risk when applying strict dose limits to the heart: results from the DBCG HYPO trial. Acta Oncol 57:113–119

16.

Feuvret L, Noel G, Mazeron JJ et al (2006) Conformity index: a review. Int J Radiat Oncol Biol Phys 64:333–342

17.

van't Riet A, Mak AC, Moerland MA et al (1997) A conformation number to quantify the degree of conformality in brachytherapy and external beam irradiation: Application to the prostate. Int J Radiat Oncol Biol Phys 37:731–736

18.

Jacob V, Bayer W, Astner ST et al (2010) A planning comparison of dynamic IMRT for different collimator leaf thicknesses with Helical Tomotherapy and RapidArc for prostate and head neck tumors. Strahlenther Onkol 186:502–510

19.

Pyakuryal A, Mynt WK, Gopalakrishnan M et al (2010) A computational tool for the efficient analysis of dose-volume histograms for radiation therapy treatment plans. J Appl Clin Med Phys 11:137–157

20.

Lancia A, Ingrosso G, Carosi A et al (2019) Oligometastatic cancer in elderly patients: the "blitzkrieg" radiotherapy approach. Aging Clin Exp Res 31:109–114

21.

Hutchins LF, Unger JM, Crowley JJ et al (1999) Underrepresentation of patients 65 years of age or older in cancer-treatment trial. N Engl J Med 341:2061–2067

22.

Correa CR, Litt HI, Hwang WT et al (2007) Coronary artery findings after left-sided compared with right-sided radiation treatment for early-stage breast cancer. J Clin Oncol 25:3031–3037

23.

Wang W, Wainstein R, Freixa X et al (2011) Quantitative coronary angiography findings of patients who received previous breast radiotherapy. Radiother Oncol 100:184–188

24.

Wennstig AK, Garmo H, Isacsson U et al (2019) The relationship between radiation doses to coronary arteries and location of coronary stenosis requiring intervention in breast cancer survivors. Radiat Oncol. 14:40

25.

Harris EE, Correa C, Hwang WT et al (2006) Late cardiac mortality and morbidity in early-stage breast cancer patients after breast-conservation treatment. J Clin Oncol 24:4100–4106

26.

Stewart FA, Hoving S, Russell NS (2010) Vascular damage as an underlying mechanism of cardiac and cerebral toxicity in irradiated cancer patients. Radiat Res 174:865–869

27.

Offersen B, Højris I, Overgaard M (2011) Radiation-induced heart morbidity after adjuvant radiotherapy of early breast cancer—is it still an issue? Radiother Oncol 100:157–159

28.

McGale P, Darby SC, Hall P et al (2011) Incidence of heart disease in 35,000 women treated with radiotherapy for breast cancer in Denmark and Sweden. Radiother Oncol 100:167–175

29.

Kirby AM, Evans PM, Donovan EM et al (2010) Prone versus supine positioning for whole and partial-breast radiotherapy: a comparison of non-target tissue dosimetry. Radiother Oncol 96:178–184

30.

Cooper BT, Li X, Shin SM et al (2016) Preplanning prediction of the left anterior descending artery maximum dose based on patient, dosimetric, and treatment planning parameters. Adv Radiat Oncol. 1:373–381

31.

Mendez LC, Louie AV, Moreno C et al (2018) Evaluation of a new predictor of heart and left anterior descending artery dose in patients treated with adjuvant radiotherapy to the left breast. Radiat Oncol. 13:124

32.

Boda-Heggemann J, Knopf AC, Simeonova-Chergou A et al (2016) Deep inspiration breath hold-based radiation therapy: a clinical review. Int J Radiat Oncol Biol Phys 94:478–492

33.

Extermann M, Hurria A (2007) Comprehensive geriatric assessment for older patients with cancer. J Clin Oncol. 25:1824–1831
Ethics declarations
Conflict of interest
On behalf of all Authors, the Corresponding Author states that the work is compliant with Ethical Standards and that there is no conflict of interest.
Ethical approval
It is an "in silico" study. In fact, it is a dosimetric analysis.
Statement of human and animal rights
All procedures performed including human participants were in accordance with the ethical standards of the institutional research committee and with the 1964 Helsinki declaration and its later amendements or comparable ethical standards.
Informed consent
For this type of study formal consent is not required.
Additional information
Publisher's Note
Springer Nature remains neutral with regard to jurisdictional claims in published maps and institutional affiliations.
About this article
Cite this article
Carosi, A., Ingrosso, G., Turturici, I. et al. Whole breast external beam radiotherapy in elderly patients affected by left-sided early breast cancer: a dosimetric comparison between two simple free-breathing techniques. Aging Clin Exp Res 32, 1335–1341 (2020). https://doi.org/10.1007/s40520-019-01312-5
Received:

Accepted:

Published:

Issue Date:
Keywords
Breast cancer

Left breast

Conformal radiotherapy

Intensity-modulated radiotherapy

Heart

Coronary artery