Abstract
Background
The presence of incontinence symptoms might affect the quality of life (QoL) of those providing informal care to people suffering from them, causing social isolation, financial problems, psychological and physical exhaustion.
Aims
This study aimed at assessing whether urinary and/or fecal incontinence in people aged 60 and over affects the level of burden in their informal caregivers.
Methods
QoL was assessed amongst 304 informal caregivers of older people suffering from urinary and/or fecal incontinence, and compared to that reported by 305 caregivers of non-incontinent older relatives, all living in Italy. All participants were administered a questionnaire focused on: characteristics and conditions of the cared for; details of the care activity; emotions experienced by caregivers; attitudes of caregivers; reasons for providing care; availability of information and support; demographics.
Results
Findings show that, when no incontinence was reported, the longer was the caregiving situation, the better was the caregivers' QoL, which was instead negatively affected by the lack of a support network. As for caregivers' feelings, neither positive nor negative emotions influenced their QoL in a significant way. In terms of caregiver's role, those who felt overwhelmed or loaded with responsibility reported a lower QoL, while the opposite was found among those who felt rewarded and supported, even when incontinence—of any kind—was present.
Conclusions
The management of incontinence does have a negative impact on caregivers' QoL, but subjective factors might play a mitigating role on such an impact.
Access options
Buy single article
Instant access to the full article PDF.
US$ 39.95
Tax calculation will be finalised during checkout.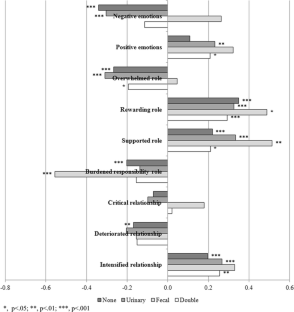 Abbreviations
QoL:

Quality of life

OPI:

Older person with incontinence

Non-OPI:

Older person without incontinence

PCA:

Principal component analysis

OLS:

Ordinary least squares
References
1.

Abrams P, Cardozo L, Khoury S et al. (Eds.) (2013) Incontinence: Fifth Edition 2013. ICUD-EAU

2.

Noimark D, Steventon N, Wagg A (2009) A qualitative study of the impact of caring for a person with urinary incontinence. Neurourol Urody 28(7):637–638

3.

Gotoh M, Matsukawa Y, Yoshikawa Y et al. (2009) Impact of urinary incontinence on the psychological burden of family caregivers. Neurourol Urodyn 28(6):492–496. doi:10.1002/nau.20675

4.

van der Veen R, Versteeg M, Mak S et al. (2011) Quality of life of carers managing incontinence in Europe. Survey Report 2011. http://eurocarers.org/userfiles/file/Carers%20managing%20incontinenceFinal5%2011.pdf. Accessed 22 December 2014

5.

Langa KM, Fultz NH, Saint S et al. (2002) Informal caring time and costs for urinary incontinence in older individuals in the United States. J Am Geriatr Soc 50(4):733–737. doi:10.1046/j.1532-5415.2002.50170.x

6.

Hayder D, Schnepp W (2008) Urinary incontinence—The family caregivers' perspective. Z Gerontol Geriat 41:261–266. doi:10.1007/s00391-008-0560-9

7.

Gallagher M, Pierce LL (2002) Caregivers' and care recipients' perceptions of dealing with urinary incontinence. Rehab Nursing 27(1):25–31. doi:10.1002/j.2048-7940.2002.tb01976.x

8.

Thomas P, Ingrand P, Lalloue F et al. (2004) Reasons of informal caregivers for institutionalising dementia patients previously living at home: the Pixel study. Int J Geriatr Psychiatry 19:127–135. doi:10.1002/gps.1039

9.

Cassels C, Watt E (2003) The impact of incontinence on older spousal caregivers. J Adv Nurs 42(6):607–616. doi:10.1046/j.1365-2648.2003.02664.x

10.

Anderson R, Mikulic B, Vermeylen G et al. (2009) Second european quality of life survey: overview. European foundation for the improvement of living and working conditions. Luxembourg: Office for Official Publications of the EuropeanCommunities. http://www.eurofound.europa.eu/pubdocs/2009/02/en/2/EF0902EN.pdf. Accessed 22 December 2014

11.

EU Life Long Learning Programme (2010) Life after care: overview report: Caring and Post Caring in Europe. http://www.lifeaftercare.eu/docs/OverviewReportFinalSept2010.pdf. Accessed 22 December 2014

12.

Tennant R, Hiller L, Fishwick R et al. (2007) The Warwick-Edinburgh Mental Well-being Scale (WEMWBS): development and UK validation. Health Qual Life Outcomes 5:63. doi:10.1186/1477-7525-5-63

13.

Weeks J, Maurimootoo G, Parker A et al. (2012) Quality of life in carers of older people with incontinence in Italy. Dissertation, presented by Lamura G at: Global Forum on Incontinence; 2012 April 24–25; Copenhagen, Denmark

14.

Lamura G, Mnich E, Nolan M et al. (2008) Family carers' experiences using support services in Europe: empirical evidence from the EUROFAMCARE study. Gerontologist 48(6):752–771. doi:10.1093/geront/48.6.752
Acknowledgments
The study whose dataset this article is based upon and the editorial support were financed by SCA (Svenska Cellulose Aktiebolaget). The data analysis and the drafting of this article were partly funded by Eurocarers. The authors wish to thank Jon Weeks, Gemma Maurimootoo, Alexander Parker and Freya Benson from Ipsos MORI for assisting with the design of the questionnaire and providing the data. Many thanks also to Liana Spazzafumo from INRCA for her advice on statistical analysis.
Conflict of interest
No conflict of interest has been declared by the authors.
Human and Animal Rights
The data collection for the study was completed by Ipsos within all the guidelines set out by the Market Research Society, and also ESOMAR standards.
Informed consent
Ipsos provides respondent anonymity in any data collected, ensuring that they enter into any research study with informed consent, and able to cease the interview at any point should they wish to.
About this article
Cite this article
Di Rosa, M., Lamura, G. The impact of incontinence management on informal caregivers' quality of life. Aging Clin Exp Res 28, 89–97 (2016). https://doi.org/10.1007/s40520-015-0367-7
Received:

Accepted:

Published:

Issue Date:
Keywords
Incontinence

Caregivers

Psychological burden

Quality of life

Aging