Abstract
Objective
Recent reports from our laboratory and others suggest that the menopausal transition may represent a window of vulnerability for eating disorders in women. Here, we present new findings regarding this issue.
Methods
We surveyed 230 women aged 40–60 years using an anonymous questionnaire focused on eating-disorder and body-image symptomatology. We then compared groups of respondents based on (a) menopausal stage as assessed by World Health Organization (WHO) criteria and (b) menopausal symptomatology as assessed by the Menopause Rating Scale (MRS).
Results
WHO-defined menopausal stage (premenopausal, perimenopausal, and postmenopausal) showed no significant associations with eating and body-image measures. However, MRS scores showed strong associations with most measures of the Eating Disorder Examination Questionnaire, as well as with questions regarding satisfaction with body image. These associations remained little changed even when removing the four psychological items from the MRS score and examining only the association of the MRS somato-vegetative and urogenital items with these outcome variables.
Discussion
Our data augment existing evidence that the menopausal transition may be associated with eating and body-image disturbances. However, reported menopausal stage, which is difficult to define reliably, may be less informative than menopausal symptoms as a predictor of disordered eating and associated symptoms.
Level of evidence
V—descriptive survey study.
Access options
Buy single article
Instant access to the full article PDF.
US$ 39.95
Tax calculation will be finalised during checkout.
Subscribe to journal
Immediate online access to all issues from 2019. Subscription will auto renew annually.
US$ 79
Tax calculation will be finalised during checkout.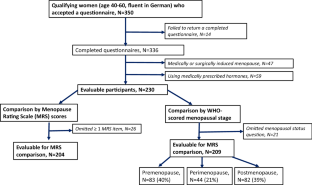 Data availability
The data that support the findings of this study are available from the corresponding author upon reasonable request.
References
1.

Mangweth-Matzek B, Hoek HW, Rupp CI, Kemmler G, Pope HG, Kinzl J (2013) The menopausal transition- a possible window of vulnerability for eating pathology. Int J Eat Disord 46(6):609–616. https://doi.org/10.1002/eat.22157

2.

Baker JH, Runfola CD (2016) Eating disorders in midlife women: a perimenopausal eating disorder? Maturitas 85:112–116. https://doi.org/10.1016/j.maturitas.2015.12.017

3.

Thompson KA, Bardone-Cone AM (2019) Evaluating attitudes about aging and body comparison as moderators of the relationship between menopausal status and disordered eating and body image concerns among middle-aged women. Maturitas 124:25–31. https://doi.org/10.1016/j.maturitas.2019.03.014

4.

World Health Organization (1996) Research on the menopause in the 1990s: report of a WHO scientific group; WHO technical report series, 866. Geneva, p 13

5.

Hauser GA, Huber IC, Keller PJ, Lauritzen C, Schneider HP (1994) Evaluation der klimakterischen Beschwerden (Menopause Rating Scale MRS) [Evaluation of climacteric symptoms (Menopause Rating Scale)]. Zentralbl Gynakol 116(1):16–23

6.

Hilbert A, Tuschen-Caffier B (2006) Eating Disorder Examination Questionnaire. German translation (1.edition), Verlag für Psychotherapie, PAG Institut für Psychologie AG, Münster. (English version: Fairburn CG , Beglin SJ (1994) The assessment of eating disorders: Interview or self-report questionnaire? Int J Eat Disord 16: 363–370. https://doi.org/10.1002/1098-108X(199412)

7.

Gagne DA, von Holle A, Brownley KA, Runfola CD, Hofmeier S, Branch KE, Bulik CM (2012) Eating disorder symptoms and weight and shape concerns in a large web-based convenience sample of women ages 50 and above: results of the gender and body image (GABI) study. Int J Eat Disord 45(7):832–844. https://doi.org/10.1002/eat.22030

8.

Hilbert A, de Zwaan M, Braehler E (2012) How frequent are eating disturbances in the population? Norms of the eating disorder examination-questionnaire. PLoS ONE 7(1):e29125. https://doi.org/10.1371/journal.pone.0029125

9.

Sherman S (2005) Defining the menopausal transition. Am J Med 118(Suppl 12B):3–7. https://doi.org/10.1016/j.amjmed.2005.11.002

10.

Soares C, Warren M (2009) The menopausal transition. Interface between psychiatry and gynecology. Key issues in mental health, Karger, Basel. ISSN 1662-4874; 175. ISBN 978-3-8055-9101-0
Funding
This study was not supported by any funding.
Ethics declarations
Conflict of interest
All of the authors declare that no conflict of interest exists.
Ethical approval
All procedures were approved by the Ethics Commission of the Medical University Innsbruck and were conducted in accordance with the 1964 Helsinki declaration and its later amendments or comparable ethical standards.
Informed consent
Informed consent was obtained from all individual participants included in the study.
Additional information
Publisher's Note
Springer Nature remains neutral with regard to jurisdictional claims in published maps and institutional affiliations.
About this article
Cite this article
Mangweth-Matzek, B., Rupp, C.I., Vedova, S. et al. Disorders of eating and body image during the menopausal transition: associations with menopausal stage and with menopausal symptomatology. Eat Weight Disord (2021). https://doi.org/10.1007/s40519-021-01141-4
Received:

Accepted:

Published:
Keywords
Menopause

Disordered eating

Eating disorders

Body image

Middle-aged women