Abstract
Purpose
Eating self-efficacy (ESE) is the belief in one's ability to self-regulate eating. Social and emotional situations may be differently challenging depending on the individual eating habits, body mass index and affects. Several ESE scales have been developed but most of them focus on weight management, dieting or healthy eating. The aim of the study was to validate a new brief scale assessing ESE in situations in which people face social or emotional pressures for excessive food intake.
Methods
Study 1: A sample of 412 volunteer females (age M = 25.44 ± 5.03) completed a first 25-item version of the scale. Exploratory factor analysis (EFA) was conducted for selecting a subgroup of items composing the ESE brief scale (ESEBS). Study 2 assessed its psychometric properties through a Confirmatory Factor Analysis (CFA), analyzing the responses of 410 volunteer adults (273 females, 137 males).
Results
EFA of Study 1 evidenced a bifactorial structure. Four items for each factor were selected, explaining 63% of the variance. Study 2 confirmed the good fit of the bifactorial model (CFI = 0.9589; χ2 (19) = 62.852, p < 0.001; RMSEA = 0.075; SRMR = 0.040) and provided support for the measurement invariance of the scale across gender. The internal consistency was as follows: Social (α = 0.786), Emotional (α = 0.820). The concurrent validity of the subscales was demonstrated by significant latent negative correlations with measures of eating disorders and emotional eating.
Conclusions
The 8-items ESEBS appears as a valid and reliable instrument to assess eating self-efficacy related to social and emotional situations. Future studies should evaluate its potential use in non-clinical and clinical research and interventions.
Level of evidence
Level V, descriptive cross-sectional study.
Access options
Buy single article
Instant access to the full article PDF.
US$ 39.95
Tax calculation will be finalised during checkout.
Subscribe to journal
Immediate online access to all issues from 2019. Subscription will auto renew annually.
US$ 79
Tax calculation will be finalised during checkout.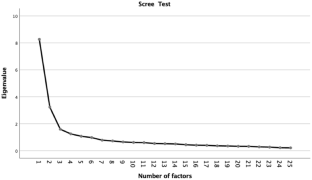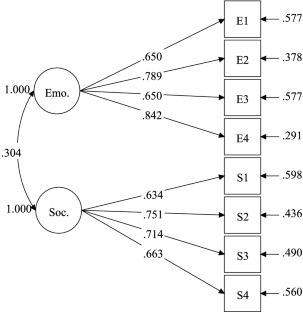 References
1.

Bandura A (1997) The exercise of control. WH Freeman, New York

2.

Clark MM, Abrams DB, Niaura RS et al (1991) Self-efficacy in weight management. J Consult Clin Psychol 59:739–744. https://doi.org/10.1037/0022-006X.59.5.739

3.

Glynn SM, Ruderman AJ (1986) The development and validation of an Eating Self-Efficacy Scale. Cognit Ther Res 10:403–420. https://doi.org/10.1007/BF01173294

4.

Leehr EJ, Krohmer K, Schag K et al (2015) Emotion regulation model in binge eating disorder and obesity—a systematic review. Neurosci Biobehav Rev 49:125–134. https://doi.org/10.1016/j.neubiorev.2014.12.008

5.

Evers C, Marijn Stok F, de Ridder DTD (2010) Feeding your feelings: emotion regulation strategies and emotional eating. Personal Soc Psychol Bull 36:792–804. https://doi.org/10.1177/0146167210371383

6.

Wallis DJ, Hetherington MM (2004) Stress and eating: the effects of ego-threat and cognitive demand on food intake in restrained and emotional eaters. Appetite 43:39–46. https://doi.org/10.1016/j.appet.2004.02.001

7.

Chua JL, Touyz S, Hill AJ (2004) Negative mood-induced overeating in obese binge eaters: an experimental study. Int J Obes 28:606–610. https://doi.org/10.1038/sj.ijo.0802595

8.

Cardi V, Leppanen J, Treasure J (2015) The effects of negative and positive mood induction on eating behaviour: a meta-analysis of laboratory studies in the healthy population and eating and weight disorders. Neurosci Biobehav Rev 57:299–309. https://doi.org/10.1016/j.neubiorev.2015.08.011

9.

Jansen A, Vanreyten A, van Balveren T et al (2008) Negative affect and cue-induced overeating in non-eating disordered obesity. Appetite 51:556–562. https://doi.org/10.1016/j.appet.2008.04.009

10.

Higgs S, Thomas J (2016) Social influences on eating. Curr Opin Behav Sci 9:1–6. https://doi.org/10.1016/j.cobeha.2015.10.005

11.

Cruwys T, Bevelander KE, Hermans RCJ (2015) Social modeling of eating: a review of when and why social influence affects food intake and choice. Appetite 86:3–18. https://doi.org/10.1016/j.appet.2014.08.035

12.

Herman CP (2015) The social facilitation of eating. A review. Appetite 86:61–73. https://doi.org/10.1016/j.appet.2014.09.016

13.

Herman CP, Roth DA, Polivy J (2003) Effects of the presence of others on food intake: a normative interpretation. Psychol Bull 129:873–886. https://doi.org/10.1037/0033-2909.129.6.873

14.

Roth D, Herman C, Polivy J, Pliner P (2001) Self-presentational conflict in social eating situations: a normative perspective. Appetite 36:165–171. https://doi.org/10.1006/appe.2000.0388

15.

Goldschmidt AB, Crosby RD, Cao L et al (2018) A preliminary study of momentary, naturalistic indicators of binge-eating episodes in adults with obesity. Int J Eat Disord 51:87–91. https://doi.org/10.1002/eat.22795

16.

Ames GE, Heckman MG, Grothe KB, Clark MM (2012) Eating self-efficacy: development of a short-form WEL. Eat Behav 13:375–378. https://doi.org/10.1016/j.eatbeh.2012.03.013

17.

Clark MM, Cargill BR, Medeiros ML, Pera V (1996) Changes in self-efficacy following obesity treatment. Obes Res 4:179–181. https://doi.org/10.1002/j.1550-8528.1996.tb00531.x

18.

Batsis JA, Clark MM, Grothe K et al (2009) Self-efficacy after bariatric surgery for obesity. A population-based cohort study. Appetite 52:637–645. https://doi.org/10.1016/j.appet.2009.02.017

19.

Ames GE, Heckman MG, Diehl NN et al (2015) Further statistical and clinical validity for the weight efficacy lifestyle questionnaire-short form. Eat Behav 18:115–119. https://doi.org/10.1016/j.eatbeh.2015.05.003

20.

Stich C, Knäuper B, Tint A (2009) A scenario-based dieting Self-Efficacy Scale. Assessment 16:16–30. https://doi.org/10.1177/1073191108322000

21.

Wilson-Barlow L, Hollins TR, Clopton JR (2014) Construction and validation of the healthy eating and weight self-efficacy (HEWSE) scale. Eat Behav 15:490–492. https://doi.org/10.1016/j.eatbeh.2014.06.004

22.

Schlundt DG, Zimering RT (1988) The dieter's inventory of eating temptations: a measure of weight control competence. Addict Behav 13:151–164. https://doi.org/10.1016/0306-4603(88)90005-6

23.

Kliemann N, Beeken RJ, Wardle J, Johnson F (2016) Development and validation of the Self-Regulation of Eating Behaviour Questionnaire for adults. Int J Behav Nutr Phys Act 13:87. https://doi.org/10.1186/s12966-016-0414-6

24.

Costanzo PR, Reichmann SK, Friedman KE, Musante GJ (2001) The mediating effect of eating self-efficacy on the relationship between emotional arousal and overeating in the treatment-seeking obese. Eat Behav 2:363–368. https://doi.org/10.1016/S1471-0153(01)00042-3

25.

Shannon B, Bagby R, Wang MQ, Trenkner L (1990) Self-efficacy: a contributor to the explanation of eating behavior. Health Educ Res 5:395–407. https://doi.org/10.1093/her/5.4.395

26.

O'Leary A (1985) Self-efficacy and health. Behav Res Ther 23:437–451. https://doi.org/10.1016/0005-7967(85)90172-X

27.

Goodrick GK, Pendleton VR, Kimball KT et al (1999) Binge eating severity, self-concept, dieting self-efficacy and social support during treatment of binge eating disorder. Int J Eat Disord 26:295–300. https://doi.org/10.1002/(SICI)1098-108X(199911)26:3%3c295:AID-EAT7%3e3.0.CO;2-7

28.

Linardon J (2018) The relationship between dietary restraint and binge eating: examining eating-related self-efficacy as a moderator. Appetite 127:126–129. https://doi.org/10.1016/j.appet.2018.04.026

29.

Berman ES (2006) The relationship between eating self-efficacy and eating disorder symptoms in a non-clinical sample. Eat Behav 7:79–90. https://doi.org/10.1016/j.eatbeh.2005.07.004

30.

Lombardo C, Cerolini S, Alivernini F, et al (2019) Validation of a brief scale assessing eating self-efficacy. In: Psychotherapy and psychosomatics, pp 1–152

31.

Comrey AL, Lee HB (1992) A first course in factor analysis, 2°. Psychology Press, New York

32.

Pearson RH, Mundform DJ (2010) Recommended sample size for conducting exploratory factor analysis on dichotomous data. J Mod Appl Stat Methods 9:359–368. https://doi.org/10.22237/jmasm/1288584240

33.

Cronbach LJ (1951) Coefficient alpha and the internal structure of tests. Psychometrika 16:297–334. https://doi.org/10.1007/BF02310555

34.

DeVellis R (2003) Scale development: theory and applications: theory and application. Sage, Thousand Okas

35.

Costello AB, Osborne JW (2005) Best practices in exploratory factor analysis: four recommendations for getting the most from your analysis. Pract Assess Res Eval 10:1–8

36.

Gravetter F, Wallnau L (2014) Essentials of statistics for the behavioral sciences. Cengage Learning, Ottawa

37.

Preacher K, Coffman D (2006) Computing power and minimum sample size for RMSEA [Computer software]. http://quantpsy.org/

38.

Kyriazos TA (2018) Applied psychometrics: sample size and sample power considerations in factor analysis (EFA, CFA) and SEM in general. Psychology 09:2207–2230. https://doi.org/10.4236/psych.2018.98126

39.

MacCallum RC, Browne MW, Sugawara HM (1996) Power analysis and determination of sample size for covariance structure modeling. Psychol Methods 1:130–149. https://doi.org/10.1037/1082-989X.1.2.130

40.

Lombardo C, Russo PM, Lucidi F et al (2004) Internal consistency, convergent validity and reliability of a brief Questionnaire on Disordered Eating (DEQ). Eat Weight Disord 9:91–98. https://doi.org/10.1007/BF03325051

41.

Lombardo C, Cuzzolaro M, Vetrone G et al (2011) Concurrent validity of the Disordered Eating Questionnaire (DEQ) with the eating disorder examination (EDE) clinical interview in clinical and non clinical samples. Eat Weight Disord 16:e188–e198

42.

Arnow B, Kenardy J, Agras WS (1995) The emotional eating scale: the development of a measure to assess coping with negative affect by eating. Int J Eat Disord 18:79–90. https://doi.org/10.1002/1098-108X(199507)18:1%3c79:AID-EAT2260180109%3e3.0.CO;2-V

43.

Lombardo C, San Martini P (2005) Psychometric properties of the Italian version of the Emotional Eating Scale (EES). In: XIII General meeting of the international society for research on emotions (ISRE), Bari, pp 11–15

44.

Garner DM, Olmsted MP, Bohr Y, Garfinkel PE (1982) The eating attitudes test: psychometric features and clinical correlates. Psychol Med 12:871–878. https://doi.org/10.1017/S0033291700049163

45.

Dotti A, Lazzari R (1998) Validation and reliability of the Italian EAT-26. Eat Weight Disord Stud Anorexia Bulim Obes 3:188–194. https://doi.org/10.1007/BF03340009

46.

Muthén LK, Muthén BO (2017) Mplus user's guide, 8th edn. Muthén & Muthén, Los Angeles

47.

Hu L, Bentler PM (1999) Cutoff criteria for fit indexes in covariance structure analysis: conventional criteria versus new alternatives. Struct Equ Model A Multidiscip J 6:1–55. https://doi.org/10.1080/10705519909540118

48.

Meredith W (1993) Measurement invariance, factor analysis and factorial invariance. Psychometrika 58:525–543. https://doi.org/10.1007/BF02294825

49.

Widaman KF, Reise SP (1997) Exploring the measurement invariance of psychological instruments: Applications in the substance use domain. The science of prevention: Methodological advances from alcohol and substance abuse research. American Psychological Association, Washington, pp 281–324

50.

Milfont TL, Fischer R (2010) Testing measurement invariance across groups: applications in cross-cultural research. Int J Psychol Res 3:111–121. https://doi.org/10.21500/20112084.857

51.

Chen FF, Sousa KH, West SG (2005) Teacher's corner: testing measurement invariance of second-order factor models. Struct Equ Model A Multidiscip J 12:471–492. https://doi.org/10.1207/s15328007sem1203_7

52.

van de Schoot R, Lugtig P, Hox J (2012) A checklist for testing measurement invariance. Eur J Dev Psychol 9:486–492. https://doi.org/10.1080/17405629.2012.686740

53.

Cheung GW, Rensvold RB (2002) Evaluating goodness-of-fit indexes for testing measurement invariance. Struct Equ Model A Multidiscip J 9:233–255. https://doi.org/10.1207/S15328007SEM0902_5

54.

Chen FF (2007) Sensitivity of goodness of fit indexes to lack of measurement invariance. Struct Equ Model A Multidiscip J 14:464–504. https://doi.org/10.1080/10705510701301834

55.

Kline RB (2015) Principles and practice of structural equation modeling. Guilford Press, New York

56.

Bandalos DL (2018) Measurement theory and applications for the social sciences. Guilford Publications, New York

57.

McDonald RP (1999) Test theory: a unified treatment. Lawrence Erlbaum Associates, Mahwah

58.

Lazarevich I, Irigoyen Camacho ME, del Velázquez-Alva MC, Zepeda Zepeda M (2016) Relationship among obesity, depression, and emotional eating in young adults. Appetite 107:639–644. https://doi.org/10.1016/j.appet.2016.09.011

59.

Camilleri GM, Méjean C, Kesse-Guyot E et al (2014) The associations between emotional eating and consumption of energy-dense snack foods are modified by sex and depressive symptomatology. J Nutr 144:1264–1273. https://doi.org/10.3945/jn.114.193177

60.

Vartanian LR, Spanos S, Herman CP, Polivy J (2015) Modeling of food intake: a meta-analytic review. Soc Influ 10:119–136. https://doi.org/10.1080/15534510.2015.1008037

61.

Berry SL, Beatty WW, Klesges RC (1985) Sensory and social influences on ice cream consumption by males and females in a laboratory setting. Appetite 6:41–45. https://doi.org/10.1016/S0195-6663(85)80049-0
Funding
This study did not receive specific fundings.
Ethics declarations
Conflict of interest
On behalf of all authors, the corresponding author states that there is no conflict of interest.
Ethical approval
All procedures performed in studies involving human participants were in accordance with the ethical standards of the Institutional Review Board of the Department of Psychology, Sapienza University of Rome and with the 1964 Helsinki declaration and its later amendments or comparable ethical standards.
Informed consent
Informed consent was obtained from all individual participants included in the study.
Additional information
Publisher's Note
Springer Nature remains neutral with regard to jurisdictional claims in published maps and institutional affiliations.
About this article
Cite this article
Lombardo, C., Cerolini, S., Alivernini, F. et al. Eating self-efficacy: validation of a new brief scale. Eat Weight Disord 26, 295–303 (2021). https://doi.org/10.1007/s40519-020-00854-2
Received:

Accepted:

Published:

Issue Date:
Keywords
Eating self-efficacy

Eating behaviour

Scale

Validation

Factorial analysis