Abstract
Purpose
The association between binge eating and obesity is increasing. Treatments for disorders of recurrent binge eating comorbid with obesity reduce eating disorder (ED) symptoms, but not weight. This study investigated the efficacy and safety of introducing a weight loss intervention to the treatment of people with disorders of recurrent binge eating and a high body mass index (BMI).
Methods
A single-blind randomized controlled trial selected adults with binge eating disorder or bulimia nervosa and BMI ≥ 27 to < 40 kg/m2. The primary outcome was sustained weight loss at 12-month follow-up. Secondary outcomes included ED symptoms. Mixed effects models analyses were conducted using multiple imputed datasets in the presence of missing data.
Results
Ninety-eight participants were randomized to the Health Approach to Weight Management and Food in Eating Disorders (HAPIFED) or to the Cognitive Behavioural Therapy-Enhanced (CBT-E). No between-group differences were found for percentage of participants achieving weight loss or secondary outcomes, except for reduction of purging behaviour, which was greater with HAPIFED (p = 0.016). Binge remission rates specifically at 12-month follow-up favoured HAPIFED (34.0% vs 16.7%; p = 0.049). Overall, significant improvements in the reduction of ED symptoms were seen in both groups and these were sustained at the 12-month follow-up.
Conclusion
HAPIFED was not superior to CBT-E in promoting clinically significant weight loss and was not significantly different in reducing most ED symptoms. No harm was observed with HAPIFED, in that no worsening of ED symptoms was observed. Further studies should test approaches that target both the management of ED symptoms and the high BMI.
Level of evidence
Level I, randomized controlled trial
Trial registration
US National Institutes of Health clinical trial registration number NCT02464345, date of registration 1 June 2015.
Access options
Buy single article
Instant access to the full article PDF.
US$ 39.95
Tax calculation will be finalised during checkout.
Subscribe to journal
Immediate online access to all issues from 2019. Subscription will auto renew annually.
US$ 79
Tax calculation will be finalised during checkout.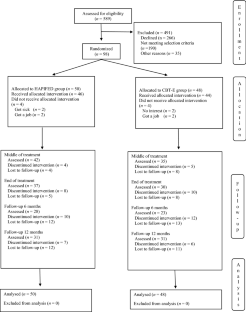 Data availability
The datasets generated during and/or analysed during the current study are available from the corresponding author on reasonable request.
References
1.

Hay P, Girosi F, Mond J (2015) Prevalence and sociodemographic correlates of DSM-5 eating disorders in the Australian population. J Eat Disord 25:3–19. https://doi.org/10.1186/s40337-015-0056-0

2.

Darby A, Hay P, Mond J, Quirk F, Buttner P, Kennedy L (2009) The rising prevalence of comorbid obesity and eating disorder behaviors from 1995 to 2005. Int J Eat Disord 42:104–108. https://doi.org/10.1002/eat.20601

3.

Villarejo C, Jiménez-Murcia S, Álvarez-Moya E, Granero R, Penelo E, Treasure J, Vilarrasa N, Gil-Montserrat de Barnabé M, Casanueva FF, Tinahones FJ, Fernández-Real JM, Frühbeck G, de la Torre R, Botella C, Agüera Z, Menchón JM, Fernández-Aranda F (2014) Loss of control over eating: a description of the eating disorder/obesity spectrum in women. Eur Eat Disord Rev 22:25–31. https://doi.org/10.1002/erv.2267

4.

Bulik CM, Marcus MD, Zerwas S, Levine MD, La Via M (2012) The changing "weightscape" of bulimia nervosa. Am J Psychiatry 169:1031–1036. https://doi.org/10.1176/appi.ajp.2012.12010147

5.

Palavras MA, Hay P, Santos Filho CA, Claudino A (2017) The efficacy of psychological therapies in reducing weight and binge eating in people with bulimia nervosa and binge eating disorder who are overweight or obese–a critical synthesis and meta-analyses. Nutrients 9:E299. https://doi.org/10.3390/nu9030299

6.

Iacovino JM, Gredysa DM, Altman M, Wilfley DE (2012) Psychological treatments for binge eating disorder. Curr Psychiatry Rep 14:432–446. https://doi.org/10.1007/s11920-012-0277-8

7.

McElroy SL, Guerjikova AI, Mori N, Munoz MR, Keck PE Jr (2015) Overview of the treatment of binge eating disorder. CNS Spectr 20:546–556. https://doi.org/10.1017/S1092852915000759

8.

Brownley KA, Berkman ND, Peat CM, Lohr KN, Cullen KE, Bann CM, Bulik CM (2016) Binge-eating disorder in adults: a systematic review and meta-analysis. Ann Intern Med 165:409–420. https://doi.org/10.7326/M15-2455

9.

Niego SH, Kofman MD, Weiss JJ, Geliebter A (2007) Binge eating in the bariatric surgery population: a review of the literature. Int J Eat Disord 40:349–359

10.

Hart LM, Granilo MT, Jorm AF, Paxton SJ (2011) Unmet need for treatment in the eating disorders: a systematic review of eating disorder specific treatment seeking among community cases. Clin Psychol Rev 31:727–735. https://doi.org/10.1016/j.cpr.2011.03.004

11.

Wilfley DE, Welch RR, Stein RI, Spurrell EB, Cohen LR, Saelens BE, Dounchis JZ, Frank MA, Wiseman CV, Matt GE (2002) A randomized comparison of group cognitive–behavioral therapy and group interpersonal psychotherapy for the treatment of overweight individuals with binge-eating disorder. Arch Gen Psychiatry 59:713–721

12.

da Luz FQ, Swinbourne J, Sainsbury A, Touyz S, Palavras M, Claudino A, Hay P (2017) HAPIFED: a healthy approach to weight management and food in eating disorders: a case series and manual development. J Eat Disord 16:5–29. https://doi.org/10.1186/s40337-017-0162-2

13.

Fairburn CG (2008) Cognitive behavior therapy and eating disorders. The Guilford Press, New York

14.

Grilo CM, Masheb RM, Wilson GT, Gueorguieva R, White MA (2011) Cognitive–behavioral therapy, behavioral weight loss, and sequential treatment for obese patients with binge-eating disorder: a randomized controlled trial. J Consult Clin Psychol 79:675–685. https://doi.org/10.1037/a0025049

15.

Klein S, Burke LE, Bray GA, Blair S, Allison DB, Pi-Sunyer X, Hong Y, Eckel RH (2004) American Heart Association Council on Nutrition, Physical Activity, and Metabolism clinical implications of obesity with specific focus on cardiovascular disease: a statement for professionals from the American Heart Association Council on Nutrition, Physical Activity, and Metabolism: endorsed by the American College of Cardiology Foundation. Circulation 110:2952–2967

16.

Sainsbury-Salis A (2007) The don't go hungry diet. Bantam, Australia

17.

American Psychiatric Association (APA) (2013) Diagnostic and Statistical Manual of Mental Disorders, 5th edn. American Psychiatric Publishing, Arlington

18.

Claudino AM, Pike KM, Hay P, Keeley JW, Evans SC, Rebello TJ, Bryant-Waugh R, Dai Y, Zhao M, Matsumoto C, Herscovici CR, Mellor-Marsá B, Stona AC, Kogan CS, Andrews HF, Monteleone P, Pilon DJ, Thiels C, Sharan P, Al-Adawi S, Reed GM (2019) The classification of feeding and eating disorders in the ICD-11: results of a field study comparing proposed ICD-11 guidelines with existing guidelines. BMC Med 17:93. https://doi.org/10.1186/s12916-019-1327-4

19.

Palavras MA, Hay P, Touyz S, Sainsbury A, Luz F, Swinbourne J, Estella NM, Claudino A (2015) Comparing cognitive behavioural therapy for eating disorders integrated with behavioural weight loss therapy to cognitive behavioural therapy enhanced alone in overweight or obese people with bulimia nervosa or binge eating disorder: study protocol for a randomised controlled trial. Trials 16:578. https://doi.org/10.1186/s13063-015-1079-1

20.

Kass AE, Kolko RP, Wilfley DE (2013) Psychological treatments for eating disorders. Curr Opin Psychiatry 26:549–555. https://doi.org/10.1097/YCO.0b013e328365a30e

21.

Hay P, Chinn D, Forbes D, Madden S, Newton R, Sugenor L, Touyz S, Ward W (2014) Royal Australian and New Zealand College of Psychiatrists. Royal Australian and New Zealand College of Psychiatrists clinical practice guidelines for the treatment of eating disorders. Aust N Z J Psychiatry 48:977–1008. https://doi.org/10.1177/0004867414555814

22.

Polnay A, James VA, Hodges L, Murray GD, Munro C, Lawrie SM (2014) Group therapy for people with bulimia nervosa: systematic review and metaanalysis. Psychol Med 44:2241–2254. https://doi.org/10.1017/S0033291713002791

23.

Sheehan DV, Lecrubier Y, Sheehan KH, Amorim P, Janavs J, Weiller E, Hergueta T, Baker R, Dunbar GC (1998) The Mini International Neuropsychiatric Interview MINI the development and validation of a structured diagnostic psychiatric interview for DSM IV and ICD 10. J Clin Psychiatry 59(20):22–33

24.

Fairburn CG, Cooper Z, Connor M (2014) The eating disorder examination, 17th ed. The Centre for Research on Eating Disorders at Oxford. https:/www.credo-oxford.com/pdfs/EDE170D.pdf. Accessed 3 July 2015.

25.

Latner JD, Mond JM, Kelly MC, Haynes SN, Hay PJ (2014) The Loss of control over eating scale development and psychometric evaluation. Int J Eat Disord 47:647–659. https://doi.org/10.1002/eat.22296

26.

Skrondal A, Rabe-Hesketh S (2004) Generalized latent variable modeling: multilevel, longitudinal, and structural equation models. Chapman & Hall/CRC Press, Boca Raton

27.

Cohen J (1988) Statistical power analysis for the behavioral sciences. Lawrence Erlbaum Associates, New Jersey

28.

Chen H, Cohen P, Chen S (2010) How big is a big odds ratio Interpreting the magnitudes of odds ratios in epidemiological studies. Commun Stat Simul Comput 39:860–864

29.

Li KH (1987) Imputation using Markov chains. J Stat Comput Simul 30:57–79

30.

Rubin DB (2004) Multiple imputation for nonresponse in surveys. John Wiley and Sons, New York

31.

31. StataCorp (2017) Stata Statistical Software: Release 15 StataCorp LLC College Station

32.

IBM Corp Released (2011) IBM SPSS Statistics for Windows, Version 20.0. IBM Corp, New York

33.

Fairburn CG, Cooper Z, Doll HA, O'Connor ME, Bohn K, Hawker DM, Wales JA, Palmer RL (2009) Transdiagnostic cognitive–behavioral therapy for patients with eating disorders: a two-site trial with 60-week follow-up. Am J Psychiatry 166:311–319. https://doi.org/10.1176/appi.ajp.2008.08040608

34.

McIntosh VVW, Jordan J, Carter JD, Frampton CMA, McKenzie JM, Latner JD, Joyce PR (2016) Psychotherapy for transdiagnostic binge eating: a randomized controlled trial of cognitive–behavioural therapy, appetite-focused cognitive–behavioural therapy, and schema therapy. Psychiatry Res 30:412–420. https://doi.org/10.1016/j.psychres.2016.04.080

35.

Wonderlich SA, Peterson CB, Crosby RD, Smith TL, Klein MH, Mitchell JE, Crow SJ (2014) A randomized controlled comparison of integrative cognitive-affective therapy (ICAT) and enhanced cognitive–behavioral therapy (CBT-E) for bulimia nervosa. Psychol Med 44:543–553. https://doi.org/10.1017/S0033291713001098

36.

de Zwaan M, Herpertz S, Zipfel S, Svaldi J, Friederich HC, Schmidt F, Mayr A, Lam T, Schade-Brittinger C, Hilbert A (2017) Effect of internet-based guided self-help vs individual face-to-face treatment on full or subsyndromal binge eating disorder in overweight or obese patients: the INTERBED randomized clinical trial. JAMA Psychiatry 74:987–995. https://doi.org/10.1001/jamapsychiatry.2017.2150

37.

Hilbert A, Bishop ME, Stein RI, Tanofsky-Kraff M, Swenson AK, Welch RR, Wilfley DE (2012) Long-term efficacy of psychological treatments for binge eating disorder. Br J Psychiatry 200:232–237. https://doi.org/10.1192/bjp.bp.110.089664

38.

Hay PJ, Claudino AM (2010) Bulimia Nervosa. BMJ. Clin Evid 19:2010

39.

Linardon J, Hindle A, Brennan L (2018) Dropout from cognitive–behavioral therapy for eating disorders: a meta-analysis of randomized, controlled trials. Int J Eat Disord 51:381–391. https://doi.org/10.1002/eat.22850

40.

Ariel AH, Perri MG (2016) Effect of dose of behavioral treatment for obesity on binge eating severity. Eat Behav 22:55–61. https://doi.org/10.1016/j.eatbeh.2016.03.032

41.

Dalle Grave R, Calugi S, Molinari E, Petroni ML, Bondi M, Compare A, Marchesini G; QUOVADIS Study Group (2005) Weight loss expectations in obese patients and treatment attrition: an observational multicenter study. Obes Res 13:1961–1969

42.

Scientifically sound—–reproducible research in the digital age. Cohen's D: how to interpret it? (2017). https://scientificallysound.org/2017/07/27/cohens-d-how-interpretation/. Acessed 06 January 2020

43.

Cooper Z, Calugi S, Dalle Grave R (2019) Controlling binge eating and weight a treatment for binge eating disorder worth researching. Eat Weight Disord 18:9–10. https://doi.org/10.1007/s40519-019-00734-4

44.

Pattinson AL, Nassar N, Luz FQ, Hay P, Touyz S, Sainsbury A (2019) The real happy study protocol for a prospective assessment of the real world effectiveness of the HAPIFED program a healthy approach to weight management and food in eating disorders. Behav Sci 9:72. https://doi.org/10.3390/bs9070072
Acknowledgements
The authors acknowledge Jessica Swinbourne who contributed to the HAPIFED manual development, Nara Mendes who contributed to the translation of LOCES and protocol development, Mireille Coelho and Mitti Koyama for the support with different aspects of the trial and the entire team of professionals from PROATA who collaborated with the study execution.
Funding
This study was financed in part by the Coordenação de Aperfeiçoamento de Pessoal de Nível Superior–Brasil (CAPES)–Finance Code 001. PH was part supported by the School of Medicine WSU for travel to Sao Paulo including sabbatical leave in 2012. AS was supported by the National Health and Medical Research Council (NHMRC) of Australia via Senior Research Fellowships (1042555 and 1135897) and via a Sydney Outstanding Academic Researcher (SOAR) Fellowship–the University of Sydney. FQdL was supported by The São Paulo Research Foundation (FAPESP) via a Young Investigator Fellowship.
Ethics declarations
Conflicts of interest
Marly A. Palavras participated in a 2016 meeting of an advisory board for the treatment of binge eating disorder at Shire Pharmaceuticals, Brazil. Phillipa Hay receives/has received sessional fees and lecture fees from the Australian Medical Council, Therapeutic Guidelines publication and New South Wales Institute of Psychiatry; royalties/honoraria from Hogrefe and Huber, McGraw Hill Education, Blackwell Scientific Publications, Biomed Central and PlosMedicine; and has received research grants from the NHMRC and ARC. She is Chair of the National Eating Disorders Collaboration Steering Committee in Australia (2019–) and a Member of the ICD-11 Working Group for Eating Disorders (2012–2018) and was Chair of the Clinical Practice Guidelines Project Working Group (Eating Disorders) of RANZCP (2012–2015). She has received honoraria from Shire Pharmaceuticals for educational seminars for psychiatrists and prepared a commissioned report. Angélica M. Claudino is a member of the World Health Organization Working Group on Feeding and Eating Disorders for the Revision of ICD-10 Mental and Behavioral Disorders. Amanda Sainsbury is the author of The Don't Go Hungry Diet (Bantam, Australia and New Zealand, 2007) and Don't Go Hungry for Life (Bantam, Australia and New Zealand, 2011). She has also received payment from Eli Lilly, the Pharmacy Guild of Australia, Novo Nordisk, the Dietitians Association of Australia, Shoalhaven Family Medical Centres, the Pharmaceutical Society of Australia, and Metagenics for presentation at conferences, and served on the Nestlé Health Science Optifast® VLCDTM Advisory Board from 2016 to 2018. Stephen Touyz receives royalties from Hogrefe and Huber, Routledge and McGraw-Hill Publishers. He has also been the recipient of honoraria and travel and research grants from Shire Pharmaceuticals. He has chaired their Australian Binge-Eating Disorder Advisory Board and has been the author of commissioned reports. All views expressed in these reports have been his own. He is a mental health advisor to the Australian Commonwealth Department of Veterans Affairs and a consultant to Weight Watchers (WW). Haider Mannan and Felipe Quinto da Luz have no conflicts of interest to report.
Ethical approval
All procedures performed in studies involving human participants were in accordance with the ethical standards of the institutional and/or national research committee and with the 1964 Helsinki Declaration and its later amendments or comparable ethical standards. The study was approved by the Human Research Ethics Committee of UNIFESP (CAAE 43874315.4.0000.5505).
Informed consent
Informed consent was obtained from all participants included in the study.
Additional information
Publisher's Note
Springer Nature remains neutral with regard to jurisdictional claims in published maps and institutional affiliations.
About this article
Cite this article
Palavras, M.A., Hay, P., Mannan, H. et al. Integrated weight loss and cognitive behavioural therapy (CBT) for the treatment of recurrent binge eating and high body mass index: a randomized controlled trial. Eat Weight Disord 26, 249–262 (2021). https://doi.org/10.1007/s40519-020-00846-2
Received:

Accepted:

Published:

Issue Date:
Keywords
Binge-eating disorder

Bulimia nervosa

Therapy

Weight loss