Abstract
Purpose
Research concerning eating disorders among adolescent and young adult male athletes is limited compared with female counterparts, but increasing evidence indicates that they may be at unique risk for unhealthy exercise and eating behavior. The current study aimed to characterize unhealthy exercise and eating behavior according to competitive athlete status, as well as per sport type.
Method
Collegiate male athletes (N = 611), each affiliated with one of the 10 National College Athletics Association (NCAA) Division I schools in the United States, completed an online survey, reporting on eating and extreme weight control behaviors, and reasons for exercise.
Results
Competitive athletes endorsed increased driven exercise and exercising when sick. Baseball players, cyclists, and wrestlers emerged as the sports with the most players reporting elevated Eating Disorder Examination-Questionnaire scores in a clinical range, and basketball players reported the highest rates of binge eating. overall, baseball players, cyclists, rowers, and wrestlers appeared to demonstrate the greatest vulnerability for unhealthy eating and exercise behavior.
Conclusion
Findings revealed differences between competitive and non-competitive male athletes. Among competitive athletes, results identified unique risk for unhealthy eating and exercise behavior across a variety of sport categories and support continued examination of these attitudes and behaviors in a nuanced manner.
Level II
Evidence obtained from well-designed controlled trials without randomization.
Access options
Buy single article
Instant access to the full article PDF.
US$ 39.95
Tax calculation will be finalised during checkout.
Subscribe to journal
Immediate online access to all issues from 2019. Subscription will auto renew annually.
US$ 79
Tax calculation will be finalised during checkout.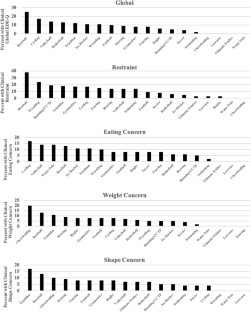 References
1.

Schaumberg K, Welch E, Breithaupt L, Hübel C, Baker JH, Munn-Chernoff MA, Yilmaz Z, Ehrlich S, Mustelin L, Ghaderi A, Hardaway AJ (2017) The science behind the Academy for Eating Disorders' nine truths about eating disorders. Eur Eat Disord Rev. 25(6):432–450

2.

Baum A (2006) Eating disorders in the male athlete. Sports Med 36(1):1–6

3.

Hudson JI, Hiripi E, Pope HG Jr, Kessler RC (2007) The prevalence and correlates of eating disorders in the National Comorbidity Survey Replication. Biol Psychiat 61(3):348–358

4.

Lavender JM, De Young KP, Anderson DA (2010) Eating disorder examination questionnaire (EDE-Q): norms for undergraduate men. Eat Behav 11(2):119–121

5.

Galli N, Petrie TA, Reel JJ, Chatterton JM, Baghurst TM (2014) Assessing the validity of the weight pressures in sport scale for male athletes. Psychol Men Masculin. 15(2):170

6.

Murray SB, Griffiths S, Mond JM (2016) Evolving eating disorder psychopathology: conceptualising muscularity-oriented disordered eating. Brit J Psychiat. 208(5):414–415

7.

Chapman J, Woodman T (2016) Disordered eating in male athletes: a meta-analysis. J Sport Sci. 34(2):101–109

8.

Martinsen M, Bratland-Sanda S, Eriksson AK, Sundgot-Borgen J (2010) Dieting to win or to be thin? A study of dieting and disordered eating among adolescent elite athletes and non-athlete controls. Brit J Sports Med. 44(1):70–76

9.

Byrne S, McLean N (2002) Elite athletes: effects of the pressure to be thin. J Sci Med Sport. 5(2):80–94

10.

Sundgot-Borgen J, Torstveit MK (2004) Prevalence of eating disorders in elite athletes is higher than in the general population. Clin J Sport Med 14(1):25–32

11.

Bratland-Sanda S, Sundgot-Borgen J (2013) Eating disorders in athletes: overview of prevalence, risk factors and recommendations for prevention and treatment. Eur J Sport Sci. 13(5):499–508

12.

Byrne S, McLean N (2001) Eating disorders in athletes: a review of the literature. J Sci Med Sport. 4(2):145–159

13.

Youngman J, Simpson D (2014) Risk for exercise addiction: a comparison of triathletes training for sprint-, Olympic-, half-ironman-, and ironman-distance triathlons. J Clin Sport Psychol. 8(1):19–37

14.

Kiningham RB, Gorenflo DW (2001) Weight loss methods of high school wrestlers. Med Sci Sports Exerc 33(5):810–813

15.

Krentz EM, Warschburger P (2011) Sports-related correlates of disordered eating in aesthetic sports. Psychol Sport Exerc 12(4):375–382

16.

Schaal K, Tafflet M, Nassif H, Thibault V, Pichard C, Alcotte M, Guillet T, El Helou N, Berthelot G, Simon S, Toussaint JF (2011) Psychological balance in high level athletes: gender-based differences and sport-specific patterns. PLoS One 6(5):e19007

17.

Chatterton JM, Petrie TA (2013) Prevalence of disordered eating and pathogenic weight control behaviors among male collegiate athletes. Eat Disord. 21(4):328–341

18.

Thiel A, Gottfried H, Hesse FW (1993) Subclinical eating disorders in male athletes: a study of the low weight category in rowers and wrestlers. Acta Psychiat Scand. 88(4):259–265

19.

Sundgot-Borgen J, Garthe I (2011) Elite athletes in aesthetic and Olympic weight-class sports and the challenge of body weight and body compositions. J Sports Sci 29(sup1):S101–S114

20.

Voelker DK, Petrie TA, Reel JJ, Gould D (2018) Frequency and psychosocial correlates of eating disorder symptomatology in male figure skaters. J App Sport Psychol. 30(1):119–126

21.

Lavender JM, Brown TA, Murray SB (2017) Men, muscles, and eating disorders: an overview of traditional and muscularity-oriented disordered eating. Curr Psychiat Report. 19(6):32

22.

Hechler T, Beumont P, Marks P, Touyz S (2005) How do clinical specialists understand the role of physical activity in eating disorders? Eur Eat Disord Rev. 13(2):125–132

23.

Costa S, Hausenblas HA, Oliva P, Cuzzocrea F, Larcan R (2015) Perceived parental psychological control and exercise dependence symptoms in competitive athletes. Int J Ment Health Addict. 13(1):59–72

24.

De La Vega R, Parastatidou IS, Ruiz-Barquin R, Szabo A (2016) Exercise addiction in athletes and leisure exercisers: the moderating role of passion. J Behav Addict. 5(2):325–331

25.

Szabo A, De La Vega R, Ruiz-Barquín R, Rivera O (2013) Exercise addiction in Spanish athletes: investigation of the roles of gender, social context and level of involvement. J Behav Addict. 2(4):249–252

26.

Torstveit MK, Fahrenholtz IL, Lichtenstein MB, Stenqvist TB, Melin AK (2019) Exercise dependence, eating disorder symptoms and biomarkers of relative energy deficiency in sports (RED-S) among male endurance athletes. BMJ Open Sport Exerc Med. 5(1):e000439

27.

Petrie TA, Greenleaf C, Reel J, Carter J (2008) Prevalence of eating disorders and disordered eating behaviors among male collegiate athletes. Psychol Men Masculin. 9(4):267

28.

Darcy AM, Doyle AC, Lock J, Peebles R, Doyle P, Le Grange D (2012) The eating disorders examination in adolescent males with anorexia nervosa: how does it compare to adolescent females? Int J Eat Disord 45(1):110–114

29.

Darcy AM, Hardy KK, Lock J, Hill KB, Peebles R (2013) The eating disorder examination questionnaire (EDE-Q) among university men and women at different levels of athleticism. Eat Behav 14(3):378–381

30.

Runfola CD, Allison KC, Hardy KK, Lock J, Peebles R (2014) Prevalence and clinical significance of night eating syndrome in university students. J Adolescent Health. 55(1):41–48

31.

Fairburn CG (2008) Cognitive behavior therapy and eating disorders, vol 21. Guilford Press, New York, pp 309–314

32.

Berg KC, Peterson CB, Frazier P, Crow SJ (2012) Psychometric evaluation of the eating disorder examination and eating disorder examination-questionnaire: a systematic review of the literature. Int J Eat Disord 45(3):428–438

33.

Neumark-Sztainer D, Wall M, Guo J, Story M, Haines J, Eisenberg M (2006) Obesity, disordered eating, and eating disorders in a longitudinal study of adolescents: how do dieters fare 5 years later? J Amer Dietetic Assoc. 106(4):559–568
Acknowledgements
The authors would like to acknowledge the ATHLETICS consortium, research assistants at the Stanford WEIGHT Lab, and all participants.
Funding
Dr. Gorrell is supported by the National Institutes of Health [T32MH0118261-33]; Dr. Nagata is a participant in the Pediatric Scientist Development Program [K12HD00085033], funded by the American Academy of Pediatrics and the American Pediatric Society; Dr. Timko is supported by the Eunice Kennedy Shriver National Institute of Child Health and Human Development [K12HD085848; PI: Oquendo]; Dr. Peebles is supported by the National Institute of Diabetes and Digestive and Kidney Diseases [K23DK100558]. Original study design and data collection supported by the Stanford Undergraduate Research Program.
Ethics declarations
Conflicts of interest
All authors have no conflicts of interest to report.
Ethical approval
All procedures in the current study were in accordance with the ethical standards of the institutional research committee (Stanford University Panel on Medical Research in Human Subjects, #9465) and with the 1964 Helsinki declaration and its later amendments or comparable ethical standards.
Informed consent
Informed consent was obtained from all individual participants included in the study.
Additional information
Publisher's Note
Springer Nature remains neutral with regard to jurisdictional claims in published maps and institutional affiliations.
This article is part of Topical Collection on Males and eating and weight disorders.
Electronic supplementary material
Below is the link to the electronic supplementary material.
About this article
Cite this article
Gorrell, S., Nagata, J.M., Hill, K.B. et al. Eating behavior and reasons for exercise among competitive collegiate male athletes. Eat Weight Disord 26, 75–83 (2021). https://doi.org/10.1007/s40519-019-00819-0
Received:

Accepted:

Published:

Issue Date:
Keywords
Male athletes

Adolescent male

Eating disorders

Compulsive exercise

Competitive male athletes