Abstract
Background
Motivation and self-regulation are two psychological systems that have been shown to be related to childhood obesity.
Objective
This study evaluated independent and interactive associations of approach-oriented motivation (i.e., drive and reward responsiveness) and self-regulation (i.e., self-control and behavioral regulation) in relation to age- and sex-adjusted body mass index-z scores (BMI-z) in children.
Methods
Children (55% female; Mage = 12.5 years ± .93) completed questionnaires assessing motivation and self-regulation, and anthropometric measurements were taken by research staff cross-sectionally.
Results
Regressions revealed no independent associations of approach motivation or self-regulation and BMI-z. There were interactions between the drive facet of approach motivation, which assesses motivation to follow goals, and self-regulation in relation to BMI-z. Children with lower motivation to follow goals and lower self-regulation had higher BMI-z, and children with lower motivation to follow goals and higher self-regulation had lower BMI-z. Children with higher motivation to follow goals had similar BMI-z at all levels of self-regulation.
Conclusion
For children with low motivation to follow goals, self-regulation may be an important buffer of high BMI-z.
Level of evidence
Level V: cross-sectional descriptive study.
Access options
Buy single article
Instant access to the full article PDF.
US$ 39.95
Tax calculation will be finalised during checkout.
Subscribe to journal
Immediate online access to all issues from 2019. Subscription will auto renew annually.
US$ 79
Tax calculation will be finalised during checkout.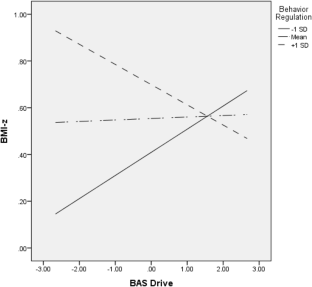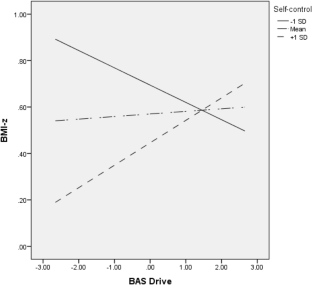 References
1.

Skinner AC, Perrin EM, Skelton JA (2016) Prevalence of obesity and severe obesity in US children, 1999–2014. Obesity 24:1116–1123. https://doi.org/10.1002/oby.21497

2.

Bryan AD, Jakicic JM, Hunter CM, Evans ME, Yanovski SZ, Epstein LH (2017) Behavioral and psychological phenotyping of physical activity and sedentary behavior: implications for weight management. Obesity 25:1653–1659. https://doi.org/10.1002/oby.21924

3.

Kelly AS, Marcus MD, Yanovski JA, Yanovski SZ, Osganian SK (2018) Working toward precision medicine approaches to treat severe obesity in adolescents: report of an NIH workshop. Int J Obes 42:1834–1844. https://doi.org/10.1038/s41366-018-0231-x

4.

Ernst M, Fudge JL (2009) A developmental neurobiological model of motivated behavior: anatomy, connectivity and ontogeny of the triadic nodes. Neurosci Biobehav Rev 33:367–382. https://doi.org/10.1016/j.neubiorev.2008.10.009

5.

Van den Berg L, Pieterse K, Malik JA, Luman M, Van Dijk KW, Oosterlaan J, Delemarre-van de Waal HA (2011) Association between impulsivity, reward responsiveness and body mass index in children. Int J Obes 35:1301–1307. https://doi.org/10.1038/ijo.2011.116

6.

Carver CS, White TL (1994) Behavioral inhibition, behavioral activation, and affective responses to impending reward and punishment: the BIS/BAS scales. J Pers Soc Psychol 67:313–333

7.

De Decker A, Sioen I, Verbeken S, Braet C, Michels N, De Henauw S (2016) Associations of reward sensitivity with food consumption, activity pattern, and BMI in children. Appetite 100:189–196. https://doi.org/10.1016/j.appet.2016.02.028

8.

Nederkoorn C, Braet C, Van Eijs Y, Tanghe A, Jansen A (2006) Why obese children cannot resist food: the role of impulsivity. Eat Behav 7:315–322. https://doi.org/10.1016/j.eatbeh.2005.11.005

9.

Reinert KRS, Po'e EK, Barkin SL (2013) The relationship between executive function and obesity in children and adolescents: a systematic literature review. J Obes. https://doi.org/10.1155/2013/820956

10.

Pauli-Pott U, Albayrak Ö, Hebebrand J, Pott W (2010) Association between inhibitory control capacity and body weight in overweight and obese children and adolescents: dependence on age and inhibitory control component. Child Neuropsychol 16:592–603. https://doi.org/10.1080/09297049.2010.485980

11.

Lavagnino L, Arnone D, Cao B, Soares JC, Selvaraj S (2016) Inhibitory control in obesity and binge eating disorder: a systematic review and meta-analysis of neurocognitive and neuroimaging studies. Neurosci Biobehav Rev 68:714–726. https://doi.org/10.1016/j.neubiorev.2016.06.041

12.

Graziano PA, Calkins SD, Keane SP (2010) Toddler self-regulation skills predict risk for pediatric obesity. Int J Obes 34:633. https://doi.org/10.1038/ijo.2009.288

13.

Ent MR, Baumeister RF, Tice DM (2015) Trait self-control and the avoidance of temptation. Pers Individ Dif 74:12–15. https://doi.org/10.1016/j.paid.2014.09.031

14.

Moffitt TE, Arseneault L, Belsky D, Dickson N, Hancox RJ, Harrington H, Houts R, Poulton R, Roberts BW, Ross S, Sears MR, Thomson WM, Caspi A (2011) A gradient of childhood self-control predicts health, wealth, and public safety. Proc Natl Acad Sci 108:2693–2698. https://doi.org/10.1073/pnas.1010076108

15.

Francis LA, Susman EJ (2009) Self-regulation and rapid weight gain in children from age 3 to 12 years. Arch Pediatr Adolesc Med 163:297–302. https://doi.org/10.1001/archpediatrics.2008.579

16.

Rhodes JD, Colder CR, Trucco EM, Speidel C, Hawk LW Jr, Lengua LJ, Das Eiden R, Wieczorek W (2013) The interaction between self-regulation and motivation prospectively predicting problem behavior in adolescence. J Clin Child Adolesc Psychol 42:681–692. https://doi.org/10.1080/15374416.2013.773515

17.

Vergara-Lopez C, Lopez-Vergara HI, Colder CR (2013) Executive functioning moderates the relationship between motivation and adolescent depressive symptoms. Pers Individ Dif 54:18–22. https://doi.org/10.1016/j.paid.2012.07.034

18.

Crowell A, Kelley NJ, Schmeichel BJ (2014) Trait approach motivation moderates the aftereffects of self-control. Front Psychol 5:1112. https://doi.org/10.3389/fpsyg.2014.01112

19.

Dunton GF, Liao Y, Dzubur E, Leventhal AM, Huh J, Gruenewald T, Margolin G, Koprowski C, Tate MA, Intille S (2015) Investigating within-day and longitudinal effects of maternal stress on children's physical activity, dietary intake, and body composition: protocol for the MATCH study. Contemp Clin Trials 43:142–154. https://doi.org/10.1016/j.cct.2015.05.007

20.

Pagliaccio D, Luking KR, Anokhin AP, Gotlib IH, Hayden EP, Olino TM, Peng CZ, Hajcak G, Barch M (2016) Revising the BIS/BAS scale to study development: measurement invariance and normative effects of age and sex from childhood through adulthood. Psychol Assess 28:429–443. https://doi.org/10.1037/pas0000186

21.

Muris P, Meesters C, de Kanter E, Timmerman PE (2005) Behavioural inhibition and behavioural activation system scales for children: relationships with Eysenck's personality traits and psychopathological symptoms. Pers Individ Dif 38:831–841. https://doi.org/10.1016/j.paid.2004.06.007

22.

Tangney JP, Boone AL, Baumeister RF (2004) High self-control predicts good adjustment, less pathology, better grades, and interpersonal success. J Pers 72:272–324. https://doi.org/10.1111/j.0022-3506.2004.00263.x

23.

Isquith PK, Gioia GA, Guy SC, Kenworthy L (2015) Behavior rating inventory of executive function. Self-report form interpretive report, 2nd edn. Psychological Assessment Resources, Florida

24.

Egeland J, Fallmyr Ø (2010) Confirmatory factor analysis of the Behavior Rating Inventory of Executive Function (BRIEF): support for a distinction between emotional and behavioral regulation. Child Neuropsychol 16:326–337. https://doi.org/10.1080/09297041003601462

25.

Huizinga M, Smidts DP (2010) Age-related changes in executive function: a normative study with the Dutch version of the Behavior Rating Inventory of Executive Function (BRIEF). Child Neuropsychol 17:51–66. https://doi.org/10.1080/09297049.2010.509715

26.

Hayes AF (2013) Introduction to mediation, moderation, and conditional process analysis: A regression-based approach. Guilford, NY

27.

Benjamini Y, Hochberg Y (1995) Controlling the false discovery rate: a practical and powerful approach to multiple testing. J R Stat Soc 1:289–300

28.

McDonald JH (2014) Handbook of biological statistics, 3rd edn. Sparky House Publishing, Baltimore

29.

Turner BJ, Claes L, Wilderjans TF, Pauwels E, Dierckx E, Chapman AL, Schoevaerts K (2014) Personality profiles in eating disorders: further evidence of the clinical utility of examining subtypes based on temperament. Psychiatry Res 219:157–165. https://doi.org/10.1016/j.psychres.2014.04.036

30.

Vandeweghe L, Verbeken S, Vervoort L, Moens E, Braet C (2017) Reward sensitivity and body weight: the intervening role of food responsive behavior and external eating. Appetite 112:150–156. https://doi.org/10.1016/j.appet.2017.01.014

31.

Beaver JD, Lawrence AD, van Ditzhuijzen J, Davis MH, Woods A, Calder AJ (2006) Individual differences in reward drive predict neural responses to images of foods. J Neurosci 26:5160–5166. https://doi.org/10.1523/JNEUROSCI.0350-06.2006

32.

Costumero V, Barrós-Loscertales A, Fuentes P, Rosell-Negre P, Bustamante JC, Ávila C (2016) BAS-drive trait modulates dorsomedial striatum activity during reward response-outcome associations. Brain Imaging Behav 10:869–879. https://doi.org/10.1007/s11682-015-9466-5

33.

Pickering AD, Gray JA (1999) The neuroscience of personality. In: Pervin LA, John OP (eds) Handbook of personality—theory and research, 2nd edn. Guilford, New York, pp 277–299
Funding
Support for this project was provided by the National Heart Lung and Blood Institute (R01HL119255).
Ethics declarations
Conflict of interest
The authors have no conflict of interest to report.
Ethical approval
The Institutional Review Boards of the University of Southern California and Northeastern University approved this study. All procedures performed in studies involving human participants were in accordance with the ethical standards of the institutional and/or national research committee and with the 1964 Helsinki Declaration and its later amendments or comparable ethical standards.
Informed consent
Parental consent and child assent were obtained from all individual participants included in the study. All eligible participants completed an electronic informed consent form prior to participation in the study.
Additional information
Publisher's Note
Springer Nature remains neutral with regard to jurisdictional claims in published maps and institutional affiliations.
This article is part of topical collection on topical collection on personality and eating and weight disorders.
About this article
Cite this article
Mason, T.B., Do, B. & Dunton, G. Interactions of approach motivation and self-regulation in relation to obesity in children. Eat Weight Disord 26, 85–92 (2021). https://doi.org/10.1007/s40519-019-00817-2
Received:

Accepted:

Published:

Issue Date:
Keywords
Motivation

Self-regulation

Obesity

Children

Weight