Abstract
Background
Weight stigma is associated with negative mental and physical health outcomes across the body mass index (BMI) continuum. However, few studies have examined discrimination experienced by people with low body weights.
Objectives
This study explored the presence of anti-thin bias, defined as the belief that individuals at lower body weights have undesirable personality characteristics, in young adult women. Additionally, we examined perceived etiology of weight for women with underweight.
Method
Participants (N =295 women, age 18.84 ± 2.32) were randomly assigned to read one of the six vignettes about women who differed by race (White and Black) and BMI status (slightly underweight, average weight, and slightly overweight).
Results
Negative personality characteristics were more likely to be ascribed to vignette characters with under- or overweight BMIs, compared to characters with average weight BMIs. Participants were more likely to attribute underweight characters' body weight to an eating disorder (ED) compared with average or overweight characters.
Conclusion
Results suggest that women with under- or overweight BMIs experience greater stigmatization for their body weight than women with average BMIs, underscoring the need for research to investigate weight discrimination across the weight spectrum.
Level of evidence
Level I, experimental study.
This is a preview of subscription content, log in to check access.
Access options
Buy single article
Instant access to the full article PDF.
US$ 39.95
Tax calculation will be finalised during checkout.
Subscribe to journal
Immediate online access to all issues from 2019. Subscription will auto renew annually.
US$ 99
Tax calculation will be finalised during checkout.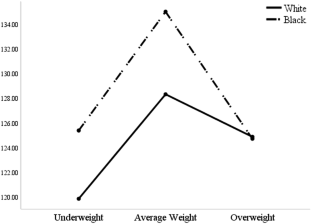 References
1.

Puhl RM, Heuer CA (2009) The stigma of obesity: a review and update. Obesity. 17(5):941–964. https://doi.org/10.1038/oby.2008.636

2.

Tantleff-Dunn S, Hayes S, Braun CP (2009) How did you get so thin? The effect of attribution on perceptions of underweight females. Eat Weight Disord 14(1):38–44. https://doi.org/10.1007/BF03327793

3.

Allison M, Lee C (2014) Too fat, too thin: understanding bias against overweight and underweight in an Australian female university student sample. Psychol Health 30(2):189–202. https://doi.org/10.1080/08870446.2014.954575

4.

Neumark-Sztainer D, Falkner N, Story M, Perry C, Hannan PJ, Mulert S (2002) Weight-teasing among adolescents: correlations with weight status and disordered eating behaviors. Int J Obes 26(1):123–131. https://doi.org/10.1038/sj/ijo/0801853

5.

Lian Q, Su Q, Li R, Elgar FJ, Liu Z, Zheng D (2018) The association between chronic bullying victimization with weight status and body self-image: a cross-national study in 39 countries. PeerJ. https://doi.org/10.7717/peerj.4330

6.

Eisenberg ME, Neumark-Sztainer D, Story M (2003) Association of weight-based teasing and emotional well-being among adolescents. J Adolesc Health 32(2):121. https://doi.org/10.1016/S1054-139X(02)00610-9

7.

McDonnell A, Lin L (2016) The hot body issue: weight and caption tone in celebrity gossip magazines. Body Image 18:74–77. https://doi.org/10.1016/j.bodyim.2016.06.001

8.

Thompson JK, Heinberg LJ, Altabe M, Tantleff-Dunn S (1999) Exacting beauty: theory, assessment, and treatment of body image disturbance. American Psychological Association, Washington, DC

9.

Brown FL, Slaughter V (2011) Normal body, beautiful body: discrepant perceptions reveal a pervasive 'thin ideal' from childhood to adulthood. Body Image 8(2):119–125. https://doi.org/10.1016/J.BODYIM.2011.02.002

10.

Gross AE, Crofton C (1977) What is good is beautiful. Sociometry 40(1):85–90. https://doi.org/10.2307/3033549

11.

Agthe M, Spörrle M, Maner JK (2011) Does being attractive always help? Positive and negative effects of attractiveness on social decision making. Pers Soc Psychol Bull 37(8):1042–1054. https://doi.org/10.1177/0146167211410355

12.

Agthe M, Spörrle M, Maner JK (2010) Don't hate me because I'm beautiful: anti-attractiveness bias in organizational evaluation and decision making. J Exp Soc Psychol 46(6):1151–1154. https://doi.org/10.1016/J.JESP.2010.05.007

13.

Buote VM, Wilson AE, Strahan EJ, Gazzola SB, Papps F (2011) Setting the bar: divergent sociocultural norms for women's and men's ideal appearance in real-world contexts. Body Image 8(4):322–334. https://doi.org/10.1016/J.BODYIM.2011.06.002

14.

Bailey SD, Ricciardelli LA (2010) Social comparisons, appearance related comments, contingent self-esteem and their relationships with body dissatisfaction and eating disturbance among women. Eat Behav 11(2):107–112. https://doi.org/10.1016/J.EATBEH.2009.12.001

15.

van den Berg P, Thompson JK (2007) Self-schema and social comparison explanations of body dissatisfaction: a laboratory investigation. Body Image 4(1):29–38. https://doi.org/10.1016/J.BODYIM.2006.12.004

16.

Karazsia BT, Murnen SK, Tylka TL (2017) Is body dissatisfaction changing across time? A cross-temporal meta-analysis. Psychol Bull 143(3):293–320. https://doi.org/10.1037/bul0000081

17.

Robinson L, Prichard I, Nikolaidis A, Drummond C, Drummond M, Tiggemann M (2017) Idealised media images: the effect of fitspiration imagery on body satisfaction and exercise behaviour. Body Image 22:65–71. https://doi.org/10.1016/j.bodyim.2017.06.001

18.

Capodilupo CM (2015) One size does not fit all: using variables other than the thin ideal to understand Black women's body image. Cult Divers Ethn Minor Psychol 21(2):268–278. https://doi.org/10.1037/a0037649

19.

Striegel-Moore RH, Schreiber GB, Lo A, Crawford P, Obarzanek E, Rodin J (2000) Eating disorder symptoms in a cohort of 11 to 16-year-old black and white girls: the NHLBI growth and health study. Int J Eat Disord 27(1):49–66. https://doi.org/10.1002/(SICI)1098-108X(200001)27:1%3c49:AID-EAT6%3e3.0.CO;2-E

20.

Perez M, Joiner T (2003) Body image dissatisfaction and disordered eating in Black and White women. Int J Eat Disord 33(3):342–350. https://doi.org/10.1002/eat.10148

21.

Puhl RM, Brownell KD (2003) Psychosocial origins of obesity stigma: toward changing a powerful and pervasive bias. Obes Rev 4(4):213–227. https://doi.org/10.1046/j.1467-789X.2003.00122.x

22.

Ebneter DS, Latner JD, O'Brien KS (2011) Just world beliefs, causal beliefs, and acquaintance: associations with stigma toward eating disorders and obesity. Pers Individ Differ 51(5):618–622. https://doi.org/10.1016/J.PAID.2011.05.029

23.

Foster GD, Wadden TA, Makris AP et al (2003) Primary care physicians' attitudes about obesity and its treatment. Obes Res 11(10):1168–1177. https://doi.org/10.1038/oby.2003.161

24.

Stewart M-C, Keel PK, Schiavo RS (2006) Stigmatization of anorexia nervosa. Int J Eat Disord 39(4):320–325. https://doi.org/10.1002/eat.20262

25.

Yu J, Hildebrandt T, Lanzieri N (2015) Healthcare professionals' stigmatization of men with anabolic androgenic steroid use and eating disorders. Body Image 15:49–53. https://doi.org/10.1016/J.BODYIM.2015.06.001

26.

Varnado-Sullivan PJ, Parker CC, Rohner A (2019) Stigmatization and knowledge of anorexia nervosa. Eat Weight Disord. https://doi.org/10.1007/s40519-019-00655-2

27.

Beggan JK, DeAngelis M (2015) Oh, My God, I Hate You:''' The felt experience of being othered for being thin. Symb Interact 38(3):371–392. https://doi.org/10.1002/symb.162

28.

Puhl RM, Himmelstein MS, Quinn DM (2018) Internalizing weight stigma: prevalence and sociodemographic considerations in US adults. Obesity 26(1):167–175. https://doi.org/10.1002/oby.22029

29.

Faul F, Erdfelder E, Buchner A, Lang A-G (2009) Statistical power analyses using G*Power 3.1: tests for correlation and regression analyses. Behav Res Methods 41(4):1149–1160. https://doi.org/10.3758/brm.41.4.1149

30.

Evans SC, Roberts MC, Keeley JW et al (2015) Vignette methodologies for studying clinicians' decision-making: validity, utility, and application in ICD-11 field studies. Int J Clin Heal Psychol 15(2):160–170. https://doi.org/10.1016/J.IJCHP.2014.12.001

31.

Mussap AJ, Manger E, Gold RS (2016) Weight-control effort can increase obesity stereotyping. Pers Individ Differ 88:178–181. https://doi.org/10.1016/J.PAID.2015.09.014

32.

Fryar CD, Gu Q, Ogden CL, Flegal KM (2016) Anthropometric reference data for children and adults: United States, 2011–2014. National Vital Statistics Report. https://www.cdc.gov/nchs/data/series/sr_03/sr03_039.pdf. Accessed Dec 2016

33.

Swami V, Furnham A, Amin R et al (2008) Lonelier, lazier, and teased: the stigmatizing effect of body size. J Soc Psychol 148(5):577–594. https://doi.org/10.3200/SOCP.148.5.577-594

34.

Cundall A, Guo K (2017) Women gaze behaviour in assessing female bodies: the effects of clothing, body size, own body composition and body satisfaction. Psychol Res 81(1):1–12. https://doi.org/10.1007/s00426-015-0726-1

35.

Robinson BE, Bacon LC, O'Reilly J (1993) Fat phobia: measuring, understanding, and changing anti-fat attitudes. Int J Eat Disord 14(4):467–480. https://doi.org/10.1002/1098-108X(199312)14:4%3c467:AID-EAT2260140410%3e3.0.CO;2-J

36.

Crisafulli MA, Von Holle A, Bulik CM (2008) Attitudes towards anorexia nervosa: the impact of framing on blame and stigma. Int J Eat Disord 41(4):333–339. https://doi.org/10.1002/eat.20507

37.

Simpson CC, Mazzeo SE (2017) Attitudes toward orthorexia nervosa relative to DSM-5 eating disorders. Int J Eat Disord 50(7):781–792. https://doi.org/10.1002/eat.22710

38.

Harris PA, Taylor R, Thielke R, Payne J, Gonzalez N, Conde JG (2009) Research electronic data capture (REDCap)—a metadata-driven methodology and workflow process for providing translational research informatics support. J Biomed Inform 42(2):377–381. https://doi.org/10.1016/j.jbi.2008.08.010

39.

Schlomer GL, Bauman S, Card NA (2010) Best practices for missing data management in counseling psychology. J Couns Psychol 57(1):1–10. https://doi.org/10.1037/a0018082

40.

Tomiyama J (2014) Weight stigma is stressful. A review of evidence for the cyclic obesity/weight-based stigma model. Appetite. 82(1):8–15. https://doi.org/10.1016/j.appet.2014.06.108

41.

Overstreet NM, Quinn DM, Agocha VB (2010) Beyond thinness: the influence of a curvaceous body ideal on body dissatisfaction in Black and White women. Sex Roles 63(1–2):91–103. https://doi.org/10.1007/s11199-010-9792-4

42.

Weiner B, Perry RP, Magnusson J (1988) An attributional analysis of reactions to stigmas. J Pers Soc Psychol 55(5):738–748. https://doi.org/10.1037/0022-3514.55.5.738

43.

Puhl RM, Latner JD, O'Brien KS, Luedicke J, Danielsdottir S, Forhan M (2015) A multinational examination of weight bias: predictors of anti-fat attitudes across four countries. Int J Obes 39(7):1166–1173. https://doi.org/10.1038/ijo.2015.32

44.

Crisafulli MA, Thompson-Brenner H, Franko DL, Eddy KT, Herzog DB (2010) Stigmatization of anorexia nervosa: characteristics and response to intervention. J Soc Clin Psychol 29(7):756–770. https://doi.org/10.1521/jscp.2010.29.7.756

45.

Murakami JM, Essayli JH, Latner JD (2016) The relative stigmatization of eating disorders and obesity in males and females. Appetite 102:77–82. https://doi.org/10.1016/j.appet.2016.02.027

46.

Bulik CM, Marcus MD, Zerwas S, Levine MD, La Via M (2012) The changing "Weightscape" of bulimia nervosa. Am J Psychiatry 169(10):1031–1036. https://doi.org/10.1176/appi.ajp.2012.12010147

47.

Franko DL, Thompson-Brenner H, Thompson DR et al (2012) Racial/ethnic differences in adults in randomized clinical trials of binge eating disorder. J Consult Clin Psychol 80(2):186–195. https://doi.org/10.1037/a0026700

48.

Sonneville KR, Lipson SK (2018) Disparities in eating disorder diagnosis and treatment according to weight status, race/ethnicity, socioeconomic background, and sex among college students. Int J Eat Disord. https://doi.org/10.1002/eat.22846

49.

Phelan JE, Basow SA (2007) College students' attitudes toward mental illness: an examination of the stigma process. J Appl Soc Psychol 37(12):2877–2902. https://doi.org/10.1111/j.1559-1816.2007.00286.x

50.

Yan Y, Rieger E, Shou Y (2018) Reducing the stigma associated with anorexia nervosa: an evaluation of a social consensus intervention among Australian and Chinese young women. Int J Eat Disord 51(1):62–70. https://doi.org/10.1002/eat.22808

51.

Cassone S, Rieger E, Crisp DA (2019) Reducing anorexia nervosa stigma: an exploration of a social consensus intervention and the moderating effect of blameworthy attributions. J Ment Health. https://doi.org/10.1080/09638237.2019.1581326

52.

Doley JR, Hart LM, Stukas AA, Petrovic K, Bouguettaya A, Paxton SJ (2017) Interventions to reduce the stigma of eating disorders: a systematic review and meta-analysis. Int J Eat Disord 50(3):210–230. https://doi.org/10.1002/eat.22691

53.

Alberga AS, Pickering BJ, Alix Hayden K et al (2016) Weight bias reduction in health professionals: a systematic review. Clin Obes 6(3):175–188. https://doi.org/10.1111/cob.12147

54.

Bacon L, Aphramor L, Kuller L et al (2011) Weight science: evaluating the evidence for a paradigm shift. Nutr J 10(9):9. https://doi.org/10.1186/1475-2891-10-9

55.

Sutin A, Robinson E, Daly M, Terracciano A (2016) Weight discrimination and unhealthy eating-related behaviors. Appetite. 102:83–89. https://doi.org/10.1016/j.appet.2016.02.016
Ethics declarations
Conflict of interest
The authors declare that they have no conflict of interest.
Ethical approval
All procedures performed in studies involving human participants were in accordance with the ethical standards of the institutional and/or national research committee and with the 1964 Helsinki Declaration and its later amendments or comparable ethical standards. Reference Virginia Commonwealth University IRB No: HM20010525.
Informed consent
Informed consent was obtained from all individual participants included in the study.
Additional information
Publisher's Note
Springer Nature remains neutral with regard to jurisdictional claims in published maps and institutional affiliations.
Appendix
Appendix
Vignette
Sarah is a [White/Black] 19-year-old female. She is a full-time student in her sophomore year of college and she is studying marketing. Between schoolwork, housework, shopping, and socializing, she enjoys watching Netflix. She regularly hangs out with several good friends. Sarah is [106/120/154 lbs, 5'4, and a size 0/6/12] and her doctor told her that this means that she is [slightly underweight/normal weight/slightly overweight].
About this article
Cite this article
Davies, A., Burnette, C.B. & Mazzeo, S.E. Real women have (just the right) curves: investigating anti-thin bias in college women. Eat Weight Disord 25, 1711–1718 (2020). https://doi.org/10.1007/s40519-019-00812-7
Received:

Accepted:

Published:

Issue Date:
Keywords
Underweight

Thinness

Weight stigma

Attributions

Eating disorder