Abstract
Purpose of review
This review analyzes trends in the increasing number of local energy efficiency activities through a study of the findings of the 2017 City Energy Efficiency Scorecard. The review also examines recent literature to provide a greater understanding of select policies' potential effectiveness and outcomes, as well as possible policy improvements.
Recent Findings
Within the last few years, municipalities have made more commitments to reduce energy use and have taken more action to achieve their goals. Cities have set energy savings goals, adopted building energy codes, collaborated with their utilities to deliver energy efficiency programs, and more. Some of the increased activity is due to a broader focus on reducing greenhouse gas emissions, but cities continue to use energy efficiency for achieving other priorities too, including lowering government expenditures and increasing economic development. A review of recent research also shows the importance of evaluating local energy efficiency efforts. Further research will provide better data on the energy savings potential of these activities and provide insight on potential improvements in policy planning and implementation.
Summary
The results indicate that local policymakers have expanded their focus on building energy benchmarking and transparency as well as mode-shift strategies for transportation, though transportation policies are less of a focus than those aimed at energy use in buildings.
Access options
Buy single article
Instant access to the full article PDF.
US$ 39.95
Tax calculation will be finalised during checkout.
Subscribe to journal
Immediate online access to all issues from 2019. Subscription will auto renew annually.
US$ 79
Tax calculation will be finalised during checkout.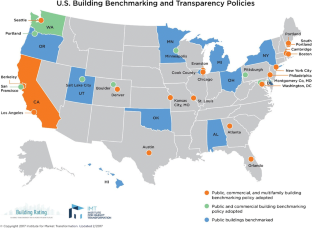 Notes
1.

The report focuses on the central cities of the 50 most populous US metro areas excluding San Juan. It also assesses Fort Worth and El Paso. Both cities were included in earlier editions of the scorecard that used a different methodology for selecting cities.

2.

C40 is a network of populous global cities who have made commitments to mitigate the impacts of climate change.
References
Papers of particular interest, published recently, have been highlighted as: • Of importance •• Of major importance
1.

Igusky K, Calhoun K, Kennedy K, Ott C. America's pledge phase 1 report: states, cities, and businesses in the United States are stepping up on climate action. New York: Bloomberg Philanthropies; 2017. https://www.bbhub.io/dotorg/sites/28/2017/11/AmericasPledgePhaseOneReportWeb.pdf

2.

Climate Mayors. "Members." Accessed 3 Jan 2018. http://climatemayors.org/about/members/

3.

City of Chicago." Chicago Climate Charter." Accessed 9 Jan 2018. https://www.cityofchicago.org/content/dam/city/depts/mayor/Press%20Room/Press%20Releases/2017/December/ChicagoClimateCharter.pdf.

4.

Ribeiro D. Mayors tout the importance of energy efficiency in meeting climate goals. ACEEE blog. December 14, 2017. http://aceee.org/blog/2017/12/mayors-tout-importance-energy.

5.

Riffle C, Appleby K, Martin P. Wealthier, healthier cities: how climate change action is giving us wealthier, healthier cities. London: CDP; 2013. www.c40.org/researches/c40-cdp-2013-wealthier-healthier-cities-report

6.

City of Philadelphia. Greenworks Philadelphia 2015 Progress report. Philadelphia: City of Philadelphia. 2015. beta.phila.gov/media/20160419140539/2015-greenworks-progress-report.pdf.

7.

City of Portland. Climate Action Plan: Local Strategies to Address Climate Change. Portland: City of Portland. 2015. www.portlandoregon.gov/bps/article/531984.

8.

•• Ribeiro D, Bailey T, Drehobl A, King J, Samarripas S, Shoemaker M, Vaidyanathan S, Berg W, Casto-Alvarez F. City Energy Efficiency Scorecard. Washington, DC: American Council for an Energy-Efficient Economy. 2017. https://aceee.org/research-report/u1705. Study looking at the local energy efficiency efforts of 51 large US cities across five policy areas, namely local government operations, community initiatives, buildings policies, transportation policies, and energy and water utilities.

9.

City of Los Angeles. "Existing Buildings Energy and Water Efficiency Programs." Accessed 9 Jan 2018. https://www.ladbs.org/services/green-building-sustainability/existing-buildings-energy-water-efficiency-program.

10.

Institute for Market Transformation. "Map: U.S. Building Benchmarking and Transparency Policies." Washington, DC: IMT. Accessed 9 Jan 2018. http://www.imt.org/resources/detail/map-u.s.-building-benchmarking-policies.

11.

Energy Star. Energy Star® Portfolio Manager: Data Trends: Benchmarking and Energy Savings. Washington, DC: EPA (Environmental Protection Agency). 2012. www.energystar.gov/sites/default/files/buildings/tools/DataTrends_Savings_20121002.pdf.

12.

Meng T, Hsu D, Han A. Estimating energy savings from benchmarking policies in New York City. Energy. 2017;133:415–23. https://doi.org/10.1016/j.energy.2017.05.148.

13.

City of Chicago. City of Chicago Energy Benchmarking Report 2016. Chicago: City of Chicago. 2017. https://www.cityofchicago.org/content/dam/city/progs/env/EnergyBenchmark/2016_Chicago_Energy_Benchmarking_At-A-Glance.pdf.

14.

•• Mims N, Schiller S, Stuart E, Schwartz L, Kramer C, Faesy R. Evaluation of U.S. Building Energy Benchmarking and Transparency Programs: Attributes, Impacts, and Best Practices. Berkley: Lawrence Berkley National Lab; 2017. https://emp.lbl.gov/sites/default/files/lbnl_benchmarking_final_050417_0.pdf. In-depth analysis of 24 benchmarking and transparency policies adopted across 24 states and municipalities

15.

Samarripas S, Bastian H. Benchmarking initiatives in the multifamily market. Washington, DC: ACEEE; 2017. Accessed 9 Jan 2018. http://aceee.org/sector/local-policy/toolkit/benefits-benchmarking

16.

• Ungar L. Take a rise on the energy slide with building codes. ACEEE blog. February 12, 2016. http://aceee.org/blog/2016/02/take-ride-energy-slide-building-codes. Brief article describing advances in residential and building energy codes in the US since the 1970s.

17.

City of Los Angeles. Sustainable City pLAn. Los Angeles: City of Los Angeles. 2015. http://plan.lamayor.org/wp-content/uploads/2017/03/the-plan.pdf.

18.

Drive Clean Chicago. "Our Programs." Accessed 5 Jan 2018. http://www.drivecleanchicago.com/About/OurPrograms.aspx.

19.

• National Complete Streets Coalition. The best complete streets policies of 2015. Washington, DC: National Complete Streets Coalition. Washington, DC: National Complete Streets Coalition. 2016. smartgrowthamerica.org/resources/best-complete-streets-policies-of-2015/. Annual analysis of all complete streets policies that cities and states have adopted.

20.

Mason J, Fulton L, McDonald Z. A global high shift cycling scenario: the potential for dramatically increasing bicycle and E-bike use in cities around the world, with estimated energy, CO2, and cost impacts. Davis: Institute for Transportation and Development Policy and the University of California; 2015. www.itdp.org/wp-content/uploads/2015/11/A-Global-High-Shift-Cycling-Scenario-_-Nov-12-2015.pdf

21.

Shaheen S, Martin E. Unraveling the modal impacts of Bikesharing. Access Mag. 2015;47(Fall):8–15. www.accessmagazine.org/wp-content/uploads/sites/7/2015/12/access47.shaheen.pdf

22.

Vaidyanathan S. "Improving Evaluation Metrics for Buildings-Related Transportation Policies at the Local Level." In: Proceedings of the ACEEE 2014 Summer Study on energy efficiency in buildings. Washington, DC: ACEEE. https://aceee.org/files/proceedings/2014/data/papers/10-980.pdf.

23.

Faghih-Imani A, Anowar S, Miller E, Eluru N. Hail a cab or ride a bike? A travel time comparison of taxi and bicycle-sharing systems in New York City. Transp Res A. 2017;101:11–21.

24.

Caulfield B, O'Mahony M, Brazil W, Weldon P. Examining usage patterns of a bike-sharing scheme in a medium-sized city. Transp Res A. 2017;100:152–61.

25.

• Vaidyanathan S. Energy Savings from Information and Communications Technologies in Personal Travel. Washington, DC: American Council for an Energy-Efficient Economy. 2014. http://aceee.org/research-report/t1401. Report estimating energy savings from some ICT strategies in the transportation sector, including car and bike sharing, real-time transit information, in-vehicle ICT applications, vehicle-to-vehicle (V2V) communications, and workplace-based transportation demand management (TDM) programs.

26.

Chen Y, Ardilia-Gomez A, Frame G. Achieving energy savings by intelligent transportation systems investments in the context of smart cities. Transp Res D. 2017;54:381–96. https://doi.org/10.1016/j.trd.2017.06.008.

27.

Jonathan Rose Companies. Location Efficiency and Housing Type: Boiling It Down to BTUs. Washington, DC: EPA. 2011. www.epa.gov/sites/production/files/2014-03/documents/location_efficiency_btu.pdf.

28.

Trencher G, Broto VC, Takagi T, Sprigings Z, Nishida Y, Yarime M. Innovative policy practices to advance building energy efficiency and retrofitting. Approaches, impacts, and challenges in ten C40 cities. Environ Sci Pol. 2016;66:353–65. https://doi.org/10.1016/j.envsci.2016.06.021.

29.

Yoon I, Lee Y, Yoon S. An empirical analysis of energy efficiency measures applicable to cities, regions, and local governments, based on the case of South Korea's local energy saving program. Mitig Adapt Strat Glob Chang. 2017;22(6):863–78. https://doi.org/10.1007/s11027-016-9702-3.

30.

Wu J, Zuidema C, Gugerell K, de Roo G. Mind the gap! Barriers and implementation deficiencies of energy policies at the local scale in urban China. Energy Policy. 2017;106:201–11. https://doi.org/10.1016/j.enpol.2017.03.057.

31.

Wang X, Li Z, Meng H, Wu J. Identification of key energy efficiency drivers through global city benchmarking: a data driven approach.
Acknowledgements
The author is grateful for the assistance of Heather DeLucia and Fernando Castro-Alvarez in gathering research for the literature review. He is also appreciative of Lauren Ross' thoughts on the original manuscript. Many thanks are also due to the co-authors of the 2017 City Energy Efficiency Scorecard, whose research formed the basis of this article: Tyler Bailey, Ariel Drehobl, Stefen Samarripas, Mary Shoemaker, Shruti Vaidyanathan, Jen King, Weston Berg, and Fernando Castro-Alvarez.
Ethics declarations
Conflict of Interest
David Ribeiro reports that the Kresge and Surdna Foundation funded the 2017 City Scorecard. The Scorecard's research served as the foundation for this article.
Human and Animal Rights and Informed Consent
This article does not contain any studies with human or animal subjects performed by any of the authors.
Additional information
This article is part of the Topical Collection on End-Use Efficiency
About this article
Cite this article
Ribeiro, D. Developments in Local Energy Efficiency Policy: a Review of Recent Progress and Research. Curr Sustainable Renewable Energy Rep 5, 109–115 (2018). https://doi.org/10.1007/s40518-018-0105-9
Keywords
Local energy efficiency

Benchmarking

Building energy codes

Urban transportation

Smart cities

Urban climate governance