Abstract
Purpose of Review
This paper examines the governance challenges of intersectoral critical infrastructure interdependencies. Between 2015 and 2017, the US Department of Homeland Security (DHS) supported a team of researchers at Northeastern University and The Ohio State University to evaluate critical infrastructure interdependencies between the energy and transportation sectors in the context of a potential hurricane event in the Boston metro region. The paper reports on 2 years of semi-structured interviews with key stakeholders and infrastructure operators. The results provide insights gained from the interviews and a workshop convened jointly by Northeastern University, the Boston Mayor's Office of Emergency Management, and the Massachusetts Emergency Management Agency.
Recent Findings
Research relating to the resilience of interdependent critical infrastructure has proliferated in recent years. Nearly all of this research involves analysis of secondary data or abstracted operational models, rather than in-depth interviews of on-the-ground infrastructure owners and operators.
Summary
This paper identifies a number of important constraints that undermine critical infrastructure resilience. At its core, infrastructure resilience is less a question of managerial desire or skill, or technical resources or design, but is a larger institutional challenge. The institutional environment in which energy and transportation infrastructure operates ultimately informs and defines resilience efforts.
Access options
Buy single article
Instant access to the full article PDF.
US$ 39.95
Tax calculation will be finalised during checkout.
Subscribe to journal
Immediate online access to all issues from 2019. Subscription will auto renew annually.
US$ 79
Tax calculation will be finalised during checkout.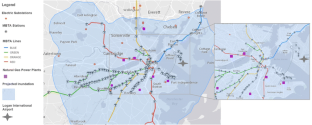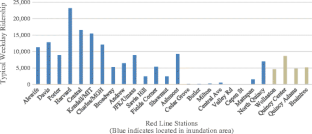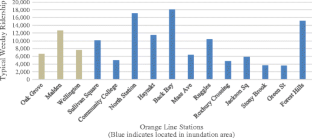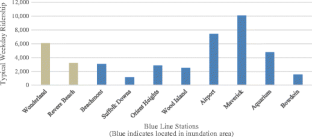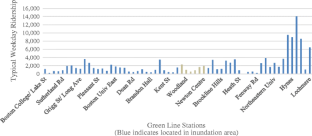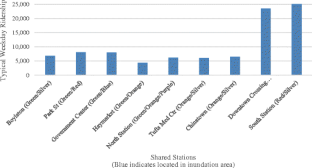 Notes
1.

ROE rate determination is the subject of a long and arduous literature involving calculations of the utility's opportunity cost, and is informed by current yields on treasuries, the Federal Funds Rate, and other metrics of comparable investments the utility could make in lieu of cost recovery approval. Interested readers are encouraged to see Phillips (1993).

2.

3.

Note that the severity of Superstorm Sandy was not large enough to obtain the technical designation of a Hurricane.

4.

During a workshop engagement session, a respondent noted that Massport relocated HVAC systems from the rooftops of its facilities to ground level after high wind events displaced much of the rooftop equipment. Subsequent to their relocation to ground level, a coastal flooding event destroyed a large volume of the relocated equipment.
References
Papers of particular interest, published recently, have been highlighted as: • Of importance
1.

Hallegatte S, Vogt-Schilb A, Bangalore M, Rozenberg J. Unbreakable: building the resilience of the poor in the face of natural disaster. Climate change and development. Washington, DC: World Bank; 2017.

2.

Whitehead J, Rose A. Estimating environmental benefits of natural hazard mitigation: results from a benefit-cost analysis of FEMA mitigation grants. Mitig Adapt Strateg Glob Chang. 2009;14(7):665–76.

3.

Wong PP, Losada IJ, Gattuso J, Hinkel J, Khattabi A, McInnes KL, et al. Coastal systems in low-lying areas. In: Field CB, Barros VR, Dokken DJ, Mack KJ, Mastrandrea MD, Bilir TE, Chatterjee M, Ebi KL, Estrada YO, Genova RC, Girma B, Kissel ES, Levy AN, MacCracken S, Mastrandrea PR, While LL, editors. Climate change 2014: impacts, adaptation, and vulnerability. Part A: global and sectoral aspects. Contribution of working group II to the fifth assessment report of the intergovernmental panel on climate change. Cambridge: Cambridge University Press; 2014. p. 361–409.

4.

Holling CS. Resilience and stability of ecological systems. Annu Rev Ecol Syst. 1973;4(1):1–23. https://doi.org/10.1146/annurev.es.04.110173.000245.

5.

Sanchis R, Poler R. Definition of a framework to support strategic decisions to improve enterprise resilience. IFAC Proc Vol. 2013;46(9):700–5. https://doi.org/10.3182/20130619-3-RU-3018.00600.

6.

Cutter S. The landscape of disaster resilience indicators in the USA. Nat Hazards. 2016;80(2):741–58. https://doi.org/10.1007/s11069-015-1993-2.

7.

Rose A, Liao S. Modeling regional economic resilience to disasters: a computable general equilibrium analysis of water service disruptions. J Reg Sci. 2005;45(1):75–112. https://doi.org/10.1111/j.0022-4146.2005.00365.x.

8.

Martin R, Sunley P. On the notion of regional economic resilience: conceptualization an explanation. J Econ Geogr. 2015;15(1):1–42. https://doi.org/10.1093/jeg/lbu015.

9.

Thacker S, Pant R, Hall JW. System-of-systems formulation and disruption analysis for multi-scale critical national infrastructures. Reliab Eng Syst Saf. 2017;167:30–41. https://doi.org/10.1016/j.ress.2017.04.023.

10.

Pelling M. Adaptation to climate change: from resilience to transformation. London:Routledge; 2010.

11.

Rose A. Economic resilience to natural and man-made disasters: multidisciplinary origins and contextual dimensions. Environ Hazard. 2007;7(4):383–95. https://doi.org/10.1016/j.envhaz.2007.10.001.

12.

• Dormady N, Roa-Henriquez A, Rose A. The resilience of the firm: a production theory approach. Critical Infrastructure Resilience Institute (CIRI) Working Paper; 2017. This paper provides a comprehensive list of resilience actions, or tactics, and a foundational microeconomic theory for each class of tactic. Several of these tactics were identified as important, either by name or indirectly, by respondents in the interviews or workshop summarized in this paper.

13.

Young KA, Greenbaum RT, Dormady NC. Sex, gender, and disaster: experimental evidence on the decision to invest in resilience. Int J Disaster Risk Reduct. 2017;439–450

14.

Bruneau M, Chang S, Eguchi R, Lee G, O'Rourke T, Reinhorn A, et al. A framework to quantitatively assess and enhance seismic resilience of communities. Earthquake Spectra. 19:733–52.

15.

Tierney KJ. Business and disaster: vulnerability, impacts, and recovery. Handbook of disaster research. New York: Springer Press; 2007. p. 275–296.

16.

National Research Council. Disaster resilience: a national imperative. The National Academies Press; 2012. p. 16.

17.

Baumol WJ. On the proper cost tests for natural monopoly in a multiproduct industry. Am Econ Rev. 1977:809–22.

18.

Mosca M. On the origins of the concept of natural monopoly: economies of scale and competition. Eur J Hist Econ Thought. 2008;15(2):317–53. https://doi.org/10.1080/09672560802037623.

19.

• Henckel T, WJ MK. The economics of infrastructure in a globalized world: issues, lessons and future challenges. J Infrastruct Pol Dev. 2017;1(2):254–72. This paper provides an informative assessment of sectoral issues associated with critical infrastructure investment.

20.

Phillips CF. The regulation of public utilities: theory and practice. Public Utilities Rep 1993.

21.

Averch H, Johnson LL. Behavior of the firm under regulatory constraint. Am Econ Rev. 1962;52(5):1052–69.

22.

Stigler GJ, Friedland C. What can regulators regulate? The case of electricity. J Law Econ. 1962;5:1–16. https://doi.org/10.1086/466579.

23.

Posner RA. Theories of economic regulation. Bell J Econ Manag Sci. 1974;5(2):335–58. https://doi.org/10.2307/3003113.

24.

Peltzman S. Toward a more general theory of regulation (NBER Working Paper No. 133). National Bureau of Economic Research; 1976.

25.

Swadley A, Yucel M. Did residential electricity rates fall after retail competition? A dynamic panel analysis. Energy Policy. 2011;39(12):7702–11. https://doi.org/10.1016/j.enpol.2011.09.014.

26.

Su X. Have customers benefitted from electric retail competition? J Regul Econ. 2015;42(2):146–82.

27.

Dormady N, Jiang Z, Hoyt M. Do markets make good commissioners?: a quasi-experimental analysis of retail electric restructuring in Ohio. John Glen College of Public Affairs at The Ohio State University; 2017. Available from: http://glenn.osu.edu/research/research-attributes/Do-Markets-Make-Good-Commissioners.pdf.

28.

Hartley PR, Medlock KB III, Jankovska O. Electricity reform and retail pricing in Texas. Center for Energy Studies, Baker Institute for Public Policy, Rice University; 2017.

29.

Ros AJ. An economic assessment of electricity demand in the United States using utility-specific panel data and the impact of retail competition on prices. Energy J. 2017;38(4):73–99.

30.

Massachusetts Bay Transportation Authority. About the MBTA: history. Massachusetts Bay Transportation Authority; 2017. Available from: http://old.mbta.com/about_the_mbta/history/?id=970.

31.

Massachusetts Bay Transportation Authority. Leadership overview. Massachusetts Bay Tranportation Authority; 2017. Available from: https://www.mbta.com/leadership.

32.

Eno Center for Transportation. Getting to the route of it: the role of governance in regional transit. Eno Center for Transportation; 2014. p. 23–31. Available from: https://www.enotrans.org/wp-content/uploads/Transit-Governance.pdf

33.

Massport. Boston-Logan International Airport: monthly airport traffic summary. Massport; 2016.

34.

Massport. Port of statistics: economic impact of the port of Boston. Massport; 2017.

35.

Massachusetts Port Authority. 2017 comprehensive annual fiscal report. Massachusetts Port authority; 2017.

36.

Governor Charles D. Baker Commonwealth of Massachusetts. Back on track: an action plan to transform the MBTA. The Governor's Special Panel to Review the MBTA; 2015. p. 8–17. Available from: http://www.mass.gov/governor/docs/news/mbta-panel-report-04-08-2015.pdf

37.

MBTA FY 2016 Operating Budget. Staff summary sheet board of directors meeting. MBTA FY 2016 Operating Budget; 2016. Available from: https://d3044s2alrsxog.cloudfront.net/sites/default/files/2017-10/fy16-operating-budget-staff-summary.pdf.

38.

Pierson P. Politics in time: history, institutions, and social analysis. Princeton University Press; 2004.

39.

Massachusetts Bay Area Transportation Authority. Ridership and Service Statistics 14th ed. Massachusetts Bay Transportation Authority; 2014. https://d3044s2alrsxog.cloudfront.net/uploadedfiles/documents/2014%20BLUEBOOK%2014th%20Edition(1).pdf
Acknowledgments
The authors thank Steve Flynn, Matthias Ruth, Ramteen Sioshansi, Amir Mousavian, Peter Boynton, Warren Edwards, Connor Goddard, Christopher Grasso, Robin White, Aron Ezaz, The Critical Infrastructure Resilience Institute (CIRI) at the University of Illinois, and participants at the 2016 Interdependent Critical Infrastructure Hurricane Preparedness workshop at Northeastern University. The authors thank Sophie Anderson for her excellent work as research assistant.
Funding
This work was funded by the US Department of Homeland Security, Grant # 2015-ST-061-CIRC-01.
Ethics declarations
Conflict of Interest
Noah Dormady reports grants and personal fees from US Dept of Homeland Security (DHS) during the conduct of the study.
Ryan Ellis reports grants and personal fees from US Dept of Homeland Security (DHS) during the conduct of the study.
Human and Animal Rights and Informed Consent
This article does not contain any studies with human or animal subjects performed by any of the authors.
Disclaimer Statement
The findings, conclusions, and recommendations expressed in this paper are the product of research by the authors and do not represent the views of the John Glenn College of Public Affairs, The Ohio State University, Northeastern University, the Global Resilience Institute, the Critical Infrastructure Resilience Institute, the U.S. Department of Homeland Security, or any of the institutions or organizations that were engaged in the course of the research.
Additional information
This article is part of the Topical Collection on Energy Markets
Appendix. List of Participant Organizations
Appendix. List of Participant Organizations
Air Worldwide
Boston Planning and Development Agency
City of Boston Office of Emergency Management
Eversource
FEMA
Global Companies
Independent System Operators New England
Massachusetts Department of Public Utilities
Massachusetts Bay Transportation Authority
Massachusetts Clean Energy Center
Massachusetts Department of Homeland Security
Massachusetts Department of Public Safety
Massachusetts Dept. of Energy Resources
Massachusetts Emergency Management Agency
Massachusetts Office of Energy and Environmental Affairs
Massachusetts Petroleum Council/API
Massachusetts Port Authority
MassDOT
MassDOT Highway Operations
Meridian Institute
MIT Lincoln Laboratory
National Grid
NE Convenience Store and Energy Marketers Association
Northeastern University
Reinauer Transportation Companies LLC
risQ
Sunoco
Swissport Fueling
The Ohio State University
The Wharton School
US Coast Guard
US Department of Homeland Security
About this article
Cite this article
Dormady, N., Ellis, R. Energy-Transport Sector Interdependence in Extreme Events: the Case of a Hurricane Event in Boston. Curr Sustainable Renewable Energy Rep 5, 1–13 (2018). https://doi.org/10.1007/s40518-018-0095-7
Keywords
Resilience

Extreme events

Energy systems

Transportation systems

Critical infrastructure

Governance