Abstract
Salicylic acid (SA) is known to be a plant signalling molecule that plays an important role in growth, development and defence response in plants. During the present study the effect of exogenous application of SA on the senescence of cut Nicotiana plumbaginifolia flowers was investigated. The buds were subjected to different concentrations (0.05, 0.1, 0.15, 0.20 and 0.25 mM) of SA. A separate set of flowers kept in distilled water designated the control. The flowers treated with various concentrations of SA resulted in improved flower longevity besides maintaining higher membrane stability index, soluble proteins and sugar fractions. SA treatment decreased the α-amino acid, total phenol content, lipid peroxidase and lipoxygenase activity. The flowers treated with SA showed a significant increase in activity of antioxidant enzymes like superoxide dismutase, catalase and ascorbate peroxidase. Among various concentrations used, 0.05 mM SA was found to be most effective in enhancing the flower longevity. Thus, exogenous SA could maintain membrane integrity by increasing antioxidant system activity, thereby retarding the senescence of cut N. plumbaginifolia flowers.
Access options
Buy single article
Instant access to the full article PDF.
US$ 39.95
Tax calculation will be finalised during checkout.
Subscribe to journal
Immediate online access to all issues from 2019. Subscription will auto renew annually.
US$ 79
Tax calculation will be finalised during checkout.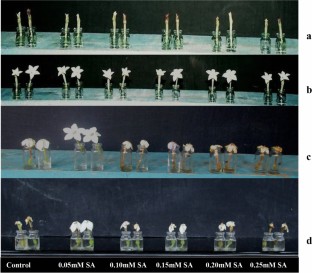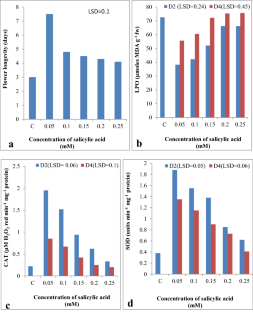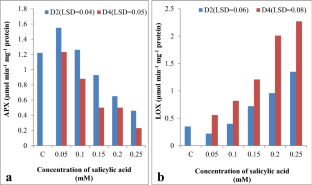 References
Aebi, H. (1984). Catalase in vitro. Method Enzymol, 105, 121–126.

Anjum, M. A., Naveed, F., Shakeel, F., & Amin, S. (2001). Effect of some chemicals onkeeping quality and vase life of tuberose (Polianthes tuberosa L.) cut flowers. J. Res. (Sci.), 12(1), 1–7.

Arora, A. V. P., Singh, S. S., Sindhu, D. N., & Voleti, S. R. (2007). Oxidative stress mechanisms during flower senescence. Japan: Plant Stress Global Science Books.

Ataii, D., Naderi, R., & Mirkohi, A. K. (2015). Exogenous putrescine delays senescence of Lisianthus cut flowers. Journal of Ornamental Plants, 5(3), 167–174.

Axelrod, B., Chesbrough, T. M., & Laakso, S. (1981). Lipoxygenase from soybean. In J. M. Lowenstein (Ed.), Method enzymol (pp. 441–451). New York: Academic.

Bayat, H., & Aminifard, M. H. (2017). Salicylic acid treatment extends the vase life of five commercial cut flowers. Electronic Journal of Biology, 13(1), 67–72.

Bueno, P., & Del Rio, L. A. (1992). Purification and properties of lyoxysomalcuperozinc superoxide dismutase from watermelon (Citrullus vulgaris Scrad.). Plant Physiology, 8, 331–336.

Chen, G. X., & Asada, K. (1989). Ascorbate peroxidase in tea leaves: occurrence of two isozymes and the differences in their enzymatic and molecular properties. Plant Cell Physiol, 30, 987–998.

Dhindsa, R. S., Plumb-Dhindsa, D., & Thorpe, T. A. (1981). Leaf senescence: correlated with increased levels of membrane permeability and lipid peroxidation and decreased levels of superoxide dismutase and catalase. J Exp Bot, 32, 93–101.

Droillard, M. J., Paulin, A., & Massot, J. C. (1987). Free radical production, catalase andsuperoxide dismutase activities and membrane integrity during senescence of petals of cut carnations (Dianthus catyophllus). Physiologia Plantarum, 71, 197–202.

Eraslan, F., Inal, A., Gunes, A., & Alpaslan, M. (2007). Impact of exogenous salicylic acid on the growth, antioxidant activity and physiology of carrot plants subjected to combined salinity and boron toxicity. Scientia Horticulturae, 113, 120–138.

Ezhilmathi, K., Singh, V. P., Arora, A., & Sairam, R. K. (2007). Effect of 5-sulfosalicylic acid on antioxidant activity in relation to vase life of Gladiolus cut flowers. Plant Growth Regulation, 51, 99–108.

Fukuchi-Mizutani, M., Ishiguro, K., Nakayuama, T., Utsunomia, Y., Tanaka, Y., Kusumi, T., & Ueda, T. (2000). Molecular and functional characterization of a rose lipoxygenase cDNA related to flower senescence. Plant Science, 160, 129–137.

Gerailoo, S., & Ghasemnezhad, M. (2011). Effect of salicylic acid on antioxidant enzyme activity and petal senescence in 'yellow island' cut rose flowers. Journal of Fruit and Ornamental Plant Research, 19(1), 183–193.

Gill, S. S., & Tuteja, N. (2010). Reactive oxygen species and antioxidant machinery in abiotic stress tolerance in crop plants. Plant Physiology and Biochemistry, 48, 909–930.

Hassan, F. A. S., & Ali, E. F. (2014). Protective effects of 1-methylcyclopropene and salicylic acid on senescence regulation of gladiolus cut spikes. Scientia Horticulturae, 179, 146–152.

Hassan, I., Zhang, Y., Du, G., Wang, G., & Zhang, J. (2007). Effect of salicylic acid (SA) ondelaying fruit senescence of Huang Kum Pear. Frontiers of Agriculture in China, 1(4), 456–459.

Hatamzadeh, A., Hatami, M., & Ghasemnezhad, M. (2012). Efficiency of salicylic acid delay petal senescence and extended quality of cut spikes of Gladiolus grandiflora cv. 'Wing's Sensation.' African Journal of Agricultural Research, 7, 540–545.

Heath, R. L., & Packer, L. (1968). Photoperoxidation in isolated chloroplast I. Kinetics and stoichiometry of fatty acid peroxidation. Arch Biochem Biophys, 125(1), 189–198.

Heidarnezhadian, H., Eghbali, B., & Kazemi, M. (2017). Postharvest life of cut Gerbera flowers as affected by salicylic acid and citric acid. Trakia Journal of Sciences, 1, 27–29.

Huang, M., Xu, Y. L., Khaeso, K., & Zhang, J. M. (2015). Flower-induction of Lemnagibba SH0204 by salicylic acid. Plant Physiology Journal, 51(4), 559–565.

Jones, R., & McConchie, R. (1995). Characteristics of petal senescence in a non-climacteric cut flower. Acta Horticulturae, 405, 216–223.

Kazemi, M., & Shokri, K. (2011). Role of salicylic acid in decrease of membrane senescent in cut lisianthus flowers. World Applied Sciences Journal, 13(1), 142–146.

Kazemi, M., Abdossi, V., Kalateh, J. S., & Moghadam, A. R. L. (2018). Effect of pre- and postharvest salicylic acid treatment on physio-chemical attributes in relation to the vase life of cut rose flowers. The Journal of Horticultural Science and Biotechnology, 93(1), 81–90. https://doi.org/10.1080/14620316.2017.1344571.

Kenis, J. D., Silvente, S. T., & Trippi, V. S. (1985). Nitrogen metabolism and senescence associated changes during growth of carnation flowers (Dianthuscaryophyllus). Physiologia Plantarum, 65, 455–459.

Khurana, J. P., & Maheshwari, S. (1980). Some effects of salicylic acid on growth and flowering in Spirodelapolyrrhiza SP20. Plant and Cell Physiology, 21(5), 923–927.

Khurana, J. P., & Maheshwari, S. (1983). Floral induction in wolffiamicroscopica by salicylic acid and related compounds under non-inductive long days. Plant and Cell Physiology, 24(5), 907–912.

Langroudi, M. E., Hashemabadi, D., Jari, S. K., & Asadpour, L. (2020). Effect of pre- and postharvest applications of salicylic acid on the vase life of cut Alstroemeria flowers (Alstroemeria hybrida). Journal of Horticulture and Postharvest Research, 3(1), 115–124.

Lay-Yee, M., Stead, A. D., & Reid, M. S. (1992). Flower senescence in daylily (Hemerocallis). Physiologia Plantarum, 86, 308–314.

Lowry, O. H., Rosenbrough, N. J., Farr, A. L., & Randall, R. J. (1951). Protein measurement with folin phenol reagent. J. Biol Chem., 193, 265–275.

Nelson, N. (1944). Photometric adaptation of Somogyi method for determination of glucose. J Biol Chem., 153, 375.

Pacheco, A. C., da Silva Cabral, C., da Silva Fermino, É. S., & Aleman, C. C. (2013). Salicylic acid-induced changes to growth, flowering and flavonoids production in marigold plants. Journal of Medicinal Plant Research, 7(42), 3158–3163.

Panavas, T., & Rubinstein, B. (1998). Oxidative events during programmed cell death of daylily (Hemerocallis hybrid) petals. Plant Science, 133, 125–138.

Rani, P., & Singh, N. (2014). Senescence and postharvest studies of cut flowers: a critical review. Pertanika Journal of Tropical Agricultural Science, 37(2), 159–201.

Rosen, H. (1957). A modified ninhydrin colorimetric method for amino acids. Archives of Biochemistry and Biophysics, 67, 10–15.

Rubinstein, B. (2000). Regulation of cell death in flower petals. Plant Molecular Biology, 44, 303–318.

Saeed, T., Hassan, I., Abbasi, N. A., & Jilani, G. (2014). Effect of gibberellic acid on the vase life and oxidative activities in senescing cut gladiolus flowers. Plant Growth Regulation, 72(89), 95. https://doi.org/10.1007/s10725-013-9839-y.

Saeed, T., Hassan, I., Abbasi, N. A., & Jilani, G. (2016). Antioxidative activities and qualitative changes in gladiolus cutflowers in response to salicylic acid application. Scientia Horticulturae., 210, 236–241.

Sairam, R. K. (1994). Effect of moisture stress on physiological activities of two contrasting wheat genotypes. Indian J Exp Biol, 32, 594–597.

Sen, S., Chakraborty, R., Sridhar, C., Reddy, Y. S. R., & De, B. (2010). Free radicals, antioxidants, diseases and phytomedicines: current status and future prospect. Int. J. Pharm. Sci. Rev. Res., 3(1), 91–100.

Sharma, P., Jha, A. B., Dubey, R. S., & Pessarakli, M. (2012). Reactive oxygen species, oxidative damage, and antioxidative defense mechanism in plants under stressful conditions. J. Bot. https://doi.org/10.1155/2012/217037.

Singh, A., Kumar, J., & Kumar, P. (2008). Effect of plant growth regulators and sucrose on post harvest physiology, membrane stability and vase life of cut spikes of gladiolus. Plant Growth Regulation, 55, 221–229.

Swain, T., & Hillis, W. E. (1959). The phenolic constituents of Prunus domestica L. The quantitative analysis of phenolic constituents. J Sci Food Agric, 10, 63–68.

Tareen, M. J., Abbasi, N. A., & Hafiz, I. A. (2012). Postharvest application of salicylic acid enhanced antioxidant enzyme activity and maintained quality of peach cv. 'Flordaking' fruit during storage. Scientia Horticulturae, 142, 221–228.

Tayyab, S., & Qamar, S. (1992). A look into enzyme kinetics: Some introductory experiments. Biochem. Edu., 20, 116–118.

Thompson, S. E. (1974). The behaviour of cytoplasmic membranes in Phaseolusvulgaris cotyledon during germination. Canadian Journal of Botany, 2, 534–541.

van Doorn, W. G., & Stead, A. D. (1994). The physiology of petal senescence which is not initiated by ethylene. In R. J. Scott & A. D. Stead (Eds.), Molecular and cellular aspects of plant reproduction (pp. 239–254). Cambridge: Cambridge University Press.

van Doorn, W. G., & Woltering, E. J. (2008). Physiology and molecular biology of petal senescence. Journal of Experimental Botany, 59, 453–480.

Woolhouse, H. W. (1984). The biochemistry and regulation of senescence in chloroplasts. Canadian Journal of Botany, 62, 2934–2942.

Yuping, Z. (2009). Effects of salicylic acid on fresh keeping of cut Gerbera jamesonii flower. Anhui Agricultural 291 Science Bulletin. http://en.cnki.com.cn/Article_en/CJFDTOTAL-AHNB200913063.htm.

Zhou, Q., Ma, C., Cheng, S., Wei, B., Liu, X., & Ji, S. (2014). Changes in antioxidative metabolism accompanying pitting development in stored blueberry fruit. Postharvest Biology and Technology, 88, 88–95.
Additional information
Publisher's Note
Springer Nature remains neutral with regard to jurisdictional claims in published maps and institutional affiliations.
About this article
Cite this article
Nisar, S., Dar, R.A. & Tahir, I. Salicylic acid retards senescence and makes flowers last longer in Nicotiana plumbaginifolia (Viv). Plant Physiol. Rep. (2021). https://doi.org/10.1007/s40502-021-00569-1
Received:

Accepted:

Published:
Keywords
Antioxidant enzymes

Lipoxygenase

Salicylic acid

Flower longevity