Abstract
Autism spectrum disorder has often been assumed to be a protective factor against substance use, yet the extent of substance use in this population has been difficult to determine as limited research has been done on these interacting variables. This systematic literature review examined 26 studies published between 2009 and 2019 to uncover the relationship between autism spectrum disorder and substance use. The types of participants included from the primary studies are adults and adolescents. A significant indication that this population is more susceptible to substance use and related disorders was found, yet this may only remain true for adults. Various interacting environmental and genetic/neurological factors combine and may contribute towards this vulnerability such as feelings of isolation, deficits in executive functioning and genetic heritability. High comorbidity rates of depression, anxiety disorders and attention deficit/hyperactivity disorder may further strengthen this vulnerability. Screening for substance use in these patients is not a common practice and the treatment of substance use disorder remains a challenge suggesting that many individuals may remain underdiagnosed. This research paper thus demonstrates the need and importance of more primary research to be done and for greater awareness of this vulnerability within mental health settings.
Access options
Buy single article
Instant access to the full article PDF.
US$ 39.95
Tax calculation will be finalised during checkout.
Subscribe to journal
Immediate online access to all issues from 2019. Subscription will auto renew annually.
US$ 79
Tax calculation will be finalised during checkout.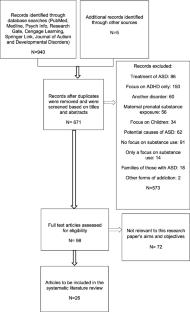 Ethics declarations
Conflict of Interest
The authors declare that there is no conflict of interest.
Additional information
Publisher's Note
Springer Nature remains neutral with regard to jurisdictional claims in published maps and institutional affiliations.
About this article
Cite this article
Haasbroek, H., Morojele, N. A Systematic Literature Review on the Relationship Between Autism Spectrum Disorder and Substance Use Among Adults and Adolescents. Rev J Autism Dev Disord (2021). https://doi.org/10.1007/s40489-021-00242-1
Received:

Accepted:

Published:
Keywords
Autism spectrum disorder (ASD)

Comorbidity

Neurodevelopmental disorders

Substance use

Substance use disorder (SUD)

Systematic literature review