Noise transmission during the dynamic pattern formation in fly embryos
Abstract
Background
Developmental patterning is highly reproducible and accurate at the single-cell level during fly embryogenesis despite the gene expression noise and external perturbations such as the variation of the embryo length, temperature and genes. To reveal the underlying mechanism, it is very important to characterize the noise transmission during the dynamic pattern formation. Two hypotheses have been proposed. The "channel" scenario requires a highly reproducible input and an accurate interpretation by downstream genes. In contrast, the "filter" scenario proposes a noisy input and a noise filter via the cross-regulation of the downstream network. It has been under great debates which scenario the fly embryogenesis follows.
Results
The first 3-h developmental patterning of fly embryos is orchestrated by a hierarchical segmentation gene network, which rewires upon the maternal to zygotic transition. Starting from the highly reproducible maternal gradients, the positional information is refined to the single-cell precision through the highly dynamical evolved zygotic gene expression profiles. Thus the fly embryo development might strictly fit into neither the originally proposed "filter" nor "channel" scenario. The controversy that which scenario the fly embryogenesis follows could be further clarified by combining quantitative measurements and modeling.
Conclusions
Fly embryos have become one of the perfect model systems for quantitative systems biology studies. The underlying mechanism discovered from fly embryogenesis will deepen our understanding of the noise control of the gene network, facilitate searching for more efficient and safer methods for cell programming and reprogramming, and have the great potential for tissue engineering and regenerative medicine.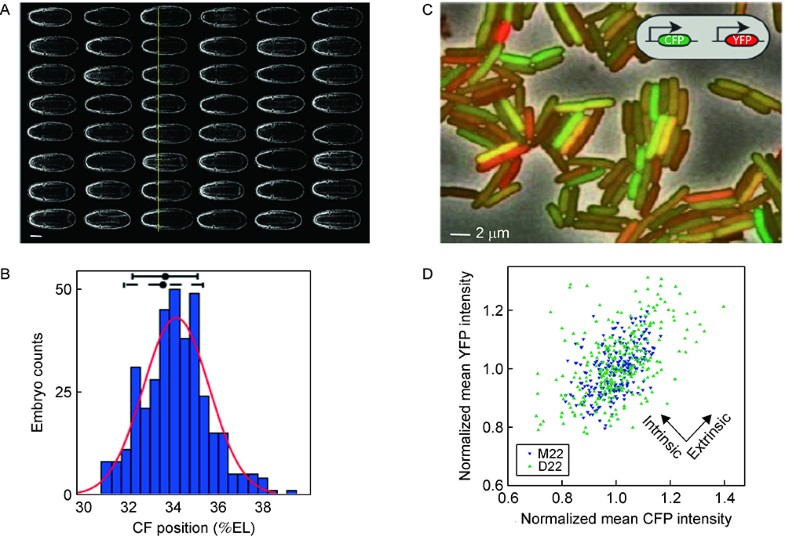 Keywords
pattern formation 
gene regulatory network 
noise 
embryogenesis 
Drosophila
Notes
Acknowledgments
The authors are grateful for the two reviewers for helpful suggestions. We apologize to our colleagues whose work could not be cited due to the page limits. This project is supported by the National Natural Science Foundation of China (No.31670852) and 100-talent plan of Peking University. The Drosophila lab used in this project is supported by Peking-Tsinghua Center for Life Sciences.
Copyright information
© Higher Education Press and Springer-Verlag GmbH Germany, part of Springer Nature 2018