Engineering synthetic optogenetic networks for biomedical applications
Abstract
Background
Recently, optogenetics based on genetically encoded photosensitive proteins has emerged as an innovative technology platform to revolutionize manipulation of cellular behavior through light stimulation. It has enabled user defined control of various cellular behaviors with spatiotemporal precision and minimal invasiveness, creating unprecedented opportunities for biomedical applications.
Results
This article reviews current advances in optogenetic networks designed for the treatment of human diseases. We highlight the advantages of these optogenetic networks, as well as emerging questions and future perspectives.
Conclusions
Various optogenetic systems have been engineered to control biological processes at all levels using light and applied for numerous diseases, such as metabolic disorders, cancer, and immune diseases. Continued development of optogenetic modules will be necessary to precisely control of gene expression magnitude towards clinical medical practice in the context of real-world problems.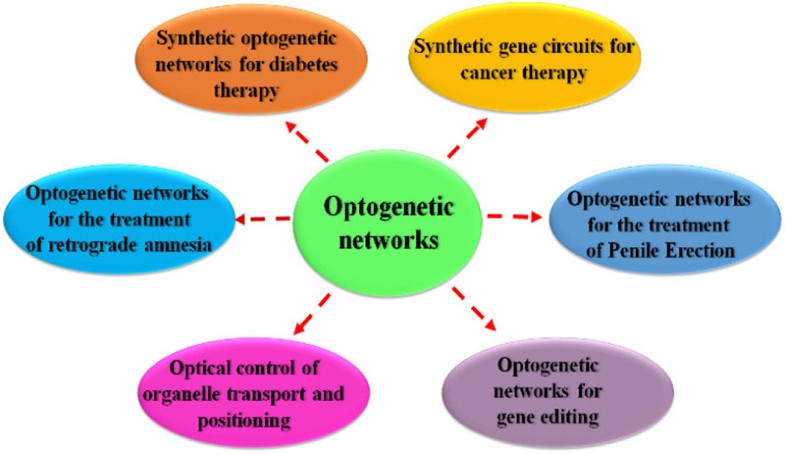 Keywords
synthetic biology 
mammalian designer cells 
optogenetics 
synthetic gene circuits 
gene- and cell-based therapy 
Notes
Acknowledgements
This work was financially supported by the National Key Research and Development Program of China, Stem Cell and Translational Research (No. 2016YFA0100300), by the National Natural Science Foundation of China (Nos. 31522017, 31470834 and 31670869), by the Science and Technology Commission of Shanghai Municipality (Nos. 15QA1401500 and 14JC1401700), and by the Thousand Youth Talents Plan of China to H.Y.
Copyright information
© Higher Education Press and Springer-Verlag GmbH 2017