Phage engineering: how advances in molecular biology and synthetic biology are being utilized to enhance the therapeutic potential of bacteriophages
Abstract
Background
The therapeutic potential of bacteriophages has been debated since their first isolation and characterisation in the early 20th century. However, a lack of consistency in application and observed efficacy during their early use meant that upon the discovery of antibiotic compounds research in the field of phage therapy quickly slowed. The rise of antibiotic resistance in bacteria and improvements in our abilities to modify and manipulate DNA, especially in the context of small viral genomes, has led to a recent resurgence of interest in utilising phage as antimicrobial therapeutics.
Results
In this article a number of results from the literature that have aimed to address key issues regarding the utility and efficacy of phage as antimicrobial therapeutics utilising molecular biology and synthetic biology approaches will be introduced and discussed, giving a general view of the recent progress in the field.
Conclusions
Advances in molecular biology and synthetic biology have enabled rapid progress in the field of phage engineering, with this article highlighting a number of promising strategies developed to optimise phages for the treatment of bacterial disease. Whilst many of the same issues that have historically limited the use of phages as therapeutics still exist, these modifications, or combinations thereof, may form a basis upon which future advances can be built. A focus on rigorous in vivo testing and investment in clinical trials for promising candidate phages may be required for the field to truly mature, but there is renewed hope that the potential benefits of phage therapy may finally be realised.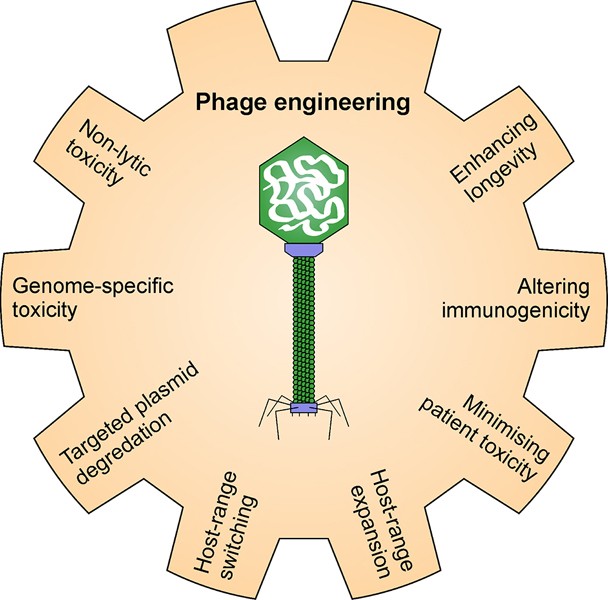 Keywords
bacteriophage 
phage therapy 
phage engineering 
synthetic biology 
Notes
Acknowledgments
This work was supported by the Bill and Melinda Gates Foundation under the Grand Challenges Explorations grant (OPP1139488).
Copyright information
© The Author(s) 2017
OPEN ACCESS This article is distributed under the terms of the Creative Commons Attribution 4.0 International License (http://creativecommons.org/licenses/by/4.0/), which permits unrestricted use, distribution, and reproduction in any medium, provided you give appropriate credit to the original author(s) and the source, provide a link to the Creative Commons license, and indicate if changes were made.