Abstract
Pyogenic flexor tenosynovitis (PFT) is an aggressive infection of the flexor tendon sheath, requiring prompt intervention to minimize adverse outcomes. The diagnosis of pediatric PFT is often delayed due to the variable presence of Kanavel's signs in children and communication difficulties. A 9-month-old male presented to the emergency department with one of four Kanavel signs. The diagnosis of PFT was delayed until ultrasound was used to identify a fluid collection within the flexor tendon sheath. He was successfully treated with surgical debridement and antibiotic therapy, achieving full recovery by 6-month follow-up. This represents the youngest reported case of PFT. Difficulties with communication and physical exam as well as the variability of Kanavel's signs in young children can delay the diagnosis of pediatric PFT. Ultrasound can be a useful adjunct when clinical history and exam are equivocal, especially in children who present prior to language acquisition.
Access options
Buy single article
Instant access to the full article PDF.
US$ 39.95
Tax calculation will be finalised during checkout.
Subscribe to journal
Immediate online access to all issues from 2019. Subscription will auto renew annually.
US$ 79
Tax calculation will be finalised during checkout.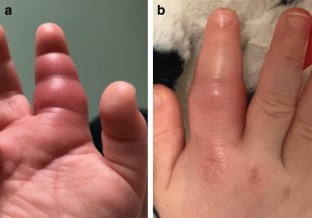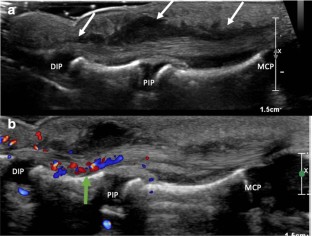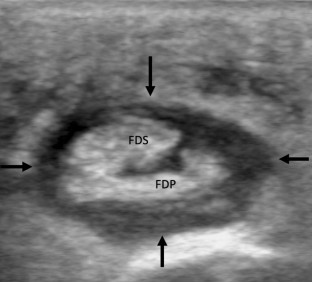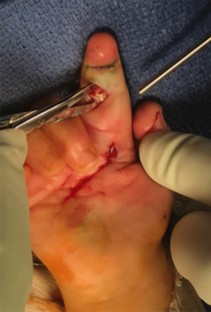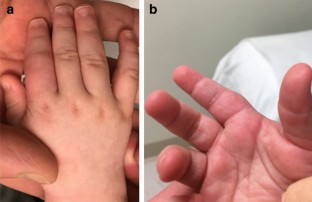 References
1.

Kennedy CD, Huang JI, Hanel DP (2016) In Brief: Kanavel's signs and pyogenic flexor tenosynovitis. Clin Orthop Relat Res 474(1):280–284

2.

Brusalis CM, Thibaudeau S, Carrigan RB, Lin IC, Chang B, Shah AS (2017) Clinical characteristics of pyogenic flexor tenosynovitis in pediatric patients. J Hand Surg Am 42(5):388.e1-388.e5

3.

Barry RL, Adams NS, Martin MD (2016) Pyogenic (Suppurative) flexor tenosynovitis: assessment and management. Eplasty 16:7

4.

Luria S, Haze A (2011) Pyogenic flexor tenosynovitis in children. Pediatr Emerg Care 27(8):740–741

5.

Ceroni D, Merlini L, Salvo D, Lascombes P, Dubois-Ferrière V (2013) Pyogenic flexor tenosynovitis of the finger due to Kingella kingae. Pediatr Infect Dis J 32(6):702–703

6.

Cohen SG, Beck SC (2015) Point-of-care ultrasound in the evaluation of pyogenic flexor tenosynovitis. Pediatr Emerg Care 31(11):805–807

7.

Gragg JI, Olsen R, Stringham SB (2017) Pyogenic flexor tenosynovitis in an infant. Clin Pract Cases Emerg Med 1(2):89–91

8.

Pang HN, Teoh LC, Yam AK, Lee JY, Puhaindran ME, Tan AB (2007) Factors affecting the prognosis of pyogenic flexor tenosynovitis. J Bone Joint Surg Am 89(8):1742–1748

9.

Jardin E, Delord M, Aubry S, Loisel F, Obert L (2018) Usefulness of ultrasound for the diagnosis of pyogenic flexor tenosynovitis: a prospective single-center study of 57 cases. Hand Surg Rehabil 37(2):95–98

10.

Rayan GM, Turner WT (1989) Hand complications in children from digital sucking. J Hand Surg Am 14(6):933–936
Funding
No funding was received to assist with the preparation of this manuscript.
Ethics declarations
Conflicts of interest
The authors have no conflicts of interest to declare that are relevant to the content of this article.
Ethics approval
This article complies with ethics requirements at our institution.
Consent for publication
Written informed consent was obtained from the parents.
Additional information
Publisher's Note
Springer Nature remains neutral with regard to jurisdictional claims in published maps and institutional affiliations.
About this article
Cite this article
Fortney, T.A., Mead, K.C., Wright, T.E. et al. Ultrasound diagnosis of pyogenic flexor tenosynovitis in a 9-month-old infant: a rare case report. J Ultrasound (2021). https://doi.org/10.1007/s40477-021-00567-x
Received:

Accepted:

Published:
Keywords
Doppler ultrasound

Diagnostic ultrasound

Pyogenic flexor tenosynovitis

Pediatric pyogenic flexor tenosynovitis

Pediatric infections