Abstract
A single-center retrospective study reviewed the following sonographic features of 18 confirmed cases of localized cutaneous leishmaniasis to identify shared presentation patterns: echotexture, lesion borders, hypodermal involvement, soft-tissue changes, and vascular pattern. A second objective was to correlate these patterns with clinical characteristics, including sex, age, anatomical location, nodule vs. plaque presentation, raised borders, granulation tissue, swelling, hyperkeratotic crusting, disease onset, and healing time. Two main patterns were identified with high-frequency ultrasonography. The first pattern was characterized by a high level of inflammation and deep hypodermal involvement, while the second variant showed involvement limited to the dermis, with minimal inflammation. The "inflammatory pattern" showed ill-defined borders, mixed echotexture, prominent vascularity with central distribution, and was correlated with clinical signs of ulceration, granulation tissue, raised borders, and longer healing time (p < 0.05). The "pauci-inflammatory pattern" presented a well-defined structure with decreased echogenicity, reduced or absent vascularity with minimal soft-tissue changes, and was associated with a shorter healing time (p < 0.05).
Access options
Buy single article
Instant access to the full article PDF.
US$ 39.95
Tax calculation will be finalised during checkout.
Subscribe to journal
Immediate online access to all issues from 2019. Subscription will auto renew annually.
US$ 79
Tax calculation will be finalised during checkout.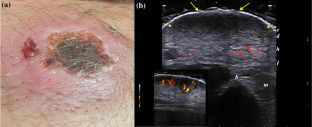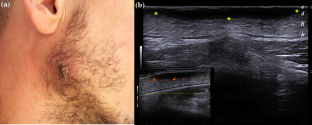 References
1.

Hepburn NC (2000) Cutaneous leishmaniasis. Clin Exp Dermatol 25:363–370

2.

Scott P, Novais FO (2016) Cutaneous leishmaniasis: immune responses in protection and pathogenesis. Nat Rev Immunol 16(9):581–592

3.

Sharquie KE, Hameed AF, Noaimi AA (2016) Panniculitis is a common unrecognized histopathological feature of cutaneous leishmaniasis. Indian J Pathol Microbiol 59(1):16–19

4.

Thilakarathne IK, Ratnayake P, Vithanage A, Sugathadasa DP (2019) Role of histopathology in the diagnosis of cutaneous leishmaniasis: a case-control study in Sri Lanka. Am J Dermatopathol 41(8):566–570

5.

Merino-Espinosa G, Corpas-López V, Díaz-Sáez V et al (2018) Cutaneous leishmaniasis by Leishmania infantum: behind granulomatous lesions of unknown aetiology. J Eur Acad Dermatol Venereol 32(1):117–124

6.

Saavedra AC, Valencia BM, Tueros P, Wortsman X, Llanos-Cuentas A, Lavarello RJ (2019) Ultrasonographic characteristics of cutaneous leishmaniasis. J Eur Acad Dermatol Venereol 34(4):e193–e195

7.

Rojas Mora E, Garrido Ríos A, Echeverría García B, Borbujo J (2019) An unusual presentation of cutaneous leishmaniasis: the role of skin ultrasound. Actas Dermosifiliogr 110(2):171–174

8.

Novais FO, Nguyen BT, Beiting DP et al (2014) Human classical monocytes control the intracellular stage of Leishmania braziliensis by reactive oxygen species. J Infect Dis 209(8):1288–1296

9.

Romero-Maté A, Martínez-Sánchez D, Tardío JC et al (2012) Cutaneous leishmaniasis with histopathologic pattern of non-necrotizing granulomatous dermatitis in patients treated with adalimumab. Dermatol Online J 18(9):7

10.

Faria DR, Souza PEA, Durães FV et al (2009) Recruitment of CD8+ T cells expressing granzyme A is associated with lesion progression in human cutaneous leishmaniasis. Parasite Immunol 31(8):432–439

11.

Sadick MD, Heinzel FP, Holaday BJ, Pu RT, Dawkins RS, Locksley RM (1990). Cure of murine leishmaniasis with anti-interleukin 4 monoclonal antibody. Evidence for a T cell-dependent, interferon gamma-independent mechanism. J Exp Med 171(1):115–27.

12.

Catalano O, Varelli C, Sbordone C et al (2020) A bump: what to do next? Ultrasound imaging of superficial soft-tissue palpable lesions. J Ultrasound 23:287–300

13.

Esposito S, Ferrara D, Di Serafino M et al (2019) Classification and ultrasound findings of vascular anomalies in pediatric age: the essential. J Ultrasound 22(1):13–25

14.

Knöpfel N, Gómez-Zubiaur A, Noguera-Morel L, Torrelo A, Hernandez-Martin A (2018) Ultrasound findings in idiopathic facial aseptic granuloma: case series and literature review. Pediatr Dermatol 35(3):397–400

15.

Pousa-Martínez M, Sánchez-Aguilar D, Aliste C, Vázquez-Veiga H (2017) Usefulness of ultrasound in the diagnosis and follow-up of pyoderma gangrenosum. Actas Dermosifiliogr 108(10):962–964

16.

Corvino A, Sandomenico F, Corvino F, et al. Utility of a gel stand-off pad in the detection of Doppler signal on focal nodular lesions of the skin (2020). J Ultrasound. 23(1):45–53.

17.

Catalano O, Alfageme Roldán F, Varelli C et al (2019) Skin cancer: findings and role of high-resolution ultrasound. J Ultrasound 22(4):423–431
Ethics declarations
Conflict of interest
The authors declare that they have no conflict of interest.
Ethical approval
All procedures performed in studies involving human participants were in accordance with the ethical standards of the institutional and/or national research committee and with the 1964 Helsinki declaration and its later amendments or comparable ethical standards. All applicable international, national, and/or institutional guidelines for the care and use of animals were followed. This article does not contain any studies with human participants or animals performed by any of the authors.
Informed consent
Informed consent was obtained from all individual participants included in the study.
Additional information
Publisher's Note
Springer Nature remains neutral with regard to jurisdictional claims in published maps and institutional affiliations.
About this article
Cite this article
Sechi, A., Neri, I., Patrizi, A. et al. Ultrasound patterns of localized cutaneous leishmaniasis and clinical correlations. J Ultrasound (2021). https://doi.org/10.1007/s40477-020-00537-9
Received:

Accepted:

Published:
Keywords
Ultrasound

Localized cutaneous leishmaniasis

Dermatology

Leishmaniasis