Abstract
Purpose
This study aimed to measure diaphragm thickness using ultrasound in adult patients with severe idiopathic scoliosis.
Methods
This prospective case–control study included patients with severe idiopathic scoliosis and a healthy control group. The control and patient groups' demographic features, pulmonary function tests, diaphragm thickness, and thickening fraction measured using ultrasonography were compared.
Results
End-expirium values were similar between the two groups (p = 0.902). However, end of inspirium, change level, and diaphragm thickening fraction were significantly lower in the scoliosis group (p < 0.001 for all). Cobb degree values were inversely correlated with forced expiratory volume in 1 s (%) (r =  − 0.909, p < 0.001), forced vital capacity (%) (r =  − 0.887, p < 0.001), and end-inspirium thickness (r =  − 0.673 and p < 0.001) values. Furthermore, diaphragm thickness at the end of inspirium was positively correlated with forced expiratory volume in 1 s (%) (r = 0.636, p = 0.001) and forced vital capacity (%) (r = 0.646, p = 0.001) values. No significant correlation was found between diaphragm thickening fraction and forced expiratory volume in 1 s or forced vital capacity.
Conclusion
Ultrasound can provide valuable information about diaphragm morphology and quantify diaphragm contraction.
Access options
Buy single article
Instant access to the full article PDF.
US$ 39.95
Tax calculation will be finalised during checkout.
Subscribe to journal
Immediate online access to all issues from 2019. Subscription will auto renew annually.
US$ 79
Tax calculation will be finalised during checkout.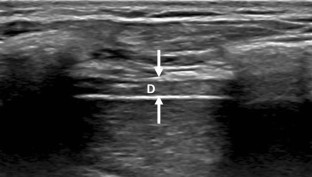 References
1.

Negrini S, Donzelli S, Aulisa AG, Czaprowski D, Schreiber S, de Mauroy JC et al (2018) 2016 SOSORT guidelines: orthopaedic and rehabilitation treatment of idiopathic scoliosis during growth. Scoliosis Spinal Disord 13:3

2.

Wang Y, Yang F, Wang D, Zhao H, Ma Z, Ma P et al (2019) Correlation analysis between the pulmonary function test and the radiological parameters of the main right thoracic curve in adolescent idiopathic scoliosis. J Orthop Surg Res 14:1–9

3.

Asher MA, Burton DC (2006) Adolescent idiopathic scoliosis: natural history and long term treatment effects. Scoliosis 1:2

4.

Weinstein S, Dolan L, Spratt K, Peterson K, Spoonamore M, Ponseti I (2003) Health and function of patients with untreated idiopathic scoliosis: a 50-year natural history study. JAMA 289:559

5.

Reamy B, Slakey J (2001) Adolescent idiopathic scoliosis: review and current concepts. Am Fam Phys 64:111

6.

Trobisch P, Suess O, Schwab F (2010) Idiopathic scoliosis. Deutsches Ärzteblatt Int 107:875

7.

Tsiligiannis T, Grivas T (2012) Pulmonary function in children with idiopathic scoliosis. Scoliosis 7:7

8.

Kwan M, Chiu C, Chan T, Chong K, Mohamad S, Hasan M et al (2017) Trajectory of postoperative wound pain within the first 2 weeks following posterior spinal fusion surgery in adolescent idiopathic scoliosis patients. Spine 42:838

9.

White H, Wallace J, King J, Augsburger S, Milbrandt T, Iwinski H (2015) A prospective comparison of pulmonary function using traditional and kinematic measures in children with and without adolescent idiopathic scoliosis. Spine Deform 3:554

10.

Goligher EC, Laghi F, Detsky ME, Farias P, Murray A, Brace D et al (2015) Measuring diaphragm thickness with ultrasound in mechanically ventilated patients: feasibility, reproducibility and validity. Intensive Care Med 41:642–649

11.

Crimi C, Heffler E, Augelletti T, Campisi R, Noto A, Vancheri C et al (2018) Utility of ultrasound assessment of diaphragmatic function before and after pulmonary rehabilitation in COPD patients. Int J Chronic Obstr Pulm Dis 13:3131

12.

O'Gorman C, O'brien T, Boon A (2017) Utility Of diaphragm ultrasound in myopathy. Muscle Nerve 55:427

13.

Özçakar L, Kara M, Chang K, Çarl A, Akkaya N, Tok F et al (2015) Nineteen reasons why physiatrists should do musculoskeletal ultrasound: EURO-MUSCULUS/USPRM recommendations. Am J Phys Med Rehabil 94:e45

14.

Jung J-h, Kim N-s (2017) The correlation between diaphragm thickness, diaphragmatic excursion, and pulmonary function in patients with chronic stroke. J Phys Ther Sci 29:2176

15.

Kotani T, Minami S, Takahashi K, Isobe K, Nakata Y, Takaso M et al (2004) An analysis of chest wall and diaphragm motions in patients with idiopathic scoliosis using dynamic breathing MRI. Spine 29:298

16.

Chu W, Yeung H, Chau W, Lam W, Ng B, Lam T et al (2006) Changes in vertebral neural arch morphometry and functional tethering of spinal cord in adolescent idiopathic scoliosis–study with multi-planar reformat magnetic resonance imaging. Stud Health Technol Inform 123:27

17.

Jada A, Mackel C, Hwang S, Samdani A, Stephen J, Bennett J et al (2017) Evaluation and management of adolescent idiopathic scoliosis: a review. Neurosurg Focus 43:E2

18.

Weinstein S, Ponseti I (1983) Curve progression in idiopathic scoliosis. J Bone Jt Surg Am Vol 65:447

19.

Cobb J (1948) Outline for the study of scoliosis. Instr Course Lect AAOS 5:261–275

20.

Martínez-Llorens J, Ramírez M, Colomina M, Bagó J, Molina A, Cáceres E et al (2010) Muscle dysfunction and exercise limitation in adolescent idiopathic scoliosis. Eur Respir J 36:393

21.

Pazarlı A, Özmen Z, İnönü KH, Ekiz T (2020) Ultrasonographic measurement of the diaphragm thickness in patients with obstructive sleep apnea syndrome. Sleep Breath 24:89

22.

Şahin H, Doğan A, Ekiz T (2019) Ultrasonographic evaluation of the diaphragm thickness in patients with multiple sclerosis. Multiple Scler Relat Disord 36:101369

23.

Noda Y, Sekiguchi K, Kohara N, Kanda F, Toda T (2016) Ultrasonographic diaphragm thickness correlates with compound muscle action potential amplitude and forced vital capacity. Muscle Nerve 53:522

24.

Cho J-E, Hwang D-Y, Hahn J, Lee W-H (2018) Use of real-time ultrasound imaging for biofeedback of diaphragm motion during normal breathing in healthy subjects. Phys Ther Rehab Sci 7:95–101

25.

Hresko M (2013) Clinical practice Idiopathic scoliosis in adolescents. N Engl J Med 368:834
Funding
This study received no funding.
Ethics declarations
Conflict of interest
The authors declare that they have no conflict of interest.
Ethical approval
All procedures performed in studies involving human participants were in accordance with the ethical standards of the institutional research committee and with the 1964 Helsinki declaration and its later amendments or comparable ethical standards.
Informed consent
Informed consent was obtained from all individual participants included in the study.
Additional information
Publisher's Note
Springer Nature remains neutral with regard to jurisdictional claims in published maps and institutional affiliations.
About this article
Cite this article
Karaali, E., Çiloğlu, O., Görgülü, F.F. et al. Ultrasonographic measurement of diaphragm thickness in patients with severe thoracic scoliosis. J Ultrasound (2021). https://doi.org/10.1007/s40477-020-00536-w
Received:

Accepted:

Published:
Keywords
Musculoskeletal ultrasound

Pulmonary function

Cobb angle