Abstract
May–Thurner syndrome (MTS) is a congenital vascular alteration that is part of a restricted category of very rare vascular syndromes that have in common the compression of an arterial or venous vessel. MTS, first described in 1957, is due to compression of the left common iliac vein against the lumbar spine by the adjacent common iliac artery. It can cause chronic thrombosis of the left lower limb and can give edema, pain, claudication, thrombophlebitis, and, in severe cases, pulmonary embolism. Color Doppler and duplex Doppler ultrasound allow us to easily locate the deep vein thrombosis, to measure its extension, and to highlight the vascular changes typical of MTS: compression and consequent hypertension of the left common iliac vein. The therapy depends on the degree of venous stasis and on the presence of venous thrombosis; generally, it consists of the administration of short- or long-term anticoagulant and thrombolytic drugs. In cases of severe stenosis of the left common iliac vein, the first-choice treatment consists of positioning a vascular stent, which resolves compression and significantly reduces chronic thrombotic episodes. We describe a case of MTS with an unusual clinical onset with pulmonary embolism.
This is a preview of subscription content, log in to check access.
Access options
Buy single article
Instant access to the full article PDF.
US$ 39.95
Price includes VAT for USA
Subscribe to journal
Immediate online access to all issues from 2019. Subscription will auto renew annually.
US$ 99
This is the net price. Taxes to be calculated in checkout.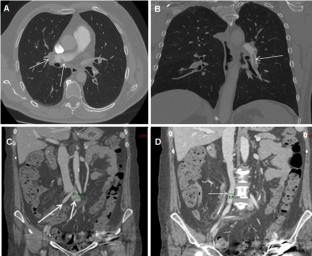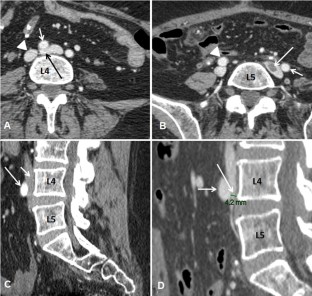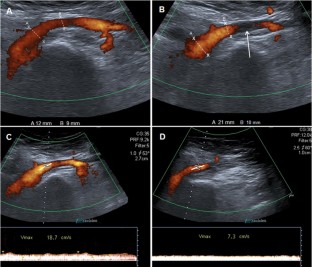 References
1.

Farina R, Foti PV, Cocuzza G et al (2017) Wilkie's syndrome. J Ultrasound 20(4):339–342

2.

Farina R, Foti PV, Iannace FA et al. (2019) Thoracic outlet syndrome: a rare case with bilateral cervical ribs and bilateral anterior scalene hypertrophy. J Ultrasound

3.

Santos GM, Viarengo LMA, Oliveira MDP (2019) Celiac artery compression: Dunbar syndrome. J Vasc Bras 18:e20180094

4.

May R, Thurner J (1957) The cause of the predominantly sinistral occurrence of thrombosis of the pelvic veins. Angiology 8(5):419–427

5.

Molloy S, Jacob S, Buckenham T et al (2002) Arterial compression of the right common iliac vein; an unusual anatomical variant. Cardiovasc Surg 10:291–292

6.

Palma L, Peterson MD, Ingebretsen R (1995) Iliac vein compression syndrome from urinary bladder distension due to prostatism. South Med J 88:959–960

7.

Janczak D, Rucinski A, Skora J et al (2000) Iliac-femoral vein thrombosis as a first symptom of the isolated common and internal illiac artery aneurysm. Wiad Lek 53(458–61):18

8.

Rosenthal D, Matsuura JH, Jerius H et al (1998) Iliofemoral venous thrombosis caused by compression of an internal iliac artery aneurysm: a minimally invasive treatment. J Endovasc Surg 5:142–145

9.

Rosengarten AM, Wong J, Gibbons S (2002) Endometriosis causing cyclic compression of the right external iliac vein with cyclic edema of the right leg and thigh. J Obstet Gynaecol Can 24:33–35

10.

Justa DG, Bianco FJ Jr, Ogle A et al (2003) Deep venous thrombosis due to compression of external iliac vein by the penile prosthesis reservoir. Urology 61:462

11.

Lugo-Fagundo C, Nance JW, Johnson PT et al (2016) May-Thurner syndrome: MDCT findings and clinical correlates. Abdom Radiol (NY) 41(10):2026–2030

12.

Cheng L, Zhao H, Zhang FX (2017) Iliac vein compression syndrome in an asymptomatic patient population: a prospective study. Chin Med J (Engl) 130(11):1269–1275

13.

Liyanage AM, Shafiq T, Wadekar VR et al (2018) An unusual presentation of deep vein thrombosis. Eur J Case Rep Intern Med 5(8):000899

14.

Liu P, Peng J, Zheng L et al (2018) Application of computed tomography venography in the diagnosis and severity assessment of iliac vein compression syndrome: a retrospective study. Medicine (Baltimore) 97(34):e12002

15.

Sebastian T, Spirk D, Engelberger RP et al (2019) Incidence of stent thrombosis after endovascular treatment of iliofemoral or caval veins in patients with the postthrombotic syndrome. Thromb Haemost 119(12):2064–2073

16.

Bondarev S, Keller EJ, Han T et al (2019) Predictors of disease recurrence after venoplasty and stent placement for May-Thurner syndrome. J Vasc Interv Radiol 30(10):1549–1554

17.

Gozzo C, Giambelluca D, Cannella R et al (2020) CT imaging findings of abdominopelvic vascular compression syndromes: what the radiologist needs to know. Insights Imaging 11(1):48

18.

Kibbe MR, Ujiki M, Goodwin AL et al (2004) Iliac vein compression in an asymptomatic patient population. J Vasc Surg May 39(5):937–943

19.

Mousa AY, AbuRahma AF (2013) May-Thurner syndrome: update and review. Ann Vasc Surg 27(7):984–995
Ethics declarations
Conflict of interest
The authors declare that they have no conflict of interest.
Ethical approval
All procedures performed in studies involving human participants were in accordance with the ethical standards of the institutional and/or national research committee and with the 1964 Helsinki Declaration and its later amendments or comparable ethical standards.
Statement related to the patient's consent
Consent was obtained from the patient for the publication of this case report and accompanying images.
Additional information
Publisher's Note
Springer Nature remains neutral with regard to jurisdictional claims in published maps and institutional affiliations.
About this article
Cite this article
Farina, R., Foti, P.V., Iannace, F.A. et al. May Thurner syndrome: description of a case with unusual clinical onset. J Ultrasound (2020). https://doi.org/10.1007/s40477-020-00497-0
Received:

Accepted:

Published:
Keywords
May thurner sindrome

Iliac compression syndrome

Pulmonary embolism

Color Doppler