Abstract
Purpose
To evaluate the possible role of CEUS in the management of patients who underwent nephron-sparing surgery (NSS) and presented questionable findings on the surgical margins at the CECT follow-up exam.
Methods
In our retro-prospective study, we included 952 patients with small renal masses (SRMs) treated with NSS between 2012 and 2015 and followed with CECT for at least 3 years at Careggi University Hospital. Twenty-two of them presented solid masses on the site of surgery with questionable enhancement at CECT and were further studied with CEUS. This examination was followed by a quantitative analysis of the enhancement pattern.
Results
Out of the 22 masses, 18 were considered possible granulomas, presenting slow wash-in and low enhancement peaks compared to the surrounding parenchyma and persistent delayed wash-out at CEUS. Four lesions presented a suspicious malignant enhancement pattern, with rapid wash-in, high peak and rapid wash-out. In accordance with instructions from the urologist, the first group of 18 patients was strictly monitored, revealing that the mass dimensions and enhancement pattern were stable for at least 3 years of follow-up, while the other 4 patients underwent a second intervention and their masses were confirmed as tumor recurrence at the histopathological evaluation.
Conclusions
CEUS can play a key role in the surgical margin follow-up after NSS when a suspicious enhancing mass is detected by CECT, giving an accurate depiction of the enhancement pattern and thus helping the clinician in the management of the patient.
This is a preview of subscription content, log in to check access.
Access options
Buy single article
Instant access to the full article PDF.
US$ 39.95
Tax calculation will be finalised during checkout.
Subscribe to journal
Immediate online access to all issues from 2019. Subscription will auto renew annually.
US$ 99
Tax calculation will be finalised during checkout.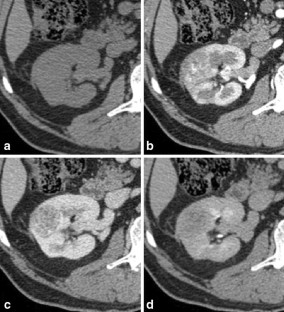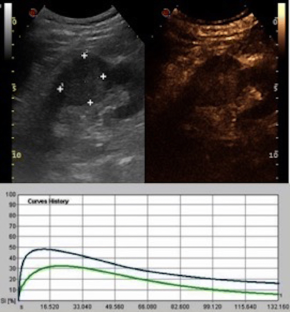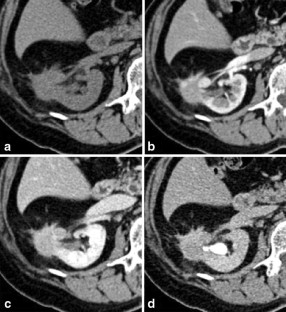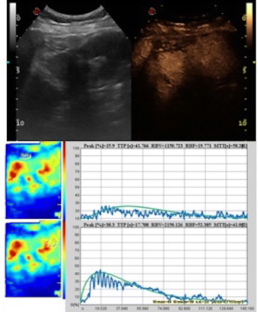 References
1.

Ljungberg B, Albiges L, Abu-Ghanem Y et al (2019) European association of urology guidelines on renal cell carcinoma: the 2019 update. Eur Urol 75(5):799–810

2.

Bjornsson J, Short MP, Kwiatkowski DJ et al (1996) Tuberous sclerosis-associated renal cell carcinoma: clinical, pathological, and genetic features. Am J Pathol 149:1201–1208

3.

Ng CS, Wood CG, Silverman PM et al (2008) Renal cell carcinoma: diagnosis, staging, and surveillance. AJR Am J Roentgenol 191(4):1220–1232

4.

Kim JK, Kim TK, Ahn HJ et al (2002) Differentiation of subtypes of renal cell carcinoma on helical CT scans. AJR Am J Roentgenol 178(6):1499–1506

5.

Oliva MR, Glickman JN, Zou KH et al (2009) Renal cell carcinoma: T1 and T2 signal intensity characteristics of papillary and clear cell types correlated with pathology. AJR Am J Roentgenol 192(6):1524–1530

6.

Pantuck AJ, Zisman A, Belldegrun AS (2001) The changing natural history of renal cell carcinoma. J Urol 166:1611–1623

7.

Kopka L, Fischer U, Zoeller G et al (1997) Dual-phase helical CT of the kidney: value of the corticomedullary and nephrographic phase for evaluation of renal lesions and preoperative staging of renal cell carcinoma. AJR Am J Roentgenol 169(6):1573–1578

8.

Bechtold RE, Zagoria RJ (1997) Imaging approach to staging of renal cell carcinoma. Urol Clin North Am 24:507–522

9.

Sheth S, Scatarige JC, Horton KM et al. (2001) Current concepts in the diagnosis and management of renal cell carcinoma: role of multidetector ct and three-dimensional CT. Radiographics. 21 Spec No: S237–54

10.

Hertzberg BS, Middleton WD (2015) Ultrasound: the Requisites, 3rd edn. Elsevier, Netherlands

11.

Dinney CPN, Awad SA, Gajewski JB et al (1992) Analysis of imaging modalities, staging systems, and prognostic indicators for renal cell carcinoma. Urology 36:22–29

12.

O'Connor SD, Silverman SG, Ip IK et al (2013) Simple cyst-appearing renal masses at unenhanced CT: can they be presumed to be benign? Radiology 269(3):793–800

13.

Gill IS, Aron M, Gervais DA et al (2010) Clinical practice. Small renal mass. N Engl J Med 362:624–634

14.

Almassi N, Gill BC, Rini B et al (2017) Management of the small renal mass. Transl Androl Urol 6(5):923–930

15.

Jonisch AI, Rubinowitz AN, Mutalik PG et al (2007) Can high-attenuation renal cysts be differentiated from renal cell carcinoma at unenhanced CT? Radiology 243(2):445–450

16.

Zhao Y, Wu Y, Zuo Z et al (2017) CT angiography of the kidney using routine CT and the latest Gemstone Spectral Imaging combination of different noise indexes: image quality and radiation dose. Radiol Med 122(5):327–336

17.

Jain Y, Liew S, Taylor MB et al (2011) Is dual-phase abdominal CT necessary for the optimal detection of metastases from renal cell carcinoma? Clin Radiol 66(11):1055–1059

18.

Zhong Y, Shen Y, Pan J et al (2017) Renal epithelioid angiomyolipoma: MRI findings. Radiol Med 122(11):814–821

19.

Tedeschi E, Caranci F, Giordano F et al (2017) Gadolinium retention in the body: what we know and what we can do. Radiol Med 122(8):589–600

20.

Dabestani S, Beisland C, Stewart GD et al (2018) Long-term outcomes of follow-up for initially localised clear cell renal cell carcinoma: RECUR database analysis. Eur Urol Focus S2405–4569(18):30072–30075

21.

Antonelli A, Ficarra V, Bertini R et al (2012) Elective partial nephrectomy is equivalent to radical nephrectomy in patients with clinical T1 renal cell carcinoma: results of a retrospective, comparative, multi-institutional study. BJU Int 109(7):1013–1018

22.

Weight CJ, Larson BT, Fergany AF et al (2010) Nephrectomy induced chronic renal insufficiency is associated with increased risk of cardiovascular death and death from any cause in patients with localized cT1b renal masses. J Urol 183(4):1317–1323

23.

Barbiero G, Groff S, Battistel M et al (2018) Are iatrogenic renal artery pseudoaneurysms more challenging to embolize when associated with an arteriovenous fistula? Radiol Med 123(10):742–752

24.

Antic T, Taxy JB (2015) Partial nephrectomy for renal tumors: lack of correlation between margin status and local recurrence. Am J Clin Pathol 143(5):645–651

25.

Comai A, Trenti M, Mayr R et al (2015) Computed Tomography after nephron sparing surgery. Abdom Imaging 40(7):2424–2431

26.

Pozza S, De Marchi A, Albertin C et al (2018) Technical and clinical feasibility of contrast-enhanced ultrasound evaluation of long bone non-infected nonunion healing. Radiol Med 123(9):703–709

27.

Faccioli N, Foti G, Casagranda G et al (2018) CEUS versus CT Angiography in the follow-up of abdominal aortic endoprostheses: diagnostic accuracy and activity-based cost analysis. Radiol Med 123(12):904–909

28.

Tagliati C, Argalia G, Polonara G et al (2019) Contrast-enhanced ultrasound in delayed splenic vascular injury and active extravasation diagnosis. Radiol Med 124(3):170–175

29.

Putz FJ, Erlmeier A, Wiesinger I et al (2017) Contrast-enhanced ultrasound (CEUS) in renal imaging at an interdisciplinary ultrasound centre: possibilities of dynamic microvascularisation and perfusion. Clin Hemorheol Microcirc 66(4):293–302

30.

Le O, Wood C, Vikram R et al (2017) Feasibility of contrast-enhanced intraoperative ultrasound for detection and characterization of renal mass undergoing open partial nephrectomy. J Ultrasound Med 36(8):1547–1553

31.

Drudi FM, Cantisani V, Granata A et al (2019) Multiparametric ultrasound in the evaluation of kidney disease in elderly. J Ultrasound. https://doi.org/10.1007/s40477-019-00390-5 [Epub ahead of print]

32.

Nestola M, De Matthaeis N, Ferraro PM et al (2018) Contrast-enhanced ultrasonography in chronic glomerulonephritides: correlation with histological parameters of disease activity. J Ultrasound 21(2):81–87

33.

Sidhu PS, Cantisani V, Dietrich CF et al (2018) The EFSUMB guidelines and recommendations for the clinical practice of contrast-enhanced ultrasound (CEUS) in non-hepatic applications: update 2017 (Short Version). Ultraschall Med 39(2):154–180

34.

Meloni MF, Smolock A, Cantisani V et al (2015) Contrast enhanced ultrasound in the evaluation and percutaneous treatment of hepatic and renal tumors. Eur J Radiol 84(9):1666–1674

35.

Singh A, Jai S, Ganpule S et al (2016) Bolster material granuloma masquerading as recurrent renal cell carcinoma following partial nephrectomy. Indian J Radiol Imaging 26(3):352–355

36.

Agarval MM, Mandal AK, Agarwal S et al (2010) Surgicel granuloma unusual case of "recurrent" mass lesion after laparoscopic nephron sparing surgery for renal cell carcinoma. Urology 76(2):334–335

37.

Tonolini M, Ierardi AM, Varca V et al (2015) Multidetector CT imaging of complications after laparoscopic nephron sparing surgery. Insight Imaging 6(4):465–478

38.

Álvarez Rodríguez S, Hevia Palacios V, Sanz Mayayo E et al (2017) The usefulness of contrast-enhanced ultrasound in the assessment of early kidney transplant function and complications. Diagnostics (Basel). https://doi.org/10.3390/diagnostics7030053

39.

Mueller-Peltzer K, Rübenthaler J, Fischereder M et al (2017) The diagnostic value of contrast-enhanced ultrasound (CEUS) as a new technique for imaging of vascular complications in renal transplants compared to standard imaging modalities. Clin Hemorheol Microcirc 67(3–4):407–413
Funding
No funding was used for this study.
Ethics declarations
Conflict of interest
The authors declare that they have no conflict of interest.
Ethical approval
All procedures performed in studies involving human participants were in accordance with the ethical standards of the institutional research committee and with the 1964 Helsinki Declaration and its later amendments or comparable ethical standards.
Informed consent
Informed consent was obtained from all individual participants included in the study.
Additional information
Publisher's Note
Springer Nature remains neutral with regard to jurisdictional claims in published maps and institutional affiliations.
About this article
Cite this article
Bertelli, E., Mercatelli, L., Savi, E. et al. Surgical margin follow-up after nephron-sparing surgery: the possible role of CEUS. J Ultrasound 23, 515–520 (2020). https://doi.org/10.1007/s40477-019-00413-1
Received:

Accepted:

Published:

Issue Date:
Keywords
CEUS

Nephron-sparing surgery (NSS)

Small renal masses (SRM)

Kidney

Cancer

Granuloma