Abstract
The present paper presents an analysis of the thermal aging process of a polyamide 66 at two different temperatures: −6 °C and 60 °C, and throughout a time span of 9000 h. The paper proposes a unified expression to estimate the mechanical behavior of the polyamide in tensile tests at the different aging stages. The goal is to present an algebraic equation able to describe the stress–strain curves that would be obtained using the ASTM D638-14 standard for a wide range of aging times, without the actual necessity of performing all the tests. It is shown that with a minimum of three tests performed at different aging stages, it is possible to obtain a reasonable approximation of the stress–strain curve for this range of time.
Access options
Buy single article
Instant access to the full article PDF.
US$ 39.95
Tax calculation will be finalised during checkout.
Subscribe to journal
Immediate online access to all issues from 2019. Subscription will auto renew annually.
US$ 79
Tax calculation will be finalised during checkout.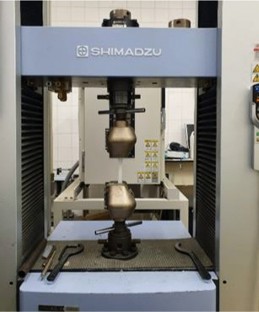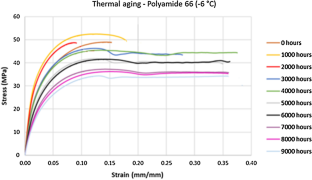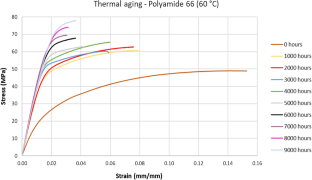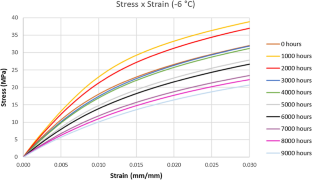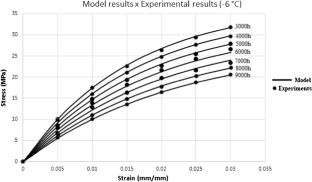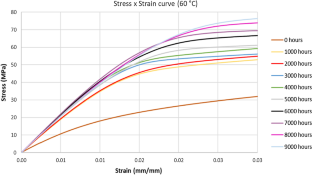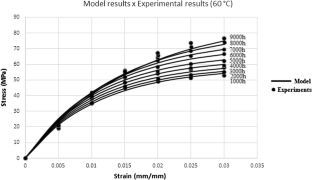 References
1.

Celina M, Linde E, Brunson D, Quintana A, Giron N (2019) Overview of accelerated aging and polymer degradation kinetics for combined radiation-thermal environments. Polym Degrad Stab 166:353–378

2.

Wudy K, Drummer D (2019) Aging effects of polyamide 12 in selective laser sintering: Molecular weight distribution and thermal properties. Addit Manuf 25:1–9

3.

Le Gac PY, Choqueuse D, Melot D, Melve B, Meniconi L (2014) Life time prediction of polymer used as thermal insulation in offshore oil production conditions: Ageing on real structure and reliability of prediction. Polym Testing 34:168–174

4.

Joshi YM (2014) Long time response of aging glassy polymers. Rheol Acta 53:477–488

5.

Rapp G, Tireau J, Bussiere PO, Chenal JM, Rousset F, Chazeau L, Gardette JL, Therias S (2019) Influence of the physical state of a polymer blend on thermal ageing. Polym Degrad Stab 163:161–173

6.

Goodwin DG Jr, Lai T, Lyu Y, Lu CY, Campos A, Reipa V, Nguyen T, Sung L (2020) The impacts of moisture and ultraviolet light on the degradation of graphene oxide/polymer nanocomposites. NanoImpact 19:100249. https://doi.org/10.1016/j.impact.2020.100249

7.

Monteiro JRL, d'Almeida JRM (2018) Evaluation of the mechanical performance of the creep behavior of a fiberglass repair after aging in oil. J Brazilian Soc Mech Sci Eng 40:346

8.

Guermazi N, Elleuch K, Ayedi HF, Kapsa Ph (2008) Aging effect on thermal, mechanical and tribological behaviour of polymeric coatings used for pipeline application. J Mater Process Technol 203:404–410

9.

Dumont JH, Murphy M, Geller D, Lee KS, Labouriau A (2019) Effects of thermal aging and ionizing radiation on sPVC and aromatic polyether urethane used to store nuclear materials. Polym Testing 78:105960

10.

Ravi N, Shanmugam M, Bheemappa S, Gowripalan N (2020) Influence of reinforcement on tribological properties of friction stir welded glass fiber reinforced polyamide 66. J Manuf Process 58:1052–1063

11.

Dutra TA, Ferreira RTL, Resende HB, Guimarães A (2019) Mechanical characterization and asymptotic homogenization of 3D-printed continuous carbon fiber-reinforced thermoplastic. J Brazilian Soc Mech Sci Eng 41:133

12.

Sanga L, Wanga Y, Wanga C, Penga X, Houa W, Tongb L (2019) Moisture diffusion and damage characteristics of carbon fabric reinforced polyamide 6 laminates under hydrothermal aging. Compos A 123:242–252

13.

Wudy K, Drummer D (2019) Aging effects of polyamide 12 in selective laser sintering Molecular weight distribution and thermal properties. Addit Manuf 25:1–9

14.

Unal H, Ficici F, Mimaroglu A, Demirkol A, Kırdar A (2016) Prediction and optimization of tribological behavior of nylon composites using Taguchi analysis method. J Braz Soc Mech Sci Eng 38:2097–2104

15.

Kumar R, Singh R, Ahuja IPS (2018) Melt processing for enhancing compatibility of aluminum-reinforced acrylonitrile–butadiene–styrene and polyamide 6 for friction welding applications. J Brazilian Soc Mech Sci Eng 40:378

16.

da Costa Mattos HS, Reis JML, de Sanťanna T, Coutinho PP, Monteiro AH, Teixeira SCS, Chaves EG (2016) Coupled effect of ageing and temperature in the mechanical behaviour of a polyamide. Polym Testing. 53:267–275

17.

Pivdiablyka I, Rozyckia P, Jacqueminb F, Gorneta L, Augerc S (2020) Experimental analysis of mechanical performance of glass fibre reinforced polyamide 6 under varying environmental conditions. Compos Struct 245:112338

18.

ASTM D638–14 (2014) Standard Test Method for Tensile Properties of Plastics ASTM International, West Conshohocken, PA

19.

Tcharkhtchi A, Farzaneh S, Abdallah-Elhirtsi S, Esmaeillou B, Nony F, Baron A (2014) Thermal Aging Effect on Mechanical Properties of Polyurethane. Int J Polym Anal Charact 19(7):571–584

20.

da Costa Mattos HS, Brandão JFS, Amorim FC, Araújo PVS, Reis JML (2018) A unified expression to estimate the stress-strain curve of polyamides at different temperatures. Materials Research Express 06:01. https://doi.org/10.1088/2053-1591/aae564
Additional information
Publisher's Note
Springer Nature remains neutral with regard to jurisdictional claims in published maps and institutional affiliations.
Techncial Editor: Paulo de Tarso Rocha de Mendonça.
About this article
Cite this article
de Luca, C.R., Sathler, J.F., Quintana, Y.H. et al. Thermal aging of a polyamide 66—experimental analysis and modeling. J Braz. Soc. Mech. Sci. Eng. 43, 92 (2021). https://doi.org/10.1007/s40430-021-02810-2
Received:

Accepted:

Published:
Keywords
Thermal aging

Polymeric materials

Polyamide 66

Nylon 66