Abstract
Besides Quercus, Acer L. genus is the largest tree genus in the Northern Hemisphere and consists of about 124–156 species. High morphological and molecular variability has led to infra-specific complexity within most species of this genus. In Iran, the Acer cappadocicum subsp. cappadocicum Gled. is distributed in eastern to western parts of the Hyrcanian forests. In this study, three leaf-morphotypes in A. cappadocicum Gled. were identified during sampling in a forest located in the Hyrcanian region, leading to obscuring taxonomic situations of this taxon. Against this backdrop, the present study was performed to clarify intraspecific situation of this valuable tree using both macro-/micromorphological and molecular approaches. Forty-five plant samples of A. cappadocicum were randomly selected within nine geographical regions of four provinces in Hyrcanian forests of Iran. Internal transcribed spacer (ITS) (for eight individuals) and inter-simple sequence repeat (ISSR) molecular markers (for 45 individuals) were used along with the epidermal scanning electron micrograph (SEM) of the leaf epidermis. Considering the obtained results, acceptance of the expected lower taxa in A. cappadocicum ssp. cappadocicum in north of Iran could not be supported by molecular evidence. Results of the study indicated no correlation between variations in leaf-morphology, ISSRs, and ITS. However, there are two main clusters in ITS tree without discrete morphological characters showing differentiation and variability in ITS region within this species. This subspecies was compared also with other subspecies.
Access options
Buy single article
Instant access to the full article PDF.
US$ 39.95
Tax calculation will be finalised during checkout.
Subscribe to journal
Immediate online access to all issues from 2019. Subscription will auto renew annually.
US$ 79
Tax calculation will be finalised during checkout.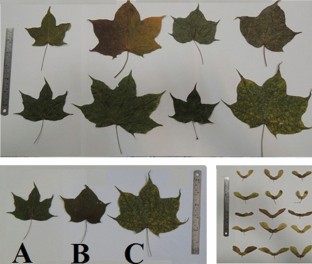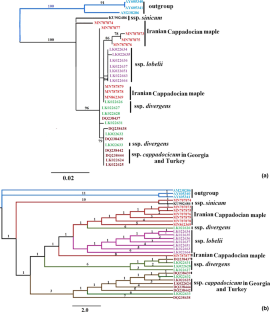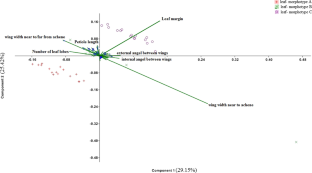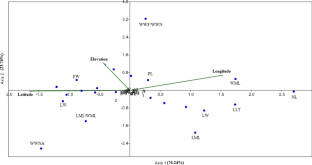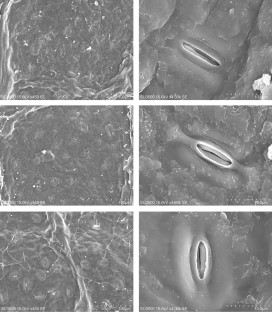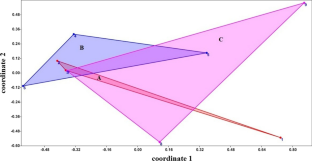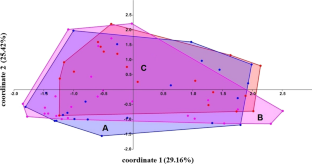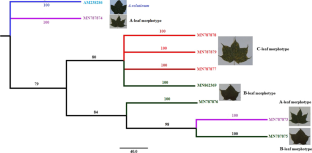 References
Anisimova M, Gascuel O (2006) Approximate likelihood-ratio test for branches: a fast, accurate, and powerful alternative. Syst Biol 55:539–552

Barthlott W, Neinhuis C, Cutler D, Ditsch F, Meusel I, Theisen I, Wilhelmi H (1998) Classification and terminology of plant epicuticular waxes. Bot J Linn Soc 126:237–260

Chen X, Shen S, Guo L, Mao SS (2010) Semiconductor-based photocatalytic hydrogen generation. Chem Rev 110:6503–6570

Chevenet F, Brun C, Bañuls A-L, Jacq B, Christen R (2006) TreeDyn: towards dynamic graphics and annotations for analyses of trees. BMC Bioinform 7:439

Cordell S, Goldstein G, Mueller-Dombois D, Webb D, Vitousek P (1998) Physiological and morphological variation in Metrosideros polymorpha, a dominant Hawaiian tree species, along an altitudinal gradient: the role of phenotypic plasticity. Oecologia 113:188–196

de Jong P (2004) World maple diversity. International Maple Symposium. Westonbirt Arboretum and Royal Agricultural College Gloucestershire, England

Delendick TJ (1990) A survey of foliar flavonoids in the Aceraceae. Mem N Y Bot Gard 54:1–129

Denk T, Grimm GW (2010) The oaks of western Eurasia: traditional classifications and evidence from two nuclear markers. Taxon 59:351–366

Denk T, Grimm G, Stögerer K, Langer M, Hemleben V (2002) The evolutionary history of Fagus in western Eurasia: evidence from genes, morphology and the fossil record. Plant Syst Evol 232:213–236

Dereeper A et al (2008) Phylogeny. fr: robust phylogenetic analysis for the non-specialist. Nucleic Acids Res 36:W465–W469

Dereeper A, Audic S, Claverie J-M, Blanc G (2010) BLAST-EXPLORER helps you building datasets for phylogenetic analysis. BMC Evol Biol 10:8

Edgar RC (2004) MUSCLE: multiple sequence alignment with high accuracy and high throughput. Nucleic Acids Res 32:1792–1797

Flann NS, Moore KL, Ma L (2002) A small mobile robot for security and inspection operations. Control Eng Pract 10:1265–1270

Ghasemzadeh Baraki S, Nikzat Siahkolaee S, Mousavi A (2018) Optimization of the genomic DNA extraction in some mosses. Rostaniha 19:165–175

Grimm GW, Thomas D (2014) The Colchic region as refuge for relict tree lineages: cryptic speciation in field maples. Turk J Bot 38:1050–1066

Grimm GW, Renner SS, Stamatakis A, Hemleben V (2006) A nuclear ribosomal DNA phylogeny of Acer inferred with maximum likelihood, splits graphs, and motif analysis of 606 sequences. Evol Bioinform 2:7–22

Grimm G, Denk T, Hemleben V (2007) Evolutionary history and systematics of Acer section Acer–a case study of low-level phylogenetics. Plant Syst Evol 267:215–253

Guindon S, Gascuel O (2003) A simple, fast, and accurate algorithm to estimate large phylogenies by maximum likelihood. Syst Biol 52:696–704

Hammer Ø, Harper D, Ryan P (2001) PAST-palaeontological statistics, ver. 1.89. Palaeontol electron 4:1–9

Hovenden MJ, Vander Schoor JK (2004) Nature vs nurture in the leaf morphology of Southern beech, Nothofagus cunninghamii (Nothofagaceae). New Phytol 161:585–594

Hufford KM, Mazer SJ (2003) Plant ecotypes: genetic differentiation in the age of ecological restoration. Trends Ecol Evol 18:147–155

Jonas CS, Geber MA (1999) Variation among populations of Clarkia unguiculata (Onagraceae) along altitudinal and latitudinal gradients. Am J Bot 86:333–343

Kalubi KN, Mehes-Smith M, Narendrula R, Michael P, Omri A (2015) Molecular analysis of red maple (Acer rubrum) populations from a reclaimed mining region in Northern Ontario (Canada): soil metal accumulation and translocation in plants. Ecotoxicology 24:636–647. https://doi.org/10.1007/s10646-014-1411-7

Koohdar F, Sheidai M, Talebi SM, Noormohammadi Z, Ghasemzadeh-Baraki S (2016) Genetic diversity, population structure and morphological variability in the Lallemantia royleana (Lamiaceae) from Iran. Phytol Balcan 22:29–38

Leestmans R (2005) Le refuge caspiens et son importance en biogéographie. Linn Belg 20:97–102

Liu C, Cong J, Shen H, Lin C, Saito Y, Ide Y (2017) Genetic relationships among sympatric varieties of Acer mono in the Chichibu Mountains and Central Hokkaido, Japan. J For Res 28:699–704

Murray E (1969) Aceraceae in KH Rechinger Flora Iranica, no 61. Graz,

Nicotra AB, Leigh A, Boyce CK, Jones CS, Niklas KJ, Royer DL, Tsukaya H (2011) The evolution and functional significance of leaf shape in the angiosperms. Funct Plant Biol 38:535–552

Park CW, Oh SH, Shin HC (1993) Reexamination of vascular plants in Ullung Island, Korea 2-Taxonomic identity of Acer takesimense Nakai (Aceraceae). Korean J Plant Taxon 23:217–231

Podani J (2000) Introduction to the exploration of multivariate biological data. Backhuys Publishers

Pojarkova A (1933) Botanico-geographical survey of the maples in USSR, in connection with the history of the whole genus Acer L. Act Inst Bot Acad Sci USSR, ser 1, fasc 1:224-374

Pole M (2010) Cuticle morphology of Australasian Sapindaceae. Bot J Linn Soc 164:264–292

Ramel C (1998) Biodiversity and intraspecific genetic variation. Pure Appl Chem 70:2079–2084

Royer DL, McElwain JC, Adams JM, Wilf P (2008) Sensitivity of leaf size and shape to climate within Acer rubrum and Quercus kelloggii. New Phytol 179:808–817

Royer DL, Meyerson LA, Robertson KM, Adams JM (2009) Phenotypic plasticity of leaf shape along a temperature gradient in Acer rubrum. PLoS ONE 4:e7653

Sheidai M, Ziaee S, Farahani F, Talebi S-M, Noormohammadi Z, Farahani Y (2014) Infra-specific genetic and morphological diversity in Linum album (Linaceae). Biologia 69:32–39

Siahkolaee SN, Sheidai M, Assadi M, Noormohammadi Z (2017) Do we have different varieties in Acer velutinum (Sapindaceae): morphological and molecular studies. Phytotaxa 321:151–165

Suh Y, Heo K, Park C-W (2000) Phylogenetic relationships of maples (Acer L.; Aceraceae) implied by nuclear ribosomal ITS sequences. J Plant Res 113:193–202

Tanai T (1983) Revisions of tertiary Acer from east Asia. Journal of the Faculty of Science, Hokkaido University Series 4. Geol Miner 20:291–390

van Gelderen DM, De Jong PC, Oterdoom HJ (1994) Maples of the world. Timber Press

Wilf P, Zhang S, Chikkerur S, Little SA, Wing SL, Serre T (2016) Computer vision cracks the leaf code. Proc Natl Acad Sci USA 113:3305–3310
Acknowledgements
The authors wish to thank Saeed Javadi Anaghizi in Central laboratory of the Shahid Beheshti University for providing SEM pictures. Also, we thank Mr. Mansour Pouramini-Nav for help in field collecting.
Ethics declarations
Conflict of interest
The authors declare that they have no conflict of interest.
Additional information
Publisher's Note
Springer Nature remains neutral with regard to jurisdictional claims in published maps and institutional affiliations.
About this article
Cite this article
Nikzat-Siahkolaee, S., Sheidai, M., Assadi, M. et al. Infra-specific variation of Acer cappadocicum (Sapindaceae): morphological and molecular approaches. Braz. J. Bot 44, 149–163 (2021). https://doi.org/10.1007/s40415-020-00692-7
Received:

Revised:

Accepted:

Published:

Issue Date:
Keywords
ITS

Leaf-morphotype

Lower taxa

Micromorphology