Abstract
The INFLORESCENCE DEFICIENT IN ABSCISSION (IDA) controls floral organ abscission in plants. IDA belongs to IDA-LIKE (IDL) gene family that is involved in regulation of Arabidopsis development. Herein, we identified three genes, CoIDA1, CoIDA2 and CoIDA3 in Camellia oleifera (Camellia oleifera Abel. cv. Huashuo) and suggested their involvement in the regulation of fruits abscission. The full-length cDNA sequences of CoIDA1, CoIDA2 and CoIDA3 were of 207 bp, 276 bp and 273 bp, encoding proteins of 68, 91 and 90 amino acids, respectively. These CoIDA genes were single exon genes (SEGs) with a conserved extended PIP motif (EPIP) at C-terminal that has been implicated to play an important role in governing protein function for enhanced flower abortion rate. The highest expression of CoIDA1 was in young peduncles and the lowest in young fruits. However, the highest expressions of CoIDA2 and CoIDA3 were both in young roots, and the lowest in young fruits. The expressions of CoIDA1 and CoIDA2 significantly increased in abscission zones (AZs) of both abnormal fruits (AF) and ethephon treated fruits (ETH-F) with respect to normal fruits (NF), which suggest that CoIDA1 and CoIDA2 genes are related to fruits abscission in C. oleifera. This study provided a preliminary understanding about CoIDA genes which could lead to their detailed functional analysis and utilization for improving C. oleifera yield potential.
Access options
Buy single article
Instant access to the full article PDF.
US$ 39.95
Tax calculation will be finalised during checkout.
Subscribe to journal
Immediate online access to all issues from 2019. Subscription will auto renew annually.
US$ 79
Tax calculation will be finalised during checkout.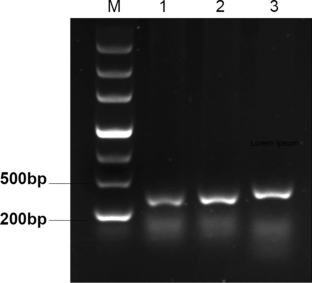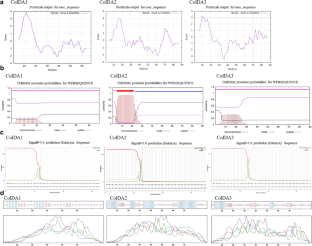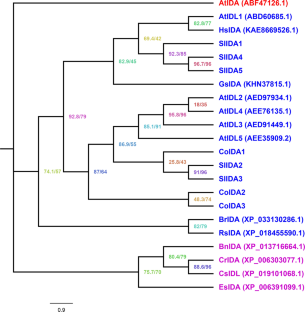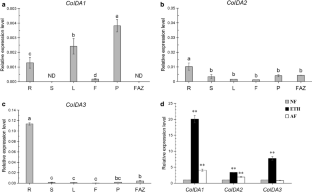 References
Aalen RB, Wildhagen M, Sto IM, Butenko MA (2013) IDA: a peptide ligand regulating cell separation processes in Arabidopsis. J Exp Bot 64:5253–5261

Allen CB (2015) Thermal degradation and biodiesel production using Camellia oleifera seed oil. Graduate Thesis, The University of Georgia, Athens

Brown KM (1997) Ethylene and abscission. Physiol Plantarum 100:567–576

Butenko MA, Patterson SE, Grini PE, Stenvik GE, Amundsen SS, Mandal A, Aalen RB (2003) Inflorescence deficient in abscission controls floral organ abscission in Arabidopsis and identifies a novel family of putative ligands in plants. Plant Cell 15:2296–2307

Butenko MA, Vie AK, Brembu T, Aalen RB, Bones AM (2009) Plant peptides in signalling: looking for new partners. Trends Plant sci 14:255–263

Butenko MA, Shi CL, Aalen RB (2012) KNAT1, KNAT2 and KNAT6 act downstream in the IDA-HAE/HSL2 signaling pathway to regulate floral organ abscission. Plant Signal Behav 7:135–138

Cho SK, Larue CT, Chevalier D, Wang H, Jinn TL, Zhang S, Walker JC (2008) Regulation of floral organ abscission in Arabidopsis thaliana. Proc Natl Acad Sci U S A 105:15629–15634

Chen QC, Qiu JB, Lin JF (2016) The cause of flower-fruits drop in Camellia oleifera and control technology. Hunan For Sci Technol 43:128–130

Chen Y, Liao CY, Huang YH (2017) Technology of preserving flower and fruits of Camellia oleifera. Hunan For Sci Technol 44:99–102

Chen LS, Luo J, Chen YZ, Xu YM, Zhang Z, Tang W, Peng YH (2019) Nutrient distribution characteristics of Camellia oleifera in fruits growth peak period. J Cent S For Univ 39:11–15

Edgar RC (2004) MUSCLE: multiple sequence alignment with high accuracy and high throughput. Nucl Acids Res 32:1792–1797

Estornell LH, Agusti J, Merelo P, Talon M, Tadeo FR (2013) Elucidating mechanisms underlying organ abscission. Plant Sci 199–200:48–60

Estornell LH, Wildhagen M, Perez-Amador MA, Talon M, Tadeo FR, Butenko MA (2015) The IDA peptide controls abscission in Arabidopsis and Citrus. Front Plant Sci 6:1003

Feas X, Estevinho LM, Salinero C, Vela P, Sainz MJ, Vazquez-Tato MP, Seijas JA (2013) Triacylglyceride, antioxidant and antimicrobial features of virgin Camellia oleifera, C. reticulata and C. sasanqua oils. Molecules 18:4573–4587

Jinn TL, Stone JM, Walker JC (2000) HAESA, an Arabidopsis leucine-rich repeat receptor kinase, controls floral organ abscission. Genes Dev 14:108–117

Kumpf RP, Shi CL, Larrieu A, Sto IM, Butenko MA, Peret B, Riiser ES, Bennett MJ, Aalen RB (2013) Floral organ abscission peptide IDA and its HAE/HSL2 receptors control cell separation during lateral root emergence. Proc Natl Acad Sci U S A 110:5235–5240

Kalyaanamoorthy S, Minh BQ, Wong TKF, von Haeseler A, Jermiin LS (2017) ModelFinder: fast model selection for accurate phylogenetic estimates. Nat Methods 14:587–589

Livak KJ, Schmittgen TD (2001) Analysis of relative gene expression data using real-time quantitative PCR and the 2(-Delta Delta C(T)) Method. Methods 25:402–408

Li H, Zhou GY, Zhang HY, Liu JA (2011) Research progress on the health function of tea oil. J Med Plants Res 5:485–489

Liu B, Butenko MA, Shi CL, Bolivar JL, Winge P, Stenvik GE, Vie AK, Leslie ME, Brembu T, Kristiansen W, Bones AM, Patterson SE, Liljegren SJ, Aalen RB (2013) NEVERSHED and INFLORESCENCE DEFICIENT IN ABSCISSION are differentially required for cell expansion and cell separation during floral organ abscission in Arabidopsis thaliana. J Exp Bot 64:5345–5357

McKim SM, Stenvik GE, Butenko MA, Kristiansen W, Cho SK, Hepworth SR, Aalen RB, Haughn GW (2008) The BLADE-ON-PETIOLE genes are essential for abscission zone formation in Arabidopsis. Development 135:1537–1546

Miao J, Che K, Xi R, He L, Chen X, Guan X, Zhuang X, Wen X, Cao Y (2013) Characterization and benzo[a]pyrene content analysis of Camellia seed oil extracted by a novel subcritical fluid extraction. J Am Oil Chem Soc 90:1503–1508

Mondal TK (2011) Camellia. In: Kole C (ed) Wild Crop relatives: genomics and breeding resources. Springer, Berlin, pp 15–39

Ma XL, Sajjad M, Wang J, Yang WL, Sun JZ, Li X, Zhang AM, Liu DC (2017) Diversity, distribution of Puroindoline genes and their effect on kernel hardness in a diverse panel of Chinese wheat germplasm. BMC Plant Biol 17:158

Nguyen LT, Schmidt HA, von Haeseler A, Minh BQ (2015) IQ-TREE: a fast and effective stochastic algorithm for estimating maximum-likelihood phylogenies. Mol Biol Evol 32:268–274

Patterson SE (2001) Cutting loose. Abscission and dehiscence in Arabidopsis. Plant Physiol 126:494–500

Patterson SE, Bleecker AB (2004) Ethylene-dependent and -independent processes associated with floral organ abscission in Arabidopsis. Plant Physiol 134:194–203

Roberts JA, Elliott KA, Gonzalez-Carranza ZH (2002) Abscission, dehiscence, and other cell separation processes. Annu Rev Plant Biol 53:131–158

Robards K, Prenzler P, Ryan D, Zhong H (2009) Camellia oil and tea oil. In: Moreau RA, Kamal-Eldin A (eds) Gourmet and health-promoting specialty oils. AOCS Press, Urbana IL, pp 313–343

Stenvik GE, Butenko MA, Urbanowicz BR, Rose JK, Aalen RB (2006) Overexpression of INFLORESCENCE DEFICIENT INABSCISSION activates cell separation in vestigial abscission zones in Arabidopsis. Plant Cell 18:1467–1476

Stenvik GE, Butenko MA, Aalen RB (2008a) Identification of a putative receptor-ligand pair controlling cell separation in plants. Plant Signal Behav 3:1109–1110

Stenvik GE, Tandstad NM, Guo Y, Shi CL, Kristiansen W, Holmgren A, Clark SE, Aalen RB, Butenko MA (2008b) The EPIP peptide of INFLORESCENCE DEFICIENT IN ABSCISSION is sufficient to induce abscission in arabidopsis through the receptor-like kinases HAESA and HAESA-LIKE2. Plant Cell 20:1805–1817

Shi CL, Stenvik GE, Vie AK, Bones AM, Pautot V, Proveniers M, Aalen RB, Butenko MA (2011) Arabidopsis class I KNOTTED-like homeobox proteins act downstream in the IDA-HAE/HSL2 floral abscission signaling pathway. Plant Cell 23:2553–2567

Song ZB, Liu M, Jia BG, Tian L, Zeng YL, Zhou JQ, Tan XF, Zhang L (2014) RNA extraction and primary screening of reference genes in Camellia oleifera. Nonwood For Res 32:93–98

Tucker ML, Yang R (2012) IDA-like gene expression in soybean and tomato leaf abscission and requirement for a diffusible stelar abscission signal. AoB Plants 2012:pls035

Vie AK, Najafi J, Liu B, Winge P, Butenko MA, Hornslien KS, Kumpf R, Aalen RB, Bones AM, Brembu T (2015) The IDA/IDA-LIKE and PIP/PIP-LIKE gene families in Arabidopsis: phylogenetic relationship, expression patterns, and transcriptional effect of the PIPL3 peptide. J Exp Bot 66:5351–5365

Wu WH (2008) Plant physiological maturation and aging. In: Wu WH (ed) Plant physiology, 2nd edn. Science press, Beijing, pp 425–442

Wang X (2016) The molecular mechanism of small molecule polypeptide IDL6 in regulation of plant immunity and development of Arabidopsis thaliana. Dissertation, Shandong University, Shandong

Yang C, Liu X, Chen Z, Lin Y, Wang S (2016) Comparison of oil content and fatty acid profile of ten New Camellia oleifera cultivars. J Lipids 2016:3982486

Ying P, Li C, Liu X, Xia R, Zhao M, Li J (2016) Identification and molecular characterization of an IDA-like gene from litchi, LcIDL1, whose ectopic expression promotes floral organ abscission in Arabidopsis. Sci Rep 6:37135

Zheng J, Hui L, Zhou L (2011) Evaluation of Camellia oleifera as a source for biodiesel production. In: International conference on electrical and control engineering 1551–1554
Acknowledgements
This work was supported by The National Key R&D Program of China (2018YFD1000603), the Scientific Research Starting Foundation for introduce of talents of Central South University of Forestry and Technology (2019YJ003) and the Natural Science Foundation of Hunan Province, China (2018JJ3378).
Ethics declarations
Conflict of interest
The authors declare that they have no conflict of interest.
Additional information
Publisher's Note
Springer Nature remains neutral with regard to jurisdictional claims in published maps and institutional affiliations.
Supplementary Information
Below is the link to the electronic supplementary material.
About this article
Cite this article
Yang, M., Hu, X., Ouyang, X. et al. Molecular cloning and characterization of three CoIDA genes in Camellia oleifera. Braz. J. Bot (2021). https://doi.org/10.1007/s40415-020-00691-8
Received:

Revised:

Accepted:

Published:
Keywords
CoIDL gene family

Expression analysis

Identification