Abstract
Anthropogenic eutrophication of tropical lakes usually develops harmful cyanobacterial blooms. As algal blooms spread, the frequency of appearance of cyanotoxin producing strains increases. Within the cyanotoxins, microcystins stand out to produce numerous cases of intoxications/fatalities of livestock and humans. Since 2003, some previously crystal-clear lakes of the "Lagunas de Montebello" National Park (LMNP), Chiapas, southern Mexico, have turned brilliant green associated with perennial cyanobacterial blooms. Although these lakes are used as drinking water supply, fisheries, irrigation, and tourism, the risk of cyanotoxins' possible presence in these water bodies had not been evaluated. Therefore, this research aimed to measure the cyanobacterial biomass and identify and measure microcystins concentration in the LMNP eutrophic lakes. Phytoplankton was dominated by well-known cyanotoxins producing cyanobacteria (Planktothrix, Raphidiopsis, and Limnothrix). Microcystins in LMNP lakes were confirmed, while the microcystin concentration ranged from 2.0 to 5.3 µg L−1. This range indicates a relatively low probability of causing acute health effects through human consumption or recreational purposes. However, these results compel the necessity of implementing a follow-up program (nonexistent in the LMNP management plan) to measure microcystins and the whole range of cyanotoxins along an annual cycle to be able to recognize the toxins' maximum concentrations and their potential bioaccumulation in the food web. It is also needed to investigate more accurately the seasonal phytoplankton dynamics together with all limnological parameters.
Access options
Buy single article
Instant access to the full article PDF.
US$ 39.95
Tax calculation will be finalised during checkout.
Subscribe to journal
Immediate online access to all issues from 2019. Subscription will auto renew annually.
US$ 79
Tax calculation will be finalised during checkout.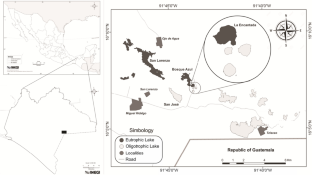 References
Aguilera A, Gómez EB, Kaštovský J, Echenique RO, Salerno GL (2018) The polyphasic analysis of two native Raphidiopsis isolates supports the unification of the genera Raphidiopsis and Cylindrospermopsis (Nostocales, Cyanobacteria). Phycologia 57:130–146

Alcocer J, Oseguera LA, Sánchez G, González CG, Martínez JR, González R (2016) Bathymetric and morphometric surveys of the Montebello Lakes, Chiapas. J Limnol 75:56–65. https://doi.org/10.4081/jlimnol.2016.1343

Alcocer J, Merino-Ibarra M, Oseguera LA, Escolero O (2018) Anthropogenic impacts on tropical karst lakes: "Lagunas de Montebello", Chiapas. Ecohydrology 11:e2029. https://doi.org/10.1002/eco.2029

Berger C, Ba N, Gugger M, Bouvy M, Rusconi F, Couté A, Troussellier M, Bernard C (2006) Seasonal dynamics and toxicity of Cylindrospermopsis raciborskii in lake Guiers (Senegal, West Africa). FEMS Microbiol Ecol 57:355–366. https://doi.org/10.1111/j.1574-6941.2006.00141.x

Berry JP, Jaja-Chimedza A, Dávalos-Lind L, Lind O (2012) Apparent bioaccumulation of cylindrospermopsin and paralytic shellfish toxins by finfish in Lake Catemaco (Veracruz, Mexico). Food Addit Contam Part A Chem Anal Control Expo Risk Assess 29:314–321

Buratti FM, Manganelli M, Vichi S, Stefanelli M, Scardala S, Testai E, Funari E (2017) Cyanotoxins: producing organisms, occurrence, toxicity, mechanism of action and human health toxicological risk evaluation. Arch Toxicol 91:1049–1130. https://doi.org/10.1007/s00204-016-1913-6

Burford MA, McNeale KL, Mckenzie-Smith FJ (2006) The role of nitrogen in promoting the toxic cyanophyte Cylindrospermopsis raciborskii in a subtropical water reservoir. Freshw Biol 51(11):2143–2153. https://doi.org/10.1111/j.1365-2427.2006.01630.x

CONANP-SEMARNAT (2007) Programa de conservación y manejo parque nacional Lagunas de Montebello. Secretaria de medio ambiente y recursos naturales, Comisión nacional de áreas protegidas, México, DF

Durán-Calderón I, Escolero-Fuentes OA, Muñoz-Salinas E, Castillo-Rodríguez M, Silva-Romo G (2014) Cartografía geomorfológica a escala 1:50,000 del Parque nacional Lagunas de Montebello, Chiapas (México). Bol Soc Geol Mex 66:263–277

Falconer I, Bartram J, Chorus I, Kuiper-Goodman T, Utkilen H, Burch M, Codd GA (1999) Safe levels and safe practices. In: Chorus I, Bartram J (eds) Toxic cyanobacteria in water: a guide to their public health consequences, monitoring and management, vol 5. UNEP Press, London, pp 155–178

Figueroa-Sanchez MA, Sarma N, Sarma SSS (2014) Zooplankton community structure in the presence of low levels of cyanotoxins: a case study in a high altitude tropical reservoir (Valle de Bravo, Mexico). J limnol 73:157–166. https://doi.org/10.4081/jlimnol.2014.784

Furtado ALFF, Calijuri MdC, Lorenzi AS, Honda RY, Genuário DB, Fiore MF (2009) Morphological and molecular characterization of cyanobacteria from a Brazilian facultative wastewater stabilization pond and evaluation of microcystin production. Hydrobiologia 627:195–209. https://doi.org/10.1007/s10750-009-9728-6

García E (2004) Modificaciones al sistema de clasificación climática de Köppen. Serie Libros. 6. [Book in Spanish]. Instituto de Geografía, Mexico

Griffith AW, Gobler CJ (2020) Harmful algal blooms: a climate change co-stressor in marine and freshwater ecosystems. Harmful Algae 91:101590. https://doi.org/10.1016/j.hal.2019.03.008

Hernández-Morales R, Rojo-Soto GJ, Aguilera-Ríos MS, Ortega-Murillo MR, Gómez Tagle CA (2016) Incidencia de cuadros patológicos asociados al género Microcystis en el lago de Zirahuén. Biológicas 18:40–50

Hillebrand H, Dürselen CD, Kirschtel D, Pollingher U, Zohary T (1999) Biovolume calculation for pelagic and benthic microalgae. J Phycol 35:403–424. https://doi.org/10.1046/j.1529-8817.1999.3520403.x

Jöhnk KD, Huisman J, Sharples J, Sommeijer B, Visser PM, Stroom JM (2008) Summer heatwaves promote blooms of harmful cyanobacteria. Glob Change Biol 14:495–512

Komárek J, Anagnostidis K (1999) Cyanoprokaryota. I. Chroococcales. In: Ettl H, Gärtner G, Heynig H, Mollenhauer D (eds) Süßwasserflora von Mitteleuropa, Begründet von A. PascherBd. 19/3 Cyanoprokaryota. 1. Teil Chroococcales, Spektrum, Akademischer Verlag, Heidelberg, pp 1–548

Lewis WM (1996) Tropical lakes: how latitude makes a difference. In: Schiemer F, Boland KT (eds) Perspectives in tropical limnology. SPB Academic Publishing, Amsterdam, pp 43–64

Mowe MA, Porojan C, Abbas F, Mitrovic SM, Lim RP, Furey A, Yeo DC (2015) Rising temperatures may increase growth rates and microcystin production in tropical Microcystis species. Harmful Algae 50:88–98. https://doi.org/10.1016/j.hal.2015.10.011

Niamien-Ebrottie JE, Bhattacharyya S, Deep PR, Nayak B (2015) Cyanobacteria and cyanotoxins in the World: review. IJAR 1:563–569

Pacheco J, Marín L, Cabrera A, Steinich B, Escolero O (2001) Nitrate temporal and spatial patterns in 12 water-supply wells, Yucatan, Mexico. Environ Geol 40:708–715. https://doi.org/10.1007/s002540000180

Paerl HW (2018) Mitigating toxic planktonic cyanobacterial blooms in aquatic ecosystems facing increasing anthropogenic and climatic pressures. Toxins 10:76. https://doi.org/10.3390/toxins10020076

Paerl HW, Huisman J (2008) Blooms like it hot. Science 320:57–58. https://doi.org/10.1126/science.1155398

Paerl HW, Huisman J (2009) Climate change. a catalyst for global expansion of harmful cyanobacterial blooms. Environ Microbiol Rep 1:27–37. https://doi.org/10.1111/j.1758-2229.2008.00004.x

Paerl HW, Otten TG (2013) Harmful cyanobacterial blooms: causes, consequences, and controls. Microb Ecol. 65:995–1010. https://doi.org/10.1007/s00248-012-0159-y

Paerl HW, Otten TG (2016) Duelling 'CyanoHABs': unravelling the environmental drivers controlling dominance and succession among diazotrophic and non-N2-fixing harmful cyanobacteria. Environ Microbiol 18:316–324. https://doi.org/10.1111/1462-2920.13035

Pichardo S, Pflugmacher S (2011) Study of the antioxidant response of several bean variants to irrigation with water containing MC-LR and cyanobacterial crude extract. Environ Toxicol 26:300–306. https://doi.org/10.1002/tox.20622

Pineda-Mendoza RM, Olvera-Ramírez R, Martínez-Jerónimo F (2012) Microcistinas producidas por cianobacterias filamentosas en lagos urbanos. Un estudio de caso en la ciudad de México. Hidrobiológica 22:290–298

Rastogi RP, Sinha RP, Incharoensakdi A (2014) The cyanotoxin-microcystins: current overview. Rev Environ Sci Biotechnol 13:215–249. https://doi.org/10.1007/s11157-014-9334-6

Rastogi RP, Madamwar D, Incharoensakdi A (2015) Bloom dynamics of cyanobacteria and their toxins: environmental health impacts and mitigation strategies. Front Microbiol 17(6):1254. https://doi.org/10.3389/fmicb.2015.01254

Reichwaldt ES, Ghadouani A (2012) Effects of rainfall patterns on toxic cyanobacterial blooms in a changing climate: between simplistic scenarios and complex dynamics. Water Res 46:1372–1393. https://doi.org/10.1016/j.watres.2011.11.052

Shan K, Song L, Chen W, Li L, Liu L, Wu Y, Jia Y, Zhou Q, Peng L (2019) Analysis of environmental drivers influencing interspecific variations and associations among bloom-forming cyanobacteria in large, shallow eutrophic lakes. Harmful Algae 84:84–94. https://doi.org/10.1016/j.hal.2019.02.002

Sivonen K, Jones G (1999) Cyanobacterial toxins. Toxic cyanobacteria in water: a guide to their public health consequences, monitoring and management. In: Chorus I, Bartram J (eds) Toxic cyanobacteria in water: a guide to their public health consequences, monitoring and management. CRC Press, pp 43–112

Soares MCS, Huszar VLM, Miranda MN, Mello MM, Roland F, Lürling M (2013) Cyanobacterial dominance in Brazil: distribution and environmental preferences. Hydrobiologia 717:1–12. https://doi.org/10.1007/s10750-013-1562-1

Sotero-Santos RB, Silva CRDSE, Verani NF, Nonaka KO, Rocha O (2006) Toxicity of a cyanobacteria bloom in Barra Bonita reservoir (middle Tietê river, São Paulo, Brazil). Ecotoxicol Environ Saf 64:163–170. https://doi.org/10.1016/j.ecoenv.2005.03.011

Sun J, Liu D (2003) Geometric models for calculating cell biovolume and surface area for phytoplankton. J Plankton Res 25(11):1331–1346. https://doi.org/10.1093/plankt/fbg096

Tomasini Ortiz C, Moeller Chávez G, Sánchez Chávez J, Bravo Inclán L (2012) Cianobacterias y cianotoxinas en el lago de Pátzcuaro, Michoacán, México. AIDIS 5:93–101

Thomas MK, Litchman E (2016) Effects of temperature and nitrogen availability on the growth of invasive and native cyanobacteria. Hydrobiologia 763:357–369. https://doi.org/10.1007/s10750-015-2390-2

Vasconcelos V, Martins A, Vale M, Antunes A, Azevedo J, Welker M, Lopez O, Montejano G (2010) First report on the occurrence of microcystins in planktonic cyanobacteria from Central Mexico. Toxicon 56:425–431. https://doi.org/10.1016/j.toxicon.2010.04.011

Visser PM, Verspagen JM, Sandrini G, Stal LJ, Matthijs HC, Davis TW, Paerl HW, Huisman J (2016) How rising CO2 and global warming may stimulate harmful cyanobacterial blooms. Harmful Algae 54:145–159. https://doi.org/10.1016/j.hal.2015.12.006

Zamora-Barrios CA, Nandini S, Sarma SSS (2015) Effect of crude extracts of Dolichospermum planctonicum on the demography of Plationus patulus (Rotifera) and Ceriodaphnia cornuta (Cladocera). Ecotoxicology 24:85–93. https://doi.org/10.1007/s10646-014-1358-8

Zamora-Barrios CA, Nandini S, Sarma SSS (2019) Bioaccumulation of microcystins in seston, zooplankton and fish: a case study in Lake Zumpango, Mexico. Environ Pollut 249:267–276. https://doi.org/10.1016/j.envpol.2019.03.029
Acknowledgements
This research was funded by the Fondo Sectorial de Investigación y Desarrollo Sobre el Agua (CONAGUA-CONACYT) through the project 167603 "Estudio Hidrológico y de Calidad del Agua del Sistema Lagunar de Montebello, en el Estado de Chiapas" and by the Dirección General de Asuntos del Personal Académico (DGAPA-PAPIIT) through the projects IN219215 "Factores que determinan el estado trófico de los lagos de Montebello, Chiapas" and IV200319 "Área Experimental de Lagos Tropicales". We acknowledge Martín Merino-Ibarra and Fermín S. Castillo‐Sandoval for their technical support with the analysis of nutrients.
Additional information
Publisher's Note
Springer Nature remains neutral with regard to jurisdictional claims in published maps and institutional affiliations.
About this article
Cite this article
Fernández, R., Alcocer, J. & Oseguera, L.A. Microcystins presence threatens the ecosystem health of a tropical National Park: Lagunas de Montebello, Chiapas. Braz. J. Bot 44, 207–212 (2021). https://doi.org/10.1007/s40415-020-00686-5
Received:

Revised:

Accepted:

Published:

Issue Date:
Keywords
CyanoHABs

Eutrophication

Karstic lakes

Mexico

Tropical lakes