Abstract
Purpose
To evaluate nickel–titanium rotary systems, ProTaper Universal (PTU), ProTaper Next (PTN), self-adjusting file (SAF), and stainless steel hand K files in deciduous root canals in longitudinal and horizontal sections by three-dimensional reconstruction. Whether there was any difference in shaping ability, transportation, dentine removal, untouched canal surface area, and preparation time among the different groups when used in primary root canals.
Methods
Shaping and cleaning of canals in primary molars were done using the four systems, and CBCT and specialized software were used for scanning, image processing, three-dimensional reconstruction, and analysis of pre-operative and post-operative to evaluate the groups for their shaping properties, transportation, amount of dentine removal, untouched canal surface area, and preparation time in primary root canals.
Results
None of the groups reported stripping of canals or instrument failure. SAF demonstrated less removal of dentine as compared to other groups. Hand K files presented with high untouched canal surface area, while it was least with SAF. In addition, rotary files provided faster preparation than hand files, and among the rotary systems, PTN took least time for cleaning and shaping of canals. All the groups were similar in transportation at cervical and apical third.
Conclusion
Under the conditions of this study, SAF seemed to result in more conservative and meticulous removal of dentine. This is desirable to preserve the integrity of thin-walled primary root canals. SAF also showed less untouched canal areas suggesting better contact with the primary canal walls. The rotary file groups required less clinical time which is important in paediatric treatments.
Access options
Buy single article
Instant access to the full article PDF.
US$ 39.95
Tax calculation will be finalised during checkout.
Subscribe to journal
Immediate online access to all issues from 2019. Subscription will auto renew annually.
US$ 79
Tax calculation will be finalised during checkout.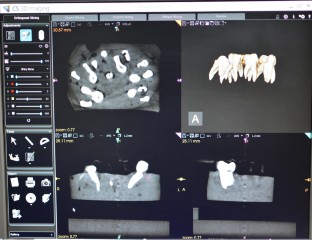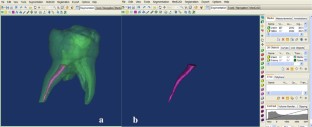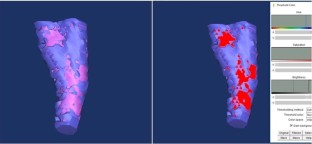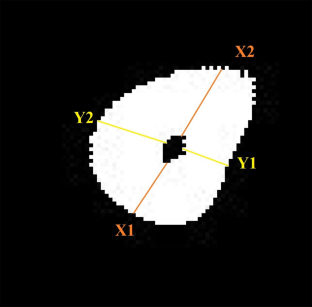 References
Abraham S, Raj JD, Venugopal M. Endodontic irrigants: a comprehensive review. J Pharm Sci Res. 2015;7(1):5.

Aguiar CM, Sobrinho PB, Teles F, Câmara AC, Poli de Figueiredo JA. Comparison of the centring ability of the ProTaper and ProTaper Universal rotary systems for preparing curved root canals. Aust Endod J. 2013;39:25–30.

Alrahabi M. Comparative study of root canal shaping with stainless steel and rotary NiTi files performed by preclinical dental students. Technol Health Care. 2015;23(3):257–65.

Bahrololoomi Z, Tabrizizadeh M, Salmani L. In vitro comparison of instrumentation time and cleaning capacity between rotary and manual preparation techniques in primary anterior teeth. J Dent Tehran Univ Med Sci. 2007;4:59–62.

Barr ES, Kleier DJ, Barr NV. Use of nickel-titanium files of root canal preparation in primary teeth. Pediatr Dent. 2000;22:77–8.

Bergmans L, Celynenbreugel JV, Beulines M, Wevers M, Meerbeek BV, Lambrechts P. Progressive versus constant tapered shaft design using NiTi rotary instruments. Int Endod J. 2003;36(4):288–95.

Canoglu H, Tekcicek MU, Cehreli ZC. Comparison of conventional, rotary, and ultrasonic preparation, different final irrigation regimens, and 2 sealers in primary molar root canal therapy. Pediatr Dent. 2006;28(6):518–23.

Chen JL, Messer HH. A comparison of stainless steel hand and rotary nickel-titanium instrumentation using a silicone impression technique. Aust Dent J. 2002;47(1):12–20.

Cotton TP, Geisler TM, Holden DT, Schwartz SA, Schindler WG. Endodontic applications of cone-beam volumetric tomography. J Endod. 2007;33(9):1121–32.

Crespo S, Cortes O, Garcia C, Perez L. comparison between rotary and manual instrumentation in primary teeth. J Clin Pediatr Dent. 2008;32:295–8.

de Andrade Mendes D, Aguiar CM, Câmara AC. Comparison of the centering ability of the ProTaper Universal, ProFile and twisted file rotary systems. Braz J Oral Sci. 2016;12:282–7.

Elsheiref SS, Zayet MK, Hamouda IM. Cone-beam computed tomography analysis of curved root canals after mechanical preparation with three nickel-titanium rotary instruments. J Biomed Res. 2013;27(4):326–35.

George S, Anandaraj S, Issac J, John S, Harris A. Rotary endodontics in primary teeth—a review. Saudi Dent J. 2016;28(1):12–7.

Goerig AC, Camp JH. Root canal treatment in primary teeth: a review. Pediatr Dent. 1983;5(1):33–7.

Govindaraju L, Jeevanandan G, Subramanian E. Knowledge and practice of rotary instrumentation in primary teeth among Indian dentists: a questionnaire survey. J Int Oral Health. 2017;9(2):45. https://doi.org/10.4103/jioh.jioh_4_17.

Harokopakis-Hajishengallis E. Physiological root resorption in primary teeth: molecular and histological events. J Oral Sci. 2007;49(1):1–12.

Hidalgo LRDC, Silva LABD, Leoni GB, et al. Mechanical preparation showed superior shaping ability than manual technique in primary molars—a micro-computed tomography study. Braz Dent J. 2017;28(4):453–60.

Hülsmann M, Peters O, Dummer PMH. Mechanical preparation of root canals: shaping goals, techniques and means. Endod Top. 2005;10:30–76.

Jeevanandan G, Thomas E. Volumetric analysis of hand, reciprocating and rotary instrumentation techniques in primary molars using spiral computed tomography: an in vitro comparative study. Eur J Dent. 2018;12(1):21.

Katge F, Patil D, Pimple J, Wakpanjar M, Shivsharan P, Dalvi S. Application of rotary instrumentation in paediatricendodontics—a review. Int J Pre Clin Dent Res. 2014;1:48–52.

Kaya E, Elbay M, Yigit D. Evaluation of Self-Adjusting file system (SAF) for the instrumentation of primary molar root canals: a micro-computed tomographic study. Eur J Paediatr Dent. 2017;18(2):105–10.

Kummer TR, Calvo MC, Cordeiro MM, de Souza Vieira R, de Carvalho Rocha MJC. Ex vivo study of manual and rotary instrumentation techniques in human primary teeth. Oral Surg Oral Med Oral Pathol Oral Radiol Endod. 2008;105:e84–92.

Makarem A, Ravandeh N, Ebrahimi M. Radiographic assessment and chair time of rotary instruments in the pulpectomy of primary second molar teeth: a randomized controlled clinical trial. J Dent Res Dent Clin Dent Prospects. 2014;8(2):84–9.

Metzger Z. From files to SAF: 3D endodontic treatment is possible at last. Alpha Omegan. 2011;104(1–2):36–44.

Metzger Z, Teperovich E, Zary R, Cohen R, Hof R. The self-adjusting file (SAF). Part 1: respecting the root canal anatomy—a new concept of endodontic files and its implementation. J Endod. 2010a;36(4):679–90.

Metzger Z, Zary R, Cohen R, Teperovich E, Paqué F. The quality of root canal preparation and root canal obturation in canals treated with rotary versus self-adjusting files: a three-dimensional micro-computed tomographic study. J Endod. 2010b;36(9):1569–73.

Nazari Moghaddam K, Mehran M, Farajian Zadeh H. Root canal cleaning efficacy of rotary and hand files instrumentation in primary molars. Iran Endod J. 2009;4(2):53–7.

Ounsi HF, Nassif W, Grandini S, Salameh Z, Neelakantan P, Anil S. Evolution of nickel–titanium alloys in endodontics. J Contemp Dent Pract. 2017;18(11):1090–6.

Pawar AM, Thakur B, Metzer Z, Kfir A, Pawar M. The efficacy of the SAF file versus waveone in removal of root canal residue that remain in oval canals after the use of protaper retreatment files: a cone-beam computed tomography study. J Conserv Dent. 2016;19(1):72–6.

Pinheiro SL, Araujo G, Bincelli I, Cunha R, Bueno C. Evaluation of cleaning capacity and instrumentation time of manual, hybrid and rotary instrumentation techniques in primary molars. Int Endod J. 2012;45(4):379–85.

Poornima P, Disha P, Nandanhosur BN, Kirishettar BR, Kashetty PB, Indavara EN. Volumetric analysis of hand and rotary root canal instrumentation and filling in primary teeth using Spiral Computed Tomography'—an invitro study. Int J Pediatr Dent. 2016;26:193–8.

Rao A, Pandya D, Roy S, Upadhyay K, Gupta S, Pal A. Comparison of instrumentation time and cleaning efficacy of manual K-file, rotary ProTaper Universal and rotary ProTaper Next in primary anterior teeth: an in vitro study. Int J Sci Res. 2018;7(1):27–30.

Selvakumar H, Anandhan V, Thomas E, Swaminathan K, Vijayakumar R. Evaluation of canal transportation and centering ability of K 3 (0.02%) and K 3 (0.04%) with hand K files in primary teeth using spiral computed tomography. J Indian Soc Pedod Prev Dent. 2014;32(4):286–91.

Shaikh SM, Goswami M. Evaluation of the effect of different root canal preparation techniques in primary teeth using CBCT. J Clin Pediatr Dent. 2018;42:250–5.

Sheiham A. Dental caries affects body weight, growth and quality of life in pre-school children. Br Dent J. 2006;201(10):625–6. https://doi.org/10.1038/sj.bdj.4814259.

Silva LA, Nelson-Filho P, Leonardo MR, Tanomaru JM. Comparison of rotary and manual instrumentation techniques on cleaning capacity and instrumentation time in deciduous molars. J Dent Child. 2004;71(1):45–7.

Symons AL. Physiological root resorption of primary molars. J Clin Pediatr Dent. 1992;16(3):202–6.

Vieyera JP, Enriquez FJJ. Instrumentation time efficiency of rotary and hand instrumentation on vital and necrotic human primary teeth: a randomized clinical trial. Dentistry. 2014;4(4):214. https://doi.org/10.4172/2161-1122.1000214.

Zameer M. Evaluation of radicular dentin remaining and risk of perforation after manual and rotary instrumentations in root canals of primary teeth: an in vitro study. J Pediatr Dent. 2016;4(3):57. https://doi.org/10.4103/2321-6646.194370.

Zehnder M. Root canal irrigants. J Endod. 2006;32(5):389–98.

Zhao D, Shen Y, Peng B, Haapasalo M. Root canal preparation of mandibular molars with 3 nickel–titanium rotary instruments: a micro-computed tomographic study. J Endod. 2014;40(11):1859–64.
Acknowledgements
Our sincere gratitude to Dr. Vinay Kumar Kulkarni, Dr. Divya S Sharma, Dr. Alkesh Godhane and Oracle CBCT Centre for their constant support throughout the study.
Ethics declarations
Conflict of interest
The authors declare that they have no conflict of interest.
Additional information
Publisher's Note
Springer Nature remains neutral with regard to jurisdictional claims in published maps and institutional affiliations.
About this article
Cite this article
Manker, A., Solanki, M., Tripathi, A. et al. Biomechanical preparation in primary molars using manual and three NiTi instruments: a cone-beam-computed tomographic in vitro study. Eur Arch Paediatr Dent 21, 203–213 (2020). https://doi.org/10.1007/s40368-019-00474-0
Received:

Accepted:

Published:

Issue Date:
Keywords
Rotary and manual files in deciduous

Three-dimensional reconstruction analysis

Untouched canal surface areas

Amount of dentine removed

Preparation time