Abstract
This study examines how three Chinese as a second language (CSL) teachers in a Chinese university setting appropriated the communicative approach through influences from their past language experiences. Although communicative pedagogy has been in place for decades, research reports that it still largely challenges teachers' conceptions of teaching and learning in China. Research on these teachers' appropriation of the communicative approach with an explicit focus on their past experiences of language learning and use has been limited. Data for this study were collected from interviews and classroom observations with three CSL teachers, and the data analysis went through a three-stage process, including open coding, categorizing, and generating themes. The study found that teachers appropriated the communicative pedagogy through comparative reflections on three identified types of language experiences (i.e., positive experiences in class, negative experiences in class, and language acquisition in natural settings), highlighting a dialogic relationship among the triad. Implications for second language teachers' professional learning and teacher education are discussed.
This is a preview of subscription content, log in to check access.
Access options
Buy single article
Instant access to the full article PDF.
US$ 39.95
Price includes VAT for USA
Subscribe to journal
Immediate online access to all issues from 2019. Subscription will auto renew annually.
US$ 99
This is the net price. Taxes to be calculated in checkout.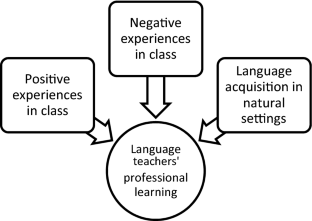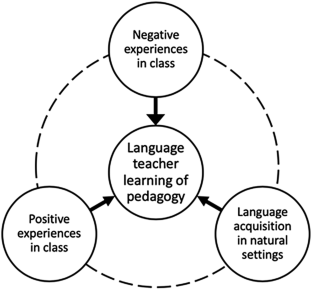 References
Bailey, K. M., Bergthold, B., Braunstein, B., Fleischman, N. J., Holbrook, M. P., Tuman, J., et al. (1996). The language learner's autobiography: Examining the "apprenticeship of observation". In D. Freeman & J. Richards (Eds.), Teacher learning in language teaching. New York, NY: Cambridge University Press.

Borg, S. (2003). Teacher cognition in language teaching: A review of research on what language teachers think, know, believe, and do. Language Teaching,36(2), 81–109.

Butler, Y. G. (2017). Communicative and task-based language teaching in the Asia-Pacific region. In N. Van Deusen-Scholl & S. May (Eds.), Second and foreign language education, encyclopedia of language and education (pp. 327–338). New York, NY: Springer.

Clara, M. (2015). What is reflection? Looking for clarity in an ambiguous notion. Journal of Teacher Education,66(3), 261–271.

Cole, M., & Engeström, Y. (1993). A cultural-historical approach to distributed cognition. In G. Salomon (Ed.), Distributed cognitions: Psychological and educational considerations (pp. 1–46). Cambridge, UK: Cambridge University Press.

Chen, Q., & Wright, C. (2016). Contextualization and authenticity in TBLT: Voices from Chinese classrooms. Language Teaching Research,21(4), 517–538.

Darling-Hammond, L. (2006). Powerful teacher education: Lessons from exemplary programs. San Francisco, CA: Jossey-Bass.

Davin, K. J., Chavoshan, I., & Donato, R. (2018). Images of past teachers: Present when you teach. System,72, 139–150.

Donato, R., & Davin, K. J. (2018). The genesis of classroom discursive practices as history-in-person processes. Language Teaching Research,22(6), 739–760.

Ellis, E. M. (2013). The ESL teacher as plurilingual: An Australian perspective. TESOL Quarterly,47(3), 446–471.

Ellis, E. M. (2016a). "I May Be a Native Speaker but I'm Not Monolingual": Reimagining all teachers' linguistic identities in TESOL. TESOL Quarterly,50(3), 597–630.

Ellis, E. M. (2016b). The plurilingual TESOL teacher: The hidden languaged lives of TESOL teachers and why they matter. Berlin: de Gruyter Mouton.

Ellis, R. (2009). Task-based language teaching: Sorting out the misunderstandings. International Journal of Applied Linguistics,19(3), 221–246.

Emirbayer, M., & Mische, A. (1998). What is agency. American Journal of Sociology,103(4), 962–1023.

Golombek, P. R. (1998). A study of language teachers' personal practical knowledge. TESOL Quarterly,32(3), 447–464.

Holland, D., & Lave, J. (2001). History in person: An introduction. In D. Holland & J. Lave (Eds.), History in person: Enduring struggles, contentious practice, intimate identities (pp. 3–33). Santa Fe, NM: School of American Research Press.

Johnson, K. E. (1994). The emerging beliefs and instructional practices of preservice English as a second language teachers. Teaching and Teacher Education,10(4), 439–452.

Kim, E.-J. (2011). Ten years of CLT curricular reform efforts in South Korea: An activity theory analysis of a teacher's experience. In K. E. Johnson & P. R. Golombek (Eds.), Research on second language teacher education (pp. 225–238). Hoboken, NJ: Routledge.

Kubanyiova, M., & Feryok, A. (2015). Language teacher cognition in applied linguistics research: Revisiting the territory, redrawing the boundaries, reclaiming the relevance. The Modern Language Journal,99(3), 435–449.

Littlewood, W. (2004). The task-based approach: Some questions and suggestions. ELT Journal,58(4), 319–326.

Littlewood, W. (2007). Communicative and task-based language teaching in East Asian classrooms. Language teaching,40(3), 243–249.

Lortie, D. C. (1975). Schoolteacher: A sociological study. Chicago, IL: University of Chicago Press.

Mewborn, D. S., & Tyminski, A. M. (2006). Lortie's apprenticeship of observation revisited. For the Learning of Mathematics,26(3), 23–32.

Moodie, I. (2016). The anti-apprenticeship of observation: How negative prior language learning experience influences English language teachers' beliefs and practices. System,60, 29–41.

Moodie, I., & Feryok, A. (2015). Beyond cognition to commitment: English language teaching in South Korean primary schools. The Modern Language Journal,99(3), 450–469.

Numrich, C. (1996). On becoming a language teacher: Insights from diary studies. TESOL Quarterly,30(1), 131–151.

Nunan, D. (1998). Syllabus design. Oxford, UK: Oxford University Press.

Patton, M. Q. (1990). Qualitative evaluation and research methods. New York, NY: Sage.

Peng, Y. & Pyper, J. (2019). Finding success with pedagogical innovation: A case from CSL teachers' experiences with TBLT. Language Teaching Research, online first.

Richards, J. C., & Rodgers, T. S. (2014). Approaches and methods in language teaching. Cambridge, UK: Cambridge University Press.

Schön, D. A. (1983). The reflective practitioner. New York, NY: Basic Books.

Smagorinsky, P., & Barnes, M. E. (2014). Revisiting and revising the apprenticeship of observation. Teacher Education Quarterly,41(4), 29–52.

Vygotsky, L. S. (1978). Mind in society. Cambridge, MA: Harvard University Press.

Vygotsky, L. S., & Luria, A. R. (1993). Studies on the history of behavior: Ape, primitive and child (V. I. Golod & J. E. Knox, Trans.). Hillsdale, NJ: Erlbaum.

Woods, D., & Çakır, H. (2011). Two dimensions of teacher knowledge: The case of communicative language teaching. System,39(3), 381–390.
Funding
This study is supported by the Chinese Ministry of Education Research Funding for Humanities and Social Science (No. 20YJA740050).
Additional information
Publisher's Note
Springer Nature remains neutral with regard to jurisdictional claims in published maps and institutional affiliations.
About this article
Cite this article
Peng, Y., Xiong, T. Reproducing or Recreating Pedagogies? The Journey of Three CSL Teachers' Learning of the Communicative Approach. Asia-Pacific Edu Res (2020). https://doi.org/10.1007/s40299-020-00520-2
Keywords
Apprenticeship of observation

Chinese as a second language

Teachers' professional learning

The communicative approach