Abstract
This study investigates foreign language teachers' beliefs about information and communication technology (ICT) and factors contributing to their belief formation through in-depth interviews with eight teachers and the principal of a public primary school. The participants held overall slightly positive attitudes towards the effectiveness of ICT in English education but believed it played only a subsidiary role in their pedagogical practices and professional development. Elementary English teachers' ICT-related beliefs were shaped by individual-, institutional-, and policy-level factors. The study extends belief-related components of the technology acceptance model (TAM) by clarifying the external variables into three-level factors. The results suggest the need for in-service teacher education programmes and joint efforts from individual teachers, school management, and government authorities catering to teachers' ICT beliefs.
This is a preview of subscription content, log in to check access.
Access options
Buy single article
Instant access to the full article PDF.
US$ 39.95
Price includes VAT for USA
Subscribe to journal
Immediate online access to all issues from 2019. Subscription will auto renew annually.
US$ 99
This is the net price. Taxes to be calculated in checkout.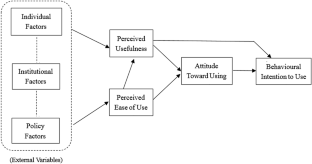 Notes
1.

In Shanghai, students spend five years in primary school, four in junior secondary, and three in senior secondary. Students in most other cities in China spend six, three, and three years in primary, junior secondary, and senior secondary schools, respectively.

2.

Each ELT superintendent in Shanghai is responsible for one district. Their responsibilities include implementing Curriculum Standards through teacher education and recommending instructional materials, as well as education assessment and evaluation.

3.

Data cited in this paper carry the following codes: T1, T2, etc. = individual teachers; P = principal; I1, I2, etc. = first, second, etc. interview.

4.

WeChat is currently the most popular messaging and social media mobile application in Mainland China.
References
Anderson, R. E., & Dexter, S. (2005). School technology leadership: An empirical investigation of prevalence and effect. Educational Administration Quarterly,41(1), 49–82.

Aşık, A., Köse, S., Yangın Ekşi, G., Seferoğlu, G., Pereira, R., & Ekiert, M. (2019). ICT integration in English language teacher education: Insights from Turkey, Portugal and Poland. Computer Assisted Language Learning. https://doi.org/10.1080/09588221.2019.1588744.

Aydin, S. (2013). Teachers' perceptions about the use of computers in EFL teaching and learning: The case of Turkey. Computer Assisted Language Learning,26(3), 214–233.

Borg, S. (2011). The impact of in-service teacher education on language teachers' beliefs. System,39(3), 370–380.

Chan, K. W., & Elliott, R. G. (2004). Relational analysis of personal epistemology and conceptions about teaching and learning. Teaching and Teacher Education,20(8), 817–831.

Chapelle, C. (2003). English language learning and technology: Lectures on applied linguistics in the age of information and communication technology. Amsterdam: John Benjamins Publishing.

Cicourel, A. V. (1982). Interviews, surveys, and the problem of ecological validity. The American Sociologist,17(1), 11–20.

Commission E (2013). Survey of schools: ICT in education. Luxembourg: Publications Office of the European Union.

Davis, F. D. (1986). A technology acceptance model for empirically testing new end-user information systems. Massachusetts: Massachusetts Institute of Technology.

Davis, F. D., Bagozzi, R. P., & Warshaw, P. R. (1989). User acceptance of computer technology: A comparison of two. Management Science,35(8), 982–1003.

Eickelmann, B., & Vennemann, M. (2017). Teachers' attitudes and beliefs regarding ICT in teaching and learning in European countries. European Educational Research Journal,16(6), 733–761.

Ellis, R., & Barkhuizen, G. (2005). Analysing learner language. Oxford: Oxford University Press.

Ertmer, P. A. (2005). Teacher pedagogical beliefs: The final frontier in our quest for technology integration?. Educational Technology Research and Development,53(4), 25–39.

Ertmer, P. A., Paul, A., Molly, L., Eva, R., & Denise, W. (1999). Examining teachers' beliefs about the role of technology in the elementary classroom. Journal of Research on Computing in Education,32(1), 54–72.

Fusch, P. I., & Ness, L. R. (2015). Are we there yet? Data saturation in qualitative research. The Qualitative Report,20(9), 1408–1416.

Georgina, D. A., & Hosford, C. C. (2009). Higher education faculty perceptions on technology integration and training. Teaching and Teacher Education,25(5), 690–696.

Goodson, I. F., & Mangan, J. M. (1995). Subject cultures and the introduction of classroom computers. British Educational Research Journal,21(5), 613–628.

Guest, G., Bunce, A., & Johnson, L. (2006). How many interviews are enough? An experiment with data saturation and variability. Field methods,18(1), 59–82.

Hinostroza, E., & Mellar, H. (2000). Teachers' beliefs about computers: Report of a case study. Journal of Educational Computing Research,22(4), 397–409.

Hutchison, A., & Reinking, D. (2011). Teachers' perceptions of integrating information and communication technologies into literacy instruction: A national survey in the United States. Reading Research Quarterly,46(4), 312–333.

Igbaria, M., Guimaraes, T., & Davis, G. B. (1995). Testing the determinants of microcomputer usage via a structural equation model. Journal of management information systems,11(4), 87–114.

Inayati, D., & Emaliana, I. (2017). The relationship among pre-service EFL teachers' beliefs about language learning, pedagogical beliefs, and beliefs about ICT integration. Dinamika Ilmu,17(1), 83–99.

Jimoyiannis, A., & Komis, V. (2007). Examining teachers' beliefs about ICT in education: Implications of a teacher preparation programme. Teacher Development,11(2), 149–173.

Li, Y., Wang, Q., Wu, T., & Zhang, X. H. (2017). 中小学信息化教学关键影响因素的多维度比较研究[Factors influencing teachers' use of technology for teaching in primary and middle schools: Multiple-dimension comparisons]. China Educational Technology,10, 44–50.

Lin, C. Y., Huang, C. K., & Chen, C. H. (2014). Barriers to the adoption of ICT in teaching Chinese as a foreign language in US universities. ReCALL,26(1), 100–116.

Liu, H., Lin, C. H., & Zhang, D. (2017). Pedagogical beliefs and attitudes toward information and communication technology: a survey of teachers of English as a foreign language in China. Computer Assisted Language Learning,30(8), 745–765.

Lock, J. V. (2006). A new image: Online communities to facilitate teacher professional development. Journal of Technology and Teacher Education,14(4), 663–678.

Ma, W. W. K., Andersson, R., & Streith, K. O. (2005). Examining user acceptance of computer technology: An empirical study of student teachers. Journal of computer assisted learning,21(6), 387–395.

Marshall, C., & Rossman, G. B. (2006). Designing qualitative research (4th ed.). Thousand Oaks: Sage Publications.

Mei, B., Brown, G. T., & Teo, T. (2018). Toward an understanding of preservice English as a Foreign Language teachers' acceptance of computer-assisted language learning 2.0 in the People's Republic of China. Journal of Educational Computing Research,56(1), 74–104.

Merriam, S. B. (2009). Qualitative research: A guide to design and implementation. San Francisco: John Wiley & Sons.

OECD. (2016). Education in China: A snapshot. Paris: OECD Publishing. Retrieved 10 April 2019 from https://www.oecd.org/china/Education-in-China-a-snapshot.pdf.

Office of Teaching Research of Shanghai Municipal Education Commission. (2018). Guidelines for primary english module teaching design. Beijing: People's Education Press.

Petko, D. (2012). Teachers' pedagogical beliefs and their use of digital media in classrooms: Sharpening the focus of the 'will, skill, tool' model and integrating teachers' constructivist orientations. Computers & Education,58(4), 1351–1359.

Prestridge, S. (2012). The beliefs behind the teacher that influences their ICT practices. Computers & Education,58(1), 449–458.

Primary and Secondary School (Kindergarten) Curriculum Reform Commission of Shanghai Office. (2017). Oxford English (Shanghai Edition). Shanghai: Shanghai Education Press.

Richards, K. (2003). Qualitative inquiry in TESOL. Basingstoke: Palgrave.

Richter, D., Kunter, M., Klusmann, U., Lüdtke, O., & Baumert, J. (2011). Professional development across the teaching career: Teachers' uptake of formal and informal learning opportunities. Teacher and Teacher Education,27, 116–126.

Shanghai Municipal Education Commission. (2018). 2017 Report on Education Informatization Development. Retrieved May 20, 2020 from http://edu.sh.gov.cn/html/article/201805/96835.html.

State Council of PRC. (2019). China Education Modernisation 2035. Retrieved Apr 26, 2020 from https://www.gov.cn/zhengce/2019-02/23/content_5367987.htm.

Teo, T. (2009). Modelling technology acceptance in education: A study of pre-service teachers. Computers & Education,52(2), 302–312.

Teo, T., Lee, C. B., & Chai, C. S. (2008). Understanding pre-service teachers' computer attitudes: Applying and extending the technology acceptance model. Journal of Computer Assisted Learning,24(2), 128–143.

Zhao, K. Y., & Yang, X. (2017). 教研员区域信息化教学引领力模型研究 [Study of a leading force model of regional informatisation teaching of teaching and research staff]. E-Education Research,3, 116–122.

Zhu, Y., & Shu, D. (2017a). The Haitong Project: Exploring a collaborative approach to implement TBLT in primary classrooms in China. Language Teaching, 50(4), 579–585.

Zhu, Y., & Shu. D. (2017b). Implementing foreign language curriculum innovation in a Chinese secondary school: An ethnographic study on teacher cognition and classroom practices. System, 66, 100–112.
Acknowledgements
We would like to extend our sincere thanks to Ms Weiping Jin, Ms Yan Yao, Ms Chunjia Zhang, and those teachers who participated in our research at the primary school. We also appreciate the support from Dr Jia Chen throughout the whole research process.
Funding
This work was supported by the [National Social Science Fund of China] under Grant [Number 17BYY207].
Additional information
Publisher's Note
Springer Nature remains neutral with regard to jurisdictional claims in published maps and institutional affiliations.
Appendix 1: Interview protocol
Appendix 1: Interview protocol
1.

Is it necessary for elementary English teachers to have some ICT skills and apply them to teaching practices? Why?

2.

Do you use ICT in teaching practices? If yes, how do you usually use it?

3.

What are the main ways to implement ICT in elementary English teaching? What are their advantages and disadvantages respectively?

4.

Is it challenging to integrate ICT into primary English teaching practices? What are the difficulties?

5.

What should English teachers do to meet the requirements of foreign language teaching in the information age? Do you have any plans for your professional development?

6.

Will you apply ICT to classroom teaching in the future? If so, which technologies will you use? How will you use these technologies? Why?

7.

Have you ever been impressed with any ICT practices in English class in your previous educational experiences or pre-service training? If yes, why?

8.

What has your school done or is doing to support the informationalised teaching and research activities of English teachers? *
About this article
Cite this article
Chen, X., Shu, D. & Zhu, Y. Investigating in-Service Foreign Language Teachers' Beliefs About Using Information and Communication Technology. Asia-Pacific Edu Res (2020). https://doi.org/10.1007/s40299-020-00514-0
Keywords
Teachers' beliefs

Information and communication technology

Primary school teachers