Abstract
The increasing importance of English academic writing (EAW) in China requires concerted efforts to explore how to enhance the experience and quality of students' learning of EAW skills. This paper reports on a study that examined the perceived usefulness of College English (CE) textbooks for Chinese college students' EAW development. The study investigated the students' and teachers' views about the textbooks by surveying the students' feedback with a questionnaire and conducting interviews with teachers and students about their experiences. The study used the convergent design data analysis by integrating the questionnaire data and data elicited from students' interviews, and then the integration results regarding students' feedback were compared and contrasted with teachers' feedback obtained from teachers' interviews. The results show that students and teachers believe that CE textbooks are useful in EAW improvement because they help students to acquire language patterns, linking words, analytical skills, and so forth. In addition, the students expected to learn about the genres of argumentation and exposition as well as procedures in CE textbooks, to help them improve their EAW skills. It is suggested that under the explicit guidance of teachers, students could use textbooks effectively to improve their critical thinking ability for EAW. Moreover, the differences between academic writing and high school writing in textual structures need to be explicitly presented in textbooks and classroom activities.
Access options
Buy single article
Instant access to the full article PDF.
US$ 39.95
Tax calculation will be finalised during checkout.
Subscribe to journal
Immediate online access to all issues from 2019. Subscription will auto renew annually.
US$ 79
Tax calculation will be finalised during checkout.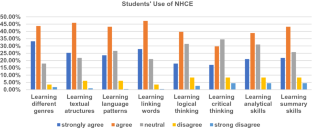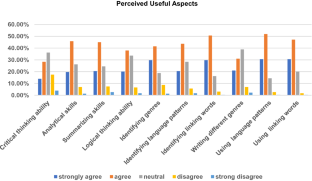 Notes
1.

2.

The College English Test (CET) is China's national English proficiency test for undergraduate students. The test is administered by the National College English Testing Committee on behalf of the Higher Education Department, Ministry of Education of China. CET Band 4 and Band 6 indicate different levels of test difficulties. Both the writing course and CET Band 4 are designed in accordance with the National College English Teaching Syllabus (Liao and Li 2017).
References
Aljouei, K. F., & Alsuhaibani, Y. A. (2018). Evaluating" Traveller" English textbook series from Saudi secondary school EFL teachers' perspectives. English Language Teaching, 11(12), 138–153.

Cai, J. (2015). The orientation of college English teaching revisited: EGP and ESP. Journal of Zhejiang University, 45(4), 83–93.

Cai, J. (2017a). Challenge and crisis in the college english teaching concepts: a case of college English teaching guidelines. Foreign Language Education, 38(1), 6–10.

Cai, J. (2017b). Research on conference papers by Chinese non-English major undergraduates and its implications. Foreign Language Learning Theory and Practice, 4, 37–43.

Cai, L. J. (2013). Students' perceptions of academic writing: A needs analysis of EAP in China. Language Education in Asia, 4(1), 5–22. https://doi.org/10.5746/LEiA/13/V4/I1/A2/Cai.

Chen, A. C. H. (2016). A critical evaluation of text difficulty development in ELT textbook series: A corpus-based approach using variability neighbor clustering. System, 58, 64–81.

Chen, W. (2019). An exploratory study on the role of L2 collaborative writing on learners' subsequent individually composed texts. The Asia-Pacific Education Researcher, 28(6), 563–573.

Chen, Q., May, L., Klenowski, V., & Kettle, M. (2014). The enactment of formative assessment in English language classrooms in two Chinese universities: Teacher and student responses. Assessment in Education: Principles, Policy & Practice, 21(3), 271–285.

Creswell, J. W. (2015). 30 essential skills for the qualitative researcher. Thousand Oaks, CA: SAGE.

Creswell, J. W., & Plano Clark, V. L. (2018). Designing and conducting mixed methods research (3rd ed.). Thousand Oaks, CA: SAGE.

Cunningsworth, A. (1995). Choosing your coursebook. Oxford: Heinemann.

Dang, T. C. T., & Seals, C. (2018). An evaluation of primary English textbooks in Vietnam: A sociolinguistic perspective. TESOL Journal, 9(1), 93–113.

Friedrich, P. (2008). Teaching academic writing. London, New York: Continuum.

Genlott, A. A., & Grönlund, Å. (2013). Improving literacy skills through learning reading by writing: The iWTR method presented and tested. Computers and Education, 67, 98–104. https://doi.org/10.1016/j.compedu.2013.03.007.

Ghufron, M. A., & Mursid, S. (2016). Evaluating academic writing textbook: Teachers' and students' perspectives. Arab World English Journal, 7(1), 326–340.

Hu, G., & Lei, J. (2016). Plagiarism in English academic writing: A comparison of Chinese university teachers' and students' understandings and stances. System, 56, 107–118.

Huang, J. C. (2010). Publishing and learning writing for publication in English: Perspectives of NNES PhD students in science. Journal of English for Academic Purposes, 9(1), 33–44. https://doi.org/10.1016/j.jeap.2009.10.001.

Hyland, F. (1998). The impact of teacher written feedback on individual writers. Journal of Second Language Writing, 7(3), 255–286.

Ji, P. (2017). ESP course design based on the guidelines on College english teaching. Foreign Language World, 3, 16–21.

Jin, X. (2018). The teaching approach of cultivating the critical thinking ability in college english argumentative composition. Journal of Jiangxi Normal University (Philosophy and Social Sciences Edition), 51(2), 134–139.

Jou, Y. (2017). Hidden challenges of tasks in an EAP writing textbook: EAL graduate students' perceptions and textbook authors' responses. Journal of English for Academic Purposes, 30, 13–25. https://doi.org/10.1016/j.jeap.2017.10.001.

Khodabakhshi, M. (2014). Choose a proper EFL textbook: Evaluation of "skyline" series. Procedia-Social and Behavioral Sciences, 98, 959–967.

Lam, R. (2019). Teacher assessment literacy: Surveying knowledge, conceptions and practices of classroom-based writing assessment in Hong Kong. System, 81, 78–89.

Lee, Y. (2003). A package for an English paragraph. English Teaching (영어교육), 58(3), 165–188.

Lee, H. K. (2008). The relationship between writers' perceptions and their performance on a field-specific writing test. Assessing Writing, 13(2), 93–110.

Liao, H., & Li, L. (2017). A mixed methods evaluation of college english writing: A case study in China. The Asia-Pacific Education Researcher, 26(6), 383–396. https://doi.org/10.1007/s40299-017-0357-y.

Lin, C. C., Liu, G. Z., & Wang, T. I. (2017). Development and usability test of an e-learning tool for engineering graduates to develop academic writing in English: A case study. Educational Technology and Society, 20(4), 148–161.

Lin, V., Kang, Y. C., Liu, G. Z., & Lin, W. (2015). Participants' experiences and interactions on Facebook group in an EFL course in Taiwan. The Asia-Pacific Education Researcher, 25(1), 99–109. https://doi.org/10.1007/s40299-015-0239-0.

Liu, G. Z., Lin, V., Kou, X., & Wang, H. Y. (2016). Best practices in L2 English source use pedagogy: A thematic review and synthesis of empirical studies. Educational Research Review, 19, 36–57. https://doi.org/10.1016/j.edurev.2016.06.002.

Liu, G.-Z., Lo, H.-Y., & Wang, H.-C. (2013). Design and usability testing of a learning and plagiarism avoidance tutorial system for paraphrasing and citing in English: A case study. Computers and Education, 69, 1–14. https://doi.org/10.1016/j.compedu.2013.06.011.

Liu, Y., & You, X. (2008). Negotiating into academic discourses: Taiwanese and US college students in research writing. International Journal of English Studies, 8(2), 152–172.

Matthiessen, C. M. I. M., & Halliday, M. A. K. (2013). Halliday's introduction to functional grammar (4th ed.). London: Routledge.

McDonough, J., & Shaw, C. (2012). Materials and methods in ELT. Chichester: Wiley.

McGrath, I. (2006). Teachers' and learners' images for coursebooks. ELT Journal, 60(2), 171–180.

Melissa, H. Y. (2018). Exploring the orientation and use of textbook lingua-cultural resources to teach and learn English for Lingua Franca communication. The Asia-Pacific Education Researcher, 27(4), 257–266.

Ngo, X. M. (2018). A sociocultural perspective on second language writing teacher cognition: A Vietnamese teacher's narrative. System, 78, 79–90.

Ou, C. (2019). A corpus tools-assisted evaluation of three ESP textbooks in China. English Language Teaching, 12(6), 161–179.

Patton, M. Q. (1990). Qualitative evaluation and research methods (2nd ed.). Newbury Park: SAGE.

Paxton, M. (2007). Tensions between textbook pedagogy and the literacy practices of the disciplinary community: A study of writing in first year economics. Journal of English for Academic Purposes, 6(2), 109–125.

Peng, Z. (2018). Critical thinking. Jiang Huai Lun Tan, 2, 180–188. https://doi.org/10.16064/j.cnki.cn34-1003/g0.2018.02.029.

Richards, J. C. (2001). Curriculum development in language teaching (Cambridge language education). Cambridge: Cambridge University Press.

Rose, D., & Martin, J. (2012). Learning to write, reading to learn: Genre, knowledge and pedagogy in the Sydney School. Sheffield, United Kingdom: Equinox Publishing.

Shafiee, S., & Behjat, F. (2018). Teachers' evaluation of the ILI high intermediate book series through an Eclectic Checklist. Theory and Practice in Language Studies, 8(9), 1167–1175.

Shahmohammadi, S. (2018). Textbook evaluation: Looking at prospect series through teachers' perspective. Research in English Language Pedagogy (RELP), 6(2), 182.

Sheldon, L. E. (1988). Evaluating ELT textbooks and materials. ELT Journal, 42(4), 237–246. https://doi.org/10.1093/elt/42.4.237.

Swain, M., Kinnear, P., & Steinman, L. (2015). Sociocultural theory in second language education: An introduction through narratives (2nd ed.). Bristol, Buffalo: Multilingual Matters.

Swales, J., & Christine, B. F. (2012). Academic writing for graduate students: Essential tasks and skills. Ann Arbor, MI: University of Michigan Press.

Walker, M. (2009). An investigation into written comments on assignments: DO students find them usable? Assessment and Evaluation in Higher Education, 34(1), 67–78. https://doi.org/10.1080/02602930801895752.

Widodo, H. P. (2015). Textbook analysis on college academic writing. TEFLIN Journal, 18(2), 109–122.

Woodward, S., Lloyd, A., & Kimmons, R. (2017). Student voice in textbook evaluation: Comparing open and restricted textbooks. The International Review of Research in Open and Distributed Learning, 18(6), 150–163.

Worden, D. (2018). Mediation and development of a novice L2 writing teacher's pedagogical content knowledge of genre. Journal of English for Academic Purposes, 34, 12–27. https://doi.org/10.1016/j.jeap.2018.02.005.

Xia, H., & Zhong, B. (2017). On influencing factors and cultivation strategies of university students' critical thinking. Educational Research, 5, 67–76.

Zhang, M., & Jin, Y. (2017). The new century picture of textbook research in China, based on analysis of knowledge map by CiteSpace. Global Education, 46(3), 54–66.

Zhang, X. (2017). A tentative analysis of traditional teacher roles in EGAP teaching reform—"Knowledge Dispenser" & "Language Model" as examples. Journal of University of Shanghai for Science and Technology, 39(1), 10–16.
Additional information
Publisher's Note
Springer Nature remains neutral with regard to jurisdictional claims in published maps and institutional affiliations.
Appendix: Textbooks
Appendix: Textbooks
Zheng, S. (2014). New Horizon College English. Bei Jing: Foreign Language Teaching and Research Press.
About this article
Cite this article
Li, J., Cui, X. Evaluating College English Textbooks for Chinese Students' English Academic Writing: Voices of Students and Teachers'. Asia-Pacific Edu Res 30, 47–58 (2021). https://doi.org/10.1007/s40299-020-00513-1
Keywords
English academic writing (EAW)

English for academic purposes

College English (CE) textbooks

Textbook evaluation