Abstract
Introduction
Albuminuria is an early marker of kidney disease and reduction of albuminuria translates into a decreased occurrence of cardiovascular and renal outcomes.
Aims
To evaluate the changes in the prevalence of albuminuria in diabetic hypertensive patients treated with several combinations of renin-angiotensin aldosterone system with calcium channel blockers.
Methods
We analysed data from 668 unselected patients from the PAIT survey (mean age 60.4 ± 10.2 years, prevalence of males 38%), with and without albuminuria, maintained for 6 months with the previous treatment with amlodipine-valsartan, amlodipine perindopril, lercanidipine-enalapril, verapamil-trandolapril, nitrendipine-enalapril and felodipine-ramipril Albuminuria was assessed, as urinary albumin–creatinine ratio, using a Multistic-Clinitek device analyzer. Microalbuminuria was defined as a loss of 3.4–33.9 mg albumin/mmol creatinine (30–300 mg/g) and macroalbuminuria as a loss of > 33.9 mg albumin/mmol creatinine (> 300 mg/g). Blood pressure was measured with a validated digital device.
Results
At baseline, albuminuria was present in 310 subjects (46.4%) (microalbuminuria in 263 (84.8%), macroalbuminuria in 15.2%), and normoalbuminuria in 53.6% 358. After 6 months, the prevalence of subjects with albuminuria was significantly lowered (p < 0.01) by 23.5% (microalbuminuria − 23.9%, p < 0.01 and macroalbuminuria − 21.3%). The prevalence of subjects with microalbuminuria was reduced with all treatments: amlodipine-valsartan − 15.6%, amlodipine-perindopril − 11.8%, lercanidipine-enalapril − 41.3% and verapamil-trandolapril − 19.2%. Data with nitrendipine-enalapril and felodipine-ramipril were not analyzed, due to the low number of patients. The frequency of patients with normoalbuminuria was significantly higher (p < 0.01) with lercanidipine-enalapril compared with any other treatment. Blood pressure was significantly (p < 0.01) reduced, with a similar effect between treatments.
Conclusions
The treatments decrease the prevalence of subjects with albuminuria, showing a significant difference among the different drug combinations, favoring the use of new dihydropyridine calcium channel blockers, such as lercanidipine, combined with RAAS inhibitors, to control albuminuria in diabetic hypertensive patients.
Access options
Buy single article
Instant access to the full article PDF.
US$ 39.95
Tax calculation will be finalised during checkout.
Subscribe to journal
Immediate online access to all issues from 2019. Subscription will auto renew annually.
US$ 259
Tax calculation will be finalised during checkout.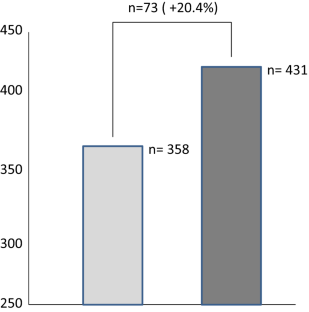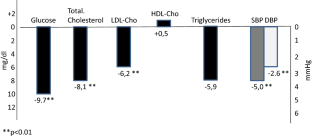 References
1.

Piepoli MF, Arno WH, Agewal S, et al. 2016 European guidelines on cardiovascular disease prevention in clinical practice. Eur Heart J. 2016;37:2315–81.

2.

Gansevoort RT, Correa-Rotter R, Hemmelgarn BR, et al. Chronic kidney disease and cardiovascular risk: epidemiology, mechanisms and prevention. Lancet. 2013;382:339–52.

3.

Carrero JJ, Grams ME, Sang Y, et al. Albuminuria changes are associated with subsequent risk of end-stage renal disease and mortality. Kidney Int. 2017;91:244–51.

4.

Gansevoort RT, Matsushita K, van der Velde M, et al. Lower estimated GFR and higher albuminuria are associated with adverse kidney outcomes: a collaborative meta-analysis of general and high-risk population cohorts. Kidney Int. 2011;80:93–104.

5.

Araki S, Haneda M, Koya D, et al. Reduction in microalbuminuria as an integrated indicator for renal and cardiovascular risk reduction in patients with type 2 diabetes. Diabetes. 2007;56:1727–30.

6.

Heerspink HJ, Kröpelin TF, Hoekman J, et al. Drug-induced reduction in albuminuria is associated with subsequent renoprotection: a meta-analysis. J Am Soc Nephrol. 2015;26:2055–64.

7.

Kidney Disease: Improving Global Outcomes (KDIGO) CKD Work Group. KDIGO 2012 clinical practice guideline for the evaluation and management of chronic kidney disease. Kidney Int Suppl. 2013;3:1–150.

8.

Williams B, Mancia G, Spiering W, et al. ESC/ESH Guidelines for the management of arterial hypertension. Eur Heart J. 2018;2018(39):3021–104.

9.

Catalá-López F, Macías Saint-Gerons D, González-Bermejo D, et al. Cardiovascular and renal outcomes of renin-angiotensin system blockade in adult patients with diabetes mellitus: a systematic review with network meta-analyses. PLoS Med. 2016;13:1–30.

10.

National Institute for Health and Care Excellence—(NICE) Chronic Kidney Disease. 2014, pp. 1–444.

11.

Wu B, Bell K, Stanford A, et al. Understanding CKD among patients with T2DM: prevalence, temporal trends, and treatment patterns-NHANES 2007–2012. BMJ Open Diabetes Res Care. 2016;4:1–11.

12.

Wald DS, Law M, Morris JK, et al. Combination therapy versus monotherapy in reducing blood pressure: meta-analysis on 11,000 participants from 42 trials. Am J Med. 2009;122:290–300.

13.

James PA, Oparil S, Carter BL, et al. 2014 evidence-based guideline for the management of high blood pressure in adults: report from the panel members appointed to the Eighth Joint National Committee (JNC8). JAMA. 2014;311:507–20.

14.

Ryden L, Grant PJ, Anker SD, et al. ESC Guidelines on diabetes, pre-diabetes, and cardiovascular diseases developed in collaboration with the EASD. Eur Heart J. 2013;34:3035–87.

15.

Fici F, Bakir EA, Beyazc S, et al. PAIT-survey—prevalence of albuminuria in patients with diabetes and hypertension in Turkey. Primary Care Diabetes. 2018;12:558–64.

16.

Vassalotti JA, Centor R, Turner BJ. Practical approach to detection and management of chronic kidney disease for the primary care clinician. Am J Med. 2016;129:153–62.

17.

Levey AS, Becker C, Inker LA, et al. Glomerular filtration rate and albuminuria for detection and staging of acute and chronic kidney disease in adults: a systematic review. JAMA. 2015;313:837–46.

18.

American Diabetes Association. Standards of medical care in diabetes. Diabetes Care. 2017;40:S1–135.

19.

Mancia G, Fagard R, Narkiewicz K, et al. ESH/ESC guidelines for the management of arterial hypertension. Eur Heart J. 2013;2013(34):2159–219.

20.

Leehey DJ, Zhang JH. Emanuele NV BP and renal outcomes in diabetic kidney disease: the veterans affairs nephropathy in diabetes trial. Clin J Am Soc Nephrol. 2015;10:2159–69.

21.

Xie X, Liu Y, Perkovic V, et al. Renin-angiotensin system inhibitors and kidney and cardiovascular outcomes in patients with CKD: a Bayesian network meta-analysis of randomized clinical trials. Am J Kidney Dis. 2016;67:728–41.

22.

Thomopoulos C, Parati G, Zanchetti A. Effects of blood-pressure-lowering treatment on outcome incidence in hypertension: should blood pressure management differ in hypertensive patients with and without diabetes mellitus? Overview and meta-analyses of randomized trial. J Hypertens. 2017;35:922–44.

23.

Wu HY, Huang JW, Lin HJ, et al. Comparative effectiveness of renin-angiotensin system blockers and other antihypertensive drugs in patients with diabetes: systematic review and bayesian network meta-analysis. BMJ. 2013;347:1–15.

24.

Wu HY, Peng CL, Chen PC, et al. Comparative effectiveness of angiotensin-converting enzyme inhibitors versus angiotensin II receptor blockers for major renal outcomes in patients with diabetes: a 15-year cohort study. PLoS One. 2017;12:1–16.

25.

Bakris GL, Weir MR, Secic M, et al. Differential effects of calcium antagonist subclasses on markers of nephropathy progression. Kidney Int. 2004;65:1991–2002.

26.

Zou Z, Xu FY, Wang L, et al. Antihypertensive and renoprotective effects of trandolapril/verapamil combination: a meta-analysis of randomized controlled trials. J Hum Hypertens. 2011;25:203–4.

27.

Pérez-Maraver M, Carrera MJ, Micaló T, et al. Renoprotective effect of diltiazem in hypertensive type 2 diabetic patients with persistent microalbuminuria despite ACE inhibitor treatment. Diabetes Res Clin Pract. 2005;70:13–9.

28.

Toto RD, Tian M, Fakouhi K, et al. Effects of calcium channel blockers on proteinuria in patients with diabetic nephropathy. J Clin Hypertens (Greenwich). 2008;10:761–9.

29.

Ruggenenti P, Fassi A, Ilieva AP, Bergamo Nephrologic Diabetes Complications Trial (BENEDICT) Investigators, et al. Preventing microalbuminiria in type 2 diabetes. N Engl J Med. 2004;351:1941–51.

30.

Ruggenenti P, Fassi A, Ilieva A, et al. Effects of verapamil added-on trandolapril therapy in hypertensive type 2 diabetes patients with microalbuminuria: the BENEDICT-B randomized trial. J Hypertens. 2011;29:207–16.

31.

Homma K, Hayashi K, Yamaguchi S, et al. Renal microcirculation and calcium channel subtypes. Curr Hypertens Rev. 2013;9:182–6.

32.

Ando K. L-/N-type calcium channel blockers and proteinuria. Curr Hypertens Rev. 2013;9:210–8.

33.

Ott C, Schneider MP, Raff U, et al. Effects of manidipine vs. amlodipine on intrarenal haemodynamics in patients with arterial hypertension. Br J Clin Pharmacol. 2012;75:129–35.

34.

Robles NR, Fici F, Grassi G. Dihydropyridine calcium channel blockers and renal disease. Hypertens Res. 2017;40:21–8.

35.

Agodoa LY, Appel L, Bakris GL, et al. Effect of Ramipril versus amlodipine on renal outcomes in hypertensive nephrosclerosis: a randomized controlled trial. JAMA. 2001;285:2719–28.

36.

Lewis EJ, Hunsicker LG, Clarke WR, et al. Renoprotec-tive effect of the angiotensin-receptor antagonist irbesartan in patients with nephropathy due to type 2 diabetes. N Engl J Med. 2001;345:851–60.

37.

Saruta T, Hayashi K, Ogihara T, et al. Effects of candesartan and amlodipine on cardiovascular events in hypertensive patients with chronic kidney disease: subanalysis of the CASE-J study. Hypertens Res. 2009;32:505–12.

38.

Viberti G. Wheeldon NM Microalbuminuria reduction with valsartan in patients with type 2 diabetes mellitus: a blood pressure-independent effect. Circulation. 2002;106:672–8.

39.

Martínez Martín FJ, Sáiz-Satjés M. Add-on manidipine versus amlodipine in diabetic patients with hypertension and microalbuminuria: the AMANDHA study. Expert Rev Cardiovasc. Ther. 2008;6:1347–55.

40.

Robles NR, Pastor L, Manjón M, et al. Lercanidipine in diabetic patients with renal failure. Nefrologia. 2004;24:338–43.

41.

Robles NR, Romero B, de Vinuesa EG, et al. Treatment of proteinuria with lercanidipine associated with renin-angiotensin axis-blocking drugs. Ren Fail. 2010;32:192–7.

42.

Robles NR, Calvo C, Sobrino J, et al. RED LEVEL trial (REnal Disease: LErcanidipine Valuable Effect on urinary albumin Loses). Curr Med Res Opin. 2016;32(Suppl 2):29–34.

43.

Tsioufis K, Tsioufis C, Dimitriadis K, et al. Differential effects of lercanidipine/enalapril versus amlodipine/enalapril and hydrochlorothiazide/enalapril on target organ damage and sympathetic activation in non-obese essential hypertensive subjects Curr. Med Res Opin. 2016;32:35–41.

44.

Sabbatini M, Leonardi A, Testa R, et al. Effect of calcium antagonists on glomerular arterioles in spontaneously hypertensive rats. Hypertension. 2000;35:775–9.

45.

Rosenthal T, Rosenmann E, Tomassoni D, et al. Effect of lercanidipine on kidney microanatomy in Cohen-Rosenthal diabetic hypertensive rats. J Cardiovasc Pharmacol Ther. 2007;12:145–52.

46.

Cerbai E, Mugelli A. A Lercanidipine and T-type calcium current. Eur Rev Med Pharmacol Sci. 2018;22:4025–31.

47.

De Champlain J, Karas M, Nguyen P, et al. Different effects of nifedipine and amlodipine on circulating catecholamine levels in essential hypertensive patients. J Hypertens. 1998;16:1357–70.

48.

Masuo K, Lambert GW, Esler MD, et al. The role of sympathetic nervous activity in renal injury and end-stage renal disease. Hypertens Res. 2010;33:521–8.

49.

Fogari R, Zoppi A, Corradi L, et al. Effects of different dihydropyridine calcium antagonists on plasma norepinephrine in essential hypertension. J Hypertens. 2000;18:1871–5.

50.

Grassi G, Seravalle G, Turri X, et al. Short-versus long-term effects of different dihydropyridines on sympathetic and baroreflex function in hypertension. Hypertension. 2003;41:558–62.

51.

Seravalle G, Brambilla G, Pizzalla DP, et al. Differential effects of enalapril-felodipine versus enalapril lercanidipine combination drug treatment on sympathetic nerve traffic and metabolic profile in obesity-related hypertension. J Am Soc Hypertens. 2016;10:244–51.

52.

Coresh J, Heerspink HJL, Sang Y, et al. Change in albuminuria and subsequent risk of end-stage kidney disease: an individual participant-level consortium meta-analysis of observational studies. Lancet Diabetes Endocrinol. 2019;7:115–27.
Ethics declarations
Conflict of interest
No conflict of interest to declare.
About this article
Cite this article
Fici, F., Ari Bakir, E., Ilkay Yüce, E. et al. PAIT-Survey Follow-Up: Changes in Albuminuria in Hypertensive Diabetic Patients with Mild-Moderate Chronic Kidney Disease. High Blood Press Cardiovasc Prev 27, 43–49 (2020). https://doi.org/10.1007/s40292-020-00358-1
Received:

Accepted:

Published:

Issue Date:
Keywords
Albuminuria

Chronic kidney disease

Diabetes mellitus

Calcium antagonists

Lercanidipine