Abstract
Background
Medial tibial stress syndrome (MTSS) is a common exercise-induced leg injury among athletes and military personnel. Several treatment options have been described in the literature, but it remains unclear which treatment is most effective.
Objective
The objective of this systematic review was to assess the effectiveness of any intervention in the treatment of MTSS.
Study Selection
Published or non-published studies, reporting randomized or non-randomized controlled trials of any treatment in subjects with MTSS were eligible for inclusion. Treatments were assessed for effects on pain, time to recovery or global perceived effect.
Data Sources
Computerized bibliographic databases (MEDLINE, CENTRAL, EMBASE, CINAHL, PEDro and SPORTDiscus) and trial registries were searched for relevant reports, from their inception to 1 June 2012. Grey literature was searched for additional relevant reports.
Study Appraisal
The Cochrane Risk of Bias Tool was used to appraise study quality of randomized clinical trials (RCTs) whereas the Newcastle Ottawa Scale was used to appraise non-randomized trials. The 'levels of evidence', according to the Oxford Centre for Evidence-Based Medicine, addressed the impact of the assessed trials. Two reviewers independently performed the search for articles, study selection, data extraction and appraised methodological quality.
Results
Eleven trials were included in this systematic review. All RCTs revealed a high risk of bias (Level 3 of evidence). Both non-randomized clinical trials were found to be of poor quality (Level 4 of evidence). RCTs, studying the effect of a lower leg brace versus no lower leg brace, and iontophoresis versus phonophoresis, were pooled using a fixed-effects model. No significant differences were found for lower leg braces (standardized mean difference [SMD] −0.06; 95 % CI −0.44 to 0.32, p = 0.76), or iontophoresis (SMD 0.09; 95 % CI −0.50 to 0.68, p = 0.76). Iontophoresis, phonophoresis, ice massage, ultrasound therapy, periosteal pecking and extracorporeal shockwave therapy (ESWT) could be effective in treating MTSS when compared with control (Level 3 to 4 of evidence). Low-energy laser treatment, stretching and strengthening exercises, sports compression stockings, lower leg braces and pulsed electromagnetic fields have not been proven to be effective in treating MTSS (level 3 of evidence).
Conclusion
None of the studies are sufficiently free from methodological bias to recommend any of the treatments investigated. Of those examined, ESWT appears to have the most promise.
Access options
Buy single article
Instant access to the full article PDF.
USD 49.95
Price includes VAT (USA)
Tax calculation will be finalised during checkout.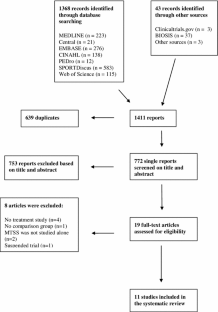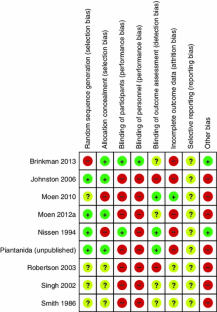 References
1.

Moen MH, Tol JL, Weir A, et al. Medial tibial stress syndrome; a critical review. Sports Med. 2009;39(7):523–46.

2.

Yates B, While S. The incidence and risk factors in the development of medial tibial stress syndrome among naval recruits. Am J Sports Med. 2004;32(3):772–80.

3.

Franklyn M, Oakes B, Field B, et al. Section modulus is the optimum geometric predictor for stress fractures and medial tibial stress syndrome in both male and female athletes. Am J Sports Med. 2008;36 (6):1179–8.

4.

Gaeta M, Minutoli F, Vinci S et al. High resolution CT grading of tibial stress reactions in distance runners. AJR. 2006;187(3):789–93.

5.

Magnusson HI, Ahlborg HG, Karlsson C et al. Low regional tibial bone density in athletes normalizes after recovery from symptoms. Am J Sports Med. 2003;31(4):596–600.

6.

Frost HM. From Wolff's law to the Utah paradigm: in-sights about bone physiology and its clinical applications. Anat Rec. 2001;262(4):398–419. doi:10.1002/ar.1049.

7.

Moen MH, Bongers T, Bakker EW, et al. The additional value of a pneumatic leg brace in the treatment of recruits with medial tibial stress syndrome; a randomized study. J R Army Med Corps. 2010;156(4):236–40.

8.

Rompe JD, Cacchio A, Furia JP, et al. Low-energy extracorporeal shock wave therapy as a treatment for medial tibial stress syndrome. Am J Sports Med. 2010;38(1):125–32.

9.

Moen MH, Rayer S, Schipper M, et al. Shockwave treatment for medial tibial stress syndrome in athletes; a prospective controlled study. Br J Sports Med. 2012;46(4):253–7.

10.

Moen MH, Holtslag L, Bakker E, et al. The treatment of medial tibial stress syndrome in athletes; a randomized clinical trial. Sports Med Arthrosc Rehabil Ther Technol. 2012;4(1):12.

11.

Edwards PH Jr, Wright ML, Hartman JF. A practical approach for the differential diagnosis of chronic leg pain in the athlete. Am J Sports Med. 2005;33(8):1241–9.

12.

Higgins JPT, Green S (editors). Cochrane Handbook for Systematic Reviews of Interventions, Version 5.1.0 [updated March 2011]. The Cochrane Collaboration, 2011.

13.

Wells GA, Shea B, O'Connell D et al. The Newcastle-Ottawa Scale (NOS) for assessing the quality of nonrandomised studies in meta-analyses. http://www.ohri.ca/programs/clinical_epidemiology/oxford.asp (last visited on June 15th, 2012).

14.

Levels of Evidence Working Group. "The Oxford 2011 Levels of Evidence". 2011: Oxford Centre for Evidence-Based Medicine. http://www.cebm.net/index.aspx?o=5653 (last visited on June 15th, 2012).

15.

Rasmussen W. Shin splints: definition and treatment. J Sports Med. 1974;2(2):111–7.

16.

Andrish JT, Bergfeld JA, Walheim J. A prospective study on the management of shin splints. J Bone Joint Surg Am. 1974;56(8):1697–700.

17.

Subotnick SI. The shin splints syndrome of the lower extremity. J Am Podiatry Assoc. 1976;66(1):43–5.

18.

Ijzerman JC, Kuipers H. Tibial stress syndrome, shin splints. Geneeskunde en Sport June. 1978;11(3):56–8.

19.

Glelis NC. Treatment of shin splints. Postgrad Med. 1988;83(7):43.

20.

Callison M. Acupuncture & tibial stress syndrome (shin splints). J Chinese Med. 2002;70:54–7.

21.

Mladenoff E. Acupuncture treatment of shin splints. Am J Acupuncture. 1980;8(3):245–8.

22.

Samueli Institute for Information Biology. A study of monochromatic near-infrared light energy in subjects with tibial stress reaction [ClinicalTrials.gov identifier NCT00253981]. US National Institutes of Health, ClinicalTrials.gov [online]. Available from URL: http://www.clinicaltrials.gov. Accessed 20012 June 1.

23.

Smith W, Winn F, Parette R. Comparative study using four modalities in shinsplint treatments. J Orthop Sports Phys Ther. 1986;8(2):77–80.

24.

Singh A, Sethy GB, Sandhu JS et al. A comparative study of the efficacy of iontophoresis and phonophoresis in the treatment of shin splint. Physiotherapy. 2002–2003(1):17–20.

25.

Nissen LR, Astvad K, Madsen L. Low-energy laser therapy in medial tibial stress syndrome. Ugeskr Laeger. 1994;156(49):7329–31.

26.

Robertson ME. The relative effectiveness of periosteal pecking combined with therapeutic ultrasound compared to therapeutic ultrasound in the treatment of medial tibial stress syndrome type II. Faculty of Health at the Durban Institute of Technology, Durban, South-Africa. Available from URL: http://ir.dut.ac.za/bitstream/handle/10321/166/Robertson_2003.pdf?sequence=5. Accessed 2012 June 1.

27.

Johnston E, Flynn T, Bean M, et al. A randomized controlled trial of a leg orthosis versus traditional treatment for soldiers with shin splints: a pilot study. Mil Med. 2006;171(1):40–4.

28.

Piantanida A, Fields KB, Sturdivant R. Application of Pneumatic Pressure in Lower Extremity Pain Improvement and Eradication (APPLE PIE). Unpublished article.

29.

Brinkman MJL, Buist I, Bredeweg SW. The treatment effect of pulsed electromagnetic field in sports athletes with medial tibial stress syndrome; a pilot study (in press 2013).

30.

Milgrom M, Miligram M, Simkin A, et al. A home exercise program for tibial bone strengthening based on in vivo strain measurements. Am J Phys Med Rehabil. 2001;80(6):433–8.

31.

Moher D, Hopewell S, Schulz KF, et al., for the CONSORT Group. CONSORT 2010 Explanation and elaboration: updated guidelines for reporting parallel group randomised trial. BMJ. 2010;340:c869.

32.

Vandenbroucke JP, von Elm E, Altman DG, et al. Strengthening the Reporting of Observational Studies in Epidemiology (STROBE): explanation and elaboration. Epidemiology. 2007;18(6):805–35.

33.

Deeks JJ, Dinnes J, D'Amico R et al. Evaluating non-randomised intervention studies. Health Technol Assess. 2003;7(27):iii–x, 1–173.
Acknowledgments
We thank Faridi van Etten – Jamaludin of the Academic Medical Centre, Amsterdam, for developing a bibliographic database search strategy, and Steve McMahon for his help to retrieve two relevant studies. We also thank Karl Bert Fields and Nicholas Piantanida for providing the manuscript of their unpublished study, and Marieke Brinkman and co-authors for providing us with their submitted manuscript.
Authors' contributions
Marinus Winters came up with the idea for this study, he performed the study search and selection, data extraction, quality assessment and wrote the manuscript.
Michel Eskes performed the study search and selection, data extraction and quality assessment.
Adam Weir and Maarten H. Moen both co-wrote the protocol and provided feedback on the manuscript.
Frank J.G. Backx provided feedback and assisted in managing the study.
Eric W.P. Bakker co-wrote the manuscript, assisted in methodological aspects and managed the study.
Conflict of interest
None reported.
Source of funding
None.
Electronic Supplementary Material
Below is the link to the electronic supplementary material.
About this article
Cite this article
Winters, M., Eskes, M., Weir, A. et al. Treatment of Medial Tibial Stress Syndrome: A Systematic Review. Sports Med 43, 1315–1333 (2013). https://doi.org/10.1007/s40279-013-0087-0
Keywords
Military Population

Athletic Population

Pulse Electromagnetic Field

Medial Tibial Stress Syndrome

Chronic Exertional Compartment Syndrome