Abstract
Introduction
Reframing side-effect information in patient information leaflets (PILs) in terms of those who remain side-effect–free may reduce negative expectations and side-effects, although there are concerns this may impact informed consent. This study compared two versions of positively framed PILs with current practice to see which reduces side-effect expectations whilst maintaining informed consent and credibility.
Methods
We commissioned Ipsos MORI to conduct an online survey of 16- to 75-year-olds in England. 1067 people completed the study and were randomised to receive a PIL for a hypothetical new antibiotic that either communicated side-effects following current practice (n = 356), used positive framing with natural frequencies (n = 356), or positive framing with percentages (n = 355). After reading the leaflet, participants completed measures of their side-effect expectations, absolute risk perceptions, and satisfaction and credibility of the leaflet.
Results
Both positively framed PILs resulted in significantly lower side-effect expectations compared with the current PIL for all side-effects (ps < 0.001), apart from seizure. Pairwise comparisons showed no difference in side-effect expectations between the two positively framed PILs (ps > 0.626). The positively framed PIL using natural frequencies produced more accurate risk perceptions than the same leaflet using percentages; but performed equally to the current PIL. There was no difference between the leaflets in terms of satisfaction with or credibility of the PILs.
Conclusion
Positively framed PILs using natural frequencies significantly reduced side-effect expectations and provided the most accurate risk perceptions without impacting satisfaction or credibility. Replication is needed with patients prescribed new medication and those with lower educational status.
This is a preview of subscription content, log in to check access.
Access options
Buy single article
Instant access to the full article PDF.
US$ 49.95
Price includes VAT for USA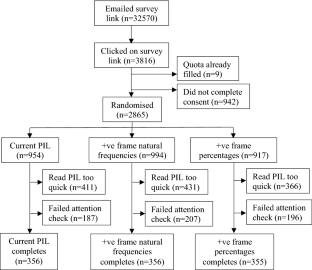 References
1.

Davies EC, Green CF, Taylor S, Williamson PR, Mottram DR, Pirmohamed M. Adverse drug reactions in hospital in-patients: a prospective analysis of 3695 patient-episodes. PLoS ONE. 2009. https://doi.org/10.1371/journal.pone.0004439.

2.

Ammassari A, Murri R, Pezzotti P, Trotta MP, Ravasio L, De Longis P, et al. Self-reported symptoms and medication side effects influence adherence to highly active antiretroviral therapy in persons with HIV infection. J Acquir Immune Defic Syndr. 2001;28:445–9.

3.

Horne R, Chapman SCE, Parham R, Freemantle N, Forbes A, Cooper V. Understanding patients' adherence-related beliefs about medicines prescribed for long-term conditions: a meta-analytic review of the necessity-concerns framework. PLoS ONE. 2013;8(12):e80633. https://doi.org/10.1371/journal.pone.0080633.

4.

Kardas P, Lewek P, Matyjaszczyk M. Determinants of patient adherence: a review of systematic reviews. Front Pharmacol. 2013;4:91. https://doi.org/10.3389/fphar.2013.00091.

5.

National Institute For Health and Clinical Excellence. Medicines adherence: Involving patients in decisions about prescribed medicines and supporting adherence. NICE clinical guideline 76. https://www.nice.org.uk/guidance/cg76/resources/guidance-medicines-adherence-pdf2009.

6.

de Frutos Hernansanz MJ, Lázaro DA, Llinares GV, Azpiazu GM, Serrano VA, López CF. Adverse reactions to drugs in a health center. Aten Primaria. 1994;14(5):783–6.

7.

Mahr A, Golmard C, Pham E, Iordache L, Deville L, Faure P. Types, frequencies, and burden of nonspecific adverse events of drugs: analysis of randomized placebo-controlled clinical trials. Pharmacoepidemiol Drug Saf. 2017. https://doi.org/10.1002/pds.4169.

8.

Barsky AJ, Saintfort R, Rogers MP, Borus JF. Nonspecific medication side effects and the nocebo phenomenon. J Am Med Assoc. 2002;287(5):622–7.

9.

Webster RK, Weinman J, Rubin GJ. A systematic review of factors that contribute to nocebo effects. Health Psychol. 2016;35(12):1334–555. https://doi.org/10.1037/hea0000416.

10.

Fortunato JT, Wasserman JA, Menkes DL. When respecting autonomy is harmful: a clinically useful approach to the nocebo effect. AJOB. 2017;17(6):36–42. https://doi.org/10.1080/15265161.2017.1314042.

11.

Dyer C. Doctors should not cherry pick what information to give patients, court rules. Br Med J. 2015. https://doi.org/10.1136/bmj.h1414.

12.

Webster RK, Weinman J, Rubin GJ. Explaining all without causing unnecessary harm: Is there scope for positively framing medical risk information? Patient Educ Couns. 2018. https://doi.org/10.1016/j.pec.2018.09.014.

13.

Barnes K, Faasse K, Geers AL, Helfer SG, Sharpe L, Colloca L, et al. Can positive framing reduce nocebo side effects? Current evidence and recommendation for future research. Front Pharmacol. 2019;10:167. https://doi.org/10.3389/fphar.2019.00167.

14.

Plous S. The psychology of judgment and decision making. New York: McGraw-Hill; 1993.

15.

McNeil BJ, Pauker SG, Sox HC Jr, Tversky A. On the elicitation of preferences for alternative therapies. N Engl J Med. 1982;306(21):1259–62. https://doi.org/10.1056/nejm198205273062103.

16.

Gallagher KM, Updegraff JA. Health message framing effects on attitudes, intentions, and behavior: a meta-analytic review. Ann Behav Med. 2012;43(1):101–16. https://doi.org/10.1007/s12160-011-9308-7.

17.

EC. Guideline on the readability of the labelling and package leaflet of medicinal products for human use. Brussels: European Commission Council Directive; 2009.

18.

Webster RK, Weinman J, Rubin GJ. People's understanding of verbal risk descriptors in patient information leaflets. A cross-sectional national survey of 18 to 65 year olds in England. Drug Saf. 2017;40(8):743–54. https://doi.org/10.1007/s40264-017-0542-1.

19.

Webster RK, Weinman J, Rubin GJ. How does the side-effect information in patient information leaflets influence peoples' side-effect expectations? A cross-sectional national survey of 18- to 65-year-olds in England. Health Expect. 2017;20(6):1411–20. https://doi.org/10.1111/hex.12584.

20.

Knapp P, Gardner PH, Woolf E. Combined verbal and numerical expressions increase perceived risk of medicine side-effects: a randomized controlled trial of EMA recommendations. Health Expect. 2015;19(2):264–74. https://doi.org/10.1111/hex.12344.

21.

Thaler RH, Sunstein CR. Nudge. New Haven: Yale University Press; 2008.

22.

Lehane E, McCarthy G. Intentional and unintentional medication non-adherence: a comprehensive framework for clinical research and practice? A discussion paper. Int J Nurs Stud. 2007;44(8):1468–77. https://doi.org/10.1016/j.ijnurstu.2006.07.010.

23.

Webster RK, Weinman J, Rubin GJ. Positively framed risk information in patient information leaflets reduces side effect reporting: a double-blind randomized controlled trial. Ann Behav Med. 2018. https://doi.org/10.1093/abm/kax064.

24.

Berry DC, Raynor DK, Knapp P. Communicating risk of medication side effects: an empirical evaluation of EU recommended terminology. Psychol Health Med. 2003;8(3):251–63. https://doi.org/10.1080/1354850031000135704.

25.

Office for National Statistics. Internet Users 2015. In: Statistics OfN, editor.2015.

26.

Pew Research Center. Coverage Error in Internet Surveys Who Web-Only Surveys Miss and How That Affects Results. Pew Research Center2015.

27.

PAMCo Ltd. Publishers Audience Measurement Company data. 2019. https://pamco.co.uk/.

28.

Rayner K, Schotter ER, Masson MEJ, Potter MC, Treiman R. So much to read, so little time: how do we read, and can speed reading help? Psychol Sci Public Interest. 2016;17(1):4–34. https://doi.org/10.1177/1529100615623267.

29.

Next Pharma GmbH. PACKAGE LEAFLET: INFORMATION FOR THE USER PENICILLIN 250 mg TABLETS. 2016. www.drugs.com/uk/penicillin-tablets-250mg-leaflet.html.

30.

Meyer P. Defining and measuring credibility of newspapers: developing an index. JQ. 1988;65:567–74.

31.

Knapp P, Gardner PH, McMillan B, Raynor DK, Woolf E. Evaluating a combined (frequency and percentage) risk expression to communicate information on medicine side effects to patients. Int J Pharm Pract. 2013;21(4):226–32. https://doi.org/10.1111/j.2042-7174.2012.00254.x.

32.

Freeman ALJ. How to communicate evidence to patients. Drug Ther Bull. 2019;57(8):119–24. https://doi.org/10.1136/dtb.2019.000008.

33.

Health and Social Care Information Centre. Health, social care and lifestyles. In: Craig R, Mindell J, editors. Health Survey for England2013.

34.

Gosling SD, Vazire S, Srivastava S, John OP. Should we trust web-based studies? A comparative analysis of six preconceptions about internet questionnaires. Am Psychol. 2004;59(2):93–104. https://doi.org/10.1037/0003-066x.59.2.93.

35.

Ramsey SR, Thompson KL, McKenzie M, Rosenbaum A. Psychological research in the internet age: the quality of web-based data. Comput Human Behav. 2016;58:354–60. https://doi.org/10.1016/j.chb.2015.12.049.

36.

Woloshin S, Schwartz LM, Black WC, Welch HG. Women's perceptions of breast cancer risk: how you ask matters. Med Decis Making. 1999;19(3):221–9. https://doi.org/10.1177/0272989x9901900301.
Acknowledgements
We would like to thank the study participants for their time in completing this survey, and Penny and team from Ipsos MORI for carrying out the data collection. Ipsos MORI was responsible for the fieldwork and data collection only and not responsible for the questionnaire design, analysis, reporting or interpretation of the survey results.
Funding
This research was funded by the BA/Leverhulme Small research grants scheme awarded to Dr Rebecca Webster (SRG19\190568), derived from the Academy's partnership with the Department for Business, Energy and Industrial Strategy. Dr G. James Rubin is affiliated to the National Institute for Health Research Health Protection Research Unit (NIHR HPRU) in Emergency Preparedness and Response at King's College London in partnership with Public Health England (PHE), in collaboration with the University of East Anglia and Newcastle University. The views expressed are those of the authors and not necessarily those of the NHS, the NIHR, the Department of Health and Social Care or Public Health England.
Ethics declarations
Conflicts of interest
None to declare.
Ethical approval
This study was approved by the Research Ethics Committee at King's College London (reference MRA-19/20-14325). All procedures performed in studies involving human participants were in accordance with the ethical standards of King's College London and with the 1964 Helsinki declaration and its later amendments or comparable ethical standards. However, we did not publish the protocol on a publicly accessible database as it is not industry standard for market research surveys to be registered in advance.
Informed consent
Informed consent was obtained from all individual participants included in the study.
Availability of data and material
The datasets generated during the current study are available in the Open Science Framework repository, https://osf.io/mjk9b/
Electronic supplementary material
Below is the link to the electronic supplementary material.
About this article
Cite this article
Webster, R.K., Rubin, G.J. The Effect of Positively Framing Side-Effect Risk in Two Different Formats on Side-Effect Expectations, Informed Consent and Credibility: A Randomised Trial of 16- to 75-Year-Olds in England. Drug Saf (2020). https://doi.org/10.1007/s40264-020-00959-8