Abstract
Background and Objectives
Gabapentin and pregabalin have been considered relatively safe opioid-sparing adjuncts for pain management. However, rising prescribing trends, presence of gabapentinoids in opioid-related overdoses, and the growing body of evidence regarding gabapentinoid misuse and abuse, have caused gabapentinoids to emerge as a drug class of public health concern. This study aimed to assess the prevalence of, and factors associated with gabapentinoid use and misuse.
Methods
This retrospective study of Texas Medicaid data from 1/1/2012 to 30/8/2016 included patients aged 18–63 years at index date, with ≥ 1 gabapentinoid prescription, and continuously enrolled 6 months pre-index and 12 months post-index. Gabapentinoid misuse was defined as ≥ 3 claims exceeding daily doses of 3600 mg for gabapentin and 600 mg for pregabalin. Age, gender, concurrent opioid use, neuropathic pain diagnoses and gabapentinoid type were independent variables. Descriptive and inferential statistics were used.
Results
Of included subjects (N = 39,000), 0.2% (N = 81) met study criteria for gabapentinoid misuse. Overall, the majority (76.4%) of gabapentinoid users were aged 41–63 years with a mean ± SD age of 48.2 ± 10.7 years. Those patients meeting the study criteria for gabapentinoid misuse were significantly younger (45.1 ± 11.0 vs 48.2 ± 10.7, p = 0.0084). Majority of the study sample was female (68.1%). However, a significantly higher proportion of males met the study criteria for gabapentinoid misuse compared to females (0.3% vs 0.2%, p = 0.0079). Approximately one-half (51.9%) of the study sample had neuropathic pain, and gabapentinoid misuse was significantly higher in neuropathic pain patients compared to those without neuropathic pain (0.3% vs 0.1%, p = 0.0078). Over three-quarters (77.4%) of patients were using gabapentin; however, gabapentinoid misuse was significantly higher among pregabalin users (0.4% vs 0.2%, p = 0.0003). Approximately 20% (17.3%) of gabapentinoid users had ≥ 90 days of concurrent opioid use. However, there was no significant difference in gabapentinoid misuse among patients with concurrent opioid use compared to patients without (0.3% vs 0.2%, p = 0.1440). Factors significantly associated with misuse included: male sex (odds ratio [OR] 0.486; 95% confidence interval [CI] 0.313–0.756; p = 0.0013); neuropathic pain (OR 2.065; 95% CI 1.289–3.308; p = 0.0026); and pregabalin versus gabapentin use (OR 2.337, 95% CI 1.492–3.661; p = 0.0002). Concurrent opioid use was not significantly associated with gabapentinoid misuse (OR 1.542, 95% CI 0.920–2.586; p = 0.1006).
Conclusion
Prevalence of gabapentinoid misuse was low (0.2%) among Texas Medicaid recipients. Younger age, male gender, neuropathic pain diagnosis and pregabalin use were significantly associated with higher levels of gabapentinoid misuse.
Access options
Buy single article
Instant access to the full article PDF.
US$ 49.95
Tax calculation will be finalised during checkout.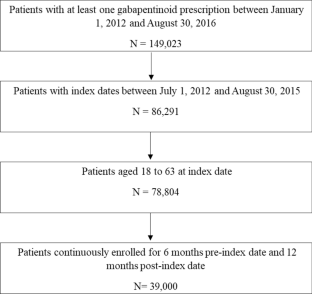 Ethics declarations
Funding
No funding was received.
Conflict of interest
There are no conflicts of interests to declare.
Data availability
The datasets analyzed during the current study were obtained from the Texas Medicaid medical and prescription claims database.
Ethics approval
This study was classified as exempt by the University of Texas at Austin Institutional Review Board.
Consent to participate
Not applicable.
Code availability
Not applicable.
Author contributions
EAI is the principal author of this study. All authors contributed to the study conception and design. Material preparation, data collection and analysis were performed by EAI. The first draft of the manuscript was written by EAI and all authors commented on and critically revised the manuscript before preparation for publication.
Supplementary Information
Below is the link to the electronic supplementary material.
About this article
Cite this article
Ibiloye, E.A., Barner, J.C., Lawson, K.A. et al. Prevalence of and Factors Associated with Gabapentinoid Use and Misuse Among Texas Medicaid Recipients. Clin Drug Investig (2021). https://doi.org/10.1007/s40261-021-01009-6