Access options
Buy single article
Instant access to the full article PDF.
US$ 49.95
Tax calculation will be finalised during checkout.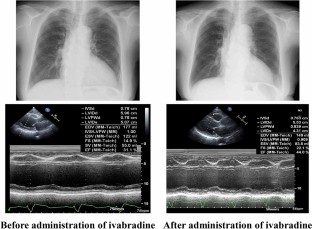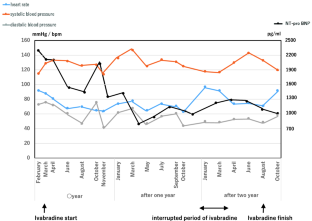 References
1.

Okura Y, Ramadan MM, Ohno Y, Mitsuma W, Tanaka K, Ito M, et al. Impending epidemic: future projection of heart failure in Japan to the year 2055. Circ J. 2008;72:489–91.

2.

Tsutsui H, Isobe M, Ito H, Ito H, Okumura K, Ono M, et al. JCS 2017/JHFS 2017 guideline on diagnosis and treatment of acute and chronic heart failure. Circ J. 2019;83:2084–184.

3.

Shiraishi Y, Kohsaka S, Sato N, Takano T, Kitai T, Yoshikawa T, et al. 9-year trend in the management of acute heart failure in Japan: a report from the National Consortium of Acute Heart Failure Registries. J Am Heart Assoc. 2018;7:e008687.

4.

Swedberg K, Komajda M, Böhm M, Borer JS, Ford I, Dubost-Brama A, et al.; SHIFT Investigators. Ivabradine and outcomes in chronic heart failure (SHIFT): a randomized placebo-controlled study. Lancet. 2010;376:875–85.

5.

Tsutsui H, Momomura SI, Yamashina A, Shimokawa H, Kihara Y, Saito Y, et al.; J-SHIFT Study Investigators. Efficacy and safety of ivabradine in Japanese patients with chronic heart failure: J-SHIFT Study. Circ J. 2019;83:2049–60.

6.

Swedberg K, Komajda M, Böhm M, Borer J, Robertson M, Tavazzi L, et al.; SHIFT Investigators. Effects on outcomes of heart rate reduction by ivabradine in patients with congestive heart failure: is there an influence of beta-blocker dose? Findings from the SHIFT (Systolic Heart failure treatment with the I(f) inhibitor ivabradine Trial) study. J Am Coll Cardiol. 2012;59:1938–45.

7.

Ali A, Holm H, Molvin J, Bachus E, Dinevska G, Fedorowski A, et al. Autonomic dysfunction is associated with cardiac remodelling in heart failure patients. ESC Heart Fail. 2018;5:46–52.

8.

Testa G, Ceccofiglio A, Mussi C, Bellelli G, Nicosia F, Bo M, et al. Hypotensive drugs and syncope due to orthostatic hypotension in older adults with dementia (syncope and dementia study). J Am Geriatr Soc. 2018;66:1532–7.

9.

Alagiakrishnan K, Patel K, Desai RV, Ahmad MB, Fonarow GC, Forman DE, et al. Orthostatic hypotension and incident heart failure in community-dwelling older adults. J Gerontol A Biol Sci Med Sci. 2014;69:223–30.

10.

Kiuchi S, Hisatake S, Kabuki T, Oka T, Dobashi S, Fujii T, et al. Bisoprolol transdermal patch improves orthostatic hypotension in patients with chronic heart failure and hypertension. Clin Exp Hypertens. 2020;42:539–44.

11.

Guidelines for diagnosis and management of syncope (JCS 2012). http://www.j-circ.or.jp/guideline/pdf/JCS2012_inoue_h.pdf. Accessed 25 Oct 2020.

12.

De Ferrari GM, Mazzuero A, Agnesina L, Bertoletti A, Lettino M, Campana C, et al. Favourable effects of heart rate reduction with intravenous administration of ivabradine in patients with advanced heart failure. Eur J Heart Fail. 2008;10(6):550–5.

13.

He C, Chen F, Li B, Hu Z. Neurophysiology of HCN channels: from cellular functions to multiple regulations. Prog Neurobiol. 2014;112:1–23.
Ethics declarations
Funding
Shunsuke Kiuchi receives Grants-in-Aid for Scientific Research from the Ministry of Education, Culture, Sports, Science and Technology of Japan (19K08498).
Conflicts of interest/competing interests
Shunsuke Kiuchi, Shinji Hisatake, Takayuki Kabuki, Takashi Oka, Takahiro Fujii, Shintaro Dobashi, Takahide Sano, and Takanori Ikeda have no conflicts of interest that are directly relevant to the content of this case report.
Ethics approval
This case report has been prepared in accordance with the Declaration of Helsinki and was approved by the Toho University Omori Medical Center Ethical Committee (M18271_17318).
Consent to participate
The patient provided written and verbal consent to participate in this case report.
Consent for publication
The patient provided written and verbal consent for publication of this case report.
Authors' contributions
SK, SH, TK, and TI were clinical trial coordinators of J-SHIFT trial. All authors contributed to the writing and revising of the manuscript.
About this article
Cite this article
Kiuchi, S., Hisatake, S., Kabuki, T. et al. Efficacy and Safety of Ivabradine in an Elderly Patient with Heart Failure with Reduced Ejection Fraction. Clin Drug Investig 41, 193–196 (2021). https://doi.org/10.1007/s40261-021-01004-x
Accepted:

Published:

Issue Date: