Abstract
Background
To date, there have been no studies that have specifically investigated which medications can and cannot be safely used to treat acne vulgaris in patients who have lupus erythematosus (LE). These patients require a highly individualized treatment approach, as the use of certain acne medications may exacerbate LE symptomology, such as photosensitivity and hypercoagulability.
Objective
In this systematic review, we examine safety outcomes associated with commonly prescribed oral acne medications, specifically in the context of LE.
Methods
A literature search, conducted on PubMed/MEDLINE, revealed 146 studies, of which 13 met the criteria. We assigned a level of evidence to each study and sought to determine evidence-based recommendations for each class of drug; each recommendation was then assigned a corresponding grade.
Results
There were very few high-quality studies available on this topic. Although we determined recommendations based on the existing literature, the grading was occasionally unfavorable due to the low-quality nature of the evidence supporting the recommendation. However, our recommendation against the use of combined oral contraceptive pills and in favor of spironolactone for the treatment of acne, in the setting of LE, received a satisfactory grading (grade A).
Conclusion
While no definitive recommendations for the treatment of acne in LE can be made based on the existing quality and quantity of studies available, this article aims to provide a comprehensive overview and analysis of oral acne medication safety in patients with LE, while emphasizing the immense need for higher quality studies and distinct acne treatment guidelines for this vulnerable patient population.
Access options
Buy single article
Instant access to the full article PDF.
US$ 49.95
Tax calculation will be finalised during checkout.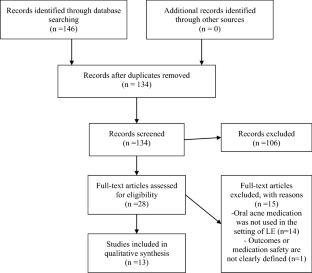 References
1.

Margolis DJ, Hoffstad O, Bilker W. Association or lack of association between tetracycline class antibiotics used for acne vulgaris and lupus erythematosus. Br J Dermatol. 2007;157(3):540–6 (PMID: 17596147).

2.

Petri M, Allbritton J. Antibiotic allergy in systemic lupus erythematosus: a case-control study. J Rheumatol. 1992;19(2):265–9.

3.

Oxford Centre for Evidence-based Medicine–Levels of Evidence. Produced by Bob Phillips, Chris Ball, Dave Sackett, Doug Badenoch, Sharon Straus, Brian Haynes, Martin Dawes since November 1998. 2001. http://www.cebm.net/index.aspx?o=1025. Accessed 13 Jan 2019.

4.

Sapadin AN, Fleischmajer R. Tetracyclines: nonantibiotic properties and their clinical implications. J Am Acad Dermatol. 2006;54(2):258–65. https://doi.org/10.1016/j.jaad.2005.10.004.

5.

Kuhn A, Aberer E, Bata-Csörgő Z, Caproni M, Dreher A, Frances C, et al. S2 k guideline for treatment of cutaneous lupus erythematosus—guided by the European Dermatology Forum (EDF) in cooperation with the European Academy of Dermatology and Venereology (EADV). J Eur Acad Dermatol Venereol. 2017;31:389–404.

6.

Speirs C, Fielder AH, Chapel H, et al. Complement system protein C4 and susceptibility to hydralazine-induced systemic lupus erythematosus. Lancet. 1989;1:922–5.

7.

Bazzan M, Vaccarino A, Marletto F. Systemic lupus erythematosus and thrombosis. Thromb J. 2015;13:16 (PMID: 25908929).

8.

Baratloo A, Safari S, Rouhipour A, et al. The risk of venous thromboembolism with different generation of oral contraceptives; a systematic review and meta-analysis. Emergency. 2014;2(1):1–11.

9.

Rott H. Thrombotic risks of oral contraceptives. Curr Opin Obstet Gynecol. 2012;24(4):235–40.

10.

Manzoli L, De Vito C, Marzuillo C, Boccia A, Villari P. Oral contraceptives and venous thromboembolism. Drug Saf. 2012;35(3):191–205.

11.

Magder LS, Petri M. Incidence of and risk factors for adverse cardiovascular events among patients with systemic lupus erythematosus. Am J Epidemiol. 2012;176:708–19.

12.

Urbanus RT, Siegerink B, Roest M, et al. Antiphospholipid antibodies and risk of myocardial infarction and ischaemic stroke in young women in the RATIO study: a case-control study. Lancet Neurol. 2009;8:998–1005.

13.

Ye Z, Thomas DB, Ray RM. Combined oral contraceptives and risk of cervical carcinoma in situ. Int J Epidemiol. 1995;24:19–26.

14.

Mafuva C, Djarova T, Matarira HT. Influence of combined oral contraceptives on the onset of cervical intraepithelial neoplasia. Afr J Health Sci. 2002;9:129–37.

15.

McFarlane-Anderson N, Patience E, BazuayeM Jackson D, Monica S, Fletcher HM. Cervical dysplasia and cancer and the use of hormonal contraceptives in Jamaican women. BMC Womens Health. 2008;8:9.

16.

Andreoli L, Bertsias GK, Agmon-Levin N, et al. EULAR recommendations for women's health and the management of family planning, assisted reproduction, pregnancy and menopause in patients with systemic lupus erythematosus and/or antiphospholipid syndrome. Ann Rheum Dis. 2017;76:476–85.

17.

Antoniou T, Gomes T, Juurlink DN, et al. Trimethoprim-sulfamethoxazole-induced hyperkalemia in patients receiving inhibitors of the renin-angiotensin system: a population-based study. Arch Intern Med. 2010;170(12):1045–9.

18.

Monrad SU, Killen PD, Anderson MR, Bradke A, Kaplan MJ. The role of aldosterone blockade in murine lupus nephritis. Arthritis Res Ther. 2008;10:R5.

19.

Hiroe S, et al. Case of Budd-Chiari syndrome 3 months after vaginal delivery. The journal of obstetrics and gynaecology research. 2018;34:605–8.

20.

Kumar M, Kamani L, Hussain R, et al. Successful pregnancy outcome in decompensated chronic liver disease with portal vein thrombosis: case report and review of literature. Eur J Gastroenterol Hepatol. 2011;23(7):617–9.

21.

Fogh K, Voorhees JJ, Astrom A. Expression, purification and binding properties of human cellular retinoic acid-binding protein type I and II. Arch Biochem Biophys. 1993;300:751–5.

22.

Allenby G, Bocquel MT, Saunders M, Kazmer S, Speck J, Rosenberger M, et al. Retinoic acid receptors and retinoid X receptors: interactions with endogenous retinoic acids. Proc Natl Acad Sci USA. 1993;90:30–4.

23.

Levin AA, Bosakowski T, Kazmer S, Grippo JF. 13-cis retinoic acid does not bind to retinoic acid receptors alpha, beta and gamma. Toxicologist. 1992;12:181.

24.

Ott F, Bollag W, Geiger JM. Oral 9-cis-retinoic acid in acne therapy. Dermatology. 1996;193:124–6.

25.

Geiger JM, Hommel L, Harms M, Saurat JH. Oral 13-cis-retinoic acid is superior to 9-cis-retinoic acid in sebosuppression in human beings. J Am Acad Dermatol. 1996;34:513–5.

26.

Tsukada M, Schröder M, Roos TC, Chandraratna RA, Reichert U, Merk HF, et al. 13-cis-retinoic acid exerts its specific activity on human sebocytes through selective intracellular isomerization to all-trans-retinoic acid and binding to retinoid acid receptors. J Invest Dermatol. 2000;115:321–7.

27.

Nelson AM, Gilliland KL, Cong Z, Thiboutot DM. 13-cis Retinoic acid induces apoptosis and cell cycle arrest in human SEB-1 sebocytes. J Invest Dermatol. 2006;126:2178–89.

28.

Miziolek B, Bergler-Czop B, Stankowska A, et al. The safety of isotretinoin in patients with lupus nephritis: a comprehensive review. Cutan Ocul Toxicol. 2017;36(1):77–84 [PMID: 27160965].

29.

D'Erme AM, Milanesi N, Difonzo EM, et al. Treatment of refractory subacute cutaneous lupus erythematosus with oral isotretinoin: a valid therapeutic option. Dermatol Ther. 2012;25(3):281–2.

30.

Vena GA, Coviello C, Angelini G. Use of oral isotretinoin in the treatment of cutaneous lupus erythematosus. G Ital Dermatol Venereol. 1989;124:311–5.

31.

Shornick JK, Formica N, Parke AL. Isotretinoin for refractory lupus erythematosus. J Am Acad Dermatol. 1991;24:49–52.

32.

Richardson TT, Cohen PR. Subacute cutaneous lupus erythematosus: report of a patient who subsequently developed a meningioma and whose skin lesions were treated with isotretinoin. Cutis. 2000;66:183–8.

33.

Wagner J, Dechow C, Morath C, et al. Retinoic acid reduces glomerular injury in a rat model of glomerular damage. J Am Soc Nephrol. 2000;11:1479–87.

34.

Pérez de Lema G, Lucio-Cazaña FJ, Molina A, et al. Retinoic acid treatment protects MRL/lpr lupus mice from the development of glomerular disease. Kidney Int. 2004;66:1018–28.

35.

Kinoshita K, Kishimoto K, Shimazu H, et al. Successful treatment with retinoids in patients with lupus nephritis. Am J Kidney Dis. 2010;55:344–7.

36.

Kizilyel O, Metin MS, Omer FE, et al. Effects of oral isotretinoin on lipids and liver enzymes in acne patients. Cutis. 2014;94(5):234–8.

37.

Hughes AR. Arthritis precipitated by isotretinoin treatment for acne vulgaris. J Rheumatol. 1993;20:1241–2.

38.

Kannan S, Khan W, Bharadwarj A, Rathore BS, Khosla PP. Corticosteroid-induced cutaneous changes: a cross-sectional study. Indian J Pharmacol. 2015;47(6):696–8.

39.

Perricone C, Fulvia C, Spinelli FR, et al. Management of mycophenolate mofetil-induced acne in patients with systemic lupus erythematosus: report of four cases and review of the literature. Mediterr J Rheumatol. 2018;29(4):217–2020.

40.

Kazandjieva J, Tsankov N. Drug-induced acne. Clin Dermatol. 2017;35(2):156–62.
Ethics declarations
Conflict of interest
The authors, Mahtab Forouzandeh and Dr. Andrea Maderal, have no conflicts of interest to declare.
Funding
No funding was received for the preparation of this review and manuscript.
About this article
Cite this article
Forouzandeh, M., Maderal, A.D. The Safe Management of Acne Vulgaris in Lupus Erythematosus: A Systematic Review with Evidence-Based Treatment Recommendations. Am J Clin Dermatol 21, 13–20 (2020). https://doi.org/10.1007/s40257-019-00469-z