Abstract
Purpose
This study aimed to investigate the estimated 10-year predicted risk of developing cardiovascular diseases (CVD) among participants with and without diabetes in Bangladesh.
Methods
We performed posthoc analysis from a matched case-control study conducted among 1262 participants. A total of 631 participants with diabetes (case) were recruited from a tertiary hospital, and 631 age, sex and residence matched participants (control) were recruited from the community in Dhaka, Bangladesh. Socioeconomic anthropometric, clinical and CVD risk factor data were collected from the participants. The 10-year estimated CVD risk was calculated using the Framingham Risk Score, which has reasonable validity in South Asians.
Results
The mean (SD) age of the participants were 51 (10) years. Total 52.3% of cases and 17.2% of controls were at high risk for CVD. The 10-year risk of CVD increased by age and was higher among males in both groups. Among the control group, high CVD risk was more prevalent among higher education and income groups. More than 85% of the tobacco smokers and 70% of chewing tobacco users in the case group were at high risk of CVD. Prevalence of high CVD risk among non-smokers cases was 8.6%. About 35% of hypertensive participants in the control group were at high risk of CVD.
Conclusion
Bangladeshi patients with diabetes showed a significant burden of CVD risk at a relatively younger age. Strategies for reducing tobacco use and improving BP control in people with diabetes is needed for lowering future CVD risks.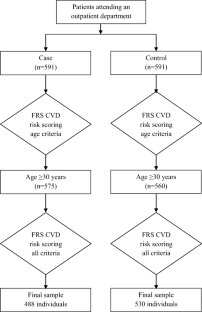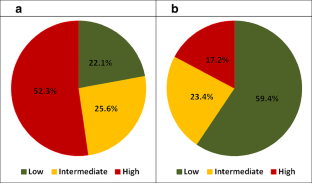 References
1.

Zheng Y, Ley SH, Hu FB. Global aetiology and epidemiology of type 2 diabetes mellitus and its complications. Nat Rev Endocrinol. 2018;14(2):88.

2.

Saeedi P, et al. Global and regional diabetes prevalence estimates for 2019 and projections for 2030 and 2045: Results from the International Diabetes Federation Diabetes Atlas. Diabetes Res Clin Pract. 2019;157:107843.

3.

Islam SMS, et al. Non-Communicable Diseases (NCDs) in developing countries: a symposium report. Global Health. 2014;10(1):81.

4.

Biswas T, et al. Increasing prevalence of diabetes in Bangladesh: a scoping review. Public Health. 2016;138:4–11.

5.

Islam SMS, et al. Healthcare use and expenditure for diabetes in Bangladesh. BMJ Glob Health. 2017;2:e000033.

6.

Sal-sabil T, Islam A, Islam SMS. Risk factors for type 2 diabetes in Bangladesh: a systematic review. J Diabetol. 2016;2:4.

7.

Roth GA, et al. Global, regional, and national age-sex-specific mortality for 282 causes of death in 195 countries and territories, 1980–2017: a systematic analysis for the Global Burden of Disease Study 2017. Lancet. 2018;392(10159):1736–88.

8.

World Health Organization. Cause-Specific mortality: Eastimates for 2000–2012. Health statistics and information systems 2009; Available from: http://www.who.int/healthinfo/global_burden_disease/estimates/en/index1.html. Accessed 9 Aug 2015.

9.

Chen S, et al. A simple prediction model to estimate obstructive coronary artery disease. BMC Cardiovasc Disord. 2018;18(1):7.

10.

Sowers JR, Epstein M. Diabetes mellitus and associated hypertension, vascular disease, and nephropathy. An update. Hypertension. 1995;26(6 Pt 1):869–79.

11.

Karim MA, et al. Risk factors and in-hospital outcome of acute ST segment elevation myocardial infarction in young Bangladeshi adults. BMC Cardiovasc Disord. 2015;15:73.

12.

Choudhury KN, et al. Serum lipid profile and its association with hypertension in Bangladesh. Vasc Health Risk Manag. 2014;2014(10):327–32.

13.

Islam SMS, et al. Prevalence of risk factors for hypertension: A cross-sectional study in an urban area of Bangladesh. Glob Cardiol Sci Pract. 2015;2015(4):43.

14.

Khan A, Uddin R, Islam SMS. Clustering patterns of behavioural risk factors for cardiovascular diseases in Bangladeshi adolescents: A population-based study. Health Policy Technol. 2019;8(4):386–92.

15.

Federation ID. Diabetes and cardiovascular disease. Brussels: International Diabetes Federation; 2016.

16.

Einarson TR, et al. Prevalence of cardiovascular disease in type 2 diabetes: a systematic literature review of scientific evidence from across the world in 2007–2017. Cardiovasc Diabetol. 2018;17(1):83.

17.

Collaboration, E.R.F. Diabetes mellitus, fasting blood glucose concentration, and risk of vascular disease: a collaborative meta-analysis of 102 prospective studies. Lancet. 2010;375(9733):2215–22.

18.

Karar ZA, Alam N, Streatfield PK. Epidemiological transition in rural Bangladesh, 1986–2006. Glob Health Action. 2009;2:1.

19.

Dicker D, et al. Global, regional, and national age-sex-specific mortality and life expectancy, 1950–2017: a systematic analysis for the Global Burden of Disease Study 2017. Lancet. 2018;392(10159):1684–735.

20.

Alam DS, et al. Awareness and control of hypertension in Bangladesh: follow-up of a hypertensive cohort. BMJ Open. 2014;4(12):e004983.

21.

Bangladesh Society of Medicine, Non Communicable Disease, Risk Factor Survey Bangladesh 2010. 2011, World Health Organization.

22.

Islam SMS, et al. Clinical characteristics and complications of patients with type 2 diabetes attending an urban hospital in Bangladesh. Diabetes Metab Syndr: Clinical Res Rev. 2014;9(1):7–13.

23.

Islam SMS, et al. Association between depression and diabetes amongst adults in Bangladesh: a hospital based case–control study. J Glob Health. 2015;5:020406.

24.

Islam SMS, Rawal LB, Niessen LW. Prevalence of depression and its associated factors in patients with type 2 diabetes: a cross-sectional study in Dhaka, Bangladesh. Asian J Psychiatr. 2015;17:36–41.

25.

Islam SMS, et al. Diabetes knowledge and glycemic control among patients with type 2 diabetes in Bangladesh. SpringerPlus. 2015;4(284):284.

26.

Wild S, et al. Global prevalence of diabetes: estimates for the year 2000 and projections for 2030. Diabetes Care. 2004;27(5):1047–53.

27.

Saquib N, et al. Cardiovascular diseases and type 2 diabetes in Bangladesh: a systematic review and meta-analysis of studies between 1995 and 2010. BMC Public Health. 2012;12:434.

28.

Murray CJ, et al. Effectiveness and costs of interventions to lower systolic blood pressure and cholesterol: a global and regional analysis on reduction of cardiovascular-disease risk. Lancet. 2003;361(9359):717–25.

29.

Tunstall-Pedoe, H. MONICA monograph and multimedia sourcebook: world's largest study of heart disease, stroke, risk factors, and population trends 1979–2002. 2003: World Health Organization.

30.

Bhopal R, et al. Predicted and observed cardiovascular disease in South Asians: application of FINRISK, Framingham and SCORE models to Newcastle Heart Project data. J Public Health (Oxf). 2005;27(1):93–100.

31.

Rahman M, et al. Sociodemographic factors and the risk of developing cardiovascular disease in Bangladesh. Am J Prev Med. 2015;48(4):456–61.

32.

Islam SMS, et al. Social and economic impact of diabetics in Bangladesh: protocol for a case-control study. BMC Public Health. 2013;13:1217.

33.

D'Agostino RB Sr, et al. General cardiovascular risk profile for use in primary care: the Framingham Heart Study. Circulation. 2008;117(6):743–53.

34.

Liu J, et al. Predictive value for the Chinese population of the Framingham CHD risk assessment tool compared with the Chinese Multi-Provincial Cohort Study. JAMA. 2004;291(21):2591–9.

35.

Barzi F, et al. Cardiovascular risk prediction tools for populations in Asia. J Epidemiol Community Health. 2007;61(2):115–21.

36.

Suka M, Sugimori H, Yoshida K. Validity of the Framingham risk model applied to Japanese men. Methods Inf Med. 2002;41(03):213–5.

37.

Lloyd-Jones DM, et al. Prediction of lifetime risk for cardiovascular disease by risk factor burden at 50 years of age. Circulation. 2006;113(6):791–8.

38.

Yusuf S, et al. Effect of potentially modifiable risk factors associated with myocardial infarction in 52 countries (the INTERHEART study): case-control study. Lancet. 2004;364(9438):937–52.

39.

Jiao FF, et al. Comparison of four cardiovascular risk prediction functions among C hinese patients with diabetes mellitus in the primary care setting. J Diabetes Investig. 2014;5(5):606–14.

40.

Lloyd-Jones DM, et al. Lifetime risk of developing coronary heart disease. Lancet. 1999;353(9147):89–92.

41.

Misra A, et al. Diabetes, cardiovascular disease, and chronic kidney disease in South Asia: current status and future directions. BMJ. 2017;357:j1420.

42.

McKeigue PM, Miller G, Marmot M. Coronary heart disease in south Asians overseas: a review. J Clin Epidemiol. 1989;42(7):597–609.

43.

Tillin T, et al. Cardiovascular disease mortality in relation to childhood and adulthood socioeconomic markers in British South Asian men. Heart. 2008;94(4):476–81.

44.

Al-Lawati J, et al. Trends in the risk for cardiovascular disease among adults with diabetes in Oman. Sultan Qaboos Univ Med J. 2015;15(1):e39.

45.

Turner RC, et al. Glycemic control with diet, sulfonylurea, metformin, or insulin in patients with type 2 diabetes mellitus: progressive requirement for multiple therapies (UKPDS 49). JAMA. 1999;281(21):2005–12.

46.

Islam SMS, et al. Validation and acceptability of a cuffless wrist-worn wearable blood pressure monitoring device among users and healthcare professionals: A mixed-method study. JMIR Mhealth Uhealth. 2019;7(10):e14706.

47.

World Health Organization. Regional Office for South-East Asia. Global Youth Tobacco Survey (GYTS), Bangladesh Report, 2013. 2015, World Health Organization.

48.

Njølstad I, Arnesen E, Lund-Larsen PG. Smoking, serum lipids, blood pressure, and sex differences in myocardial infarction: a 12-year follow-up of the Finnmark Study. Circulation. 1996;93(3):450–6.

49.

Ford ES. Trends in predicted 10-year risk of coronary heart disease and cardiovascular disease among US adults from 1999 to 2010. J Am Coll Cardiol. 2013;61(22):2249–52.

50.

Zhang B, et al. Predicted coronary risk for adults with coronary heart disease and low HDL-C: an analysis from the US National Health and Nutrition Examination Survey. Curr Med Res Opin. 2008;24(9):2711–7.

51.

Chandola T. Ethnic and class differences in health in relation to British South Asians: using the new National Statistics Socio-Economic Classification. Soc Sci Med. 2001;52(8):1285–96.

52.

Hillier TA, Pedula KL. Complications in young adults with early-onset type 2 diabetes: losing the relative protection of youth. Diabetes care. 2003;26(11):2999–3005.

53.

Islam SMS, et al. The role of social media in preventing and managing non-communicable diseases in low-and-middle income countries: hope or hype? Health Policy Technol. 2019;8:96–101.

54.

Islam SMS, et al. Effect of text messaging on depression in patients with coronary heart disease: a sub study analysis from the TEXT ME randomised controlled trial. BMJ Open. 2019;9:e022637.

55.

Islam SMS, et al. Cost-effectiveness of a mobile-phone text messaging intervention on type 2 diabetes—A randomized-controlled trial. Health Policy Technol. 2020;9(1):79–85.

56.

Islam SMS, Tabassum R. Implementation of information and communication technologies for health in Bangladesh. Bull World Health Organization. 2015;93(11):806–9.

57.

D'agostino RB, et al. General cardiovascular risk profile for use in primary care. Circulation. 2008;117(6):743–53.

58.

Pandya A, Weinstein MC, Gaziano TA. A comparative assessment of non-laboratory-based versus commonly used laboratory-based cardiovascular disease risk scores in the NHANES III population. PloS ONE. 2011;6:e20416.
Funding
This research protocol was funded by icddr,b's core Sida Grant Number PR-13062. icddr,b also gratefully acknowledges the following donors which provide unrestricted support: Australian Agency for International Development (AusAID), Government of the People's Republic of Bangladesh, Canadian International Development Agency (CIDA), Swedish International Development Cooperation Agency (Sida), and the Department for International Development, UK (DFID).
Ethics declarations
Conflict of interest
None to declare.
Additional information
Publisher's note
Springer Nature remains neutral with regard to jurisdictional claims in published maps and institutional affiliations.
About this article
Cite this article
Islam, S.M.S., Ahmed, S., Uddin, R. et al. Cardiovascular diseases risk prediction in patients with diabetes: Posthoc analysis from a matched case-control study in Bangladesh. J Diabetes Metab Disord (2021). https://doi.org/10.1007/s40200-021-00761-y
Received:

Accepted:

Published:
Keywords
Bangladesh

Cardiovascular diseases

Diabetes

Hypertension

Risk prediction models