Abstract
Purpose
Endocrinology and Metabolism Research Institute (EMRI) in 25th anniversary prompt to highlight the educational activities on capacity building and research in prevention and education of diabetes field. In recent decades, this academic institute arranges for opportunities to catch new ways to encounter non-communicable diseases especially diabetes to advantage both diabetes health care providers and people with diabetes. This review aims to overview the educational activities of EMRI on diabetes.
Methods
In this conventional review and Scientometrics, the studies affiliated with EMRI on diabetes education were explored in Scopus, PubMed, Google Scholar, and SID, without any restriction on time and language. All papers published up to 2020 were analyzed and visualized with the VOS viewer Software program.
Results
Total number of 12 documents retrieved from various databases. Patient education, diabetes type 2, health, and self-care are the most frequent keywords in the published paper. Several perspectives of diabetes education have been addressed in two main categories include public and patient education and professional education.
Conclusion
It is notable that, the national strategic planning to establish courses and produce materials and programs to empower health care providers and patients with diabetes and families. According to the strategic plan, further research and infrastructures are required for various aspects of diabetes prevention and education.
Access options
Buy single article
Instant access to the full article PDF.
US$ 39.95
Tax calculation will be finalised during checkout.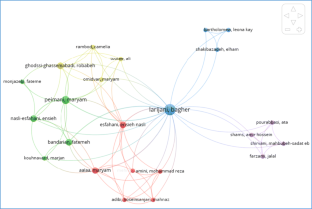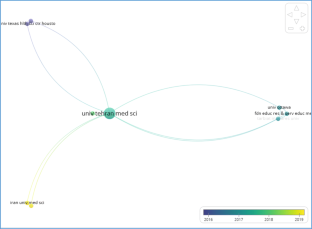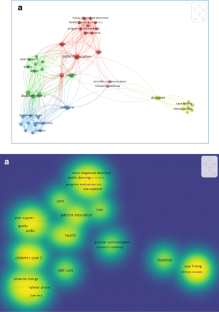 References
1.

Peykari N, Hashemi H, Dinarvand R, Haji-Aghajani M, Malekzadeh R, Sadrolsadat A, et al. National action plan for non-communicable diseases prevention and control in Iran; a response to emerging epidemic. J Diabetes Metab Disord. 2017;16(1):3.

2.

Thomas V. Investigating intervention strategies for the management of diabetes in South Africa: a system dynamics approach. 2019. (Doctoral dissertation, Stellenbosch: Stellenbosch University).

3.

Association Ad. 6. Glycemic targets: standards of medical care in diabetes—2018. Diabetes Care. 2018;41(Supplement 1):S55–64.

4.

Mj D, Dipankui M, Chipenda Dansokho S, Légaré F, Ho W. Diabetes-related complications: which research topics matter to diverse patients and caregivers? Health Expect. 2018;21(2):549–59.

5.

Bandarian F, Larijani B. World diabetes day: celebrating two decades of progress in combating diabetes and its complications in Iran. J Diabetes Metab Disord. 2019;18(2):743–5.

6.

Sanjari M, Aalaa M, Amini MR, Mehrdad N, Adibi H, Esfahani EN, et al. Conceptual map of diabetes education: necessity of establishing Iran diabetes academy. J Diabetes Metab Disord. 2019;18(2):729–31.

7.

Aalaa M, Sanjari M, Shahbazi S, Shayeganmehr Z, Abooeirad M, Mr A, et al. Diabetic foot workshop: improving technical and educational skills for nurses. Med J Islam Repub Iran. 2017;31:8.

8.

Amini MR, Mehrdad N, Sanjari M, Aalaa M, Shahbazi S, Shaygabmehr Z, et al. Diabetic foot workshop to apply interactive learning method for nurses: working with real patient as a teaching strategy. In: 18th European Congress of Endocrinology (Vol. 41). Bristol: BioScientifica; 2016.

9.

Peimani M, Bandarian F, Aalaa M, Kouhnavard M, Nasli-Esfahani E, Larijani B. Iran diabetes research roadmap (Idrr) study; patient education in diabetes: a review article. Iran J Public Health. 2017;46(Supple 1):10–6.

10.

Aalaa M, Peimani M. A review of web-assisted interventions for the management of type 2 diabetes mellitus. Iran J Diabetes Metab. 2014;13(3):211–22.

11.

Peimani M, Rambod C, Omidvar M, Larijani B, Ghodssi-Ghassemabadi R, Tootee A, et al. Effectiveness of short message service-based intervention (Sms) on self-care in type 2 diabetes: a feasibility study. Prim Care Diabetes. 2016;10(4):251–8.

12.

Pourabbasi A, Farzami J, M-Se S, Ah S, Larijani B. Using virtual social networks for case finding in clinical studies: an experiment from adolescence, brain, cognition, and diabetes study. Int J Prev Med. 2017;8:30.

13.

Shakibazadeh E, Lk B, Rashidian A, Larijani B. Persian diabetes self-management education (Pdsme) program: evaluation of effectiveness in Iran. Health Promot Int. 2015;31(3):623–34.

14.

Aalaa M, Sanjari M, Hra M, Mr A, Qorbani M, Adibi H, et al. The effectiveness of a peer coaching education on control and management of type 2 diabetes in women: a protocol for a randomized controlled trial. Int J Community Based Nurs Midwifery. 2017;5(2):153.

15.

Peimani M, Monjazebi F, Ghodssi-Ghassemabadi R, Nasli-Esfahani E. A peer support intervention in improving glycemic control in patients with type 2 diabetes. Patient Educ Couns. 2018;101(3):460–6.

16.

Riazi H, Langarizadeh M, Larijani B, Shahmoradi L. Conceptual framework for developing a diabetes information network. Acta Inform Med. 2016;24(3):186–92.

17.

Association Ad. 1. Improving care and promoting health in populations: standards of medical care in diabetes—2020. Diabetes Care. 2020;43(Supplement 1):S7–S13.

18.

Association Ad. 3. Prevention or delay of type 2 diabetes: standards of medical care in diabetes-2020. Diabetes Care. 2020;43(Suppl 1):S32.
Acknowledgments
The authors thank scientists who have been engaged in the prevention and education activities on the diabetes field to collect the paper. Also, Endocrinology and Metabolism Research Institute full support in preparing articles.
Ethics declarations
Ethics approval
No institutional review board was required.
Competing interests
None declared.
Additional information
Publisher's note
Springer Nature remains neutral with regard to jurisdictional claims in published maps and institutional affiliations.
About this article
Cite this article
Sanjari, M., Aalaa, M., Mehrdad, N. et al. Endocrinology and metabolism research institute educational achievements on diabetes at a glance: conventional review and Scientometrics. J Diabetes Metab Disord (2021). https://doi.org/10.1007/s40200-021-00755-w
Received:

Accepted:

Published:
Keywords
Education

Diabetes mellitus

Iran