Abstract
Purpose
The main aim of this study was to explore how participants were practicing insulin injections and assess its association with the insulin related-outcomes.
Methods
A hospital-based cross-sectional study was conducted among 176 youngsters with diabetes in Tikur Anbesa Specialized Hospital, Ethiopia. The inclusion criterion was the use of insulin treatment for a minimum of one year. Data about insulin injection practices was derived from participants' report. Descriptive statistics was presented using frequency distributions and percentages for categorical variables while measure of central tendencies and dispersion for continuous variables. Chi-square test was employed to test for the association between compared variables.
Results
Participants were asked on how frequent they practice the appropriate insulin injecting practices. Based on that, eliminating air bubbles from a syringe, lifting skin fold during an injection, inserting a needle deep enough in the subcutaneous tissue, inspecting injection sites and self-monitoring of blood glucose were frequently done practices in more than 80% of the participants. Besides, over half of the participants reported that they frequently practice; insulin vial inspection, physical exercise, inject 1–3 cm apart from previous site, and insert a needle at 450. Regarding insulin storage, more than half of them store opened insulin in the refrigerator, though it is advisable to store it at room temperature. Appropriate injection site rotation was reported by nearly one-third of the participants. Questions such as; gentle re-suspension of cloudy insulin, adjust insulin dose when necessary and change insulin syringe at every injection were reported by very few of the participants. Coming to glycemic control of our study subjects, 83% of them had HgbA1C of above 7.5% (non-optimal) and 31% reported at least one episode of hypoglycemia. Non-optimal glycemic control was explained by poor injection site hygiene (p < 0.038) and infrequent inspection of injection sites (p < 0.049).
Conclusion
Compared to previous studies, this study came with higher proportion of participants who frequently practice the appropriate insulin injection practices. However, it is still important to educate patients on some crucial injecting practices.
This is a preview of subscription content, log in to check access.
Access options
Buy single article
Instant access to the full article PDF.
US$ 39.95
Price includes VAT for USA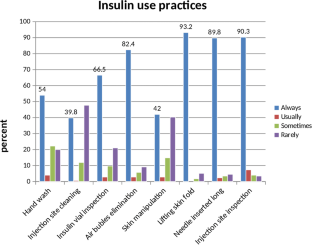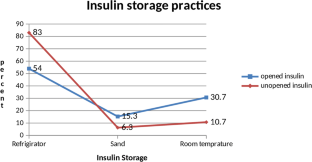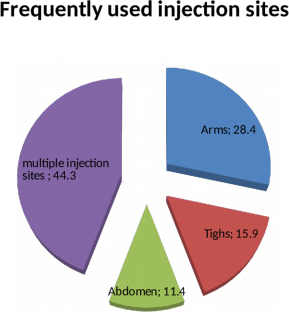 Data availability
The datasets supporting the conclusions of the study are available with the authors. Any additional data will be available on request.
Abbreviations
AMD :

Association of Clinical Diabetologists

OSDI:

Italian Diabetes Healthcare Professionals

BMI:

Body Mass Index

CI :

Confidence Interval

FIT :

Forum for Injection Technique

HbA1C :

Glycated Hemoglobin

LH :

LipohypertropHY

mg/dL :

milligram per deciliter

SD :

Standard deviation
References
1.

Emerging Risk Factors Collaboration, Sarwar N, Gao P, Seshasai S, Gobin R, Kaptoge S, et al. Diabetes mellitus, fasting blood glucose concentration, and risk of vascular disease: a collaborative meta-analysis of 102 prospective studies. Lancet. 2010;375(9733):2215–22.

2.

World Health Organization. In: global reports on diabetes 2016. https://apps.who.int/iris/bitstream/handle/10665/204871/9789241565257_eng.pdf;jsessio nid=95A4514B7DB47B7D43191F496566EB4A?sequence=1

3.

International Diabetes Federation: The global burden of diabetes and impaired glucose tolerance.In:diabetes Atlas. 2017. http://fmdiabetes.org/wp-content/uploads/2018/03/IDF-2017.pdf

4.

Hayek AAA, Robert AA, Braham RB, Dawish MAA. Frequency of Lipohypertrophy and associated risk factors in young patients with type 1 diabetes. Diabetes Ther. 2016.

5.

Connic CD, Farid A, Gaspar R, Hicks D. Hirsch L, kiruegel G: results and analysis of the 2008-2009 insulin injection technique questionairre survey. J diabetes. 2010;2:168–79.

6.

Strauss K. Insulin injection techniques: report from the 1st international insulin injection technique workshop, Strasbourg, France-June 1997. Pract Diabetes Int. 1998;15(1):16–20.

7.

Strauss K, Gols HD, Hannet I, Partanen TM, Frid A. A pan-European epidemiologic study of insulin injection technique in patients with diabetes. Practical Diabetes International. 2002;19(3):71–6.

8.

P Baruah M, Kalra S, Bose S, Deka J (2017) An audit of insulin usage and insulin injection practices in a large Indian cohort. Indian J Endocrinol Metab, 21(3):443–452.

9.

Gentile S, Grassi G, Armentano V: AMD-OSDI Consensus on Injection Techniques for People with Diabetes Mellitus. Med Clin Rev 2016, 2(3).

10.

Hicks D, Kirkland F, Pledger J, Down S: The First UK Injection Technique Recommendations. diabetes Care in the UK 2011.

11.

Forum for Injection Technique: The first Irish injection technique recommendations. In., vol.1.Ireland;2012.https://www.fit4diabetes.com/files/9413/5876/6815/FIT_Recommend ations_Ireland.pdf

12.

Cunningham MT, McKenna MJ. Lipohypertrophy in insulin-treated diabetes: prevalence and associated risk factors. J Diabetes Nurs. 2013;17:340–3.

13.

American Diabetes Association. In: Children and adolescents: In Standards of Medical Care in Diabetes. vol. 40. San Francisco, California: Diabetes Care; 2017: 105–113.

14.

Blanco M, Hernandez MT, Strauss KW, Amaya M. Prevalence and risk factors of lipohypertrophy in insulin-injecting patients with diabetes. Diabetes Metab. 2013;39(5):445–53.

15.

Frid A, Hirsch L, Gaspar R, Hicks D, Kreugel G, Liersch J, et al. New injection recommendations for patients with diabetes. Diabetes Metab. 2010;36(Suppl 2):S3–18.

16.

Berard L, Desrochers F, Hagerty D, MacNeill G, Roscoe R: Forum for Injection Technique Canada: Recommendations for Best Practice in Injection Technique. In.; 2015.

17.

Ahmad S, Osman MT, Jaffar A, Rashid MRA, Hassan MR, Supian ZA. Education of correct insulin injection technique amongst diabetic patients: outcome study from Malaysia. International Journal of Medical Research & Health Sciences. 2016;5(6):198–205.

18.

Frid A, Hirsch L, Menchior A, Morel D, Strauss K. Worldwide injection technique questionnaire study: population parameters and injection practices. Mayo Clin Proc. 2016;91(9):1212–23.

19.

Dagdelen S, Deyneli O, Olgun N, Siva ZO, Sargin M, Hatun Sk, Kulaksizoglu M, Kaya A, Gu¨rlek CA, Hirsch LJ et al (2018) Turkish insulin injection technique study: population characteristics of Turkish patients with diabetes who inject insulin and details of their injection practices as assessed by survey questionnaire. Diabetes Ther, 9(1):1629–1645.
Acknowledgments
The authors gratefully acknowledge all participants of the study and Tikur Anbesa Specialized Hospital for allowing us to do our study.
Code availability
Code was given for each variable entered to the statistical software which was used for data analysis.
Funding
This work was supported by Addis Ababa University.
Ethics declarations
Conflicts of interest/competing interests
The authors declare that they have no conflicts of interest.
Ethics approval
This study was conducted in accordance with the Declaration of Helsinki, and approval for the study protocol was granted by the Ethics Review Board of Tikur Anbesa Specialized Hospital.
Consent to participate
Participants and their parents were informed of their written consent prior to involving them in the study. Human rights were kept safe throughout the study.
Consent for publication
Consent is received from all authors to publish the study.
Additional information
Publisher's note
Springer Nature remains neutral with regard to jurisdictional claims in published maps and institutional affiliations.
About this article
Cite this article
Tsadik, A.G., Gidey, M.T., Assefa, B.T. et al. Insulin injection practices among youngsters with diabetes in Tikur Anbesa Specialized Hospital, Ethiopia. J Diabetes Metab Disord (2020). https://doi.org/10.1007/s40200-020-00565-6
Received:

Accepted:

Published:
Keywords
Diabetes mellitus

Insulin injection techniques

Hypoglycemia

Glycemic control