Abstract
Purpose
The basic and regulatory knowledge of prescription writing is essential for every medical student to evolve into a prescribing physician. Prescription becomes the most important clinical pharmacology tool and evidence of the medication access, prescription errors, prescribing errors, negligence and further litigations once released from the hands of the physicians. A questionnaire based cross-sectional survey was done to evaluate knowledge of basic and regulatory aspects of prescription writing in the light of growing violence against physicians in India.
Methods
The basic and regulatory knowledge and awareness of 90 practicing physicians was evaluated for arts of prescription writing by a novel questionnaire based on Indian regulatory guidelines. It was assessed for content validity, face validity, readability and reliability. A statistical significant Cronbach's alpha values of greater than 0.9, Flesh Reading Ease score of 37.4 and Flesch-Kincaid Grade level of 11.2 were obtained. A total of 39 questions comprised of 70 statements categorised into three broad sections containing 13 questions in each were asked in 30 min.
Results
The knowledge of the prescription writing is very limited in doctors. They are not sure that Over-The-Counter drugs do not need prescription, pharmacist is the decoder of their written prescription, cross-prescribing (prescribing drugs of other system of medicine) is illegal and they should not dictate prescription on phone. Majority of the physicians are unaware that writing prescription serial number, Rx, refill information and dispensing direction of habit forming drugs is not legal requirement in India.
Conclusion
Medication access through prescription writing is marred with prescription errors. The physicians have limited regulatory and basic knowledge of prescription writing. Therefore their training of prescription writing through defined global teaching modules is needed. The prescription communications need to be lucid, accessible, comprehensive and straight between doctors and patients following the tenets of country specific regulatory requirements.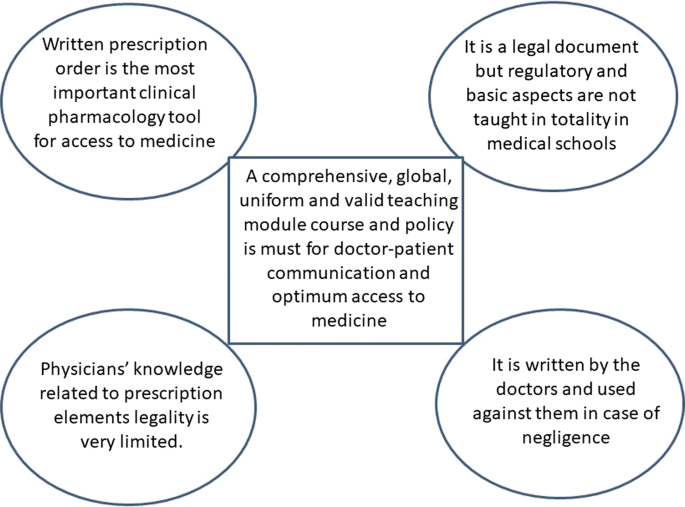 Access options
Buy single article
Instant access to the full article PDF.
US$ 39.95
Tax calculation will be finalised during checkout.
References
1.

The NHS Information Centre. Prescriptions dispensed in the community: England, statistics for 1999 to 2009. 2010. https://files.digital.nhs.uk/publicationimport/pub01xxx/pub01428/pres-disp-com-eng-1999-2009-rep.pdf. Accessed 13 Sept 2018.

2.

Di Paolo ER, Gehri M, Quedraogo-Ruchet L, Sibailly G, Lutz N, Pannatier A. Outpatient prescriptions practice and writing quality in a paediatric university hospital. Swiss Med Wkly. 2012;w13564:142.

3.

Aronson JK. Balanced prescribing. Br J Clin Pharmacol. 2006;62:629–32.

4.

Aronson JK. Medication errors: definitions and classifications. Br J Clin Pharmacol. 2009;67(6):599–604.

5.

Buxton ILO. Principles of prescription order writing and patient compliance. In: Brunton LL, Chabner BA, Knollmann BC, editors. Goodman & Gilman's the pharmacological basis of therapeutics. 12th ed. New York: USA. McGraw Hill; 2011. p. 1879.

6.

Walker BR, Colledge NR, Ralston SH, Penman ID. Davidson's principles & practice of Medicine, 22 edn. Edinburgh, Scotland. Churchill Livingstone Elsevier. p. 37.

7.

Tobaiqy M, McLay J, Ross S. Foundation year 1 doctors and CPT teaching: a retrospective view in light of experience. Br J Clin Pharmacol. 2007;64:363–72.

8.

Heaton A, Webb DJ, Maxwell SR. Undergraduate preparation for prescribing: the views of 2413 UK medical students and recent graduates. Br J Clin Pharmacol. 2008;66:128–34.

9.

Ross S, Maxwell S. Prescribing and the core curriculum for tomorrow's doctors: BPS curriculum in clinical pharmacology and prescribing for medical students. Br J Clin Pharmacol. 2012;74(4):644–61.

10.

Moghaddasi H, Farahbaksh M, Zehtab H. Verbal orders in medicine: challenges; problems and solutions. JOJ Nurse Health Care 2017; 1(5). https://juniperpublishers.com/jojnhc/pdf/JOJNHC.MS.ID.555575.pdf. Accessed 12 June 2018.

11.

Donchin Y, Gopher D, Olin M, Badihi Y, Biesky MRNB, Sprung CL, et al. A look into the nature and causes of human errors in the intensive care unit. Crit Care Med. 1995;23:294–300.

12.

Hartel MJ, Staub LP, Roder C, Eggli S. High incidence of medication documentation errors in a Swiss university hospital due to the handwritten prescription process. BMC Health Serv Res. 2011;11:199.

13.

Directorate of food and Drugs administration. Government of Goa. India Guidelines for prescription writing and handling of prescriptions and prescriptions medicine 2012 Available from http://www.dfda.goa.gov.in/images/uploads/prescription_guidelines_booklet_for_doctors_pharmacists.pdf. Accessed 6 June 2018.

14.

The Commissioner. Food and Drug Administration. Government of Maharashtra. India. Maharashtra Model Medicine Prescription Format. 2014. Available from https://fda.maharashtra.gov.in/downloads/fda%2027feb2014%20final.pdf. Accessed 6 June 2018.

15.

Verma U, Sharma R, Gupta P, Gupta S, Kapoor B. Allopathic vs. Ayurvedic practices in tertiary care institutes of urban North India. Indian J Pharm. 2007;39:52–4.

16.

Imran M, Amir M, Naqvi H, Naaz S. The prevalence and patterns of usage of Ayurveda, Unani and home remedies in younger adults of rural North India. Int J Green Pharm. 2017;11(2):108–13. https://www.greenpharmacy.info/index.php/ijgp/article/view/922. Accessed 19 Sept 2018.

17.

Dornan T, Ashcroft D, Heathfield H, Lewis P, Miles J, Taylor D, Tully M, Wass V. An in-depth investigation into causes of prescribing errors by foundation trainees in relation to their medical education: EQUIP study. Final report to the general medical council. University of Manchester: School of Pharmacy and Pharmaceutical Sciences and school of medicine. 2009. Available from https://www.gmc-uk.org/-/media/documents/FINAL_Report_prevalence_and_causes_of_prescribing_errors.pdf_28935150.pdf. Accessed 13 Sept 2018.

18.

Supe A. Violence against doctors cannot be tolerated. The BMJ Opinion URL: https://blogs.bmj.com/bmj/2017/03/29/avinash-supe-violence-against-doctors-cannot-be-tolerated/. Accessed 16 Sept 2018.

19.

Kar SP. Addressing underlying causes of violence against doctors in India. Lancet. 2017;389:1979–80.

20.

Kapoor MC. Violence against the medical profession. J Anesthesiol Clin Pharmacol. 2017;33(2):145–7.

21.

JogaRao SV. Medical negligence liability under the consumer protection act: a review of judicial perspectives. Indian J Urol. 2009;25(3):361–71.

22.

Chandra MS, Math SB. Progress in medicine: compensation and medical negligence in India: does the system need a quick fix or an overhaul. Ann Indian Acad Neurol. 2016;19(S1):S21–7.

23.

Ministry of Health and Family Welfare. Department of Health and Family Welfare. Draft of Patient Charter prepared by National Human Rights Commission. https://mohfw.gov.in/newshighlights/draft-patient-charter-prepared-national-human-rights-commission. Accessed 16 Sept 2018.

24.

Aggarwal KK. Telephonic consultation. How safe are they. http://kkaggarwal.com/Editorial/telephonic-consultations-how-safe-are-they/. Accessed 29 July 2018.

25.

The Newswire. The outlook. 2013. https://www.outlookindia.com/newswire/story/sc-awards-rs-1141-crore-in-medical-negligence-case/814710. Accessed 19 Sept 2018.

26.

Mishra I. The spin doctors: India's quacks imperil lives, but are 'god' to their patients. The Hindu. 2018. https://www.thehindu.com/sci-tech/health/the-spin-doctors-indias-quacks-imperil-lives-but-are-god-to-their-patients/article23398980.ece. Accessed 19 Sept 2018.

27.

Paul Y, Tiwari S. Issues to settle- cross system medical practice. J Assoc Physicians India. March 2014;62:244–247. http://www.japi.org/march_2014/06_ra_issues_to_settle.pdf. Accessed 19 Sept 2018.
Acknowledgements
We want to thank Dr. Malik Shahnawaz, MD, Associate Professor, Department of Community Medicine of the institute for conducting statistical analysis of the questionnaire.
Ethics declarations
Conflict of interest
None.
Additional information
Publisher's note
Springer Nature remains neutral with regard to jurisdictional claims in published maps and institutional affiliations.
About this article
Cite this article
Imran, M., Doshi, C. & Kharadi, D. Time to teach basic and regulatory aspects of art of prescription writing for better doctor-patient safety and keeping communication accessible and straight. DARU J Pharm Sci 28, 25–32 (2020). https://doi.org/10.1007/s40199-018-00236-1
Received:

Accepted:

Published:

Issue Date:
Keywords
Prescription writing

Clinical pharmacology

Medication access

Basic and regulatory prescription elements

General practice