Abstract
A micro-scale rod-like heterostructure derived from molybdenum-based metal organic framework (Mo-MOF) has been successfully prepared via subsequent annealing treatment, which assembled from N-doped carbon encapsulated MoSe2 nanosheets grown on the surface of MoO2 microrod (named as MoO2@MoSe2@NC). For this novel heterostructure, the MoO2 nanoparticles assembled into rod core not only serve as supporting substrate for facilitating the fast kinetics of Li+ cations inside the electrode but also protect the MoSe2 structure from restacking in the charge/discharge process. Moreover, the outer-layered MoSe2 nanosheets enable the fast lithium ion movement owing to its large interlayer spacing. Moreover, this unique rod-like core–shell structure composite could further effectively alleviate the structural strains caused by large volume expansion during charge/discharge process, thus leading to stable electrochemical performance when evaluated as anode material for lithium ion batteries. Electrochemical testing exhibits that the MoO2@MoSe2@NC heterostructure presents highly reversible capacity of 468 mAh g−1 at 0.5 A g−1 and superior rate capability (318 mAh g−1 even at 5.0 A g−1), which is attributed to the synergistic effect of N-doped carbon encapsulated MoSe2 nanosheets and MoO2 nanoparticles.
Access options
Buy single article
Instant access to the full article PDF.
US$ 39.95
Tax calculation will be finalised during checkout.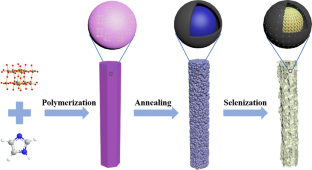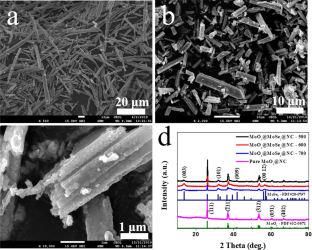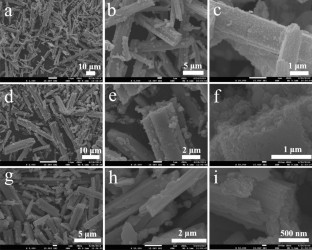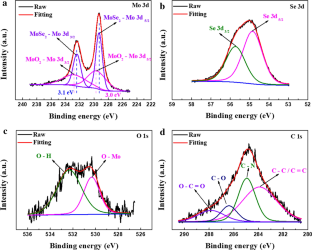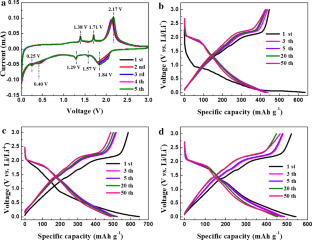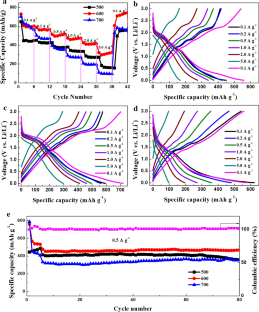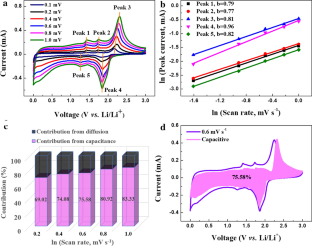 References
[1]

X. Yang, Y. Wang, B. Hou, H. Liang, X. Zhao, H. Fan, G. Wang, X. Wu, Acta Metall Sin.-Engl. Lett. (2020). https://doi.org/10.1007/s40195-020-01001-7

[2]

S. Mohapatra, S.V. Nair, A.K. Rai, Acta Metall Sin.-Engl. Lett. 31, 164 (2018)

[3]

X. Chen, G. Gao, Z. Wu, J. Xiang, X. Li, G. Guan, K. Zhang, RSC Adv. 9, 37556 (2019)

[4]

Y. Liu, N. Zhang, C. Yu, L. Jiao, J. Chen, Nano Lett. 16, 3321 (2016)

[5]

B. Hu, L. Mai, W. Chen, F. Yang, ACS Nano 3, 478 (2009)

[6]

Y. Lin, Z. Qiu, D. Li, S. Ullah, Y. Hai, H. Xin, W. Liao, B. Yang, H. Fan, J. Xu, C. Zhu, Energy Storage Mater. 11, 67 (2018)

[7]

H. Fan, H. Yu, Y. Zhang, J. Guo, Z. Wang, H. Wang, N. Zhao, Y. Zheng, C. Du, Z. Dai, Q. Yan, J. Xu, Energy Storage Mater. 10, 48 (2018)

[8]

J. Huang, Z. Wei, J. Liao, W. Ni, C. Wang, J. Ma, J. Energy Chem. 33, 100 (2019)

[9]

H. Wang, X. Wang, L. Wang, J. Wang, D. Jiang, G. Li, Y. Zhang, H. Zhong, Y. Jiang, J. Phys. Chem. C 119, 10197 (2015)

[10]

P. Geng, S. Zheng, H. Tang, R. Zhu, L. Zhang, S. Cao, H. Xue, H. Pang, Adv. Energy Mater. 8, 1703259 (2018)

[11]

X. Li, M. Sun, S. Cheng, X. Ren, J. Zang, T. Xu, X. Wei, S. Li, Q. Chen, C. Shan, 2D Mater. 6, 035027 (2019)

[12]

A. Eftekhari, Appl. Mater. Today 8, 1 (2017)

[13]

T. Xiang, S. Tao, W. Xu, Q. Fang, C. Wu, D. Liu, Y. Zhou, A. Khalil, Z. Muhammad, W. Chu, Z. Wang, H. Xiang, Q. Liu, L. Song, ACS Nano 11, 6483 (2017)

[14]

J. Maier, Nat. Mater. 4, 805 (2005)

[15]

F. Xu, L. Wu, Q. Meng, M. Kaltak, J. Huang, J.L. Durham, M. Fernandez-Serra, L. Sun, A.C. Marschilok, E.S. Takeuchi, K.J. Takeuchi, M.S. Hybertsen, Y. Zhu, Nat. Commun. 8, 15400 (2017)

[16]

X. Zhao, J. Sui, F. Li, H. Fang, H. Wang, J. Li, W. Cai, G. Cao, Nanoscale 8, 17902 (2016)

[17]

C. Huang, S. Wu, A.M. Sanchez, J.J. Peters, R. Beanland, J.S. Ross, P. Rivera, W. Yao, D.H. Cobden, X. Xu, Nat. Mater. 13, 1096 (2014)

[18]

Z. Mao, H. Wang, D. Chao, R. Wang, B. He, Y. Gong, H. Fan, Small 33, 2001950 (2020)

[19]

D. Xu, H. Wang, R. Qiu, Q. Wang, Z. Mao, Y. Jiang, R. Wang, B. He, Y. Gong, D. Li, X. Hu, Energy Storage Mater. 28, 91 (2020)

[20]

R. Fei, H. Wang, Q. Wang, R. Qiu, S. Tang, R. Wang, B. He, Y. Gong, H. Fan, Adv. Energy Mater. 47, 2002741 (2020)

[21]

H. Lu, K. Tian, L. Bu., X. Huang, X. Li, Y. Zhao, F. Wang, J. Bai, L. Gao, J. Zhao, J. Energy Chem. 55, 449 (2021).

[22]

B. Hou, Y. Wang, D. Liu, Z. Gu, X. Feng, H. Fan, T. Zhang, C. Lü, X. Wu, Adv. Funct. Mater. 28, 1805444 (2018)

[23]

H. Fan, H. Yu, Y. Zhang, Y. Zheng, Y. Luo, Z. Dai, B. Li, Y. Zong, Q. Yan, Angew. Chem. Int. Ed. Engl. 56, 12566 (2017)

[24]

P. Martían-Zarza, J.M. Arrieta, M.C. Muñoz-Roca, P. Gili, J. Chem. Soc. Dalton Trans. 10, 1551 (1993)

[25]

Z. Wang, T. Chen, W. Chen, K. Chang, L. Ma, G. Huang, D. Chen, J.Y. Lee, J. Mater. Chem. A 1, 2202 (2013)

[26]

Y. Zhang, Q. Gong, L. Li, H. Yang, Y. Li, Q. Wang, Nano Res. 8, 1108 (2014)

[27]

L. Yang, W. Zhou, D. Hou, K. Zhou, G. Li, Z. Tang, L. Li, S. Chen, Nanoscale 7, 5203 (2015)

[28]

S. Wu, Y. Du, S. Sun, Chem. Eng. J. 307, 189 (2017)

[29]

Y. Sun, X. Hu, W. Luo, Y. Huang, J. Mater. Chem. 22, 425 (2012)

[30]

Y. Zhou, H. Xie, C. Wang, Q. He, Q. Liu, Z. Muhammad, Y.A. Haleem, Y. Sang, S. Chen, L. Song, J. Phys. Chem. C 121, 15589 (2017)

[31]

J. Zhang, W. Kang, M. Jiang, Y. You, Y. Cao, T.W. Ng, D.Y. Yu, C.S. Lee, J. Xu, Nanoscale 9, 1484 (2017)

[32]

D. Zheng, H. Feng, X. Zhang, X. He, M. Yu, X. Lu, Y. Tong, Chem. Commun. 53, 3929 (2017)

[33]

X. Zhao, H.E. Wang, J. Cao, W. Cai, J. Sui, Chem. Commun. 53, 10723 (2017)

[34]

Y. Sun, X. Hu, W. Luo, Y. Huang, ACS Nano 5, 7100 (2011)

[35]

X. Zhao, H. Wang, X. Chen, J. Cao, Y. Zhao, Z. Garbe Neale, W. Cai, J. Sui, G. Cao, Energy Storage Mater. 11, 161 (2018)

[36]

Q. Hao, G. Cui, Y. Zhao, Z. Bakenov, Nanomaterials (Basel) 9, 1256 (2019)

[37]

F. Niu, J. Yang, N. Wang, D. Zhang, W. Fan, J. Yang, Y. Qian, Adv. Funct. Mater. 27, 1700522 (2017)

[38]

J. Xie, J. Zhang, S. Li, F. Grote, X. Zhang, H. Zhang, R. Wang, Y. Lei, B. Pan, Y. Xie, J. Am. Chem. Soc. 135, 17881 (2013)

[39]

Y. Liu, Y. Xiao, F. Liu, P. Han, G. Qin, J. Mater. Chem. A 7, 26818 (2019)

[40]

X. Zhao, H. Wang, R.C. Massé, J. Cao, J. Sui, J. Li, W. Cai, G. Cao, J. Mater. Chem. A 5, 7394 (2017)

[41]

H. Fan, H. Yu, Y. Zhang, J. Guo, Z. Wang, H. Wang, X. Hao, N. Zhao, H. Geng, Z. Dai, Q. Yan, J. Xu, Nano Energy 33, 168 (2017)

[42]

Y. Wang, Z. Huang, Y. Wang, J. Mater. Chem. A 3, 21314 (2015)

[43]

H. Zhang, K. Wang, X. Wu, Y. Jiang, Y. Zhai, C. Wang, X. Wei, J. Chen, Adv. Funct. Mater. 24, 3399 (2014)

[44]

L.C. Yang, W. Sun, Z.W. Zhong, J.W. Liu, Q.S. Gao, R.Z. Hu, M. Zhu, J. Power Sour. 306, 78 (2016)

[45]

W. Devina, J. Hwang, J. Kim, Chem. Eng. J. 345, 1 (2018)

[46]

Y. Dou, J. Xu, B. Ruan, Q. Liu, Y. Pan, Z. Sun, S.X. Dou, Adv. Energy Mater. 6, 1501835 (2016)

[47]

T. Brezesinski, J. Wang, S.H. Tolbert, B. Dunn, Nat. Mater. 9, 146 (2010)

[48]

V. Augustyn, P. Simon, B. Dunn, Energy Environ. Sci. 7, 1597 (2014)

[49]

T. Brezesinski, J. Wang, J. Polleux, B. Dunn, S.H. Tolbert, J. Am. Chem. Soc. 131, 1802 (2009)
About this article
Cite this article
Qin, Z., Liu, X., Huang, Z. et al. Electrochemical and Pseudocapacitive Analysis of Rod-Like MoO2@MoSe2@NC Heterostructures for High-Performance Lithium Ion Batteries. Acta Metall. Sin. (Engl. Lett.) (2021). https://doi.org/10.1007/s40195-021-01207-3
Received:

Revised:

Accepted:

Published:
Keywords
Mo-MOF

MoO2@MoSe2@NC
MoSe2 nanosheet

Heterostructure

Lithium ion batteries (LIBs)