Abstract
Purpose of Review
Pulmonary hypertension (PH) is a disease in which there is an elevated pressure in the pulmonary vasculature leading to anatomic changes that can be identified on imaging. While right heart catheterization (RHC) is the gold standard for definitive diagnosis, there are many steps prior to catheterization in evaluating a patient with suspected PH. Computed Tomography (CT) is often used as one of the initial imaging modalities in the workup of suspected PH and is usually obtained in all patients with suspected or confirmed PH. In other cases, CT scans done for other purposes can suggest findings of PH that would alert clinicians to an additional possible diagnosis. Patients diagnosed with PH often have very complex hemodynamics as well as medical comorbidities, and referral to a center that specializes in PH is always recommended.
Recent Findings
There have been newly proposed classifications for the different groups of PH as well as a new definition for the diagnosis of PH. Various findings may require a specific CT to be completed with or without contrast or an electrocardiogram (ECG)-gated CT.
Summary
This article reviews the current literature and provides a pictorial reference of CT findings associated with PH that can lead to a proposed diagnosis and, possibly, the underlying etiology of PH.
This is a preview of subscription content, log in to check access.
Access options
Buy single article
Instant access to the full article PDF.
US$ 39.95
Price includes VAT for USA
Subscribe to journal
Immediate online access to all issues from 2019. Subscription will auto renew annually.
US$ 99
This is the net price. Taxes to be calculated in checkout.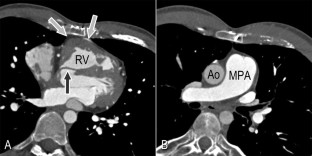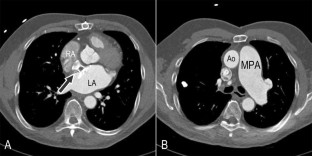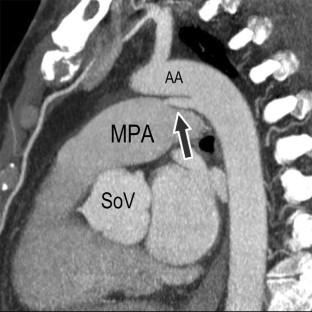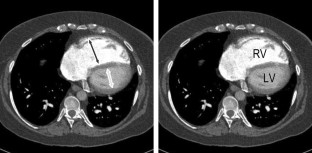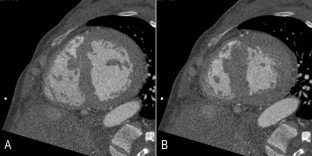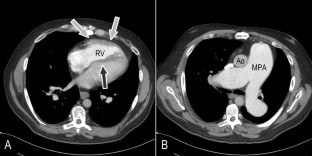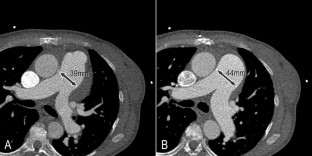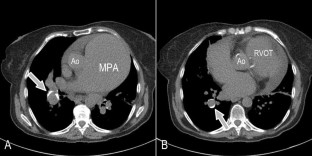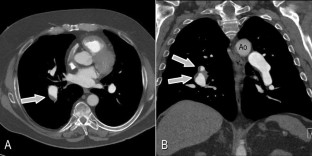 References
• Of importance •• Of major importance
1.

••Altschul E, Remy-Jardin M, Machnicki S, et al. Imaging of pulmonary hypertension. Chest. 2019. https://doi.org/10.1016/j.chest.2019.04.003. This is a comprehensive and updated paper that defines and provides imaging examples of specific findings that are associated with PH on CT. Corresponding sensitivities and specificities are stated, providing evidence of the association of certain CT findings in PH. Images of certain characteristic findings are included to give clues to the etiology of PH.

2.

Hoeper MM, Humbert M. The new haemodynamic definition of pulmonary hypertension: evidence prevails, finally! Eur Respir J. 2019;53:1900038. https://doi.org/10.1183/13993003.00038-2019.

3.

Condon DF, Nickel NP, Anderson R, Mirza S, de Jesus Perez VA. The 6th world symposium on pulmonary hypertension: what's old is new. F1000Res. 2019. https://doi.org/10.12688/f1000research.18811.1.

4.

Wijeratne DT, Lajkosz K, Brogly SB, et al. Increasing incidence and prevalence of World Health Organization Groups 1 to 4 pulmonary hypertension: a population based Cohort Study in Ontario, Canada. Circ Cardiovasc Qual Outcomes. 2018;11(2):e003973. https://doi.org/10.1161/CIRCOUTCOMES.117.003973.

5.

Galie N, Humbert M, Vachiery JL, et al. 2015 ESC/ERS Guidelines for the diagnosis of pulmonary hypertension: The Joint Task Force for the Diagnosis and Treatment of Pulmonary Hypertension of the European Society of Cardiology (ESC) and the European Respiratory Society (ERS). Eur Heart J. 2016;37(1):67–119. https://doi.org/10.1093/eurheartj/ehv317.

6.

Graham BB, Bandeira AP, Morrell NW, et al. Schistosomiasis-associated pulmonary hypertension: pulmonary vascular disease: the global perspective. Chest. 2010;137(6 suppl):20S–9S.

7.

Rahaghi F, Mehta J, Tonelli A. Session IV- Therapeutic Choices for Pulmonary Artery Hypertension. Pulmonary Hypertension Summit Proceedings Monograph. https://www.clevelandclinicmeded.com/online/monograph/pulmonary-hypertension/therapeutic-choices.htm. Accessed January 24, 2020.

8.

Vachiery JL, Adir Y, Babera JA, et al. Pulmonary hypertension due to left heart disease. J Am Coll Cardiol. 2013;62:D100–D108108.

9.

Arcasoy SM, Christie JD, Ferrari VA, et al. Echocardiographic assessment of pulmonary hypertension in patients with advanced lung disease. Am J Resp Crit Care Med. 2003;167:735–40.

10.

Hoeper MM, Bogaard HJ, Condliffe R, et al. Definitions and diagnosis of pulmonary hypertension. J Am Coll Cardiol. 2013;62(25):D42–D50.

11.

Heresi GA, Bartholomew JR, Lang IM, et al. Session I-acute and chronic pulmonary embolism. pulmonary hypertension summit proceedings monograph. https://www.clevelandclinicmeded.com/online/monograph/pulmonary-hypertension/acute-chronic-embolism.htm. Accessed Jan 24, 2020.

12.

Marvisi M, Balzarini L, Mancini C, et al. Thyroid gland and pulmonary hypertension. What's the link? Panminerva Med. 2013;55(1):93–7.

13.

Kalantar S, Gomberg-Maitland M. Group 5 pulmonary hypertension: the orphan's orphan disease. Cardiol Clin. 2016;34(3):443–9. https://doi.org/10.1016/j.ccl.2016.04.004.

14.

Grosse C, Grosse A. CT findings in diseases associated with pulmonary hypertension: a current review. Radiographics. 2010;30(7):1753–77.

15.

Bhatnagar A, Wiesen J, Dweik R, et al. Evaluating suspected pulmonary hypertension: a structured approach. Clevel Clin J Med. 2018;85(6):468–80. https://doi.org/10.3949/ccjm.85a.17065.

16.

Lin FY, Devereux RB, Roman MJ, et al. Cardiac chamber volumes, function, and mass as determined by 64-multidetector row computed tomography: mean values among healthy adults free of hypertension and obesity. JACC Cardiovasc Imaging. 2008;1(6):782–6.

17.

Ho VB, Reddy GP. Cardiovascular imaging. Saunders: Elsevier; 2011.

18.

Hur DJ, Sugeng L. Non-invasive multimodality cardiovascular imaging of the right heart and pulmonary circulation in pulmonary hypertension. Front Cardiovasc Med. 2019;6:24. https://doi.org/10.3389/fcvm.2019.00024.

19.

Tadic M. Multimodality evaluation of the right ventricle: an updated review. Clin Cardiol. 2015;38:770–6.

20.

Wai B, Thai WE, Brown H, Truong QA. Novel phase-based noise reduction strategy for quantification of left ventricular function and mass assessment by cardiac CT: comparison with cardiac magnetic resonance. Eur J Radiol. 2013;82:e337–341.

21.

Asferg C, Usinger L, Kristensen TS, Abdulla J. Accuracy of multi-slice computed tomography for measurement of left ventricular ejection fraction compared with cardiac magnetic resonance imaging and two-dimensional transthoracic echocardiography: a systematic review and meta-analysis. Eur J Radiol. 2012;81:e757–762.

22.

Revel MP, Faivre JB, Remy-Jardin M, et al. Pulmonary hypertension: ECG-gated 64-section CT angiographic evaluation of new functional parameters as diagnostic criteria. Radiology. 2009;250:558–66.

23.

Goerne H, Batra K, Rajiah P. Imaging of pulmonary hypertension: an update. Cardiovasc Diagn Ther. 2018;8(3):279–96. https://doi.org/10.21037/cdt.2018.01.10.

24.

•Aluja Jaramillo F, Gutierrez FR, Díaz Telli FG, Yevenes Aravena S, Javidan-Nejad C, Bhalla S. Approach to pulmonary hypertension: from CT to clinical diagnosis. Radiographics. 2018;38(2):357–73. This paper gave a detailed report on the characteristic CT findings which provides guidance for clinicians to accurately categorize the PH according to this classification. This paper further describes how the correct classification is essential in the proper management of the patient.

25.

Currie A, Benjamin J, Chris Johns A, et al. CT derived left atrial size identifies left heard diseases in specified pulmonary hypertension: derivation and validation of predictive thresholds. Int J Cardiol. 2018;260:172–7. https://doi.org/10.1016/j.ijcard.2018.02.114.

26.

Lewis G, Hoey ET, Reynolds JH, et al. Multi-detector CT assessment in pulmonary hypertension: techniques, systematic approach to interpretation and key findings. Quant Imaging Med Surg. 2015;5(3):423–32.

27.

Pena E, Dennie C, Veinot J, et al. Pulmonary hypertension: how the radiologist can help. Radiographics. 2012;32(1):9–32.

28.

•Ascha M, Renapurkar RD, Tonelli AR. A review of imaging modalities in pulmonary hypertension. Ann Thorac Med. 2017;12(2):61–73. A thorough review of the different imaging tools available and their role in the diagnosis of PH is provided. Advantages and disadvantages of each modality are discussed, as well as their limitations in the evaluation of patients with potential PH.

29.

Tan RT, Kuzo R, Goodman LR, et al. Utility of CT scan evaluation for predicting pulmonary hypertension in patients with parenchymal lung disease. Medical College of Wisconsin Lung Transplant Group. Chest. 1998;113(5):1250–6.

30.

Gleason JB, Patel KB, Hernandez F, et al. Pulmonary artery dimensions as a prognosticator of transplant-free survival in scleroderma interstitial lung disease. Lung. 2017;195(4):403–9. https://doi.org/10.1007/s00408-017-0005-6.

31.

Heinrich M, Uder M, Tscholl D, Grgic A, Kramann B, Schäfers HJ. CT scan findings in chronic thromboembolic pulmonary hypertension: predictors of hemodynamic improvement after pulmonary thromboendarterectomy. Chest. 2005;127(5):1606–13.

32.

Diely D, Levin D, Hassoun P, et al. Statement on imaging and pulmonary hypertension from the Pulmonary Vascular Research Institute (PVRI). Pulmonary Circ. 2019;9(3):1–32. https://doi.org/10.1177/2045894019841990.33.

33.

Rajaram S, Swift AJ, Condliffe R, et al. CT features of Pulmonary arterial hypertension and its major subtypes: a systematic CT evaluation of 292 patients from the ASPIRE Registry. Thorax. 2015;70:382–7. https://doi.org/10.1136/thoraxjnl-2014-206088.
Ethics declarations
Conflict of interest
The authors have no conflict of interests nor relevant financial disclosures.
Human and Animal Rights
This article does not contain any studies with human or animal subjects performed by any of the authors.
Additional information
Publisher's Note
Springer Nature remains neutral with regard to jurisdictional claims in published maps and institutional affiliations.
This article is part of the Topical collection on Cardiovascular Imaging.
About this article
Cite this article
Gillenwater, S., Martinez, F., Drexler, I. et al. Role of Cardiovascular CT in Pulmonary Hypertension. Curr Radiol Rep 8, 11 (2020). https://doi.org/10.1007/s40134-020-00354-2
Keywords
Pulmonary hypertension

Chronic thromboembolic PH (CTEPH)

Computed tomography