Abstract
Purpose
The Xen® Gel Stent (Allergan, Irvine, CA, USA) is a minimally invasive glaucoma surgery device implanted to reduce intra-ocular pressure (IOP) in glaucoma. The stents can fail to drain post-operatively due to scarring of the conjunctiva around the stent opening. Data on the success rates of revision surgery in patients with Xen stent failure are scarce. We present the first detailed report of the steps, outcomes and complications of Xen revision surgery with 12 months of follow-up data.
Methods
We share our experiences on the circumstances in which to perform Xen revision surgery, the steps of the surgery and the results of a retrospective interventional case series of all Xen revisions performed at a single centre from 2013 to 2018.
Results
A total of 151 Xen implants were inserted into eyes at our tertiary centre during the study period, of which 21 eyes (patients) underwent revision surgery. Mean pre-operative IOP was 26.1 (standard deviation 8.3) mmHg with the patient on two drops of anti-glaucoma medication. Four patients were excluded from the analysis due to incomplete data (medical records were unavailable for 2 patients; 1 patient died shortly after surgery; and 1 patient moved to another area). A non-functioning Xen implant was identified in another patient during revision surgery, and the procedure was converted to a trabeculectomy. The remaining 16 patients were included in the analysis, all of whom had a minimum follow-up of 12 months, with the longest follow-up being 4 years following revision surgery. Of these 16 patients, four required needling and 5-fluorouracil injection in the first 12 months following revision surgery, three required further glaucoma drainage surgery due to the failure of the revision surgery to control IOP in the first year and one suffered bleb-related endophthalmitis at the site of previous trabeculectomy surgery. Mean IOP at 12 months following revision surgery was 16.3 (standard deviation 3.7) mmHg on 0.7 drops of anti-glaucoma medication, which equates to a 37.5% reduction in IOP and a 65% reduction in the amount of IOP-lowering drops required.
Conclusion
Our study shares experience on when to perform Xen revision surgery and the steps required. The results of our small cohort are the first in the literature and show that revisions can achieve promising IOP and medication reductions. Some patients still require needling in the post-operative period to optimise outcomes.
Access options
Buy single article
Instant access to the full article PDF.
US$ 39.95
Tax calculation will be finalised during checkout.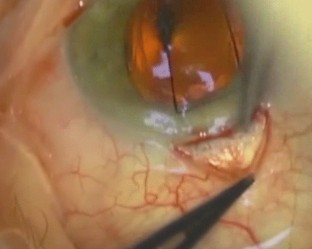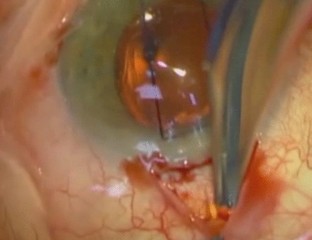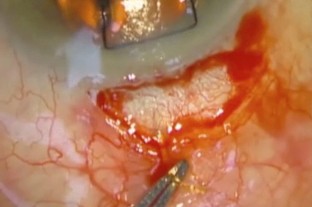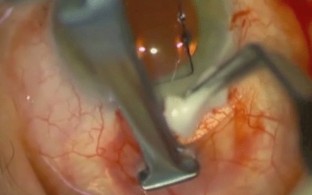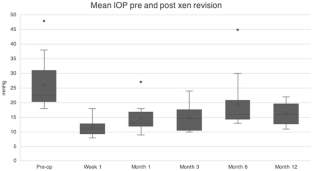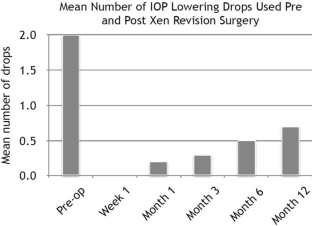 References
1.

De Gregorio A, Pedrotti E, Stevan G, et al. XEN glaucoma treatment system in the management of refractory glaucomas: a short review on trial date and potential role in clinical practice. Clin Ophthalmol. 2018;12:773–82.

2.

Galal A, Bilgic A, Eltanamly R, et al. XEN glaucoma implant with mitomycin C 1-year follow-up: results and complications. J Ophthalmol. 2017; article ID 5457246. https://doi.org/10.1155/2017/5457246.

3.

Grover DS, Flynn WJ, Bashford KP, et al. Performance and safety of a new ab interno gelatin stent in refractory glaucoma at 12 months. Am J Ophthalmol. 2017;183:25–36.

4.

Heidinger A, Schwab C, Lindner E, et al. A retrospective study of 199 Xen45 stent implantations from 2014 to 2016. J Glaucoma. 2019;28:75–9.

5.

Ibáñez-Muñoz A, Soto-Biforcos VS, Rodríguez-Vicente L, et al. XEN implant in primary and secondary open-angle glaucoma: a 12-month retrospective study. Eur J Ophthalmol. 2019. https://doi.org/10.1177/1120672119845226.

6.

Karimi A, Lindfield D, Turnbull A, et al. A multi-centre interventional case series of 259 ab-interno Xen gel implants for glaucoma, with and without combined cataract surgery. Eye. 2019;33:469–77.

7.

Mansouri K, Guidotti J, Rao HL, et al. Prospective evaluation of standalone XEN gel implant and combined phacoemulsification–XEN gel implant surgery: 1-year results. J Glaucoma. 2018;27:140–7.

8.

Reitsamer H, Sng C, Vera V, et al. Two-year results of a multicenter study of the ab interno gelatin implant in medically uncontrolled primary open-angle glaucoma. Graefes Arch Clin Exp Ophthalmol. 2019;257:983–96.

9.

Schlenker MB, Gulamhusein H, Conrad-Hengerer I, et al. Efficacy, safety, and risk factors for failure of standalone Ab interno gelatin microstent implantation versus standalone trabeculectomy. Ophthalmology. 2017;124:1579–88.

10.

Smith M, Charles R, Abdel-Hay A, et al. 1-year outcomes of the Xen45 glaucoma implant. Eye. 2019;33:761–6.

11.

Sng CCA, Wang J, Hau S, et al. XEN-45 collagen implant for the treatment of uveitis glaucoma. Clin Exp Ophthalmol. 2018;46:339–45.

12.

Szigiato A, Sandhu S, Ratnarajan G, et al. Surgeon perspectives on learning ab-interno gelatin microstent implantation. Can J Ophthalmol. 2018;53:246–51.

13.

Tan SZ, Walkden A, Au L. One-year result of XEN45 implant for glaucoma: efficacy, safety, and post-operative management. Eye. 2018;32:324–32.

14.

Widder RA, Dietlein TS, Dinslage S, et al. The XEN45 gel stent as a minimally invasive procedure in glaucoma surgery: success rates, risk profile, and rates of re-surgery after 261 surgeries. Graefe's Arch Clin Exp Ophthalmol. 2017;256:765–71.

15.

Vera V, Ahmed I, Stalmans I, et al. Gel stent implantation—recommendations for preoperative assessment, surgical technique, and postoperative management. US Ophthalmic Rev. 2018;11(1):38–46.

16.

Dervenis N, Mikropoulou AM, Dervenis P, et al. Dislocation of a previously successful XEN glaucoma implant into the anterior chamber: a case report. BMC Ophthalmol. 2017;17:148.

17.

Salinas L, Chaudhary A, Guidotti J, et al. Revision of a leaking bleb with XEN gel stent replacement. J Glaucoma. 2018;27(1):e11–e13.
Acknowledgements
Funding
No funding or sponsorship was received for this study or publication of this article.
Authorship
All named authors meet the International Committee of Medical Journal Editors (ICMJE) criteria for authorship of this article, take responsibility for the integrity of the work as a whole and have given their approval for this version to be published.
Disclosures
Emma Linton declares that she has no conflict of interest. Leon Au has received research support, honorarium and travel reimbursement from Glaukos, Allergan, Ivantis, Santen, Thea, EyeDPharma and Alcon Pharmaceuticals. Leon Au is a member of the journal's Editorial Board.
Compliance with Ethics Guidelines
Informed consent for revision surgery was obtained from all patients after a thorough explanation of the procedure and its risks. All procedures followed the tenets of the Declaration of Helsinki. We certify that all applicable institutional and governmental regulations concerning the ethical use of human volunteers were followed during this research. As this study was not considered research by the NHS Health Research Authority, ethical approval wasn't required.
Data Availability
The datasets generated during and/or analysed during the current study are available from the corresponding author on reasonable request.
About this article
Cite this article
Linton, E., Au, L. Technique of Xen Implant Revision Surgery and the Surgical Outcomes: A Retrospective Interventional Case Series. Ophthalmol Ther 9, 149–157 (2020). https://doi.org/10.1007/s40123-020-00234-0
Received:

Published:

Issue Date:
Keywords
Glaucoma

Minimally invasive glaucoma surgery

Revision surgery

Xen gel stent