Abstract
Introduction
While proven to be an effective treatment for cystoid macular edema (CME) and diabetic macular edema, intravitreal steroid implants (IVSI) may cause undesirable side effects, including steroid-related glaucoma or migration into the anterior chamber in the case of iris–lens diaphragm disruption. Here we present a new surgical technique that allows for the easy implantation and subsequent fixation of the fluocinolone acetonide intravitreal implant without the risk of migration as a feasible and possibly reversible approach in the treatment of persistent CME in severely damaged eyes.
Methods
In this single-center, prospective off-label, proof of principle, scleral fixation of the fluocinolone implant was performed in two eyes with disrupted anterior–posterior segment border and persistent CME. Both eyes were then followed monthly in accordance to a detailed protocol.
Results
The procedure was overall well tolerated without severe side effects. There was no migration of the implant in the anterior chamber in either eye.
Conclusion
Scleral fixation of the fluocinolone implant proved to be a safe and feasible approach in eyes with persistent CME and disrupted anterior–posterior segment border. This new technique also allows for the possible removal of the implant and may therefore be suitable even for eyes at higher risk for side effects, such as glaucoma.
Access options
Buy single article
Instant access to the full article PDF.
US$ 39.95
Tax calculation will be finalised during checkout.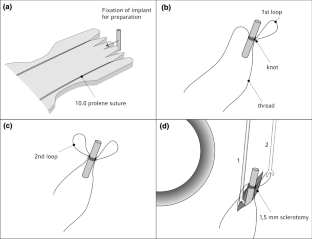 References
1.

Cunha-Vaz J, Ashton P, Iezzi R, et al. Sustained delivery fluocinolone acetonide vitreous implants: long-term benefit in patients with chronic diabetic macular edema. Ophthalmology. 2014;121(10):1892–903.

2.

Mayer WJ, Kurz S, Wolf A, et al. Dexamethasone implant as an effective treatment option for macular edema due to Irvine–Gass syndrome. J Cataract Refract Surg. 2015;41(9):1954–61.

3.

Rahimy E, Khurana RN. Anterior segment migration of dexamethasone implant: risk factors, complications, and management. Curr Opin Ophthalmol. 2017;28(3):246–51.

4.

Papastavrou VT, Zambarakji H, Dooley I, et al. Observation: fluocinolone acetonide (Iluvien) implant migration in to the anterior chamber. Retin Cases Brief Rep. 2017;11(1):44–6.

5.

Mateo C, Alkabes M, Burés-Jelstrup A. Scleral fixation of dexamethasone intravitreal implant (OZURDEX®) in a case of angle-supported lens implantation. Int Ophthalmol. 2014;34(3):661–5.
Acknowledgements
Funding
No funding or sponsorship was received for this study, or publication of this article. The Rapid Service Fee was funded by the authors themselves.
Authorship
All named authors meet the International Committee of Medical Journal Editors (ICMJE) criteria for authorship for this article, take responsibility for the integrity of the work as a whole, and have given their approval for this version to be published.
Authorship Contributions
We are grateful to Felicitas Cinkler for her technical assistance and support.
Prior Presentation
This study was partly presented at the DOC Congress 2018, Nürnberg, Germany, the Floretina Congress 2019, Florence, Italy and at the DOG Congress 2019, Berlin, Germany.
Disclosures
Tina R Herold: Novartis Pharma, Allergan Pharm, Bayer (honoraria). Raffael Liegl: Novartis (honoraria). Siegfried G Priglinger: Novartis Pharma GmbH (advisory boards/honoraria), Pharm Allergan (advisory board/honoraria), Zeiss (advisory boards/honoraria), Bayer (honoraria), Alcon (honoraria), Oxurion (honoraria) and Rayner (honoraria). Armin Wolf: Novartis Pharma GmbH, Bayer, Alimera, Allergan, Oertli (travel cost, honoraria, consulting), Roche and Appellis (ongoing clinical trials). Susanna Koenig and Ahmed Almarzoogi have nothing to delcare.
Compliance with Ethics Guidelines
For this single-center, prospective off-label proof of principle of a new surgical technique, no ethics committee approval was required. The study was however performed in accordance with the Helsinki Declaration of 1964 and its later amendments. The included patients signed written informed consent for this off-label surgical procedure and off-label use of the fluocinolone implant and provided consent to publication of their anonymized data and images.
About this article
Cite this article
Herold, T.R., Liegl, R., Koenig, S. et al. Scleral Fixation of the Fluocinolone Acetonide Implant in Eyes with Severe Iris–Lens Diaphragm Disruption and Recalcitrant CME: The Fluocinolone-Loop-Anchoring Technique (FLAT). Ophthalmol Ther 9, 175–179 (2020). https://doi.org/10.1007/s40123-020-00232-2
Received:

Published:

Issue Date:
Keywords
Cystoid macular edema

Fluocinolone implant

Iris–lens diaphragm disruption

Scleral fixation